DJ S3RL teamed up with DJ Jimni Cricket to drop "What is a DJ?", his 100th Release on his EMFA Music label!
---
The year is 2011 and after signing to a major international label and releasing numerous hits, DJ S3RL embarks on his latest adventure, starting up his own music label. It was then that EMFA Music (quite literally M fa Music) was born. Flash forward 7 years and he's celebrating a monumental milestone with "What is a DJ?", the 100th release on his label!
For this monumental event, he teamed up with US hardcore producer, and fellow HTID USA artist, DJ Jimni Cricket to release a track that is a perfect balance between their two styles. Jimni Cricket is a happy hardcore artist that hails from Seattle. Among her many talents, she is one of the most technical happy hardcore DJs out there. Though she is known for her amazing live mash-ups and her colorful, cutesy Lolita style, another thing that sets her apart is her mind-blowing turntablism and flawless mixing.
Jimni Cricket's insane skills lay the foundation of "What is a DJ?".
Right out of the gate the scratching catches listeners attention and fully commands their attention. I personally love how the vocals and lyrics perfectly intertwine with the scratching. Then the classic S3RL style is layered and mixed between the high-paced scratching and throughout the track, you hear multiple nods to the various styles heard in previous releases. An amalgamation of a variety of S3RL sounds is definitely a perfect way to celebrate the long history of EMFA Music.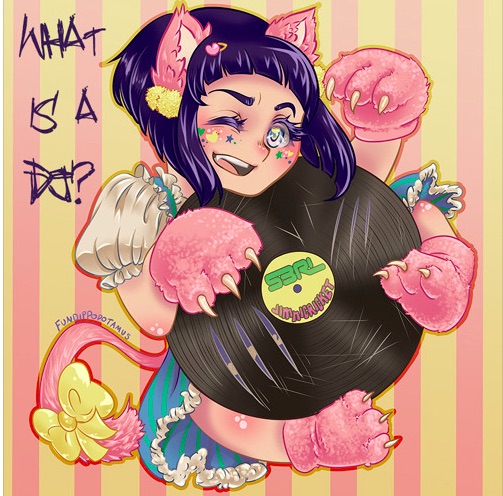 As an added bonus, S3RL's fans will love the video that accompanies the track.
Though slightly unrelated to the title, it's almost a play on some of the criticisms of modern-day DJ culture, of course, done in a comedic way that fans are accustomed to. However, what stuck out the most are the screenshots added near the end of the video. They depict the multiple criticisms S3RL has faced in the past years about his evolving and ever-changing style.
As someone who has taken the brunt of heavy criticism due to the fact that he incorporates multiple styles within the hardcore umbrella, it's interesting to see what fans, former fans, and haters think of his experimentation. Thankfully, interspersed within are plenty of positive and loving messages as well!
Stream S3RL ft Jimni Cricket – "What is a DJ?" via YouTube:
---
Connect with DJ S3RL On Social Media: 
Website | Facebook | Twitter | SoundCloud
Connect with DJ Jimni Cricket On Social Media: