After taking a hiatus, HTiD USA returned and it was well worth the wait! Check out the things we loved about the event!
---
When HTiD USA 2018 was first announced, happy hardcore fans rejoiced! The last HTiD event occurred in 2015 and saw fans of the genre travel from all across the USA to attend. When the event did not occur during the subsequent years, the US-based happy hardcore family began to wonder if an HTiD massive would ever return stateside. When they announced that the 2018 edition would be occurring in San Fransisco, the fan base was ecstatic and many were dedicated to making sure to not miss out on this event!
Overall HTiD USA 2018 was spectacular! It was intimate and not very crowded. Entering was easy and there was even a patio for attendees to get fresh air or smoke. However, it was not without its hangups, mainly relating to the venue. For example, the bathrooms were scarce and many kandi kids spent a considerable amount of time in the lines.
Additionally, I personally did not feel much AC or ventilation inside the main hall and often had to step outside to cool down. In the grand scheme of things, these issues were not a deal breaker, however, I would definitely consider having this event at a different venue if HTiD ever returns to San Francisco. At the end of the day, the good far outweighs the bad and it was an amazing event full of love and positivity.
Here are five things we loved at HTiD USA 2018!
---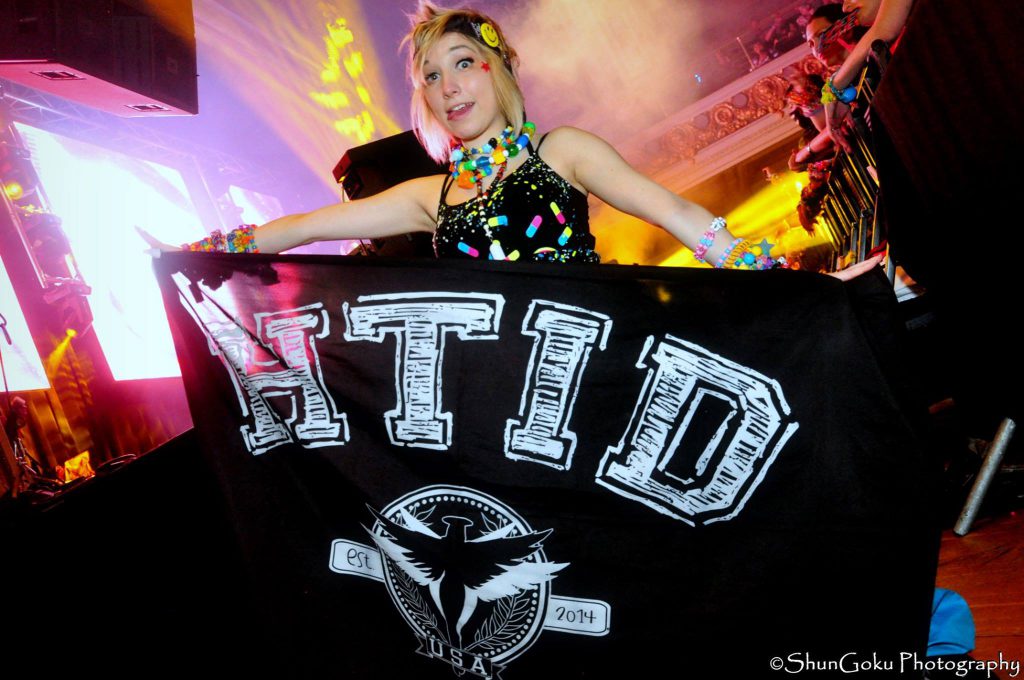 The attendees that created the perfect vibe for the event.
I'm a firm believer that the people can make or break an event. Of course, this is not the only factor, but when it's an event like HTiD where it's not just about the music event but also about community, it's hard not to focus on the fans.
From the day HTiD USA 2018 was announced, the online community of hardcore kandi kids were raving about the possibility of finally reuniting with friends they hadn't seen in ages. The HTiD USA Family Facebook page was ablaze with plans of meeting up, planning outfits, trading stories, and just spreading the love.
The actual event was no different; it was a colorful cotton candy wonderland complete with soft and positive vibes. I saw rave families reuniting, adding new friends to their crew, and making new memories. I went in not knowing many more people than the squad I stayed with. However, once I was surrounded by kandi kids it was ridiculously easy to make friends!
From trading kandi and bonding when Dougal dropped our favorite songs to fangirling about Darren Styles and even chatting while in the bathroom line, each person I met was beyond open and inviting. I fell in love with the hardcore scene and the beautiful ravers who clearly embodied the core tenants of PLURR.
---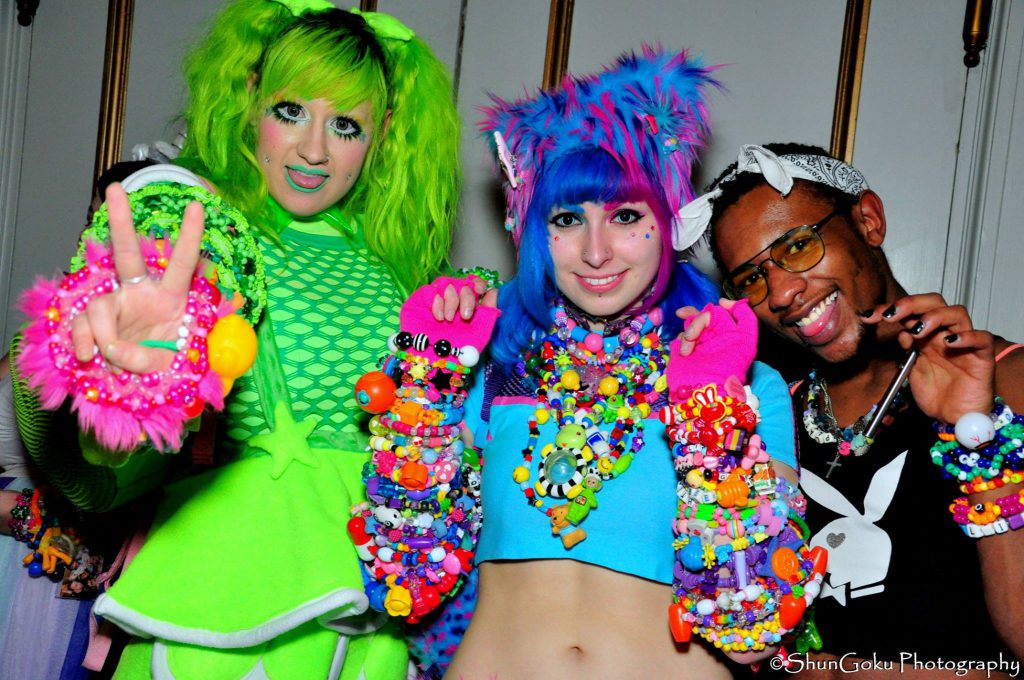 The unique and exciting fashion styles that were on point.
You can't possibly attend a happy hardcore event and not fawn over the clothes and the kandi. Whereas I'm a huge fan of pastels, neons and crazy prints, going out in LA has me leaning toward an incessant amount of black clothing. My inner goth is excited by that but my love of fairy kei and pastel goth fashion is slightly ashamed.
When I attended HTiD, black outfit in tow with spots of color in the form of LED fluffies and pink accents in my cat outfit, I was elated to be surrounded by the colors I missed seeing in my local clubs. I loved being reminded that happy hardcore is more than just about the happier style of music and melody but also about the bright colors that evoke happiness and wonder.
---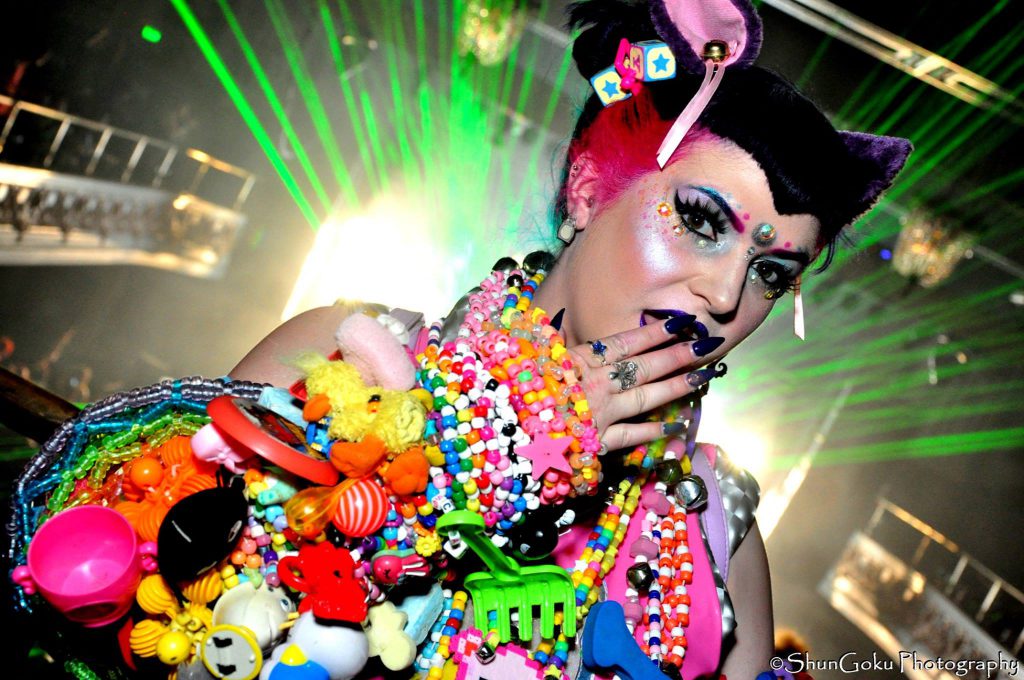 The massive amount of kandi that could be found on every person there.
So there's Kandi you see at massives such as EDC Las Vegas, and then there's kandi you see at events that full-on kandi kids attend. Every piece of kandi is amazing, regardless of the event and the style because each piece has a special meaning from its creator. One of the best parts of making kandi is sharing what you've made with others and going through all the ones you received.
That being said, I saw some unique, creative and out of this world kandi at HTiD and was honestly blown away by the creativity of the community! Speaking as someone who has mastered singles and almost cried when I finally made one cuff, I'm always floored by the amount of time and dedication the community puts into these pieces of themselves to trade and share.
Speaking of kandi, I can truly say that this was one of the few events where I traded multiple pieces of kandi and received so many in return!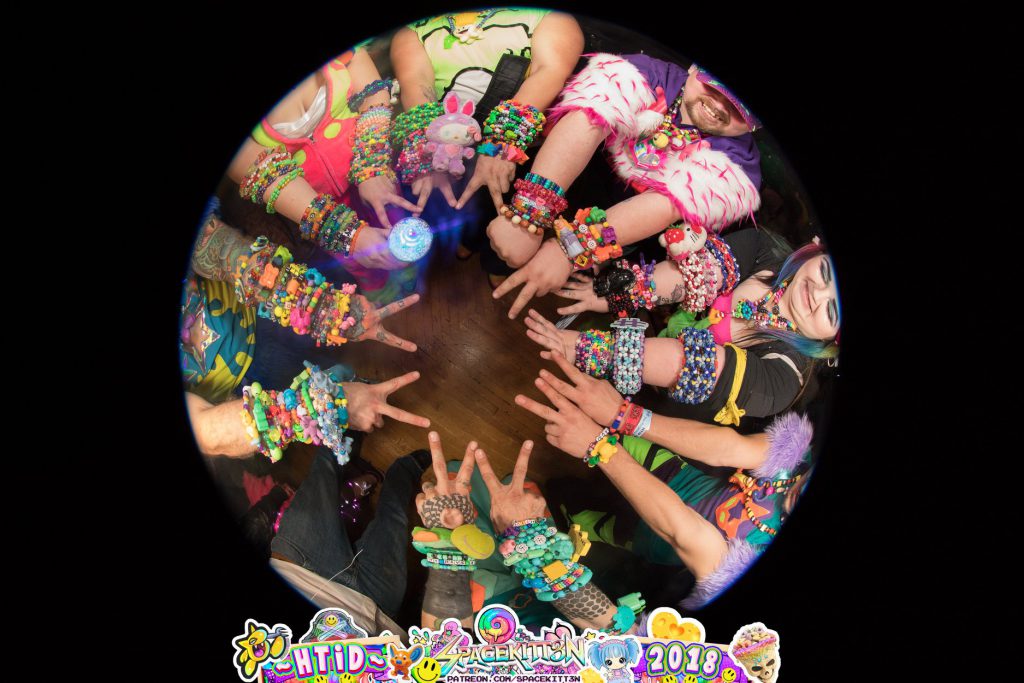 I loved that after the event, the HTiD Facebook group had multiple posts filled of attendees recalling how they received their pieces over the weekend and where they were traded. I absolutely loved that strangers were adding new friends when they discovered that they were the ones who made the pieces!
Kandi is such an integral part of rave culture that I personally feel is neglected or shunned in so many spaces now. However, kandi is a representation of what raving is about. It's an opportunity to connect with others, share a piece of yourself and even break the ice to make new friends or add to your rave family. I love that this part of the culture has lived on within the happy hardcore scene.
---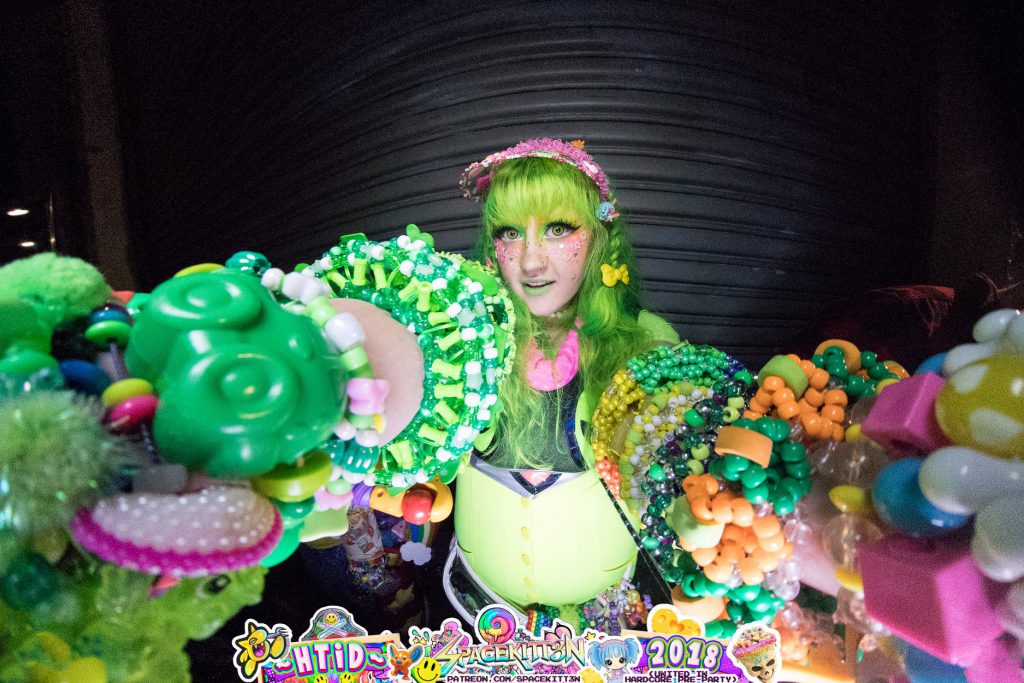 The city in which HTiD USA took place provided the perfect setting.
San Fransisco was the perfect location for the third edition of HTiD USA! The happy hardcore family in the Bay Area came out in full force, not just in terms of attending the event but also at the pre and post-parties! Unfortunately, due to my work schedule, I missed both the pre and post-shows, but I heard multiple rave reviews about them.
The pre-party featured amazing local and rising happy hardcore artists such as Vampy Vicious and Daniel Seven and was hosted at the amazing and intimate DNA Lounge. The post-party, "Hardcore in The Bay" was a great come down and also featured local and rising stars such as Injekt, Jampers&nd, and Harry Pott3r.
The San Francisco hardcore family did an amazing job making sure that the hardcore families that traveled from all over the US and Canada had a packed weekend and were completely surrounded by the music they love.
---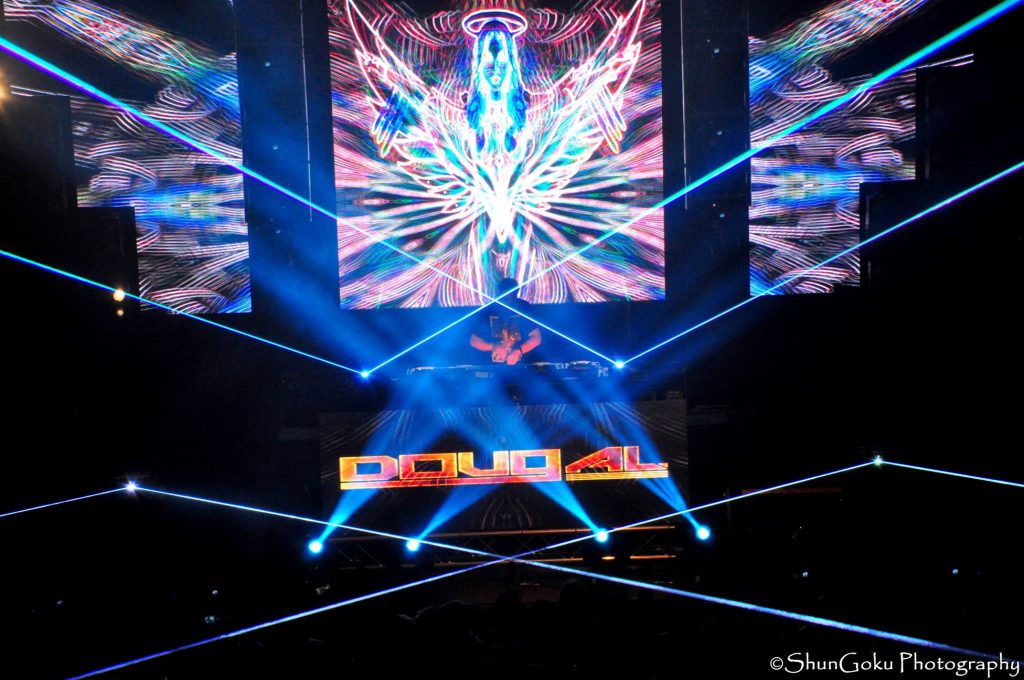 The music that finished off the experience and kept us dancing all night.
Of course, the music was an important part of the event! First off, The HTiD and HSU crew did an amazing job curating the artists who played at the event. I loved that it was a mix of everything, from Nobody and Jimni Cricket to one of S3RL's last tour shows and Hixxy's Morning Glory set.
One piece that stood out to me was Dougal's entire set. He started out very melodic then threw down hard tracks. There was a surprising amount of trap and heavy bass near the middle of his set but he also played tracks such as "Rock the World" and "Party Don't Stop."
The highlight of his set was when he dropped "Kryptonite" as his second to last track. There was something about the timing, paired with beautifully synchronized lights that almost had me in tears.
Also, when S3RL dropped his set, the crowd went wild. As the most requested artist, S3RL did not disappoint and it was great hearing the audience singing along to every single track. Finally, I love how many artists went and hung out in the audience, supported their peers and gave love to their fans!
---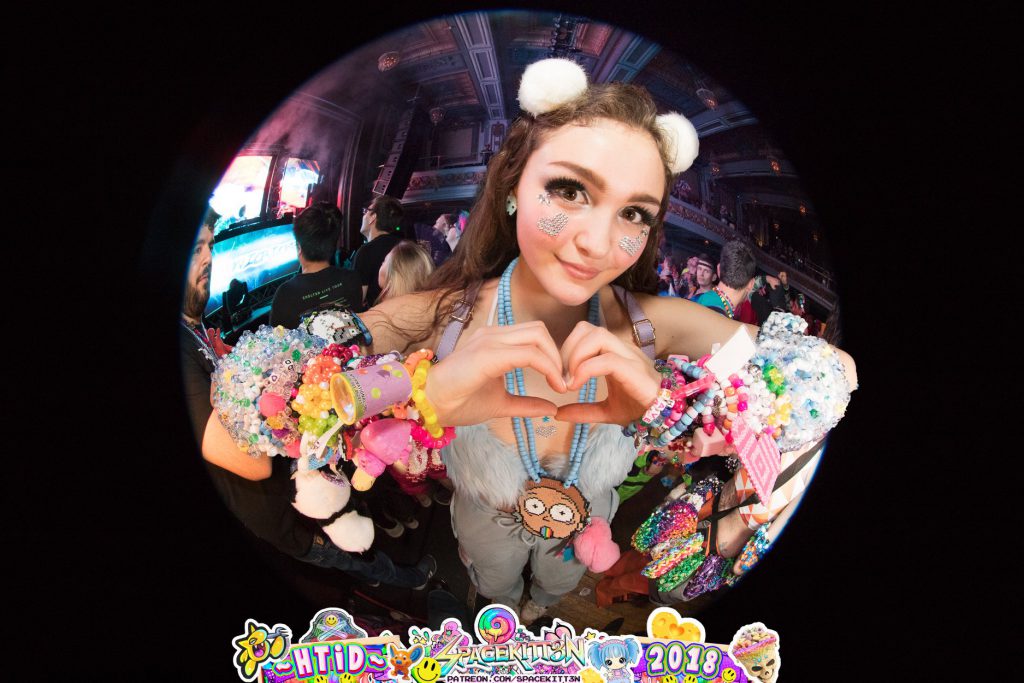 Overall, HTiD USA was all about the people – the rave families, the newcomers, old timers and everyone in between!
During his set, Darren Styles got on the mic and talked about how hardcore music is amazing because it brings people together. I can wholeheartedly say that he's right! HTiD USA was all about the people – the rave families, the newcomers, old-timers, and everyone in between!
It was amazing personally reconnecting with friends I hadn't seen in forever and can say that I went away with a few new ones. However, regardless of who you came with, you never felt alone because the hardcore family exudes acceptance and positivity. I traded and received kandi and had the feels when I heard some of my favorite tracks. Also I made mental notes of future furry, neon colored, space-themed rave outfits!
The vibes were on-point and everyone was unbelievably positive and I can honestly say that it was one of the best events I have attended. I absolutely can't wait to delve back into the happy hardcore scene and attend another event!
---
Connect with HTID USA on Social Media:
Facebook | Twitter | Instagram
Connect with ShunGoku Photography and spacekitt3n on Facebook: