Men's fashion choices for raves and festivals may seem limited, but we've compiled some outfit options for your next festival!
---
Typically, men's fashion for festivals and raves consists of a tank top and shorts because it provides a good balance between comfort and customization. However, the options don't have to end there because more fashion options are available with endless DIY projects and shops like Amazon and Etsy.
Each festival will have a slightly different fashion style surrounding it, such as colorful and outlandish rave outfits found at Electric Daisy Carnival, hippie-inspired clothing at Electric Forest, or slick and sleek streetwear at Coachella. EDM events are often one of the few places we can be free to express ourselves in our otherwise monotonous lives. No one will judge you for what you're wearing.
If you are new to the scene, bring some of your own personality and fashion and get creative to form your own unique look and identity. So don't be afraid to be elaborate and express yourself! Embrace the weird, the strange, and the unknown. Just be sure to keep yourself clean and smelling nice!
No matter what you choose to wear, be sure that you're picking light and breathable materials so you can comfortably dance the night away. And be sure to check shipping times, especially if you're trying to figure out something last-minute. For more inspiration, be sure to head over to our photo albums from various festivals on Facebook!
Navigate to each section below:
Pants and Shorts
Tops and Tanks
Accessories
Creative Ideas
Below are some common men's festival fashion items to rock this season, as well as a few outfit ideas to get your creative juices flowing!
---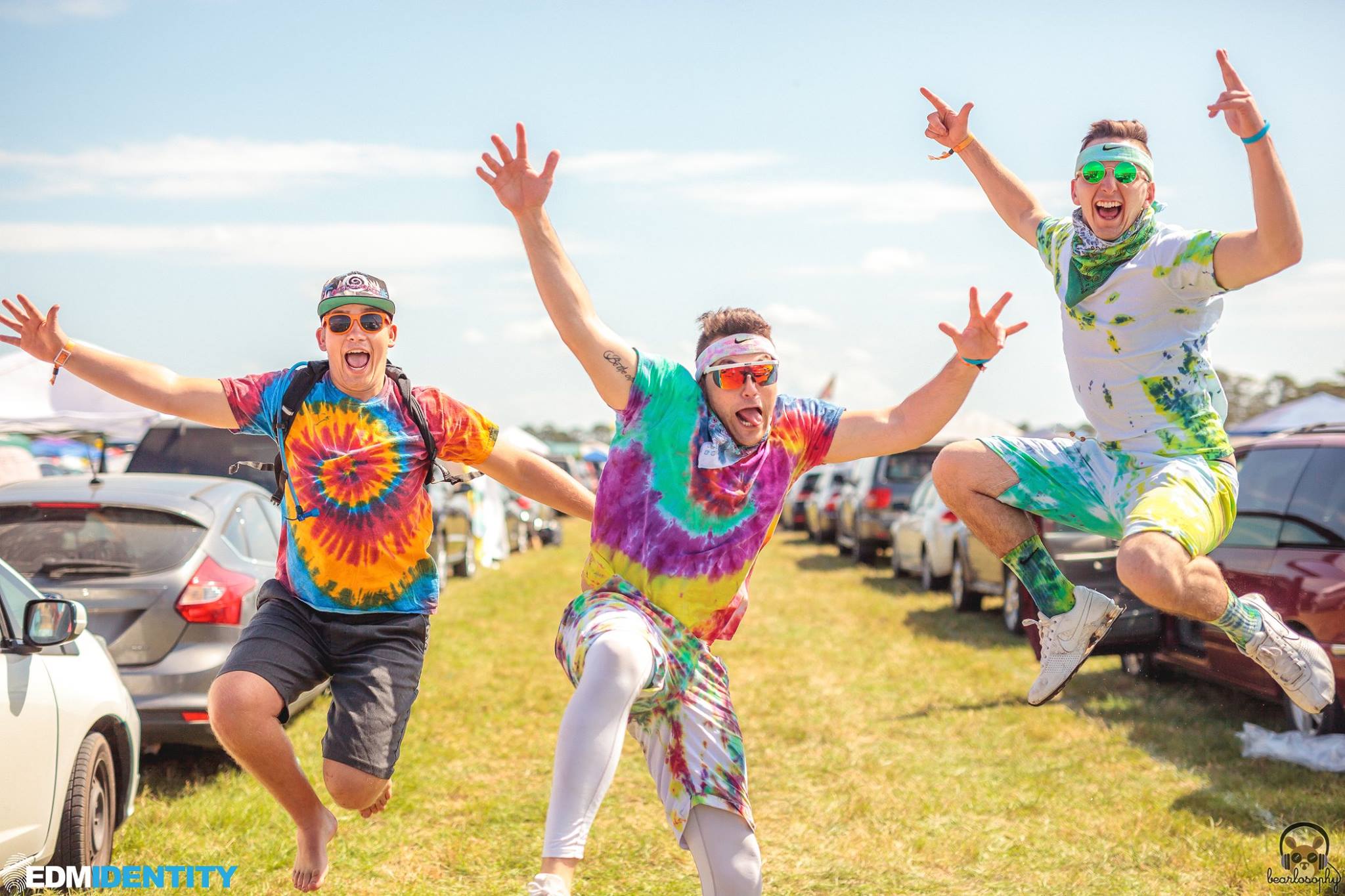 Start every outfit with a good pair of pants or shorts.
Men's fashion choices for bottoms are going to depend on the climate of the festival. They range from Bermuda shorts, gym shorts, cargo shorts to harem pants, joggers, and beyond.
Cargo shorts are the functional choice for bottoms with their multiple pockets and available at most retail stores. Another option, gym shorts, might seem like a great idea if you already have some in your wardrobe, but be forewarned that it's quite easy to lose your valuables with them. If you decide to wear them, pair them up with a fanny pack or jogger's belt to best protect belongings.
With that in mind, Bermuda shorts, sometimes known as walk shorts or dress shorts, are a good in-between choice that are a semi-casual option with functionality. A casual option that is becoming increasingly popular as well are quick dry shorts, sometimes called submersible shorts, which are vaguely similar to swimming trunks material. We've also had luck with casual shorts with zipper pockets that are a good alternative to having to wear a fanny pack.
No matter the type of short, average builds should experiment with different lengths, but keep in mind that the longer you go the shorter it will make you appear. Husky guys should pick a longer inseam that will lengthen your frame, and make sure the fit isn't tight through the leg. If it's skin-tight, it's not right, and avoid baggy looks to show off your definition.
Pants have a wide range of options that include functional and design from the most extravagant phat pants, or UFO pants, to the popular choice of joggers.
Joggers are a great way to get a print on while still maintaining comfort. Pair a neutral color top or go shirtless when you pick an all-over print, like a geometrical or galaxy print. You'll find them more popular with the forest festival culture than at raves, but don't let that deter you.
Harem pants are soft and loose-fitting that taper at the ankle with elastic waistbands. They also come in multiple styles, including traditional colors, patterns, and prints. Thai fisherman pants are a non-traditional option that is lightweight, breathable, and can be adjusted for fit based on how you tie them.
You might have seen Phat pants or UFO pants if you've attended a happy hardcore or hardstyle show where many are shuffling the night away. Unlike Harem pants, these taper outwards to create a unique moving effect when dancing and are traditionally available in denim and micro-suede. Their reflective designs will make you the focal point of the dance floor.
Keep in mind the time of year and temperature of the festival you're attending to help you narrow down whether you want to go with pants or shorts.
Stores to check out for pants and shorts:
---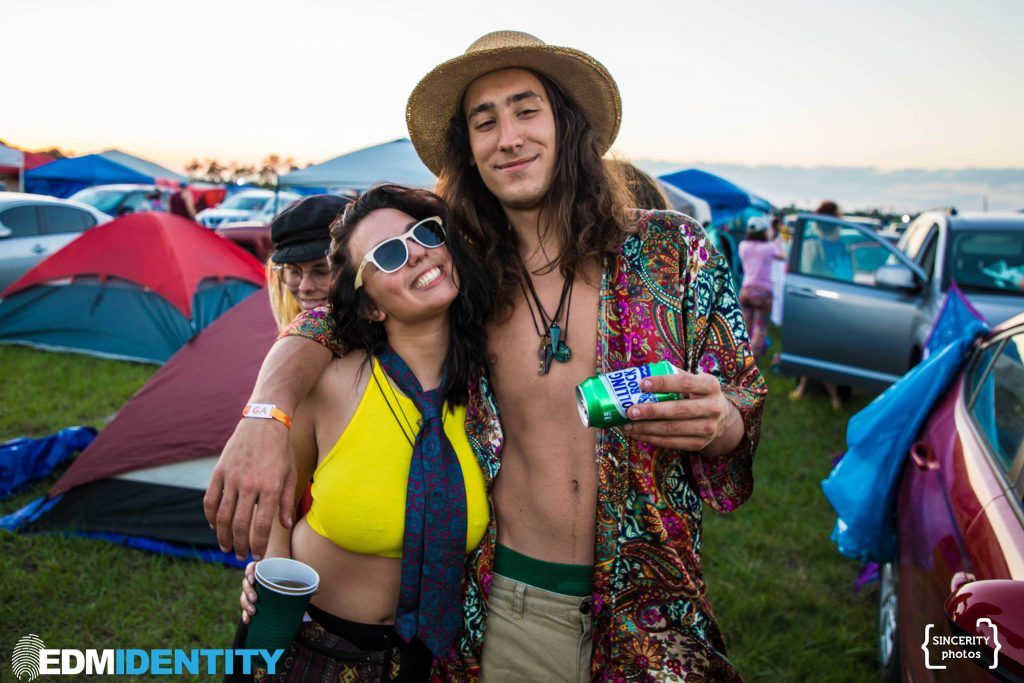 Decide whether a Shirt, Tank, or going shirtless works best for you!
Your options for tops are limitless, including basic t-shirts and tank tops, to button-ups and sequins. Tops with graphics or phrases can be conversation starters and eye-catching as well.
T-shirts can have all-over print designs that offer full coverage of a design. Or, break out the tie-dye and get creative by designing your own! Beyond the basic prints, designs can feature UV reactive materials to glow in the dark as well. Tank tops will be the most popular choice at a festival.
A button-up shirt or Hawaiian shirt can be left unbuttoned to give the breathability you need during the day, and buttoned up later at night if it gets cooler. These also pair up perfectly with Bermuda shorts for a stylish look.
Basketball jerseys are another option, but due to the heat, you might want to seriously consider protecting yourself from chaffing. Baseball jerseys would be a smarter choice since you're able to treat them like a button up.
Going shirtless is also a popular option if you're ready to show off all the work you've put into your body for the summer festival season. You can still grab a shawl or Spirithood to throw around you and it'll give you a frame. Or, give some suspenders a try, though we recommend choosing a durable reflective style over the LED light up options out there.
Stores to check out for tops:
---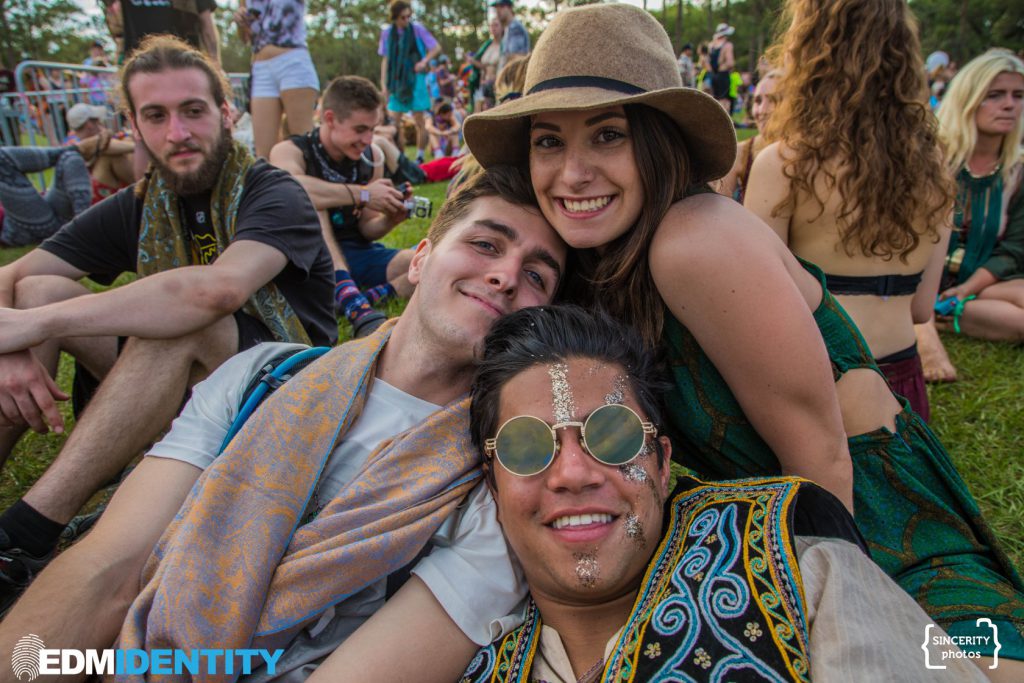 Pair up your rave outfit with some accessories.
Complete your outfit with accessories that add functionality and personality like a pair of sunglasses, bandana, and hydration pack.
Eyewear ranges from functional sunglasses that will help reduce the exposure to light, which can be especially useful when you're at a stage with a lot of LED walls. Grab a pair of kaleidoscope glasses or diffraction glasses for a unique visual experience, and they can also be a good conversation starter as well.
A bandana will cover your face from the elements as well, or just as a way to capture sweat on your forehead. There are a lot of designs, including ones offered by your favorite artists as well.
Festival hoods or hats are another great way to accessorize. Spirithoods are a popular option that offers comfort and designs that let you connect with your inner animal. Protecting your head from the elements by using a hat to give yourself shade will help slightly and do remember the sunscreen!
Shawls, Pashmina, or cashmere scarves offers protection from the extremes of festivals by blocking out the sun, heat, wind, and dust. These are popular in the forest community right now and offer a lot of different patterns and designs.
Themed socks are an easy way to add some flavor to your outfit when you're wearing shorts. You can go with a variety of colors, or check out prints like a pair of Darth Vader Star Wars socks. Pair the socks with comfortable running shoes that have a lot of support since you'll be dancing for hours at a time.
EL Wire is a relatively inexpensive way to add your own creative touch to your costume or your hydration pack. Just be sure to attach it to something that doesn't shift around too much!
Stores to check out for accessories:
Still stuck for ideas? Check out some examples of men rocking unique outfits!
---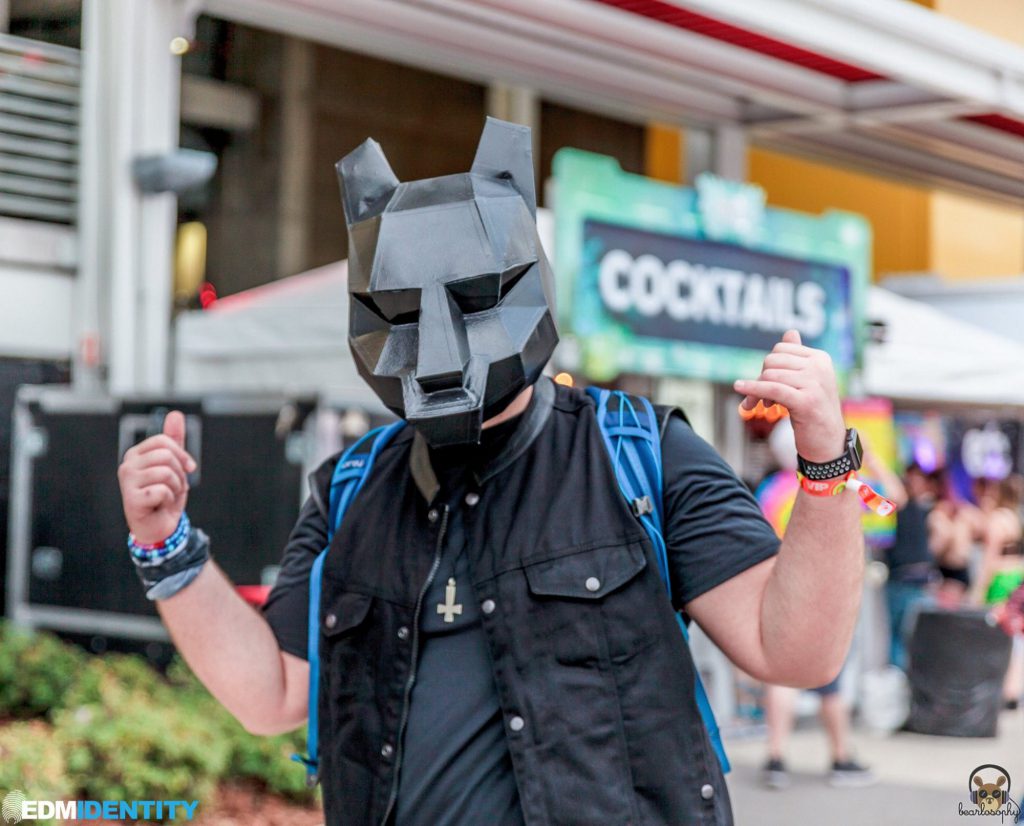 Pay tribute to your favorite artist.
Iconic artists like Black Tiger Sex Machine and deadmau5 are instantly recognizable with their masks. Show your love for them at your next rave by getting creative and make your own deadmau5 head or BTSM helm.
The possibilities are limitless, including donning a pair of 3D printed REZZ inspired glasses complete with LED patterns to make you look as trippy as Space Mom. If you're more into paying tribute in less extravagant ways, make sure to check out your favorite artist's web store to see if they offer tanks, shirts, or hats.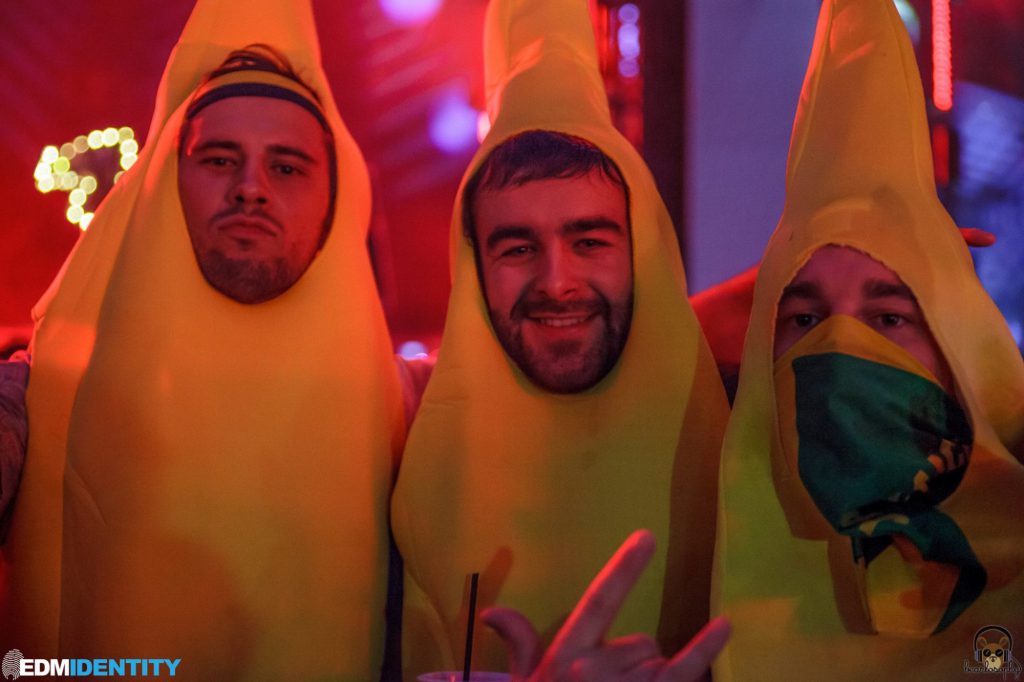 Get your friends in on a group costume, cosplay, or theme day and go bananas!
It's peanut butter jelly time! Break the ice with a costume that will lead to starting conversations that might lead to lasting friendships. If you're afraid of standing out, then convince someone to go with you and do a group costume. You don't have to match, either! Get the crew to dress up as the Scooby Doo gang, or partner up on a duo costume like Rick & Morty.
Some festivals even have communities that will even coordinate a theme day, like at Electric Daisy Carnival with Pokemon day!
Amazon has some low-cost banana outfits that you can use to turn into your alter ego Banana Doge. We've compiled some of the best onesie options, as well.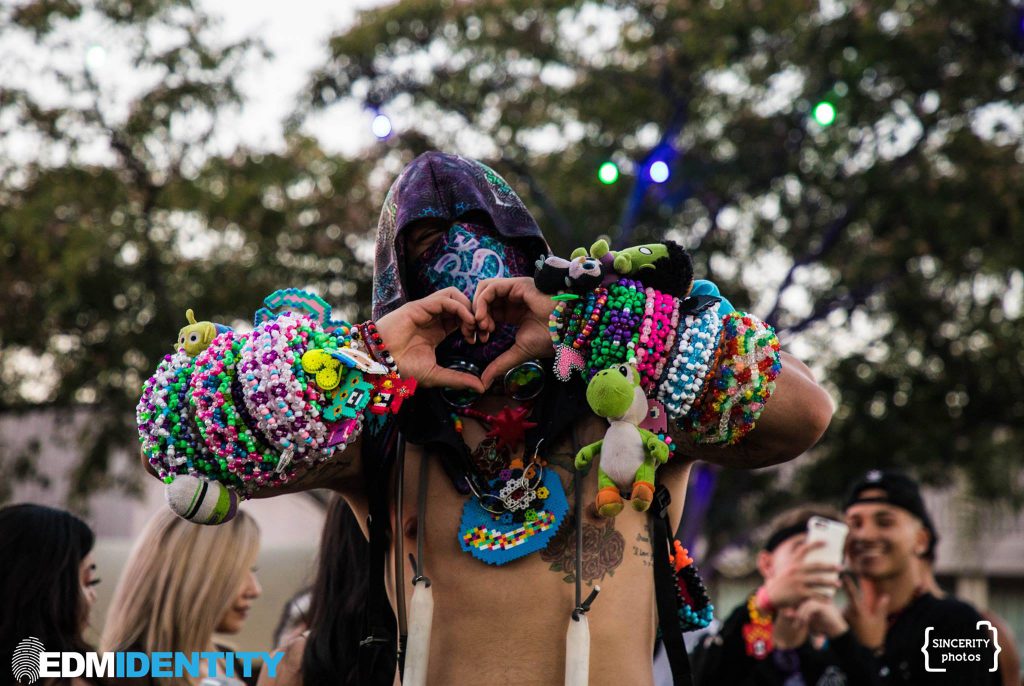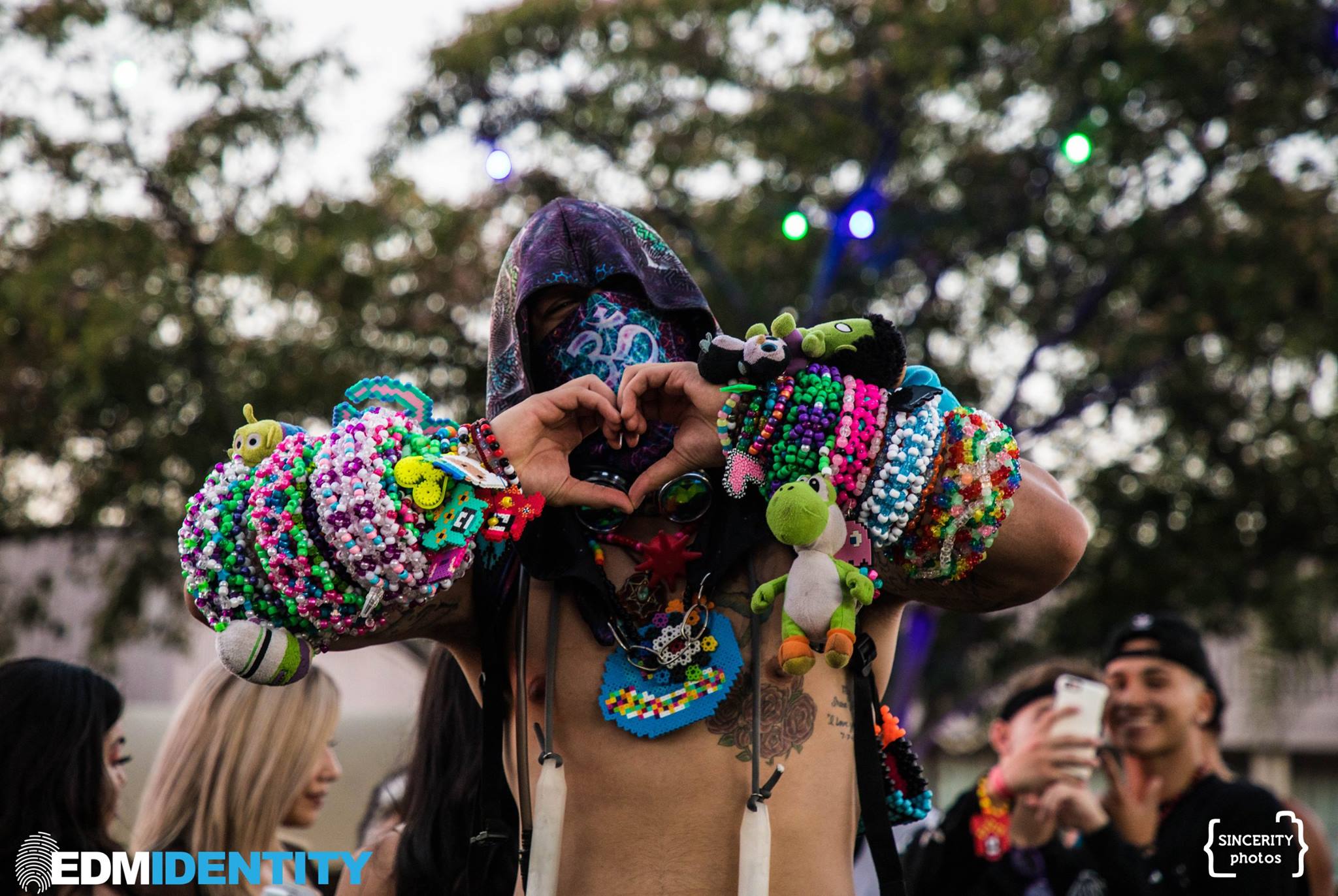 Create kandi to trade that will have your look transforming throughout the festival.
The best part about kandi is the meaning behind every trade and the memories you'll make. You can create 3D kandi cuffs and attach perlers that will be good accents with your outfit. Accessories like this will allow you to express yourself while still being able to go shirtless and show off the hard work you've spent in the gym. Kandi is also a great way to pay tribute to your favorite artist or create the pieces that go with a theme day.
Grab some pony beads and get to creating! By the end of the night or weekend, you'll have a completely new set of kandi with new memories and looks.
---
What do you usually wear when attending festivals or events? Tell us in the comments below!