Ilan Bluestone bursts into the next phase of his career with his first full-length album, Scars, available now on Anjunabeats!
---
Ilan Bluestone is a cornerstone of the Anjunabeats family, joining the label in 2011 with the Maor Levi collaboration "On Our Own." Since then, he has cooked up some of the most iconic tracks the label has seen. Scars is Ilan's first full-length release in his career, a fact that even Tony McGuinness of Above & Beyond can't believe. "In my mind, this can't be Ilan's first album, he's been making hits for Anjunabeats for so long," he wrote on Facebook on the day of Scars' release.
Through that long list of hits, Ilan Bluestone carved out a name and sound for himself. Yet on Scars, he is not content to rest on his past successes and formulas. On the album, Ilan Bluestone sweeps aside some trance genre mainstays in favor of bigger, bassier tracks. Ilan began collaborating with Jason Ross in 2016, and Ross' love of wubs has definitely rubbed off on him.
While the trance hasn't left the building (hi there, "Noa"), fans should buckle in for an album of huge vocals and expansive drops. Listen to the album below and read on for our take on this debut from one of the most beloved Anjunabeats artists!
Related: Read our in-depth chat with Ilan Bluestone from Dreamstate SoCal!
Stream Ilan Bluestone – Scars on Spotify:
Stream or purchase your copy of Scars today!
---
Scars' singles have been released over the course of a year, but the album gives them a fresh new meaning.
"Frozen Ground" was the first single that Ilan released from Scars back in March 2017. By now it feels like an Anjuna anthem with its tenacious build and stadium-ready call-and-response chorus. "43+86=129" sneaks in a clever reference to Ilan Bluestone's 2015 track "43" and Sunny Lax's "86". Trained fans' ears will have a great time picking out the influences from the two previous Anjuna releases.
Featuring vocals by Koven "Another Lover" is the vocal track with the second-most character and emotion. I look forward to dramatically wailing along to its wistful hook. "You want another lover (but you won't let me down)." For extra credit, check out Koven's remix, it opens up the track and gives vocalist Katie Boyle a fresh take on the opening lines, but the original version is fantastic as well.
The album takes a breath on "Not Alone," a deeper track with a comforting, spaced-out feel. I'll definitely be adding this deeper track to my playlist for driving around in the city at night. "Guru" is another specialty track, a mystical groove great for any upcoming morning yoga sets this festival season.
Tasty original tracks appear in the close of Scars, after Ilan has already taken us on quite the journey.
On the back third of the album, "Cosmic Feeling" is a welcome shake-up with a fun disco vibe. It's especially welcome as the four other Giuseppe De Luca tracks start to feel a little samey. Here, De Luca has room to groove rather than just belt out the vocals. I'm never opposed to a little sexy sax solo action on my dance tracks, so this was an added bonus.
The lovely ending comes from the epic "Eclipse" is a choral coda that swells with emotion and a feeling of contented accomplishment. A playful synth line appears midway, conjuring 80's fantasy escapes like The Neverending Story. Here's hoping that Ilan Bluestone's story is nowhere close to ending.
In all, Scars is a voyage that both looks back and summarizes Ilan's career to this point and teases the direction in which he's headed.
It's clear that Ilan poured his soul into it (and even gave himself some stress ulcers in the process, yikes). The songs above are only a snippet of this massive 15-track album, so get out there and hear for yourself. After all, you're going to want to know the words so you can belt along with Giuseppe come festival season!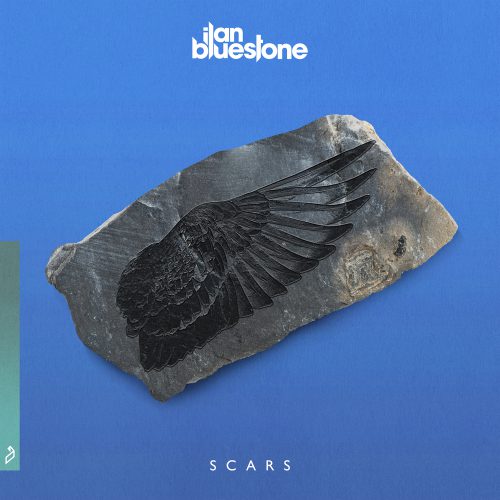 ---
Connect with Ilan Bluestone on Social Media:
Website | Facebook | Twitter | Instagram | SoundCloud