John Graham aka Quivver stops by to talk producing progressive techno, working with Cristoph, and more.
---
John Graham aka Quivver has been a force in the progressive techno scene with his releases since the 90s. This year alone has seen some of his best work with massive progressive tunes coming out on his Controlled Substance label including "Tunnel Vision" and "Hype".
As part of Selador's fifth birthday celebration, Quivver and Cristoph have teamed up on a massive sounding new tune. Dubbed "In Name Only", the track is due out for official release on April 27, but tune in below to listen to it today!
We were lucky enough to talk with Quivver on his way to playing in Minneapolis recently for a Spektrum night. Check out Quivver's thoughtful creative process, what artists are inspiring his sound, and why his drum & bass roots helped shape him today.
Listen to Quivver & Cristoph – In Name Only on SoundCloud:
---
Your collaboration with Cristoph drops April 27. How did the collaboration come about? What elements of your sound and his seemed to blend well together?
The collab was originally suggested by Dave Seaman when we were talking about the Selador 5th birthday album. I put a basic groove together, some drums and a few synth bits and sent them to Chris and he added a lot more melodic synth layers and turned it into a really big sounding tune.
The tracks on your Controlled Substance label like "Tunnel Vision" and "Hype" create a dark atmosphere with its booming sound. Where does your inspiration come from when you're creating these hypnotic and bass driven techno tracks?
The recent Quivver stuff is really what comes to me naturally at the moment. That dark, groovy, hypnotic sound has always been there in my music, but lately, I've steered away from the temptation to make things bigger and focused more on the groove elements.
I might have 4 or 5 bass parts and a lot of percussion bits that weave together and I really enjoy spending time getting those parts to play off each other in the right way. When I'm sitting there with my head nodding like a lunatic then I know it's working.
Your upcoming compilation in July features both originals and selected tracks that bridge the gap between an artist album and a DJ mix. Who are some of the artists you feel represent the energy you're aiming for?
I won't say who the artists are that are part of the album yet, but some of the people whose music I've been playing a lot recently are Oliver Huntemann, Drunken Kong, Dubspeeka, Artbat, Mattia Saviolo, Erkka, Kaiser Souzai, Olivier Giacomotto… I could go on.
Your guest mix on John 00 Fleming was played on his Global Trance Grooves radio show. With such a wide range of sounds within genres like progressive, trance, or techno, do you see there being any need to better define those sounds, or is the idea of genres something that even matters, in your estimation?
I don't want to be restricted by genres, I listen to and play stuff from many genres and I don't produce stuff to specifically fit into any specific genre.
And yes, there's a lot of variation within genres and some peoples opinion of what is techno or prog or tech-house will be very different from others. There's good music and there's crap in every genre so it's down to the individual to find what they think is the good stuff.
Besides progressive and techno, you have produced in many genres, including drum & bass as your alias Skanna. How do you balance pushing the sound you love with the direction the scene is moving in?
I think that just happens naturally, I try hard not to jump on whatever bandwagon happens to be passing through town at any given time but I'm always influenced by the music I'm currently listening to.
I think starting my career in drum & bass helped to give the Quivver stuff the darker edge that it has and hopefully made my sound different than if I'd started in the 4 to the floor world.
You're playing in Minneapolis during their Spektrum Progressive night on April 20. What elements do you try to bring to your club sets to capture the essence of dark and progressive vibes?
Yeah, I'm really looking forward to the Minneapolis gig. I'm just gonna play what I play. Rodd and the Spektrum people already know my sound so hopefully, it'll be well received.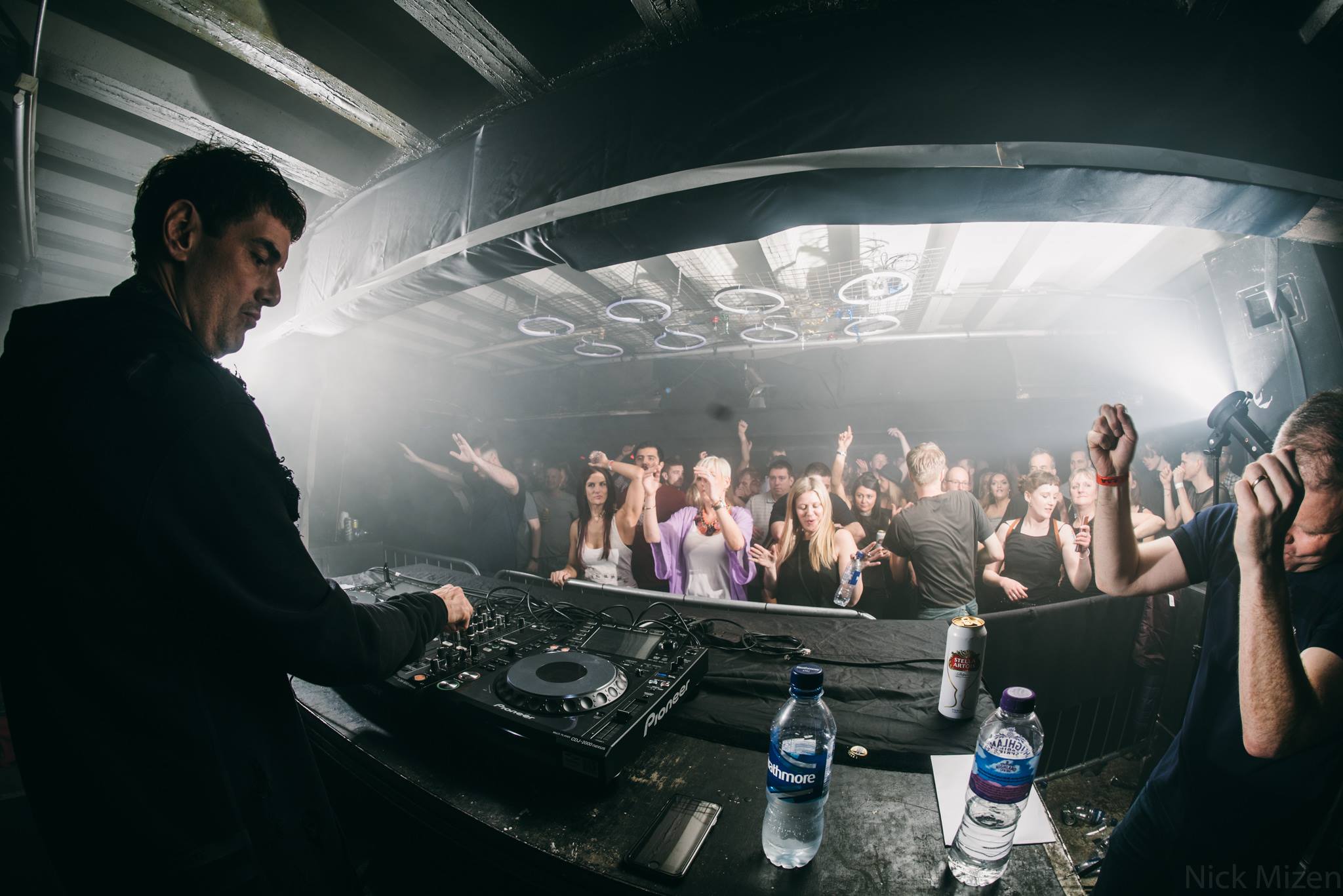 The modern explosion of electronic music in the US happened nearly a decade ago. How has the market and sound matured compared to the UK?
I'm not sure it's really changed that much. I might not be the right person to ask as I've not been in the USA much over the last couple of years. There were always cool, underground clubs in the USA and the explosion of mainstream EDM didn't really change that a lot from what I've seen.
I always hoped that the young ravers would eventually get into the underground sounds and I'm sure that's happened, but not nearly to the extent that I thought it would.
Tastemaking and mood setting seem to be more important than one hit wonders in the progressive and techno scene. What would you tell new producers in the field to focus on to create a dedicated following?
I guess try to find your own sound would be the most important thing – and that's not an easy thing to do. Your music has to be a sound that DJs will play so you really have to balance the combination of your own, natural, sub-conscious creativity mixed with the conscious effort to make it sound current.
Finally, over the years your music has been licensed on television shows and video game trailers. Is that something you would like to do more of?
Yeah, I really enjoy doing the TV and film stuff, and the game trailers are good fun as well. It makes a nice change from making music for dancefloors and DJs.
It's not something I get to do too often but I'd definitely like to do more of it in the future – maybe when I don't want to be a DJ anymore – although I'm not sure that time will ever come.
---
Follow Quivver on Social Media:
Website | Facebook | Twitter | Instagram | SoundCloud