Phoenix Lights 2018 is upon us! Check out the essential information to ensure a flawless and fun weekend!
---
It's just about time to pack up and head out to Arizona for another edition of Phoenix Lights! The event will be held at The Park at Wild Horse Pass in Chandler, Arizona which is located just down the street from last year's venue. Attendees can look forward to a weekend full of great music including headliners Martin Garrix, Diplo, Gucci Mane, and Travis Scott with support from Autograf, ATLiens, Gramatik, Goldish and many others!
With so many talented artists gracing the desert stages it is sure to be a memorable weekend. Be sure to check out all the essential Phoenix Lights information to make sure you and your crew have everything dialed in. See you in the desert!
Read about Carlos' experience at Phoenix Lights 2017!
---
Phoenix Lights 2018 – Essential Info:
Dates: April 7-8, 2018
Show times: Doors at noon; Ends at midnight
Venue Address: The Park at Wild Horse Pass; W. Wild Horse Pass Road, Chandler, Arizona
Ages: All ages to dance, but 15 and under must be accompanied by an adult; 21+ to drink
Tickets: Tickets are still available at PhoenixLightsFest.com
---
Phoenix Lights 2018 Set Times: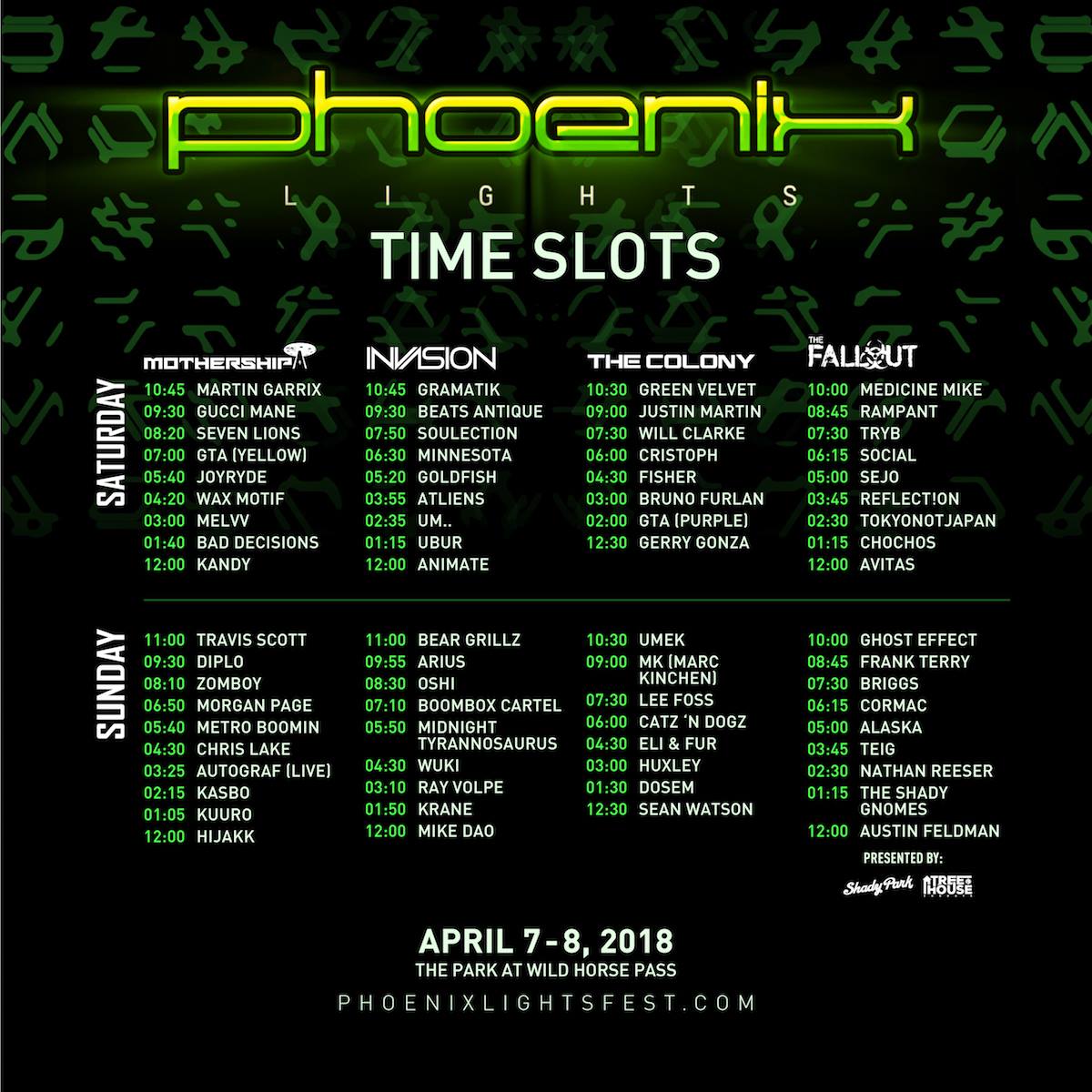 ---
Phoenix Lights 2018 Map: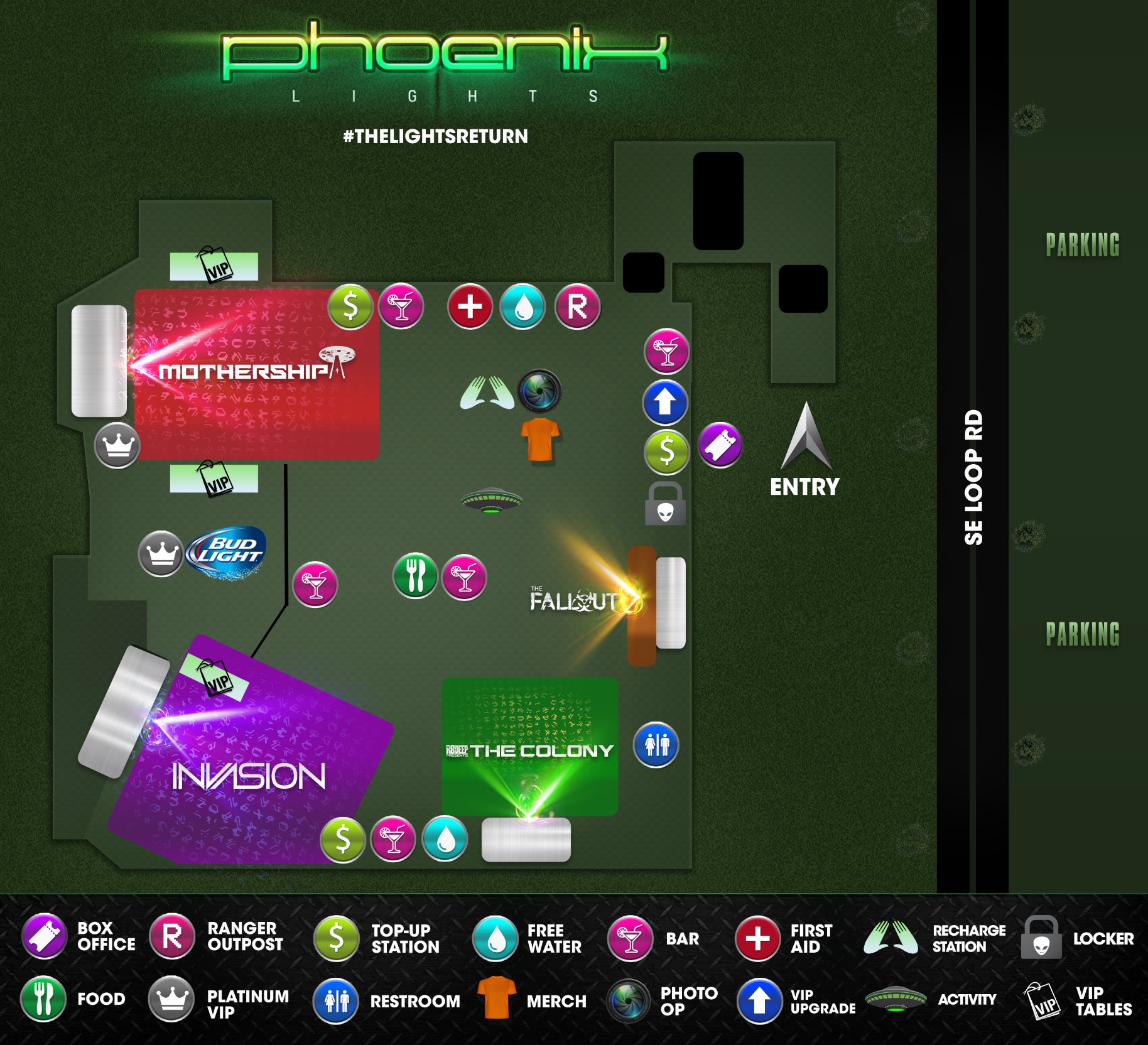 ---
Phoenix Lights 2018 After Party: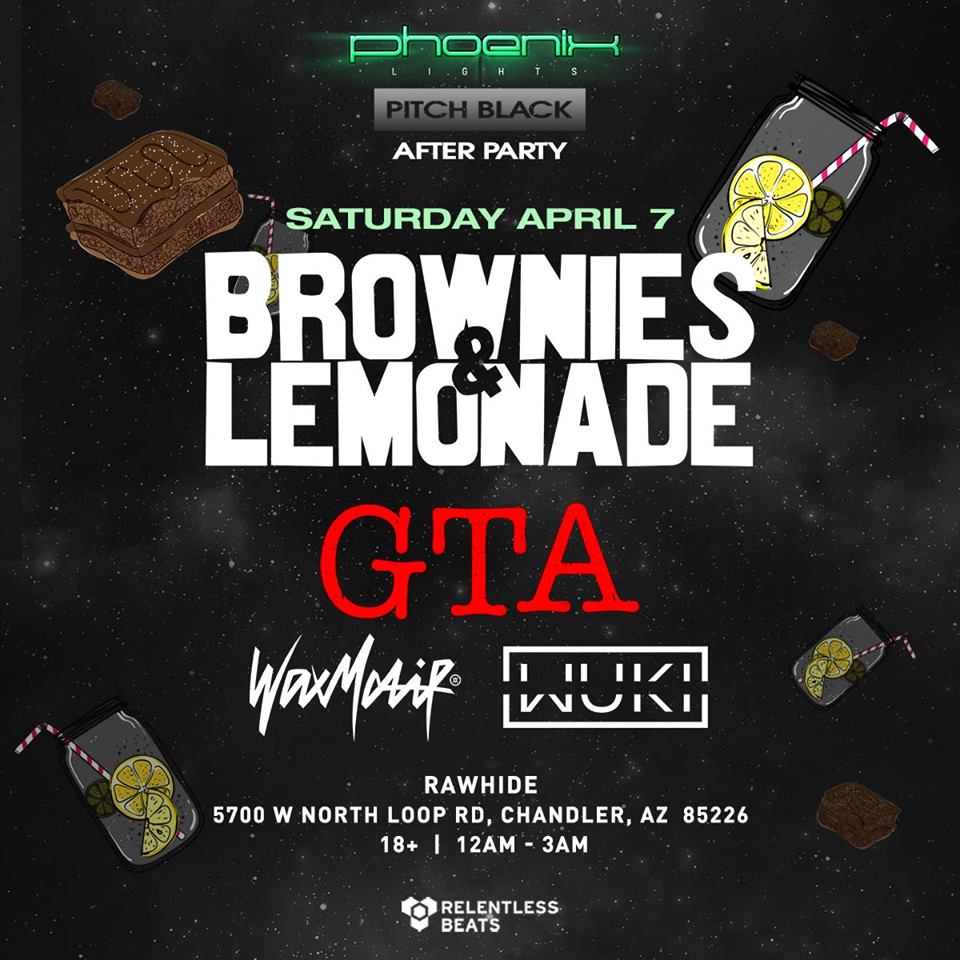 ---
Acceptable Forms of Identification for Entry:
You must present a valid photo ID at the Main Entrance in order to enter.
A valid photo ID can be one of the following: drivers license, identification card, passport, military identification card, resident alien card, or a US drivers license.
If you don't present your Valid PHOTO ID, please note that entry will be denied and no refunds or no date transfer for the tickets will be available.
---
Permitted/Prohibited Items List:
The following is not allowed into the venue:
NO Illegal Substances
NO Drugs or Drug Paraphernalia
NO Pets
NO Massagers
NO Laser Pens / Pointers
NO Eye Drops
NO Glass, Cans, Cups, or Coolers
NO Markers, Pens, or Spray Paint
NO Large Chains or Spiked Jewelry
NO Stickers or Flyers
NO Tents, Large Umbrellas, Chairs, or Blankets
NO Large Purses or Bags (Anything over 10×10 inches)
NO Open Cigarettes, Lipstick, Chapstick, or Tampons
NO Outside Food, Beverage, or Alcohol
NO Professional Cameras – SLR or Detachable Lens
NO Video or Audio Recording Equipment
NO Knives, Firearms, Pepper Spray, Fireworks, or Weapons of Any Kind
NO Toy Weapons or Real Weapons of Any Kind
NO Open Sunscreen
NO Balloons, Balls, Frisbee, and / or Any Other Projectile
NO Native American Headdresses
The following is allowed into the venue:
OK Small bags, purses, and fanny packs
OK Empty water bottles, including reusable and disposable water bottles
OK Empty CamelBak-style water bladder systems
OK Fanny Packs
OK Non-professional cameras incl Go Pros
OK Cell phones
OK Lighters
OK Sealed: cigarette packages, tampons, packs of gum, and chapstick/lip gloss
OK Festival Totems
OK Glowing / Illuminated Costumes or Jewelry
OK Inflatables (deflated upon entry)
OK Flags / Banners or Handmade signs (no corporate or company-branded ones)
OK Sunglasses and hats
OK Sealed Liquid sunscreen and cosmetic products
OK Disposable E-cigs / Nicotine Vaporizer pens, but none with refillable chambers containing visible liquid
OK Guide dogs for people with disabilities and other service animals with current rabies certification
OK Totems per rules in next section
Totem Guidelines
NO TALLER THAN 6FT
Posters/Boards attached to totems can be NO LARGER THAN 18"x24"
Must be made from lightweight material (eg foam, PVC / no solid metal)
Collapsible camera telescoping extenders that follow the above guidelines are OK (lightweight/hollow aluminum/polycarbonate)
PVC, Light Wood, Aluminium poles must be no thicker than 1″ diameter
Decorated pool noodles work great for easy entrance through security
Inflatables attached to totems must be deflated upon entry.
Please note that any items that are deemed dangerous may not be admitted into the event.
Please note that anything deemed inappropriate, insensitive, or distasteful will NOT be admitted to the event.
---
Reminder To Mind Your Belongings:
Unfortunately, many people have reported pickpockets, bag slashings, and theft of wallets, smartphones, purses and other valuables during this festival season. While this small number of bad apples in the bunch doesn't define an entire crowd, there are opportunistic people who come to these events to take advantage of unsuspecting partygoers and it's important to be mindful of your valuables while at Phoenix Lights.
Looking for tips to keep your belongings safe? Check our post highlighting some ideas!
---
Connect with Phoenix Lights on Social Media: