After releasing a monumental 300 Artist lineup for Mysteryland 2018, the festival has now released the artists spinning in the camping area!
---
If you weren't already impressed by the 300+ artist lineup that Mysteryland dropped earlier this year then clearly you're someone who is hard to please. The diverse lineup offers a taste of nearly every genre imaginable, and now there are even more artists to catch in the campgrounds over August 24-26 in The Netherlands.
Joining the camping lineup for the 25th Anniversary of the festival are a string of acts that will be keeping attendees dancing away while not inside the festival itself. Headlining the two days are Nicky Romero and Sam Feldt, who are set to bring their unique house stylings to the decks.
If you were hoping for some diversity on this lineup then Mysteryland has definitely got you covered with the inclusion of everyone from Atmozfears and Sander Van Doorn to Fedde Le Grand and Mike Williams. We were also stoked to see the inclusion of Drishti Beats on the lineup as well, who will be providing those early morning yoga vibes to zen out to and start your day off right.
Read on for the full camping lineup and don't miss out on this incredible festival's 25th Anniversary this year – tickets are on sale now!
---
Mysteryland 2018 Camping Lineup Flyer: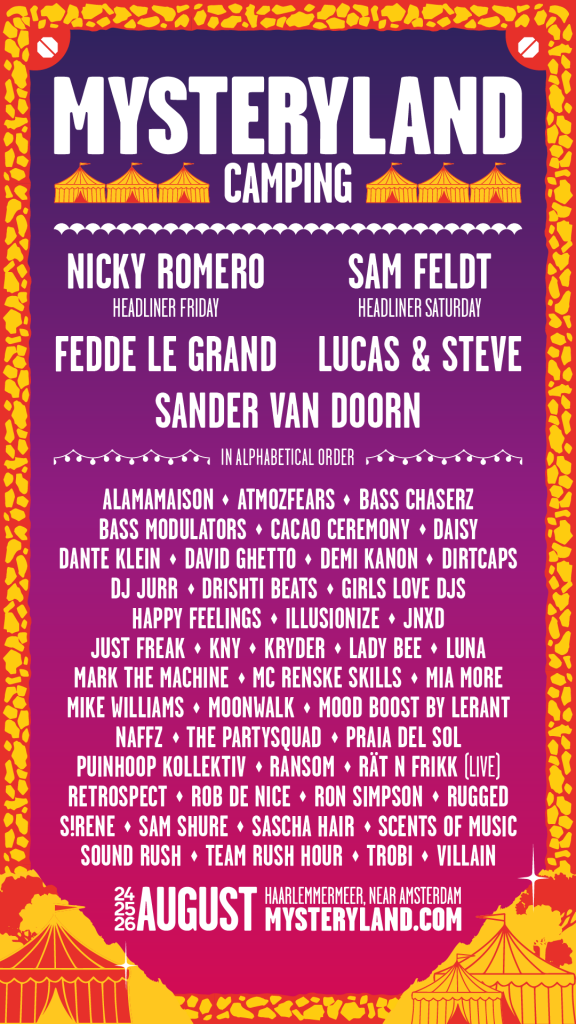 ---
Mysteryland 2018 Camping Lineup By Artist:
Nicky Romero (Headliner Friday)
Sam Feldt (Headliner Saturday)
Fedde Le Grand
Lucas & Steve
Sander van Doorn
Alamamaison
Atmozfears
Bass Chaserz
Bass Modulators
Cacao Ceremony
Daisy
Dante Klein
David Ghetto
Demi Kanon
Dirtcaps
DJ Jurr
Drishti Beats
Girls Love DJs
Happy Feelings
Illusionize
JNXD
Just Freak
KNY
Kryder
Lady Bee
Luna
Mark The Machine
MC Renske Kills
Mia Moore
Mike Williams
Moonwalk
Mood Boost By Lerant
Naffz
The Partysquad
Praia Del Sol
Puinhoop Kollektiv
Ransom
Rat N Frikk (Live)
Retrospect
Rob Be Nice
Ron Simpson
Rugged
S!rene
Sam Shure
Sascha Hair
Scents Of Music
Sound Rush
Team Rush Hour
Trobi
Villain
---
Connect With Mysteryland On Social Media: