The Mysteryland lineup for 2018 is out and it is jam-packed with names ranging from Fatboy Slim and Netsky to Brennen Heart and Tchami!
---
One of the most magical festivals that planet Earth has to offer is none-other than Mysteryland. Known for their fantastic setting and stunning lineups, this renowned festival takes the top billing as one of the best to attend in Europe. Hosted in The Netherlands over the weekend of August 24-26,
The 25th Anniversary of Mysteryland was already set to be a massive one with the announcement of the first headliners which only grew the anticipation of many ahead of the full lineup drop. Today, we have received that full roster of artists who will be taking the stage at the festival this year and we couldn't be more pleased!
Celebrating a milestone year means pulling out all the stops for the artists booked for the event, and Mysteryland has a bit of everything that will definitely suit your tastes. The Main Stage will be pumping out beats from the likes of KSHMR, Hardwell, Robin Schulz, W&W, and more, but the lineup is just getting going from there.
Looking deeper into the hosted stages each day is a treasure trove of some of the best names in hard dance, house, techno, trance, and of course the sounds coming from the bass world as well. We were stoked to see such a stacked Q-dance lineup featuring Wildstylez, Ruthless, Headhunterz, and the Trance Energy stage is one to take note of with the additions of Aly & Fila, Markus Schulz, and Ferry Corsten!
Read on for the full lineups by stage and don't miss out on this incredible festival – tickets are on sale now! 
---
Mysterland 2018 Lineup Announcement Video:
---
Mysteryland 2018 Lineup Flyer (Headliners):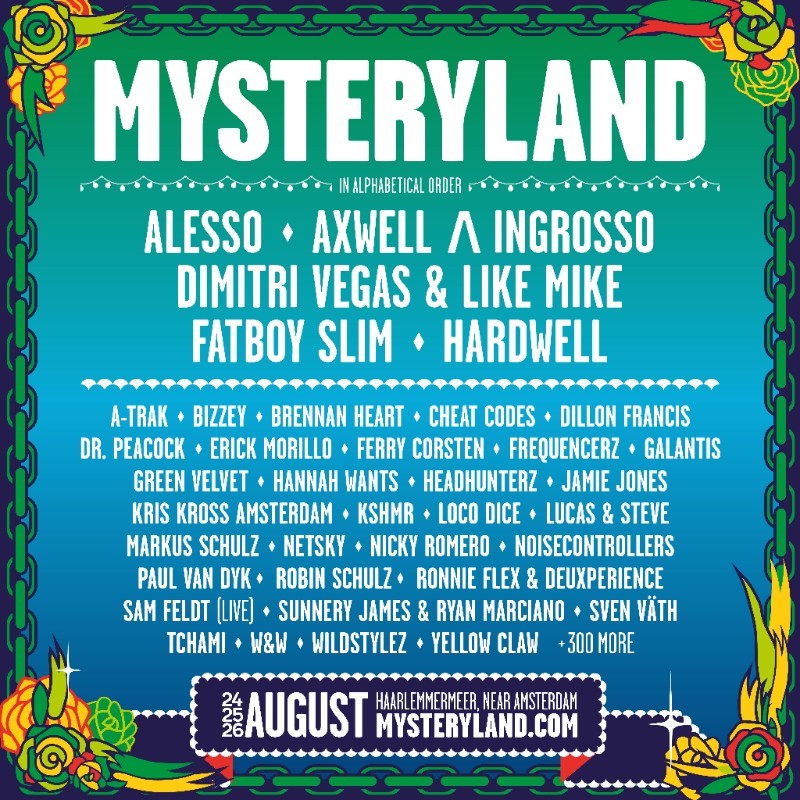 ---
Mysteryland 2018 Lineup By Stage:
Main Stage – Saturday, August 25th
Alesso
Benny Rodrigues
Bruno Martini
Fatboy Slim
Hardwell
Justin Mylo
KSHMR
Lucas & Steve
Netsky
Robin Schulz
MC: Lex Empress
Main Stage – Sunday, August 26th
Axwell /\ Ingrosso
Dimitri Vegas & Like Mike
Galantis
Jonas Blue
The Him
Kungs
Sam Feldt (live)
Vintage Culture
W&W
MC: Lex Empress
Q-dance – Saturday, August 25th
ANDY SVGE
Atmozfears
B-Front
Brennan Heart
Code Black
Cyber
Pavo
Ruthless
Sub Zero Project
Wildstylez
MC: Villain
Q-dance – Sunday, August 26th
Bass Modulators
Coone
Frequencerz
Geck-O
Headhunterz
Max Enforcer
Noisecontrollers
Psyko Punkz
Sound Rush
TNT
MC: Villain
Trance Energy – Saturday, August 25th
Aly & Fila
Ciaran McAuley
Cosmic Gate
Evan Kendricks
Ferry Corsten
Marco V
Markus Schulz
Paul van Dyk
Rank 1
ReOrder
Rodg
Hardwell presents Revealed – Sunday, August 26th
Hardwell (stage host)
Blasterjaxx
Charming Horses
Dirtcaps
Dr Phunk feat. special guest Jebroer
KAAZE
KSHMR
Maddix
The Partysquad
Quintino
Sick Individuals
MC Gee
Sexy By Nature – Saturday, August 25th
Sunnery James & Ryan Marciano (stage host)
Chus & Ceballos
Erick Morillo
Ferreck Dawn
Hannah Wants
Kryder
Novac
Tchami
Wouter S.
Yellow Claw presents Barong Family – Sunday, August 26th
Yellow Claw (stage host)
ANBU (live)
Cesqeaux B2B Aazar
Dillon Francis
DOLF
Juyen Sebulba
LNY TNZ B2B Crisis Era
Mightyfools B2B The Galaxy
Moksi
SIROJ
Stoltenhoff
Cocoon – Saturday, August 25th
Sven Väth (stage host)
André Galluzzi
Fabe
Man With No Shadow
Popof
Cocoon – Sunday, August 26th
Sven Väth (stage host)
Dana Ruh
Ilario Alicante
ROD
SHLTR
Paradise – Saturday, August 25th
Jamie Jones (stage host)
Boris Werner
Green Velvet
Julian Alexander
Loco Dice
Paradise – Sunday, August 26th
Jamie Jones (stage host)
Dubfire
Luuk van Dijk
Marc Holstege
Patrick Topping
Vunzige Deuntjes – Saturday, August 25th
Ballantine
Bizzey
Cassivs
Dopebwoy (live)
Equalz
FS Green
Hato
Jack Jameson
DJ Manie
Vunzige Deuntjes Soundsystem
Washington
MC JR
Vunzige Deuntjes – Sunday, August 26th
DJ Abstract
Biggi
Freddy Moreira
Jack Jameson
JDB
Johnny 500
Raynor Bruges
Ronnie Flex & Deuxperience
Vunzige Deuntjes Soundsystem
Walter Looks
MC Don de Baron
Kris Kross Amsterdam x Crazy Town – Saturday, August 25th
Kris Kross Amsterdam (stage host)
A-Trak
DJ Alain
Cheat Codes
Dennis Branko
Raywell
Rico South
Sanka Soundsystem
The Boy Next Door
Tom Push
Weslo
Yung Internet
MC: Ron Simpson
FluFlu x Crazy Town – Sunday, August 26th
Alex Rueda
Boehmer
Daan de Greef B2B Julio & Baby Jesus
Danny Plezier (live)
Fiësto
Juvanice
King Eyal
Tom Caron & Steins
MC: Ron Simpson
Thunderdome  – Saturday, August 25th
AniMe
Bass-D
Buzz Fuzz
D-Fence
Furyan
Gizmo
Dr. Peacock
Promo
Tha Playah
The Stunned Guys
Uzi
MC: Da Mouth of Madness
Thunderdome – Sunday, August 26th
Andy The Core
Dano
Endymion
Korsakoff
Mad Dog
Noize Suppressor
Ophidian
The Raver vs Tha Nouky
Ruffneck
The Viper
MC: Da Mouth of Madness
Beatport x Stil vor Talent – Saturday, August 25th
Christopher Breuer
Hidden Empire (live)
Niko Schwind
Sam Shure
Beatport x Stil vor Talent – Sunday, August 26th
Kellerkind
KlangKuenstler
Sam Shure
Girls Love DJs – Saturday, August 25th
Girls Love DJs (stage host)
Alex Coly B2B Pasquinel
Geza Weisz
Joshua J
Mikey Nice B2B Alamaison
Phalerieau & Alainde Lon
Yung Felix
MC: MCM
Tony Junior's Temple – Sunday, August 26th
BLR
Boombastix
Childsplay
Gregor Salto
Isaac Palmer
Ronko
Sem Vox
Tony Junior (stage host)
MC Haits
Milkshake – Saturday, August 25th
Bramsterdam & Big General
Doppelgang
Mason
Osie Square
Shirley Hart
Milkshake – Sunday, August 26th
Bramsterdam & Big General
Doppelgang
Lin
Lupe
Mason
Healing Garden – Saturday, August 25th
5-element Dance
Cacao Ceremony
Dance Yoga
Dristhi Beats
Mahadeva
DJ Martyn Zij
MC Renske Skills
Mood Boost by Lerant
Scents of Music

Healing Garden – Sunday, August 26th
5-element Dance
Cacao Ceremony
Healing Sound Movement
DJ Isis
Isis & Mozes (live)
Mood Boost by Lerant
Scents of Music
MC: Renske Skills
Headliner Camping – Friday, August 24th
---
Connect With Mysteryland On Social Media: