For those who couldn't make it to Ultra Music Festival for their 20th anniversary, you can still stream and listen to the music on Ultra Live!
---
One of the biggest music weekends of the year is finally here! Tune in with us as we watch Ultra Music Festival kick off their 20th anniversary in style. Over the last few months, Ultra has been teasing us with phased lineup posts, promises of secret sets, while Miami Music Week has been taunting us with secret guests and epic events such as Above & Beyond Common Ground, FSOE, Spinnin' Records Pool Parties, and so much more.
Many Ultranauts living on the northeastern side of the US faced flight delays, cancellations, and airport closures due to the weather, but the Miami Music Week party is already in full swing and will only heat up as the weekend progresses. With three full days of music at Ultra Music Festival and countless sets to boogie down to this weekend, there should be plenty to keep you grooving even if you aren't in Miami!
Related: Need set times for Ultra Music Festival? We've got you covered! 
As of now, Ultra has only announced the schedule for Day 1 (Friday, March 23), which begins at 3 pm EDT with the Preshow, and features music from Oliver Heldens, Armin van Buuren, VIRTUAL SELF, and more. As in the past, be-at.tv will host a separate stream for house and techno fans, featuring sets from Arcadia and the Carl Cox Megastructure with sets from Maceo Plex, Danny Tenaglia, Hot Since 82, and, of course, Carl Cox himself.
Stay tuned for additional details on the livestream as they become available – we will continue to update this page with new schedule information and a link to the stream as we receive them.
Who are you most excited to catch on the Ultra Music Festival livestream? Let us know in the comments!
---
Ultra Music Festival 2018 Livestream:
Channel 1 (Ultra Live):
Channel 2 (RESISTANCE | Arcadia Spider):
---
Ultra Music Festival 2018 Day 1 Livestream Schedule: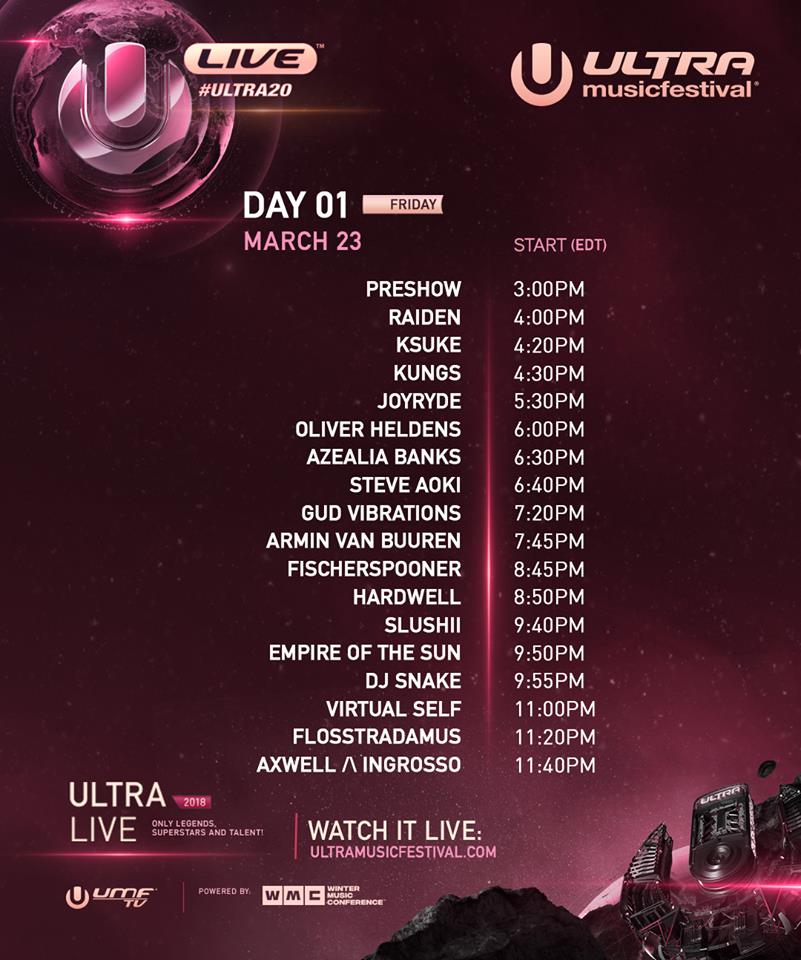 Ultra Music Festival 2018 Day 2 Livestream Schedule:
Ultra Music Festival 2018 Day 3 Livestream Schedule: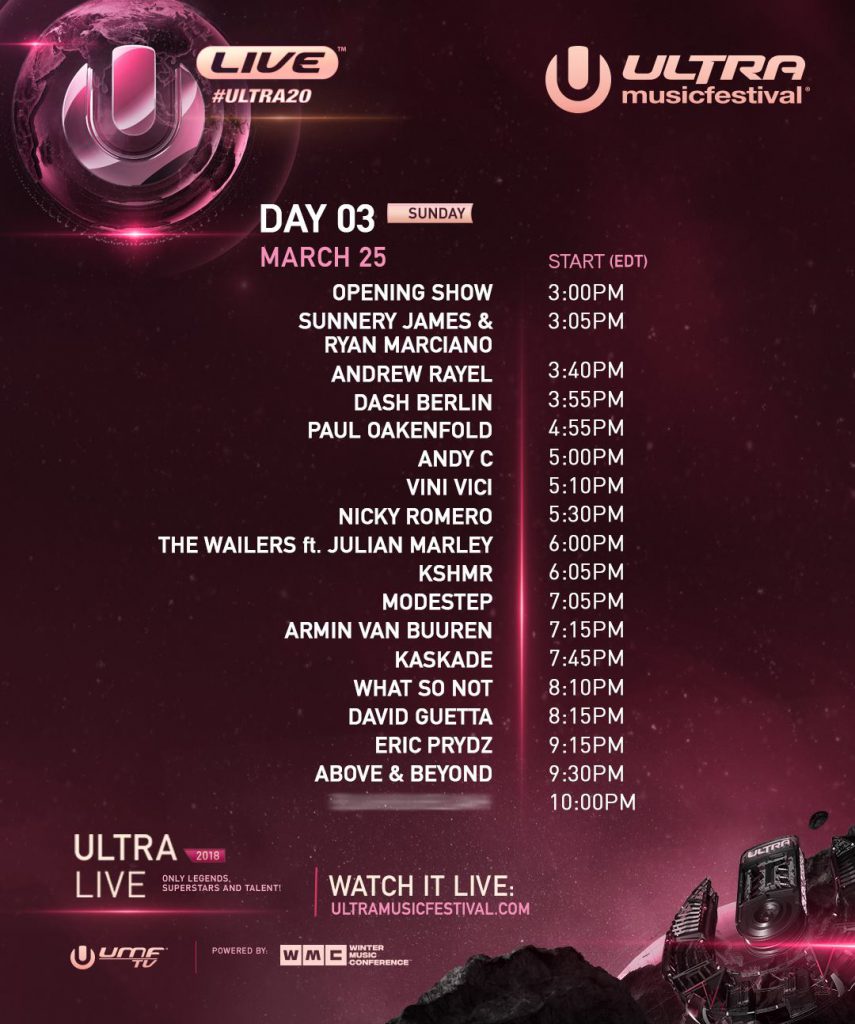 ---
Ultra Music Festival 2018 RESISTANCE Livestream Schedule: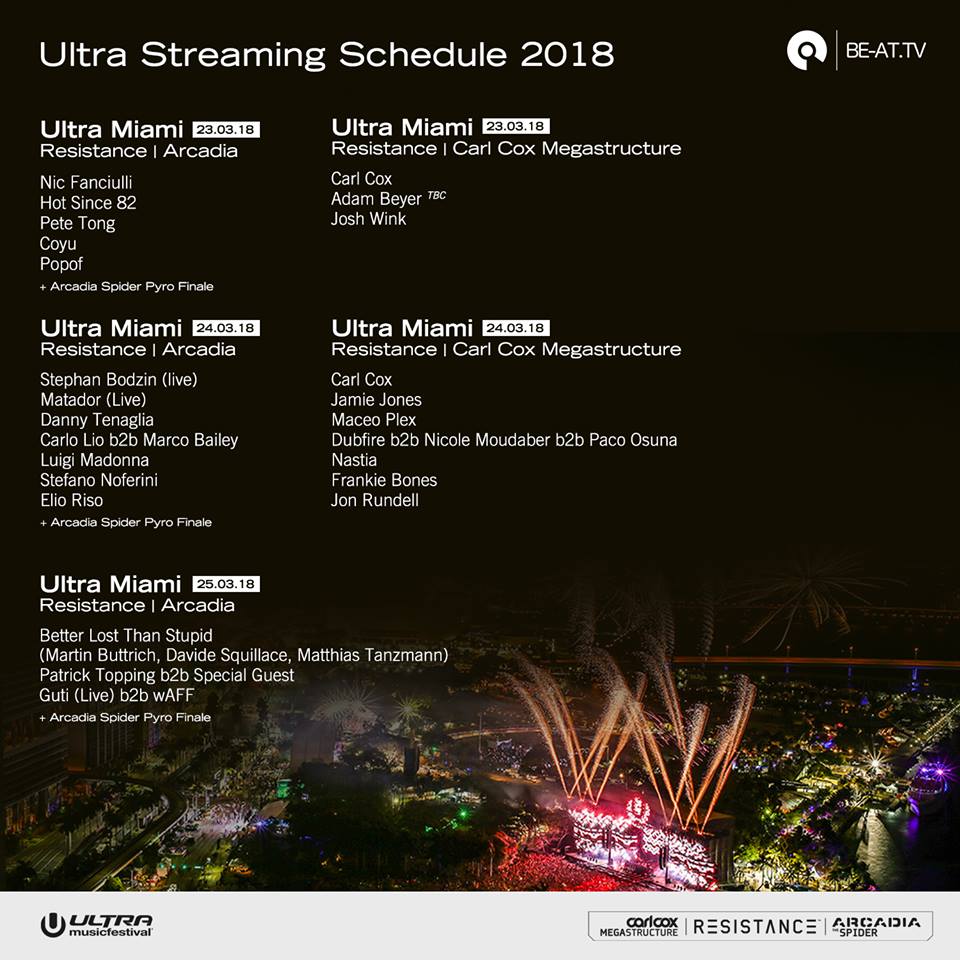 ---
Follow Ultra Music Festival on Social Media: