The Denver EDM scene would be barren without its dedicated promoters, and Mahesh Presents and Stark Contrast curate some of the most unique events in the Mile High City.
---
This Saint Patrick's Day, Mahesh Presents and Stark Contrast will combine forces to bring a truly special event to Denver. Dubbed The Golden Age with Paul Oakenfold this one-night affair will feature an all-classics (pre-2000) set by the legendary trance artist for a warehouse party you shouldn't be missing!
There are only a few days left until the Saint Patrick's party of the year with Paul Oakenfold, grab your tickets now!
Ahead of this exciting event, we have to thank Mahesh Patel and Adam Stark, owners of local production companies Mahesh Presents and Stark Contrast, for bringing this show to the Mile High City.
Looking to get more insight into the men behind these two companies and to learn why Denver is quickly becoming a trance haven, we reached out to get an in-depth look at the local scene. Read on for their thoughts on the current state of trance in Denver, histories in the scene and more!
---
For our readers who may not know as much about you, how long have you lived in Denver and been a part of the scene, and how did you get involved in promoting and producing shows?
Adam: I am a born and raised Coloradan. I've lived in the Denver area for most of my life. My parents moved us here when I was 8 years old and I've lived in the area ever since. When I turned 16 and was old enough to have X's on my hands and go to shows I started going to Global Dance Fest, Caffeine, Skylab, and a bunch of the other festivals / massives in the Denver area. I was actually at Beta Nightclub the night they opened to the public, and after a few solid years of attending, I got an offer to be on their street promotions team. The rest is pretty much history.
Mahesh: Born in India, my family moved to the US when I was five. I've lived in the Denver-metro area pretty much since. I'd started attending "raves", as they were known when I was 21. From the moment I walked into one, I knew I wanted to be a part of this culture. I also knew then the direction I wanted to take my career – music and entertainment.
Producing and promoting events was a long line of trial and error. There's no course one can take in how to become a promoter. The journey itself has not only been an educational one for me as a businessman but also educational in understanding myself.
Being a promoter is filled with the highest of highs (when a sold-out show is something that people can't stop talking about), but also the lowest of lows (like when you need to get a second job to help pay bills because a show flopped). That said, I wouldn't want it any other way!
Can you tell us about an early memory of the scene that could've only happened in Denver?

Mahesh: The first Rave on the Rocks was the first dance music event to take place at Red Rocks Amphitheater. Headlining the event were The Chemical Brothers and Fatboy Slim. It was an experience I would never forget, and would ultimately help shape a part of my life. Where else can one listen to dance music with 9,000 like-minded individuals in a venue that only nature could have created? Only in Denver!
Adam: I remember being at a Global Dance Fest years ago while BT was playing. I spent most of his set trying to figure out how to get backstage so I could meet him. I remember being really upset about not getting a chance to meet him because at the time I had a vinyl copy of Flaming June that I would play on my turntables almost constantly.
What has your favorite event been so far?
Adam: This last year at ADE (Amsterdam Dance Event) I was at a few small intimate warehouse parties, both Trance and Techno related, that were really eye-opening. ADE, in general, was a surreal experience for me simply because the Amsterdam music scene is so diverse. Aside from that, talking specifically Denver, one of my favorite sets of the last year was Aly & Fila in Denver. They played an extended 4-hour set and it was awesome seeing such a talented group take the night from deep and dark to uplifting.
Mahesh: Are you kidding me? There's far too many to narrow it down to just one. Perhaps a sit-down meeting over tea is in order.
What makes a truly great event to you, and what kind of experience are you trying to create for people who attend your shows?
Mahesh: A truly great event is one in which the party-goer can leave the world behind and just get lost in the music, dance, and party. We work hard every day to pay our bills, accomplish our goals, work on relationships, etc., but we also need to take some time out every week to forget about all of that.
A truly great event allows you to come in, meet with friends (old and new), and to get lost in the music. The event needs to be organized – you don't want people to have to think about where to park, where the bathrooms are, etc. Also, the music and lighting, friendliness of the staff, etc all need to be on point as you want everyone to leave satisfied and with a smile on their face.
Adam: I honestly think that a really well-crafted event all comes down to the dance floor. The dance floor is supposed to be this relentless, unyielding, bastion of self-expression as well as being a place where people from all walks of life can come together and experience a moment together outside the confines of the rest of the world.
When you're throwing a party your absolute highest priority should be cultivating that environment on the dance floor so you can allow a crowd to come together for a collective experience. There are a lot of ways you can do this, from the music to staging your opening talent properly, to finding and creating the right space for the event itself.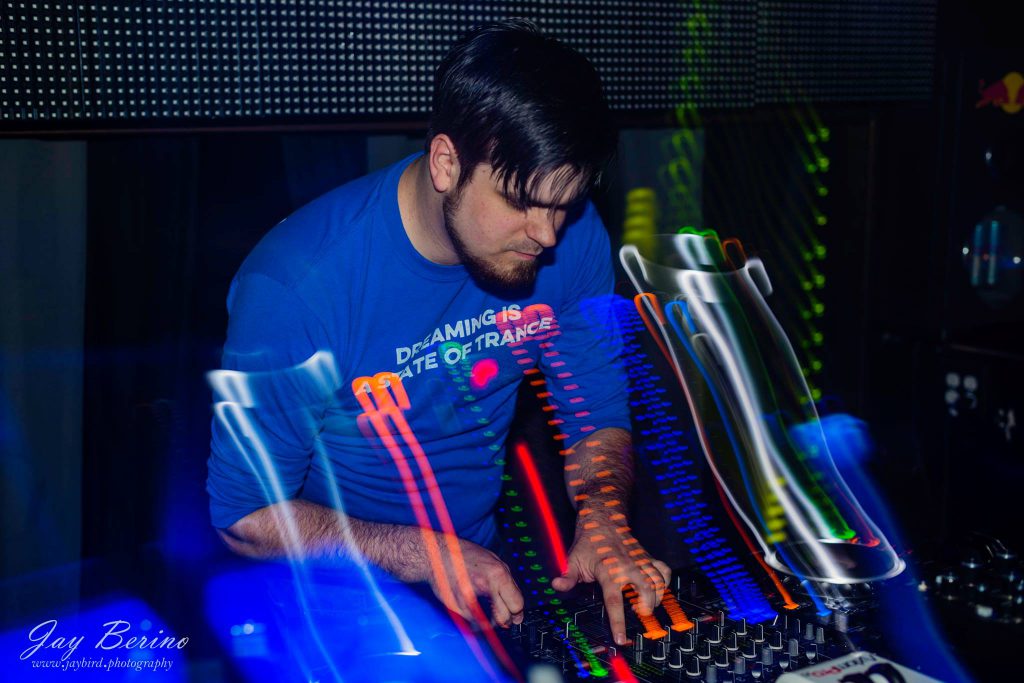 What are some challenges unique to working in a market of Denver's size?
Adam: Denver is a really interesting market. Over the last few years we've seen a ton of growth, so we're by no means a small market. But we're also not a massive market like LA or Miami. It's not just finding a space, some music, and promoting the show correctly. Unlike huge markets, Denver still has a very restricted pool of fans for any particular genre, with arguably the same amount of diversity in shows as most of the larger markets.
What this translates into is as a promoter, DJ, or talent buyer, you really need to be in touch with the fans that come to your shows on a much deeper level. Because they will be very vocal about what they want to see and hear. It's a nice challenge because it means having a lot of conversations with the people that regularly attend your shows. It breeds this amazing sense of community and togetherness that I think is still in some respects unique to the smaller markets.
Mahesh: Denver is a rather unique market. We're just a mid-market city (24th most populated market in the US) but because of the support from the community, our shows are much larger and more plentiful than those of cities several times our size. I think from the perspective of a talent buyer it makes it a bit difficult as we're competing for artists from cities like LA, New York, Chicago and Miami and our fees need to be in that range.
When you're booking an act as legendary as Paul Oakenfold, how do you sell Denver to them? How would you like the trance heavy-hitters to think of Denver?
Mahesh: In the case of Paul Oakenfold, he truly sells himself. The man is a pioneer, dance music icon, and legend. He was a literal god back in the late-90s through early 2000s, but he's still touring and working so he's never had that "he dropped off" moment.
I think the trance heavy-hitters have always known Denver to be a place that supports that genre of music. When the likes of Armin Van Buuren, Paul Van Dyk, and many others come to Denver to play sold out shows, how could they possibly think otherwise? A prime example is a few years ago when Armin played to a nearly sold-out crowd at The Fillmore on a Wednesday. A WEDNESDAY! That's insane when you really think about it.
Adam: When I started throwing smaller shows, I really wanted to create this idea that Denver was a great stopover destination. Somewhere to come in between New York / Miami and LA. Now I really think that increasingly artists and labels are starting to view Denver as a destination in and of itself, rather than an afterthought used for routing an artist around the country. The amount of talent I have coming directly to me and asking to play in Denver now is unprecedented.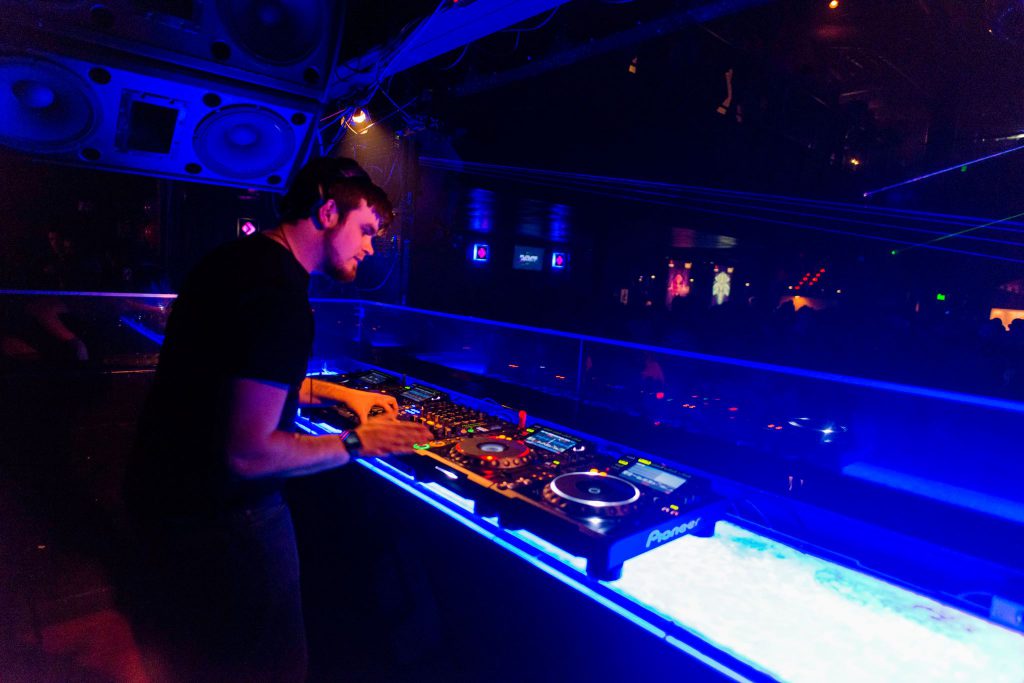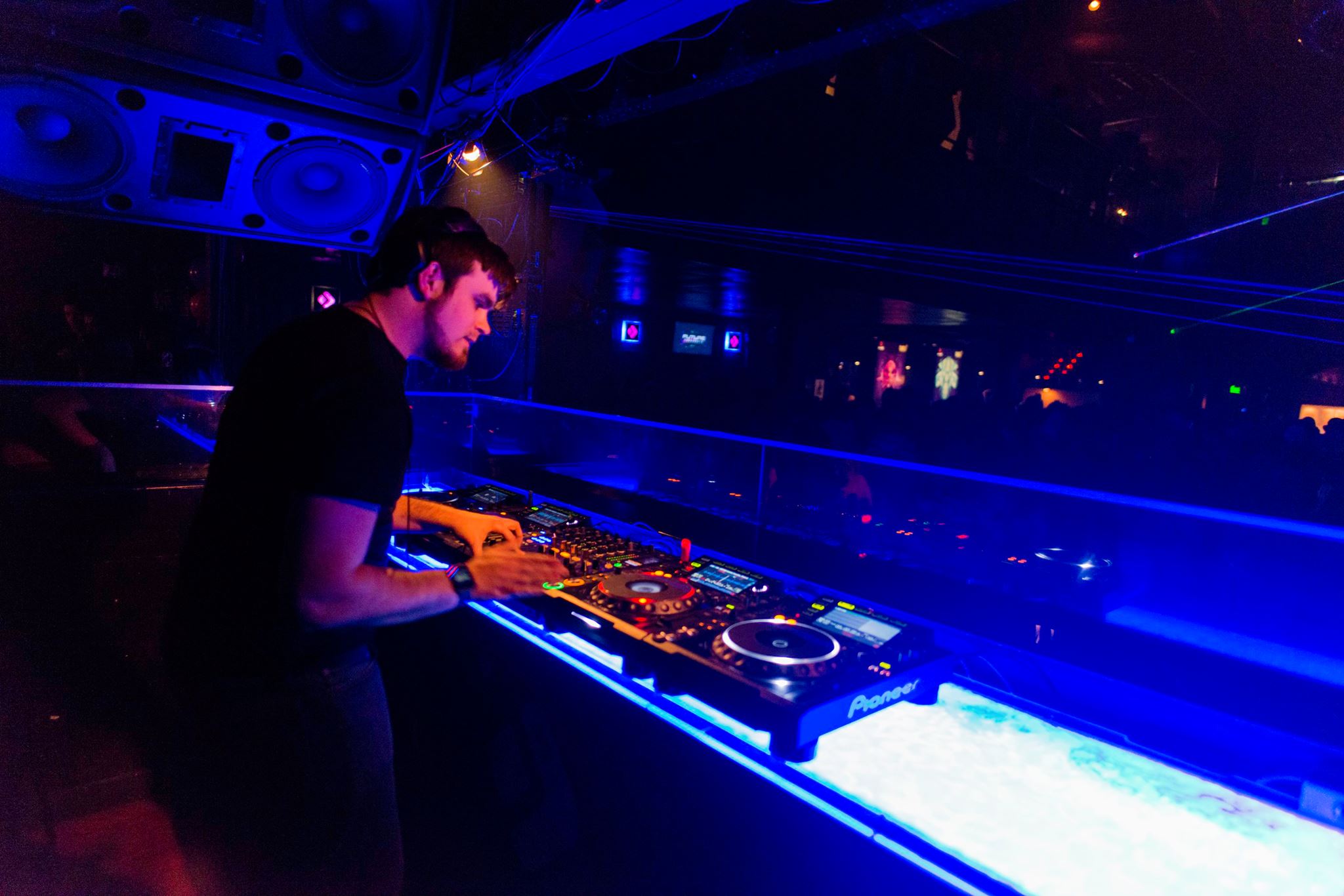 Selling tickets on a secret headliner takes a lot of clout and trust from the community. How have you worked to build that trust?
Adam: It really comes down to consistently delivering on your promises. When you tell someone to buy a $10 ticket and you're promising them it's going to be worth it, they need to have a history of seeing you make due on that promise. Every time I personally have done a blind sale, I've made sure the act was worth substantially more than the blind ticket price.
I know in the past a lot of promoters have abused the blind ticket mechanic to simply boost the FOMO for the show. For the Oakenfold show, in particular, I was incredibly excited to be working with Mahesh, as he brings that respect to the table. Mahesh is known for delivering absolutely stunning shows all around Denver, so I really couldn't have asked for a better partner for this show.
Mahesh: Hard work and the commitment to deliver on your promises every single time. It takes a proven track record for ticket buyers to believe enough in the promoter to give up their hard-earned money for an event without even knowing who the artist will be. It just goes to show that they believe in the experience you'll provide them no matter who the headliner is.
Why did you choose to put on a warehouse/all classics show? Is there a risk in leaning on nostalgia, or do you think that there's an inherent power to put on those kinds of sets?
Mahesh: I have been producing warehouse events regularly for the past seven years. For me, it's something fun, different, and challenging. For party-goers, it's a unique setting that is a welcome change of pace from their typical nightlife routine.
I chose the theme of a "Classics" party as it's something that I've always wanted to do. When I booked Paul Oakenfold in December 2016 I presented the idea of a classics-only show in an all-night warehouse and he absolutely loved it! Since then we'd been in communication and thankfully it all came to fruition.
If there is a risk, I'm not aware of it. As I see it, old-schoolers are given the opportunity to relive some of the greatest moments from their youth while the younger generation becomes educated on the music that is the foundation for the songs they're listening to today. Great songs don't have an expiration date.
Adam: Mahesh and I talked about this idea almost a year ago. He approached me about the idea of a trance after-hours in a warehouse, as he had been rolling it around in his head and felt that it could be a winner if the right artist was involved. I immediately agreed, and when he had a chance to lock down Paul Oakenfold everything else just made sense.
I think an act like Oakenfold is perfect for a nostalgic set because it gives fans of his nearly 30-year run as a worldwide touring DJ a chance to come together. It's a great way to bring the classics back for a crowd of people that will most definitely appreciate them while also allowing the fans who have helped us bolster the scene over the last few years to experience something completely outside of a typical show in Denver.
Trance has experienced a powerful revival in Denver. Where did the resurgence come from? How did you team up with each other?
Adam: The resurgence has really come as a result of all of the smaller individual talent buyers in Denver that have been around for the last decade seeing the trend in the market. The big room sound is finally starting to move on a bit, and that's creating a lot of space with the wide fan base it's leaving behind. I think AEG, Global Dance, Beta, and SoCo have done a great job of taking the appropriate risks in bringing some trance acts in, and letting the crowds dictate what they will keep bringing back.
It's funny because almost 5 years ago now when I decided to start throwing my own shows, Mahesh was in charge of the bookings in The Lounge at Beta. We worked together back then, and he really helped me find my own feet in the promoting world. I made a lot of beginner mistakes, but Mahesh was always willing to sit down and talk with me about how I could do the next show better.
Mahesh: Over the years entities like Global Dance (through Global Dance Festival, Decadence, Global Fridays, etc), Beta Nightclub and others have been booking the biggest names in trance at some of the biggest events. This has helped to ensure the appetite for that music doesn't go unsatiated.
Globally, nationally and even locally there's been a resurgence within the genre. It's difficult to pinpoint exactly how that came about, but one can point to talented, hard-working producers and promoters as the backbone to this, but festival promoters, clubs, etc all need to provide a forum in which this sound can be given the proper exposure for growth. I think we're seeing that happen right now.
Adam Stark and I have had a friendship spanning several years from knowing each other in the Denver scene. When I used to run a Saturday weekly club night in The Lounge at Beta I gave Adam an opportunity to put on his own show. I enjoyed working with him, and that was the beginning of our professional relationship.
Recently, Adam had mentioned to me that he'd like to play a greater part in the scene, and asked to how he could be involved. At the time I didn't really have any ideas, but then as I was putting The Golden Age with Paul Oakenfold show together, I thought this might be the right opportunity. I shot Adam a call, and he was really into it. And the rest, as they say, is history.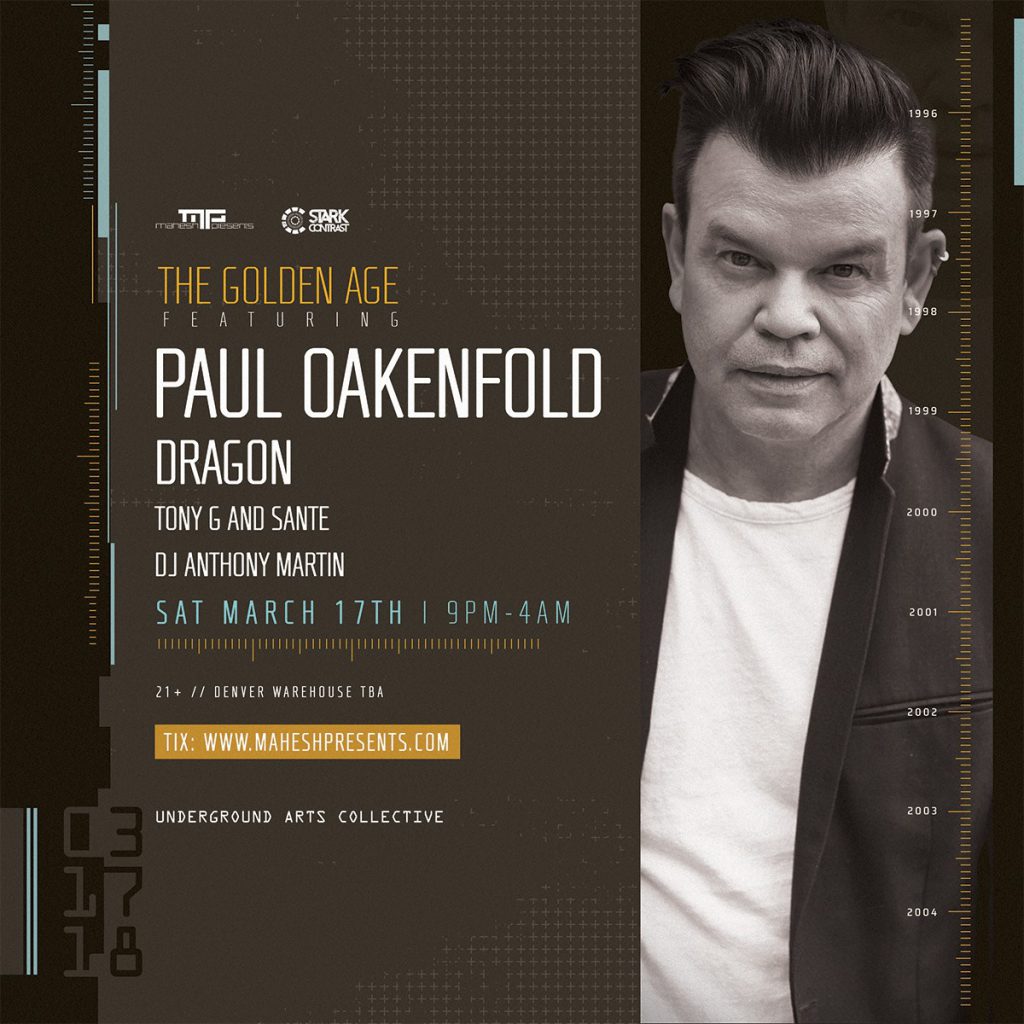 Do you think there is something in the makeup of Denver's that makes trance a natural fit?
Mahesh: Denver has what appears to be an insatiable thirst for dance music. We're known as the Bass Capitol for Bass music. EDM artists the world over know Denver as much more than just a fly-over town. The underground house, tech-house and techno scene is thriving here. So, in regards to Trance, I think Denver is a natural fit because the party kids come out to support.
Adam: I think its mostly a statement about the diversity of the crowd we have here in Denver. We have several successful pockets of underground promoters in several different genres. Trance has a lot of crossover appeal simply because it's been around so long, and so a lot of those individuals that have found their way through the scene over the years have been exposed to it in their past.
In your opinion, what is it about trance that gets people so emotional and full of love? 
Adam: A friend of mine once said that "Techno is a futurist statement". When I heard that it reminded me of something Ferry Corsten said a few years back somewhere along the lines of "Trance is a feeling, not a genre." I think really at the end of the day Trance is an Emotive statement. Its whole basis is in rooting emotion out of individuals and really instilling in them this sense of urgency to fully experience the moment at hand.
When you get that happening to an entire dance floor at once, with so many people on the same wavelength experiencing the same seemingly clandestine moment, then looking around and feeling like they are in a crowd of people that feel exactly the same way at that moment. You experience this immensely powerful sense of belonging that few other genres really allow you to be a part of.
Mahesh: The music and vocals are so much more human than, say, techno. There's a human element to it that brings out emotion.
Since the Oakenfold show is on Saint Patrick's Day, an St. Patty's Day-themed fun question – if you caught a leprechaun, what would you wish for?
Mahesh: Unlimited wishes of course!
Adam: Either a second me to help me manage all the things I have going on or twice the amount of hours in each day.
---
Follow Mahesh Presents on Social Media:
Website | Facebook | Twitter | Instagram
Follow Adam Stark and Stark Contrast on Social Media:
Facebook | Twitter | Instagram | SoundCloud