This spring, option4 is celebrating the launch of HotBOi Records with the Dance Around Tour, featuring b2b sets with Worthy!
---
Denver-based tech house artist option4 has experienced a meteoric rise, and things are only getting sweeter with the launch of his brand new label, HotBOi Records. In celebration, the Mile High City's favorite tech house artist will soon be hitting the road on the Dance Around Tour that will take him through Chicago, Denver, LA, and more alongside frequent collaborator Dirtybird/Anabatic artist Worthy for what are certain to be some monstrous b2b sets!
Option4's fledgling label is already off to a hell of a start, with the party-starting anthem "On the Train" by none other than Will Clarke marking its first release in January. Up next is this Friday's release of "Lifeline" by option4 himself, so keep your headphones at the ready, because this is one club banger that you absolutely do not want to miss out on.
Regarding the launch of his label, option4 had this to say:
Above all else, I wanted to try and create something that mattered again. Music seems so disposable nowadays and this is my attempt at trying to rectify that by creating a culture that encompasses more than just music or events.

I wanted to create something people cared about: to push things forward and take an artistic approach to running a label and build a brand and the artwork and merchandise is an important part of that. I wanted the art to reflect things that were big BEFORE social media. So as well as the music I want to create RARE merchandise that makes people feel special when they're able to obtain it and not stop there.
One thing is for certain – if you have the chance to catch these incredible shows, you'd best strap on your dancing shoes and get ready for a night of unparalleled house music. Check out the dates below and mark your calendars, and we'll see you on the dance floor!
Stream Worthy & option4 – Dance Around on SoundCloud:
---
Worthy & option4 Dance Around Tour Flyer: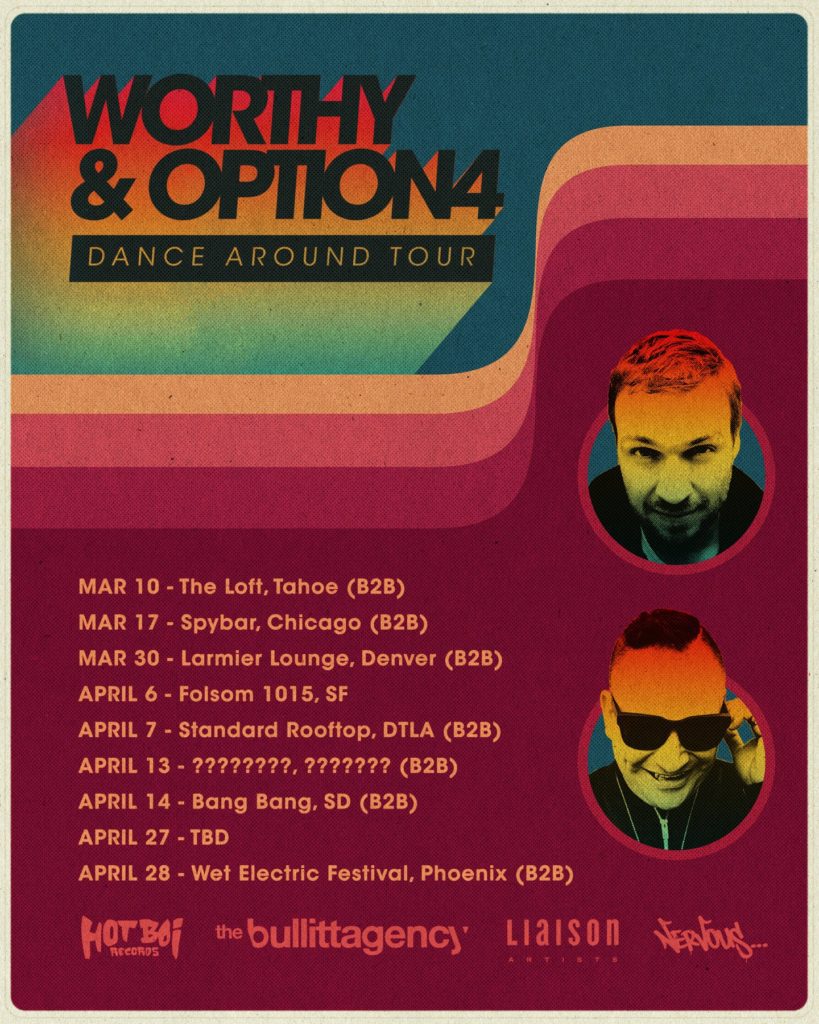 ---
option4 2018 US Tour Dates:
March 10 – Tahoe, CA @ The Loft (B2B Worthy)
March 16 – Boston, MA @ Wonder Bar
March 17 – Chicago, IL @ Spybar (B2B Worthy)
March 30 – Denver, CO @ Larimer Lounge (B2B Worthy)
April 6 – San Francisco, CA @ Folsom 1015
April 7 – Los Angeles, CA @ Standard Rooftop (B2B Worthy)
April 13 – Seattle, WA @ Kremwerk (B2B Worthy)
April 14 – San Diego, CA @ Bang Bang (B2B Worthy)
April 27 – Venue TBD
April 28 – Phoenix, AZ @ Wet Electric Festival
Plus more dates to be announced!
---
Connect with option4 on Social Media: