After a three-year hiatus, Bondax is back with a "Neo Seoul".
---
The Manchester-based duo Bondax has released exciting news about their debut album along with a teaser video of "Neo Seoul", a new club tune with a funky bass line. During their tour in Seoul in 2017, Bondax shot their video with clips of Seoul's lively nightlife and edited with a double exposed visual texture that you'll want to experience for yourself.
""Neo Seoul" is the most club-oriented track we've ever made. It stands alone in stark contrast to our album. The inspiration for the track is also a contrast in its own right – it was originally inspired by our memories of touring Asia, but the track truly came into being when we returned from a brief visit to Uganda."

– Bondax
Since November of 2017, Bondax has focused on their monthly podcast, Bondax Presents: Recur on MCR Live where they showcase exclusive tracks, top hits, and more. Featuring a special guest in each edition, they have already interviewed Maribou, Jadu Heart, Shy Luv, and most recently Crayon for their take on the scene. Listen to the podcast for free on iTunes.
In addition to the news of the upcoming album and their monthly podcast, Bondax has also announced their spring world tour dates in Europe and US. Specific dates and venues can be found below, purchase your tickets today via their Facebook Page!
Stream or purchase "Neo Seoul" on your favorite platform!
Watch the music video for Bondax's "New Seoul" on YouTube:
---
Catch Bondax on the Recur 2018 Tour:
3/10 – Lalala Festival 2018 – Orchid Forest Lembang, Bandung
3/14 – Flash, Washington
3/15 – Constellation Room – Santa Ana, CA
3/16 – Chop Shop Events – Chicago, IL
3/17 – Audio San Francisco – San Francisco, CA
3/18 – Holocene Portland – Portland, OR
3/20 – Floyd Miami – Miami, FL
3/21 – Zone One at Elsewhere – New York, NY
3/22 – Sound Nightclub – Los Angeles, CA
3/24 – Kingdom Austin – Austin, TX
3/31 – La Gaîté Lyrique – Paris, France
4/6 – Melkweg OZ, Amsterdam
4/13 – Village Underground – London, United Kingdom
4/20 – Antwerp Mansion – Manchester, United Kingdom
4/27 – Club GRETCHEN – Kreuzberg, Germany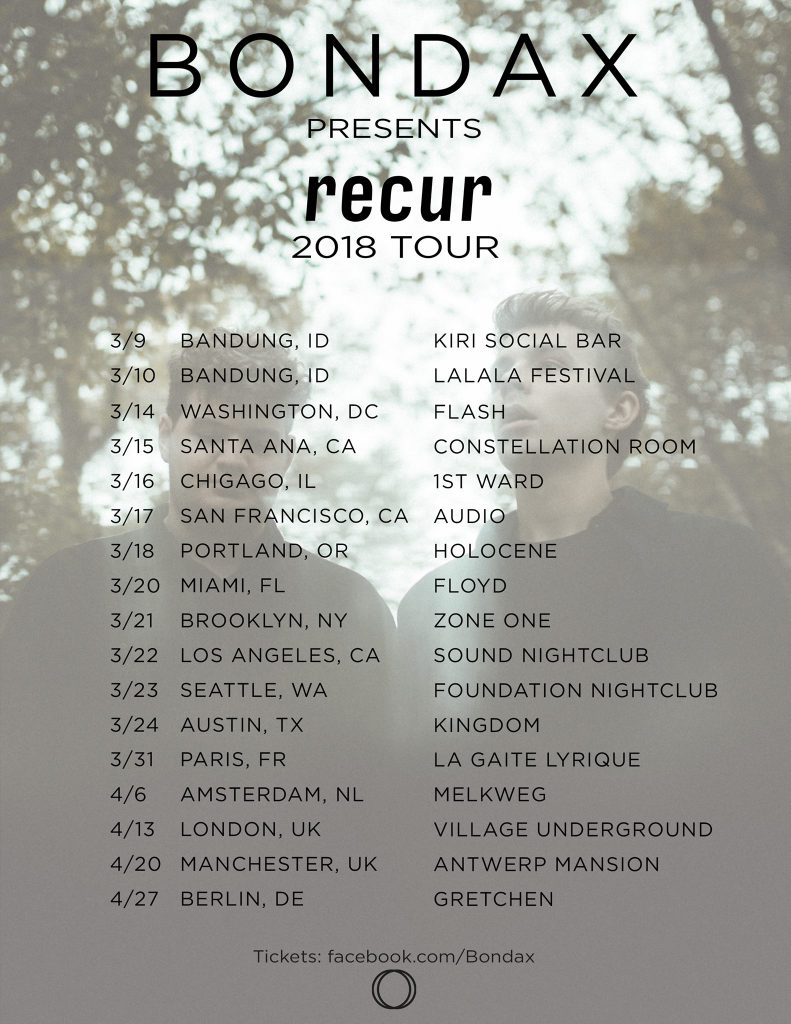 ---
Connect with Bondax on Social Media:
Website | Facebook | Twitter | Instagram | SoundCloud | Spotify