With Envision on the horizon, Desert Dwellers took the time to answer some questions about their dynamic as a duo, thoughts on the festival, and more!
---
Desert Dwellers is a legendary duo consisting of Amani Friend and Treavor Moontribe. Both artists are amazing solo DJs and producers in their own right with multiple side projects and years of experience in the transformational scene. Together, they've become a hugely influential force in the global music scene, bringing their unique style and sound to venues near and far.
Originally meeting in the late 90's at Moontribe events, Desert Dwellers have taken a unique approach to music production that blends the elements to create their signature sound. Releasing many albums, remixes, and more over the years, not only have they been a powerhouse duo with their own work, but have helped foster a growing community of artists through their Desert Trax label as well.
As Desert Dwellers look forward to playing Envision Festival this upcoming weekend, we've sat down to chat about their productions, the feeling they intend to evoke with their sets, and the upcoming album Breath. So take a listen to their mix from Resonance Festival in 2016 to get a taste of their sound and read on for our chat with this duo!
Stream Desert Dweller's set from Resonance Festival 2016 on SoundCloud:
---
Let's start with Envision. Do you feel this festival is among the spaces bringing us back to the village mentality, encouraging people to take care of one another?
Envision is definitely one of the top festivals in the world that is ushering in the new "village" and permaculture mentality, along with others like Symbiosis, BOOM, Beloved, Rainbow Serpent, Earth Frequency and many others. People feel so revitalized being in Costa Rica and attending Envision. Pura Vida!
You've played in countless different settings over the years. What about this festival, if anything, stands out to you?
With its jungle backdrop and nestled right next to a beach, Envision provides an ideal setting for festival attendees to connect with the natural world around them while connecting with each other in deep and meaningful ways, something we have lost in our modernized culture. Envision has amazing workshops, permaculture awareness, amazing stage designs, great music acts, and the location is epic.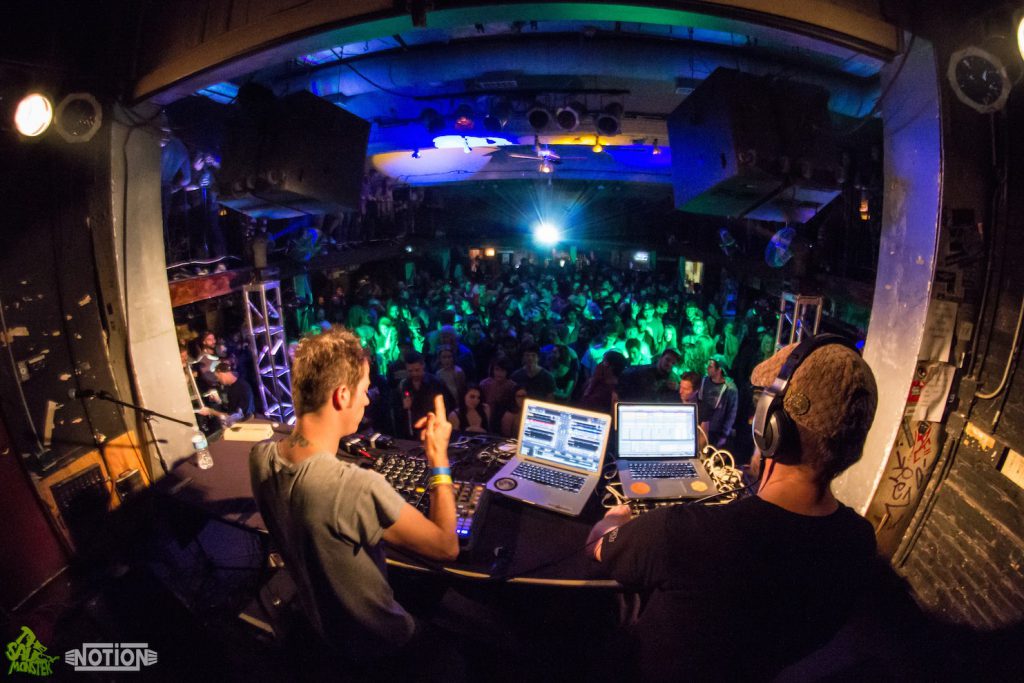 How do you feel your production and performance style have evolved over the years?
Production-wise, we have always been keen on recording vocalists and instrumentalists in the studio since we started in the 90s and finding a sweet spot between organic and electronic sound sources. This adds a lot of original flavor to what we produce. When we perform we have two computers synced together, one running Traktor and the other Ableton Live.
Treavor DJs tracks in Traktor which allows our set to be very "in the moment" with the track selection based on the vibe, while Amani adds various sounds on top from sources such as earlier DD downtempo tracks or his iPad software, and does so in very new ways through the use of diverse psychedelic effects. This set up gives us the opportunity to create a live experience right in the moment that is different every time, and it has worked well for us since we started touring heavily in 2012.
The past few years we have been experimenting with our "DD BEYOND" shows which add key live musicians and singers on top of our duo setup, along with many stage performers and visual artists such as Quixotic and many others.
Is there any reason why your music has become more upbeat and bass-inspired than in the past?
It may come as a surprise but for the first three years that we worked together (1999-2001) we were making very upbeat tribal tek-house music under the name "Amani vs Teapot." Desert Dwellers was conceived of in 2001 as a chill-out project to our somewhat successful uptempo project!
We have always been interested in many tempo ranges as producers and DJs for the past 25 years. The music that really caught fire for us was the DownTemple Dub yoga music, which was produced along with Rara Avis from Yogi Tunes and with the support of Sahuna of Shamans Dream from 2005 to 2008 for various Yoga teachers' DVDs. Even during those 4 years, we were also experimenting with many forms of electronic music. We started our music label Desert Trax in 2005 as well and began putting out a lot of upbeat music.
As DJs, we are always listening to and being influenced by what is current. Around 2010 we began experimenting with some harder psychedelic bass tracks (as Dubstep was all the rage), which eventually led to us writing "The Great Mystery" several years later. That album was conceived of as a multi-genre exploration showcasing our love of many forms of music; psy-step, mid-tempo bass, downtempo, ambient and even a few uptempo tracks.
Lately, we have been called back to our roots and have been writing steady beat tribal house again. It's all about ebbs and flows, and as an artist, it's important to keep progressing and evolving and not get stuck in a box, at least for us anyways. 'Music beyond borders' as we like to say.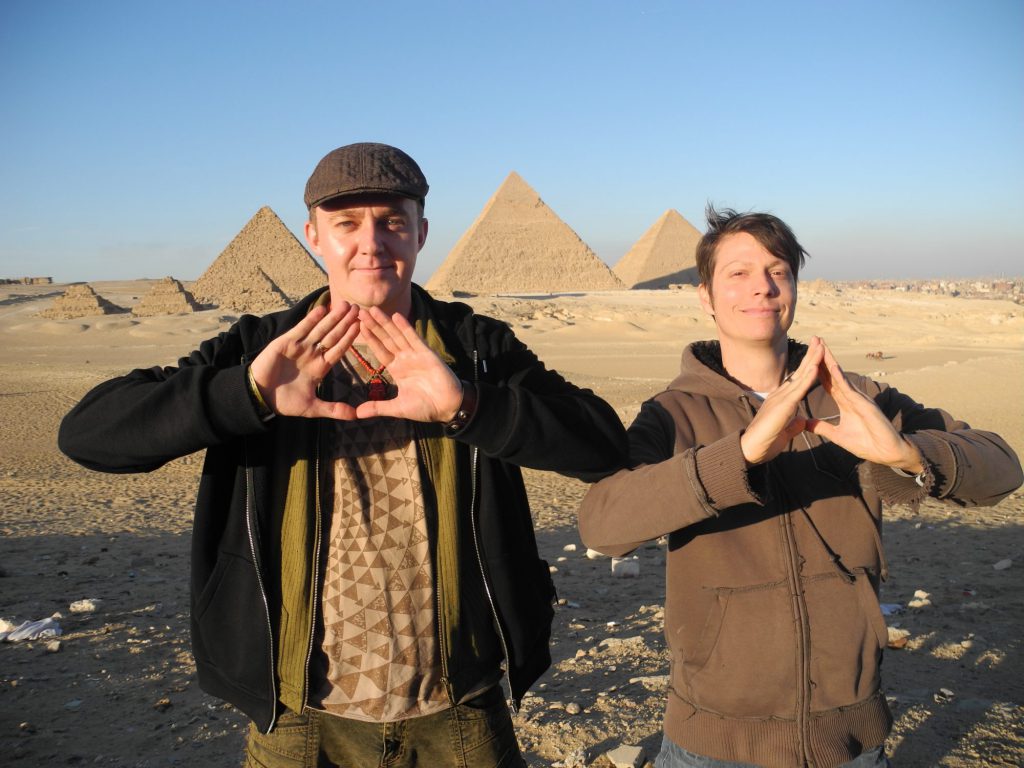 You're both so prolific, and often have several projects going on at once. How do you keep up with all of it?! Is there anything that helps these projects come to fruition?
Music does take a lot of time to complete especially with the busy tour schedule that we have been managing. It often takes a lot of patience, diligence, focus, organization, and keeping the bigger picture in mind to bring these projects to fruition. We always have had an incredible network of musicians and singers to collaborate within the studio and a very extensive network of producer friends that are keen to remix our music in new ways. Collaborating and networking add so much to the mix and keeps things fresh.
Amani's main side project "Liquid Bloom" was founded around the same time as Desert Dwellers in 2001, and developed slowly and organically. Over the past several years people have shown a lot of interest in those early shamanic albums, so in 2016 Amani re-worked the catalog into an album called ReGenerations, and gave those ReGen tracks to several remixers like AtYyA, Hedflux, Tribone, Kaminanda, and many others.
After two solid remix albums in 2017, the next Liquid Bloom remix album is slated for March 20th release. It was produced by Mose and features 9 slow tribal house remixes. There is also a 3 track Drumspyder remix EP on the horizon as well.
Treavor started a side project "Pheuzen" last year and has been working with the producer Origin on an amazing tune called "Floating Away" which will be released on MUTI Records this year. He also has his "Forever and Ever" moniker which is 4/4 and Electronica ranging from slower House up to Techno vibes. But our main focus for 2018 is on the new Desert Dwellers album, Breath.
How does working as a duo alter your production or performance dynamic versus your solo projects?
Production-wise we each bring a unique element to the music that when added together creates that special alchemy. Performing as a duo is a lot of fun for us because of the "live electronics" quality of the musical experience that we are creating. But even when we DJ on our own solo projects we are very aware with the overall flow of the music and making it as seamless as possible; as one long journey from start to end that captivates and envelops the listener.
Is there anything you hope to achieve when performing a set; a particular vibe, feeling, or response from the crowd?
Whether we are playing together or on our own, we hope that people will have a deep and transformative experience that they can take away from the performance. We know we have succeeded when everyone has "that look" on their face of sheer happiness at the end of the show, and they have dropped deeply into the present moment and into their bodies more. In a sense, a performance is a collaboration between us, any stage performers we have, and the audience… as we all create that elusive "vibe" together in that particular corner of time and space.

There's been a lot of amazing music coming out of your label Desert Trax, with a lot of variety in musical style. What is your process of choosing which artists to support? 
2017 was a huge year for releases on Desert Trax, and you can really hear what a diverse taste in music we both have. Some labels cater to a particular "sound" and stick with it and find their audience that way. We took a more holistic approach and over time found listeners that also like many different styles of music.
One of our themes that ties a lot of what we do together is the fusion between organic and electronic worlds, but not always, and we have releases that are more electronic as well. The process of choosing new music for the label is just a gut feeling where we both say "I like this and let's get behind it." It's very subjective. Sometimes we disagree, but that rarely happens actually. We have very similar yet broad music tastes.
You have a new album coming out called Breath. Is there anything new or interesting you've done to distinguish this work from your numerous others? 
Breath was conceived as the 4th element in the DownTemple Dub series, the Air element. As such, we wanted to make the album very conceptual around that theme. The idea we had was to record folk songs in as many languages and musical lineages as possible. Our main singer Meagan Chandler sings in 5 or 6 languages, and because of the Breath theme, she sang in a very spacious style.
Overall, the sound of the album is less glitchy and more open with steady beat slow house grooves. There are a couple of amazing pure ambient tracks as well. We wanted to make an album that appealed to many listeners, and could be played at a big music festival, or at an ecstatic dance or a yoga class.
Do you ever reflect on the extensive musical and social community you've helped create, and the growth and creativity you've helped foster? What does that feel like?
We don't honestly think about it too much, but yeah Moontribe is 25 years old now and still going strong. Those events have had a huge influence on festival culture. Musically, it's been amazing to put something totally unique out there just because we love it and want to see it in the world, and not for fame or money; then see other producers getting really inspired by it and hearing how they evolve those themes.
It's always a humbling experience when someone comes up to us after a show or on social media and tells us we have "literally saved their life" or at least deeply changed it for the better. Music is a powerful tool for helping and healing people! We are filled with gratitude every day to be so supported in doing what we love!
---
Connect with Desert Dwellers on Social Media:
Website | Facebook | Twitter | Instagram | SoundCloud