Get to know Brian Code, creator of TranceVocalists.com, a site focused on the vocalists who appear on many trance tracks that have touched our lives!
---
When I first ran into Brian Code we were both waiting to meet vocalist HALIENE at Dreamstate SoCal 2017. Having a conversation about the event and trance in general while we waited, I was in awe of his passion for the scene, especially for the vocalists that are included in some of our favorite trance tracks.
During the chat, he mentioned how so many of the vocalists don't receive as much recognition as they deserve yet they have so much to do with the tracks. Brian went on to tell me how he strives to change that and tries to help amplify their contributions to the scene.
On that day, Brian had worn a shirt that listed numerous trance vocalists that he loved and shared that he runs a site dedicated solely to trance vocalists. Once I heard that I knew immediately that I needed to know more about him and his passion project. So read on for our chat about what trance and its vocalists mean to him, the history of his website, and more!
---
First off, thanks for chatting with us. Can you tell us a bit about yourself and your motivation behind creating TranceVocalists.com?
Surely! My name is Brian and I am an artist born and raised in Los Angeles. I have been DJing and producing under the alias Sonic Ode since 2014, and created the website trancevocalists.com in 2017.
The idea for the Trance Vocalists website and YouTube Page came about while I was in college. At the time I was using YouTube to upload movie reviews and trance remixes that I had made, but I never gained much of a following. I also lived next to the creator of a YouTube channel called Koala Kontrol, who was already one of the successful EDM promoters of YouTube.
I knew I wanted to create something similar to his channel except with only vocal trance so I created essentially a series of videos that ranked the Top 100 trance vocalists of all-time. The problems with these videos were that nobody watched them and the rankings would leave out vocalists that could emerge in the future so it wouldn't really be fair to them.
Ultimately, after a lot of brainstorming and restructuring in my approach, I decided on making trancevocalists.com as a hub for fans of vocal trance and to serve as a love letter to the amazing vocalists that have poured their heart into trance music. Essentially, the site is a culmination of my personal taste in music and design.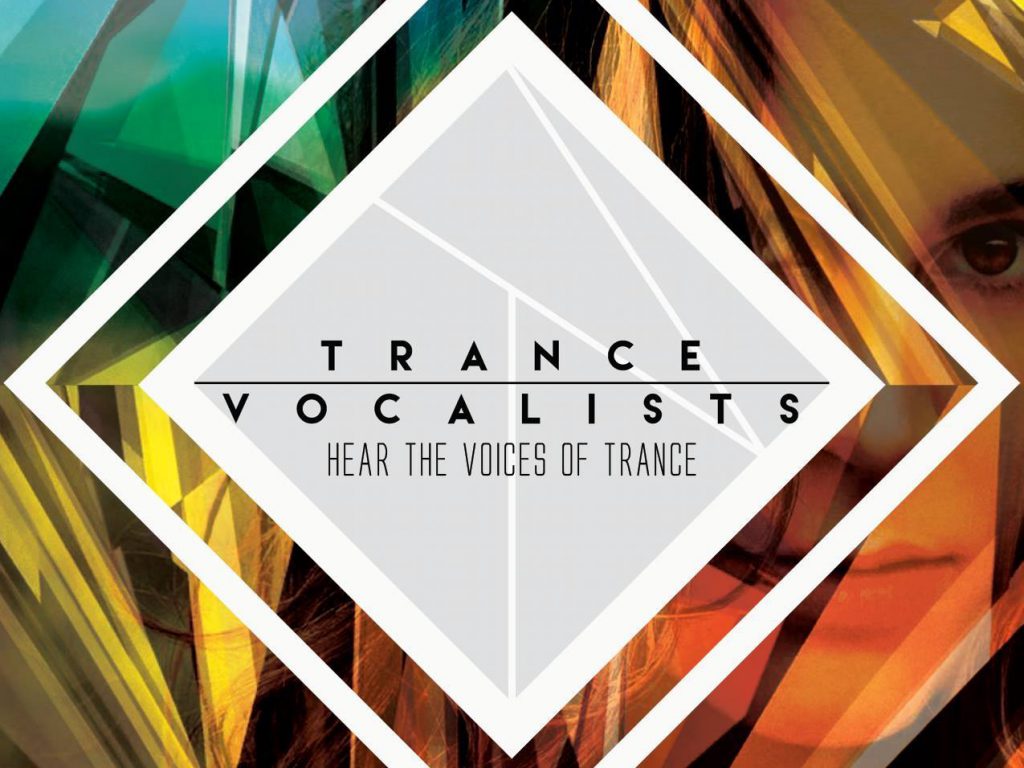 When we think about trance, and electronic dance music as a whole, often times the focus is put squarely on the DJ or producer. What inspired you to take a step back and focus on vocalists who rarely get to share the spotlight?
The way vocalists were presented in the EDM scene and the image of them was always interesting to me. The reality is that many vocalists in the scene remain unseen due to the fact that some don't promote themselves on social media or make appearances. DJs and Record Labels often promote the producer more than the vocalist for different reasons.
Many vocalists are strictly session singers who spend 99% of their time in the studio and are not pursuing music for the recognition aspect. Also, in the early 2000's there were many trance acts with vocalists under one alias like Oceanlab, Luminary, Andain, Motorcycle, Etc. Nowadays vocalists usually receive a separate credit in the track title using "featuring", "&", "with", or "x" followed by the vocalist's name.
The early 2000's also gave the trance scene a "babes in bikinis" image, due to things like the cover art for Ultra Records' trance compilations. You will still find vocal trance mixes on YouTube with images of random models that have nothing to do with the actual music. I simply want to give more credit to vocalists and give them a proper image that was actually their own.
We wouldn't dare ask you who your favorite vocalist is, but in a similar vein, what are some of your all-time favorite vocal trance tracks?
One track that immediately comes to mind is "Take Me Away" by 4 Strings. This song seems to withstand the test of time and was the song that led me and many others to fall in love with trance. Some of my other favorites include "Can't Sleep" by Above & Beyond, "Castles In The Sky" by Ian Van Dahl, and "The Sound Of Goodbye" by Perpetuous Dreamer.
Other than the added lyrics, what do you feel sets vocal trance apart from other trance genres and what about the vocal element of trance speaks to your soul?
For me personally, the vocal element is what makes a trance track memorable. Vocals give trance songs an extra layer of emotional and musical depth and can take a track to the next level. There are some trance fans that prefer vocal-less trance, but I have never fallen into that category.
I have always been a huge fan of talent competitions such as The Voice, so I have developed an ear for recognizing talented vocalists and a love for epic ballads. Combine that with a banging trance track and it creates magic.
You have gained a lot of attention for your trance vocalist shirt! When you posted the image on social media, many of the vocalists you listed commented with their praises! What motivated you to create it and do you have any plans to mass produce this?
Thank you! I created a T-Shirt with over a dozen vocalist logos specifically to wear at Dreamstate SoCal and received many positive responses from fans and the vocalists themselves. I have to give a shout out to Long Beach Graphix for doing a great printing job on it.
I wanted to make that shirt to send a message to Insomniac hoping that they will include vocalists in future events. The fact that HALIENE was at Dreamstate but did not perform is something I would like to change.
I really want to mass produce a shirt with my own designs in the future, however, the one found on my Instagram I could never sell due to the fact that the logos aren't my designs.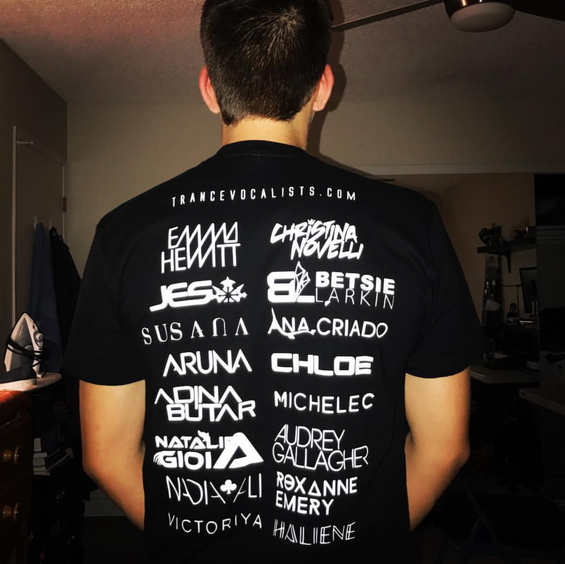 There are multiple amazing vocalists that are climbing up the trance ladder. Who are some up and coming vocalists you are falling in love with at the moment?
Some up and coming vocalists that I am very excited for are Leolani, Christine Tran, Kate Miles, Julia Ross, Victoria Braiman, Jessica Lawrence and many others. I also love when a vocalist from a completely different musical genre crosses over into trance, one example being Plumb who made a big splash in the scene with Paul Van Dyk's track "I Don't Deserve You".
Not only are you enamored with vocalists, but you're also involved in the music world in other ways. You went to school for sound engineering and are in the process of creating mixes for the vocalists listed on the site. With these different but intersecting skills, what is your goal for the future?
I work closely with a company called Audionamix that has a team of amazing audio engineers in Los Angeles and Paris who have dedicated their careers to extracting acapellas from songs. A lot of trance DJs, including myself, seek to find acapella vocal stems from iconic trance tracks so Audionamix is a great connection to have. With their Xtrax Stems software, anyone can isolate the vocals and turn any song into an acapella.
I have many goals for the future in regards to Trance Vocalists. Besides creating a mix for each vocalist, I would like to produce an event that would celebrate vocalists across all EDM sub-genres. I also want to produce music videos since a lot of artists travel to Los Angeles to shoot their videos, and this would also allow my local filmmaker friends to join in on the fun.
Lastly, I would love to have some affiliation with Dreamstate, like having a vendor booth or something similar. These are just some plans that I am working on and I am super excited for what lies ahead!
What advice would you give to a music fan who wants to make his or her mark on the scene?
Joining Facebook groups is a great networking tool. DJs and fans alike post tons of trance related topics so it is easy to get involved and interact with other trance fans. My greatest advice is to write down all of the things you love and try to combine them somehow. That is how I decide what direction to go in with my website and my goals.
In addition to making remixes of existing tracks, you also make your own original music and remixes. How would you describe your sound?
My sound usually stays very classic and uplifting. I'm obsessed with tracks that were produced in '02 and '03 and I think that is apparent in whatever I produce. One producer that has had a big influence on me recently is The Thrillseekers because Steve Helstrip always stays true to his sound and creates the best synth plucks and melodies out there.
I also have been influenced by soundtracks from films and growing up playing the viola, so a producer with an orchestral background such as Driftmoon is someone who I greatly admire. Since vocals are my forte I usually build a track around the vocals first, which may be a reversed workflow from other producers. If I have great vocals then the rest of the track comes to me much more naturally.
What are a few of your original tracks or works you would love for others to hear?
I really loved remixing Ferry Corsten and Clairity's track "Reanimate" from the Blueprint album last year.
I also recorded a song called "Scars" with my friend Jeannie Elise Mai who is a vocalist that I often collaborate with.
Is there anything else you'd like readers to know about you?
I am often asked about the name "Sonic Ode" and how I came up with it. Besides that fact that the last four letters create my last name, I settled on this artist name once I looked up the definitions of the words "sonic" and "ode". The definition of both words really captured the essence of the music I wanted to share.
---
Follow Trance Vocalists on Social Media:
Website | Facebook | Instagram | YouTube
Follow Sonic Ode on Social Media: