Groove Cruise Miami 2018 sets sail in just a few days! We've got you covered with your set times, activities, and other crucial information!
---
Groove Cruise Miami sets sail every year to a beautiful, tropical destination and has been coined the world's largest floating dance music festival. This year, attendees will embark on Royal Caribbean's Enchantment of the Seas ship destined for Cococay and Nassau where they will experience the wonderful culture of the Caribbean and two action-packed beach parties.
With 96 hours of non-stop dance music from a wide variety of artists, the Groove Cruise is easily one of the best electronic music cruises in existence. There's so many fun activities, parties, and events planned for this year's GCMIA, so we've gathered everything you need to know and remember in one place just for you!
We realize not everyone will have internet access on the ship and that it could be spotty, so we've prepared a PDF version that you can download to your phone by clicking here!
Related: Learn more about my in-depth experience on GCMIA 2017. 
Groove Cruise Miami 2018 Essential Info:
Event Start:  Friday, January 26 @ 12:00 PM
Event End: Monday, January 29 @ Disembarkation
Venue Address: Port of Miami, Royal Caribbean Ship Terminal
Facebook Event: https://www.facebook.com/events/343940306007515/
Acceptable Forms of Identification for Entry
If you are a US Citizen, passports are highly recommended, but you may also use a Birth Certificate (original or certified copy) and Government-Issue Photo ID.
U.S. Alien Residents need a valid Alien Resident Card. Non-U.S. citizens need a valid passport and a valid, unexpired U.S. Multiple Re-entry Visa, if applicable.
Non-US Citizens will need a passport, and possibly a Visa, depending on your country of citizenship.
All documents must be VALID! Expired passports, driver's licenses, visas, etc. will not be accepted.
It is YOUR responsibility to make sure you have the correct documentation to board the ship. For more information about passport requirements, please visit www.getyouhome.gov and www.

travel

.state.gov.
If you have any specific questions about your situation, or if you are not a US Citizen, please call US Customs and Border Protection at 877-CBP-5511 to be sure your identification is satisfactory.
---
Groove Cruise Miami 2018 Set Times:
---
Groove Cruise Miami 2018 – Royal Caribbean Enchantment of the Seas Deck Plans:
Explore the Enchantment of the Seas by heading over to this website. You can check out key locations on each deck including pictures. This is also a great location to check cabin numbers/locations of any friends that you have on the ship!
---
Groove Cruise Miami 2018 Pre-Party Info:
Check out the official pre-party on Thursday, January 25 from 8 PM until 2 AM. Groove Cruise attendees get in for $20 and it includes a free wristband for you and a guest to the official after-party at E11EVEN MIAMI featuring Dada Life starting at 2 AM.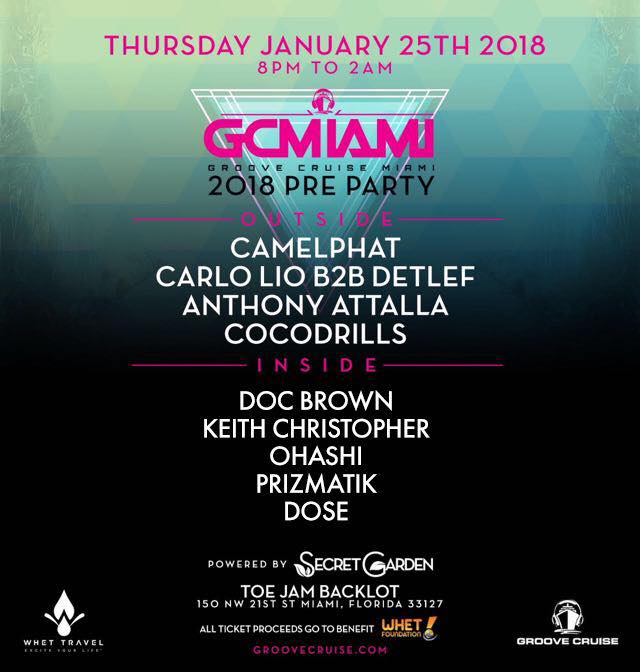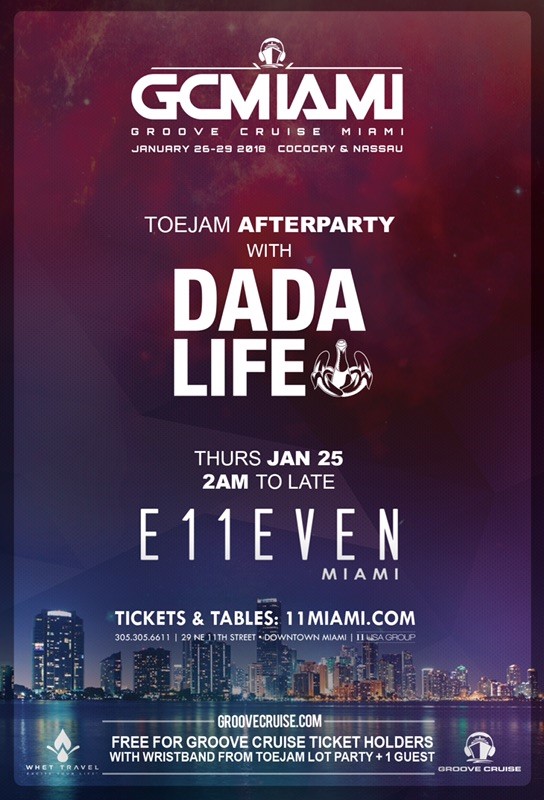 ---
Groove Cruise Miami 2018 Beach Parties: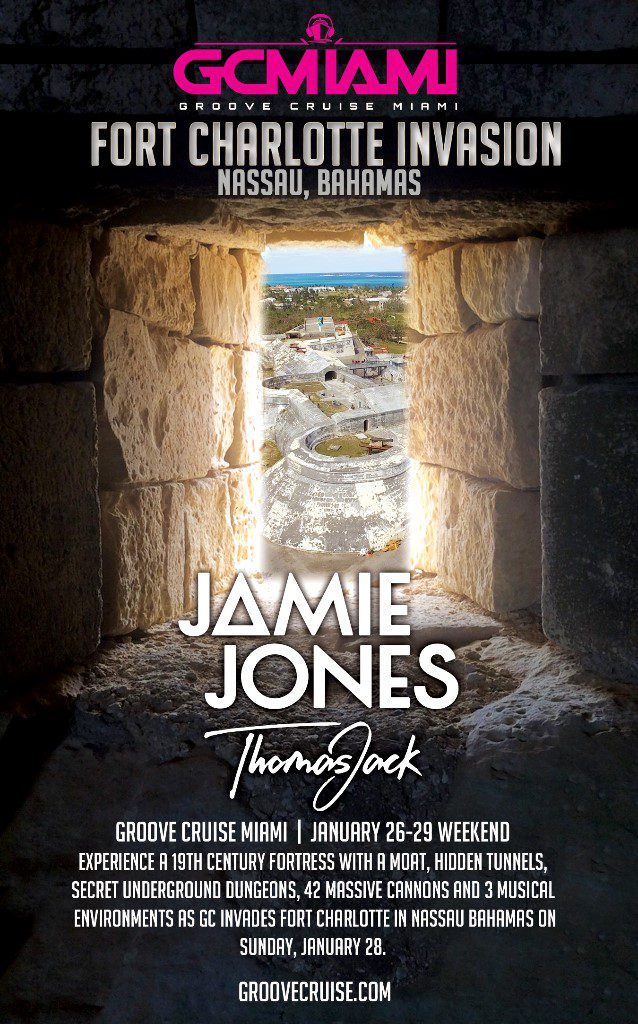 When: Sunday, January 28th at Fort Charlotte, Nassau, Bahamas. The ship will dock and you can grab a taxi from the port to the party at the fort.
Free admission for all Groove Cruise attendees.
Additional all-you-can-drink and meal package is available for $60 per person. The package can be purchased by signing into your Whet Travel account or calling Whet Travel. It includes the following:

Well liquors: rum, vodka, tequila, cognac
Mixers: cranberry, orange, pineapple, sodas
Bahamian beer
Bottled water
1 Meal ticket for one of the following: hamburger, cheeseburger, chicken sandwich, or vegan option + assorted chips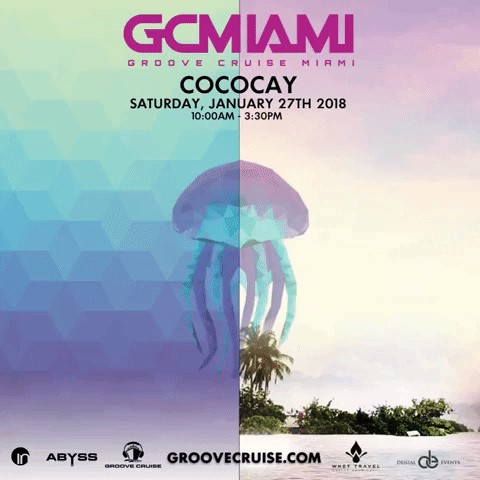 ---
Groove Cruise Miami 2018 Activities:
Whet Travel has a lot of epic activities in store for GCMIA attendees this year. Some activities are a great way to meet other members of the #GCFAM on the ship and to switch it up!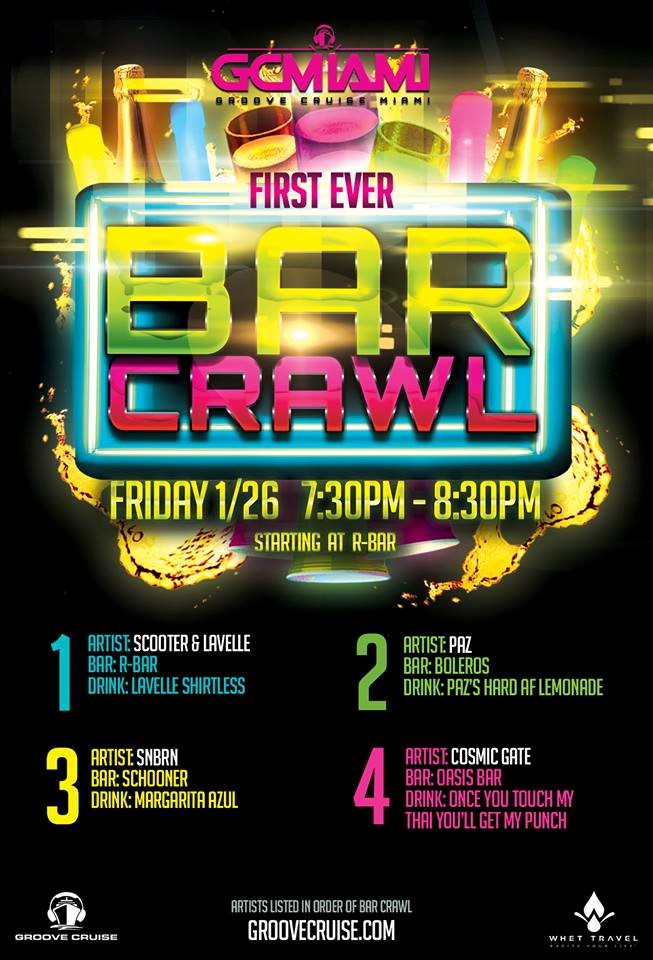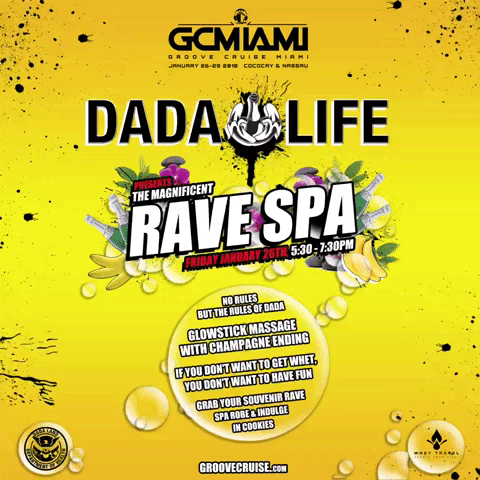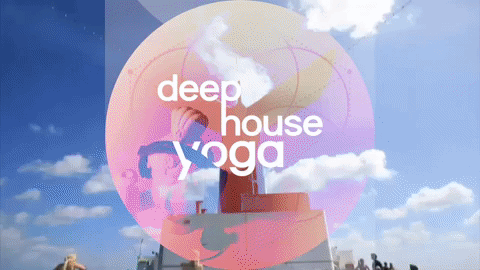 Deep House Yoga with Alissa Jo.
When: Sunday, January 28, 11:00 AM – 12:00 PM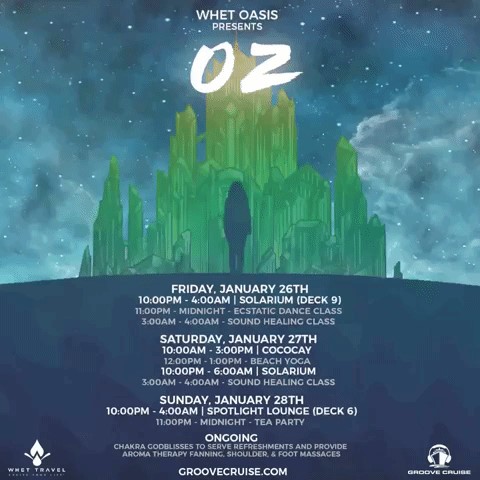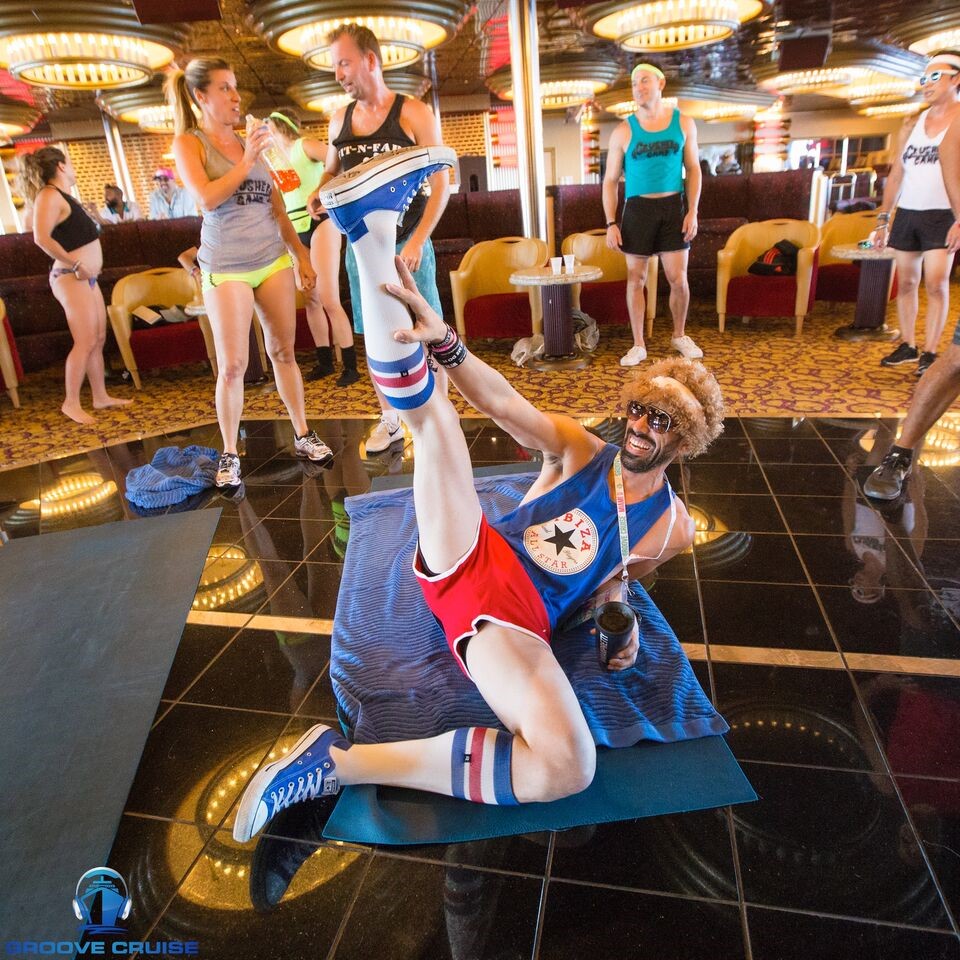 Party off the pounds with Crusher Camp and classic beats by Keith Christopher.
When: Saturday, January 27, 10:00 PM – 11:00 AM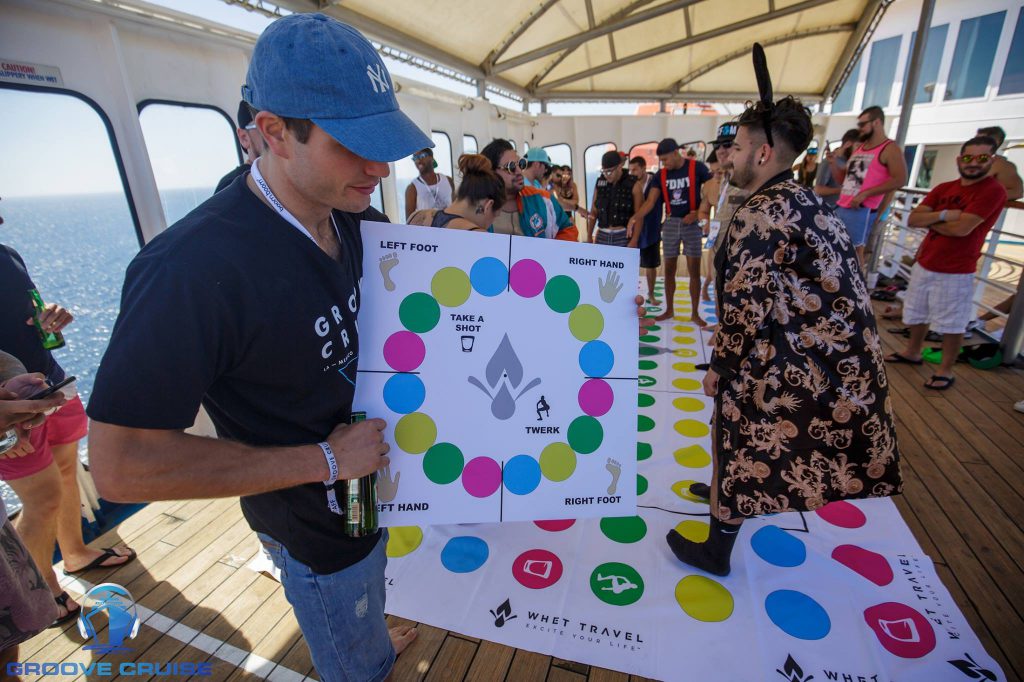 Twister at Cococay with Grube & Hovsepian.
When: Saturday, January 27, 12:30 PM – 1:30 PM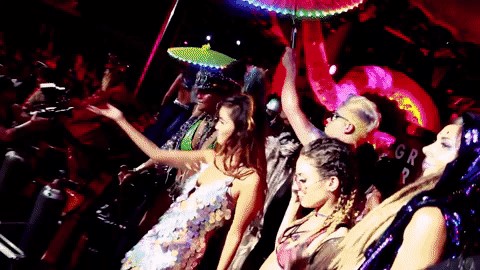 The Courtiers Fashion Show
When: Saturday, January 27, 9:00 PM – 9:45 PM
---
Groove Cruise Miami 2018 Themes: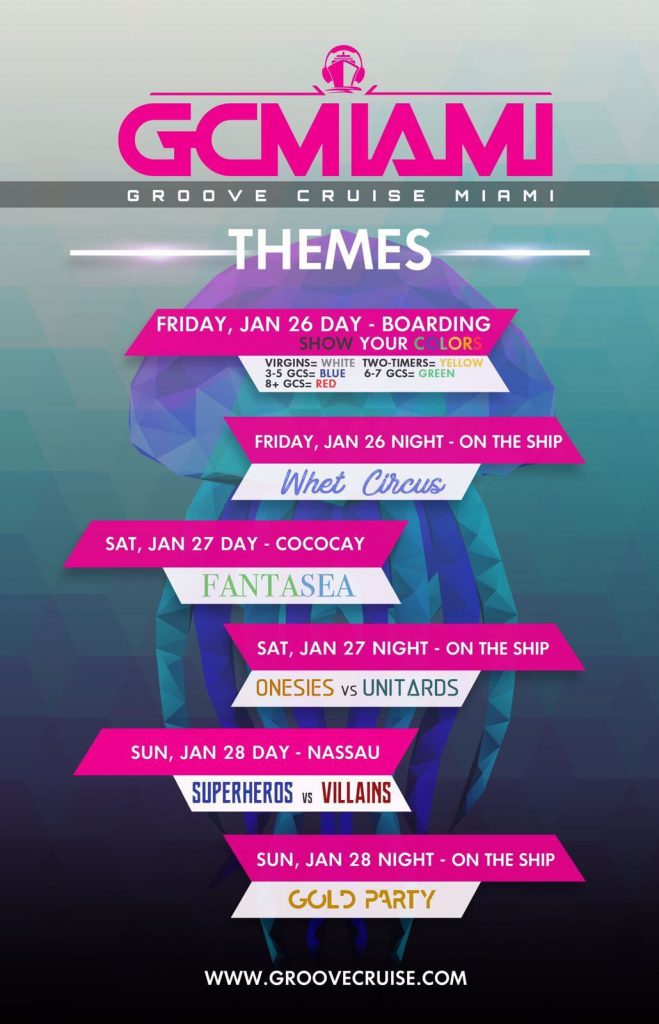 ---
Groove Cruise Miami 2018 Hosted Stages:
Main Pool: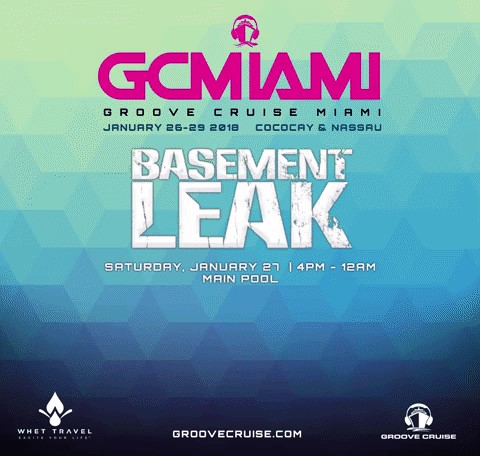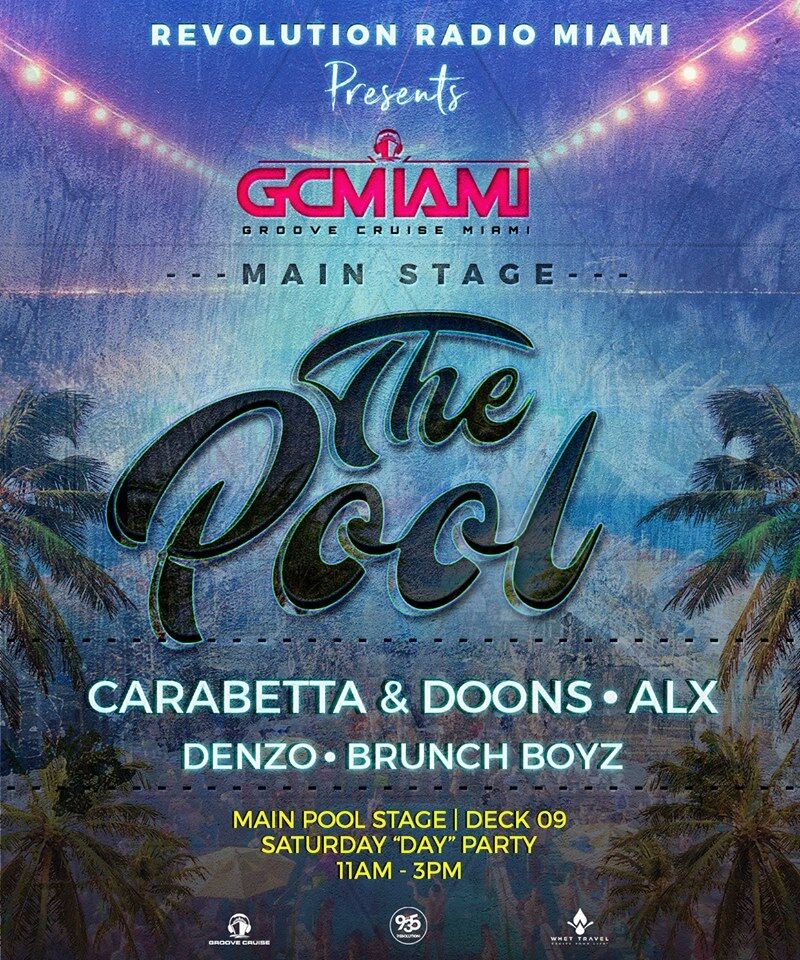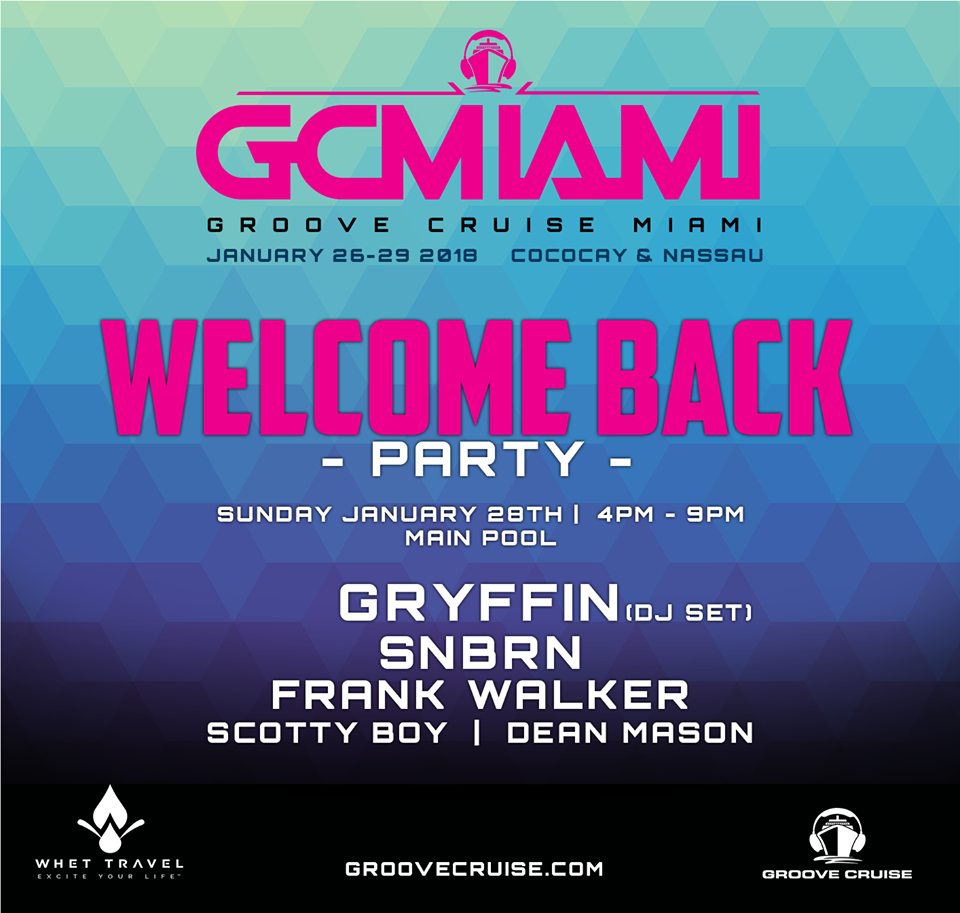 Theater Stages: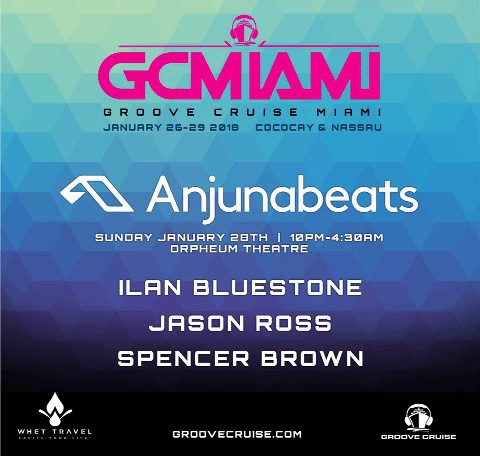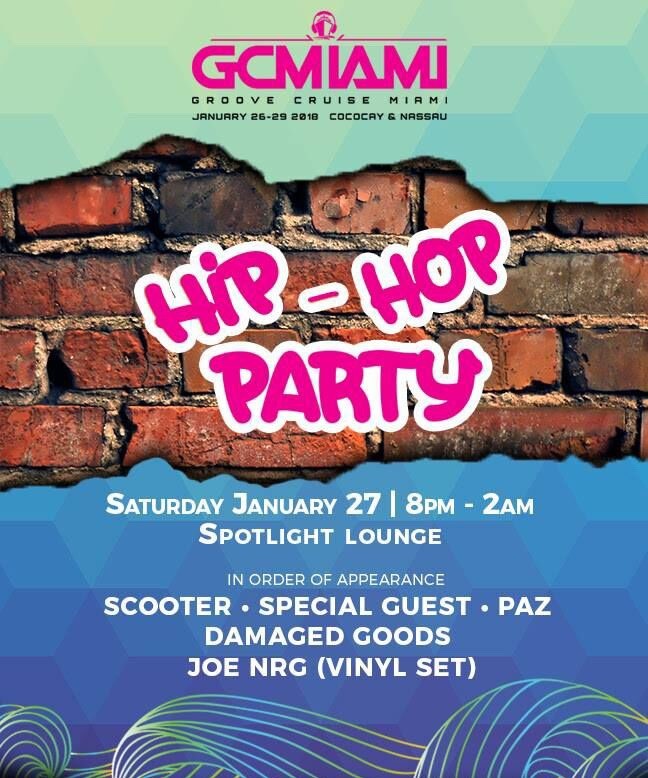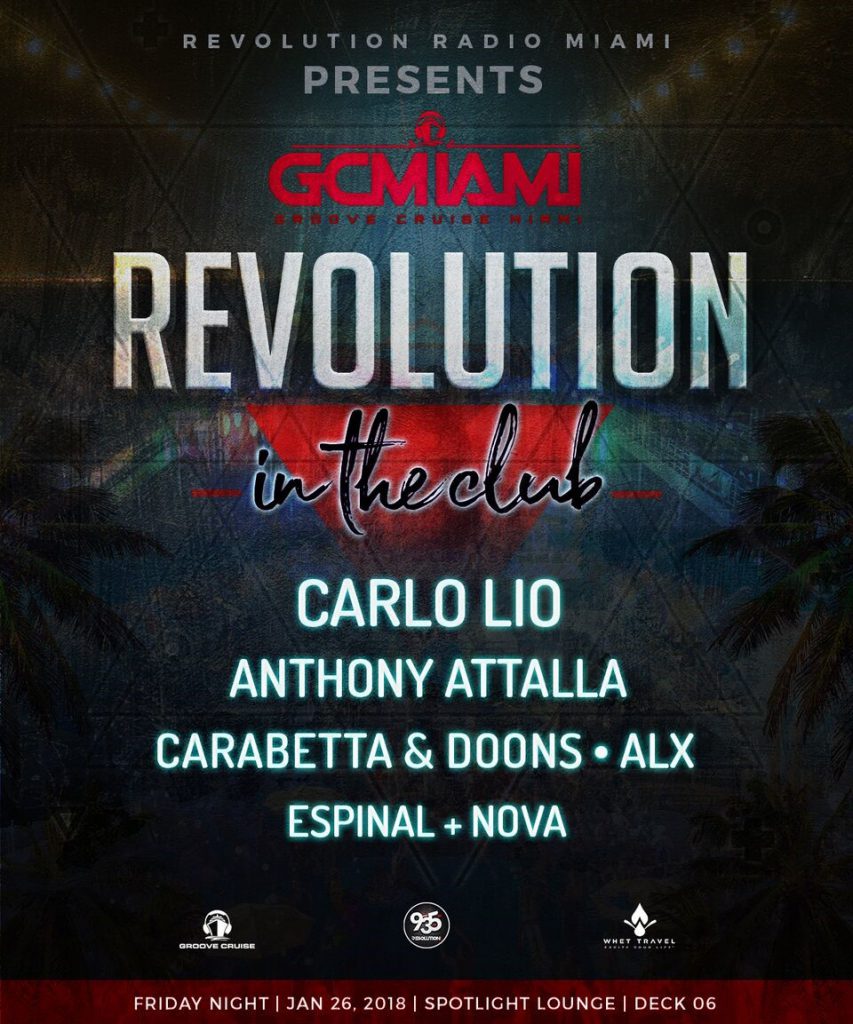 Solarium, Casino, Viking Lounge, & Boleros Stages: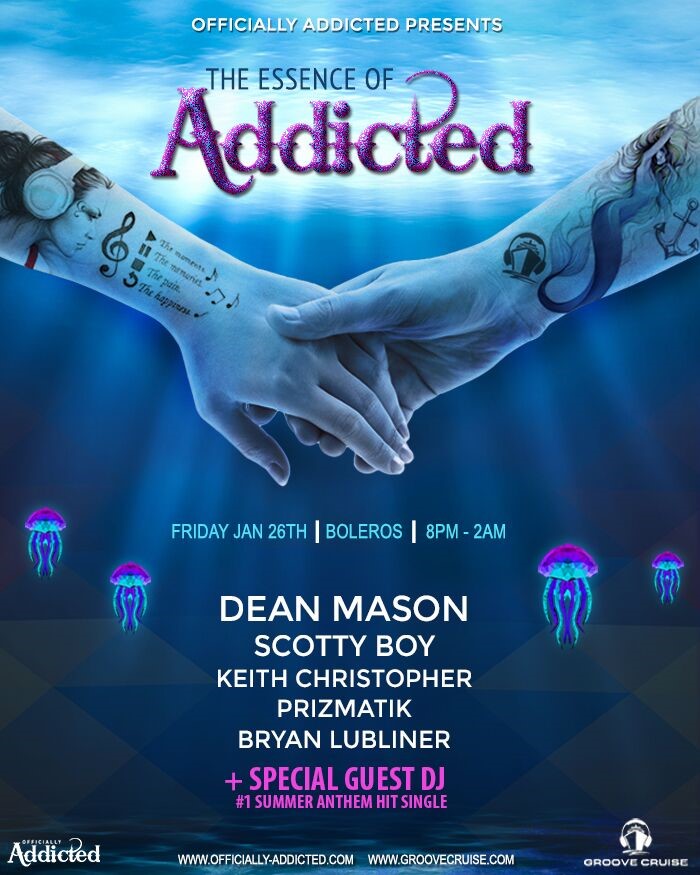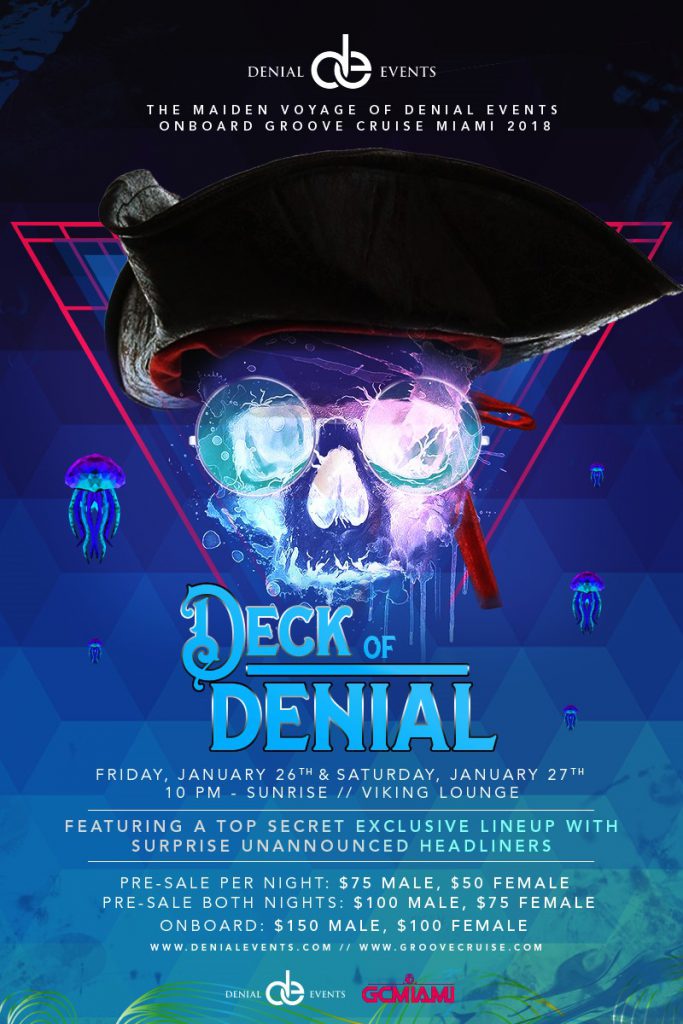 Plunge Into the Abyss After Hours: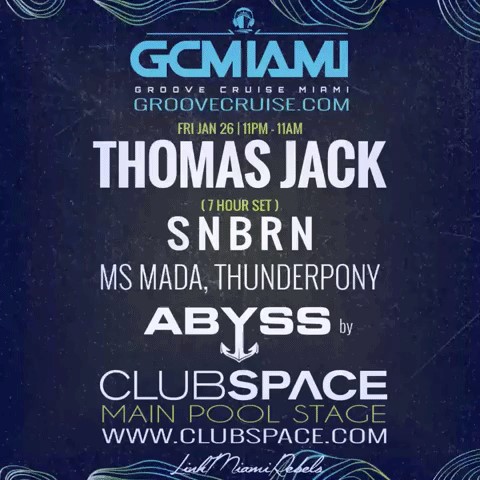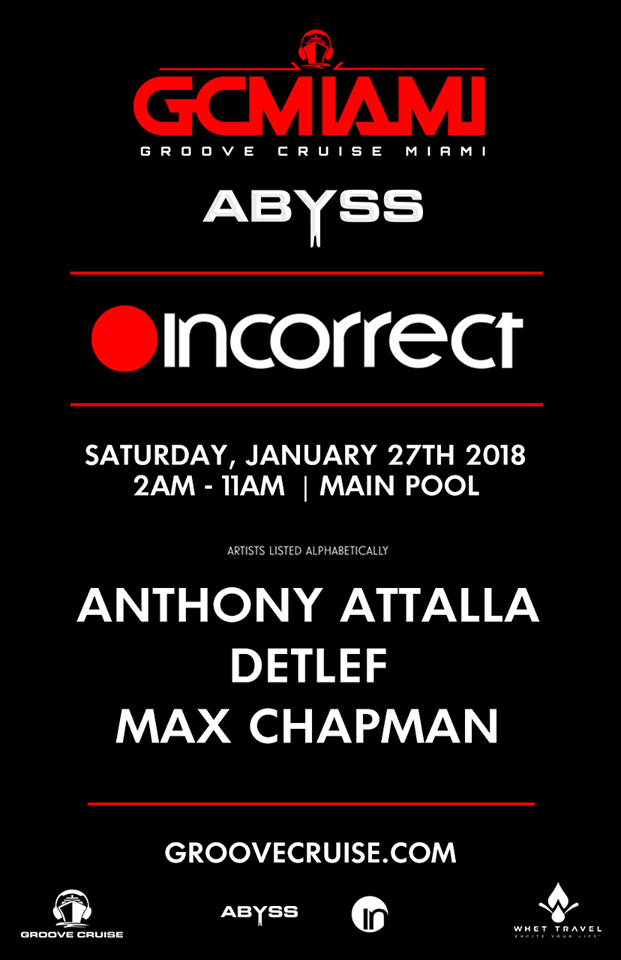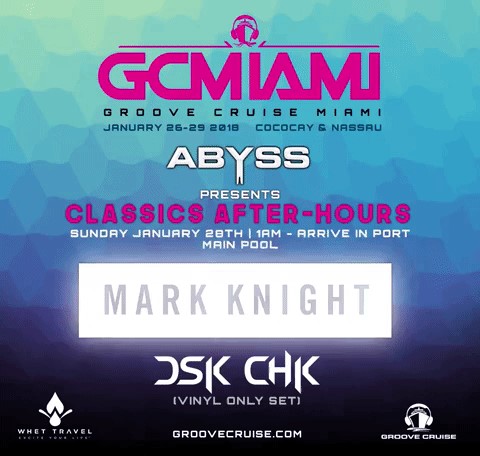 ---
Groove Cruise Miami 2018 Miami Pro-Tips & FAQ:
Don't Forget To…
PRINT YOUR BOARDING PASS and bring it WITH you along with matching government-issued photo ID (drivers license for USA citizens or passport for foreign guests) and passport/birth certificate when you arrive at the cruise ship terminal to prevent boarding delays.
Head to the Groove Cruise Merch store on deck 6 to pick up your loyalty gift if you've sailed on multiple cruises.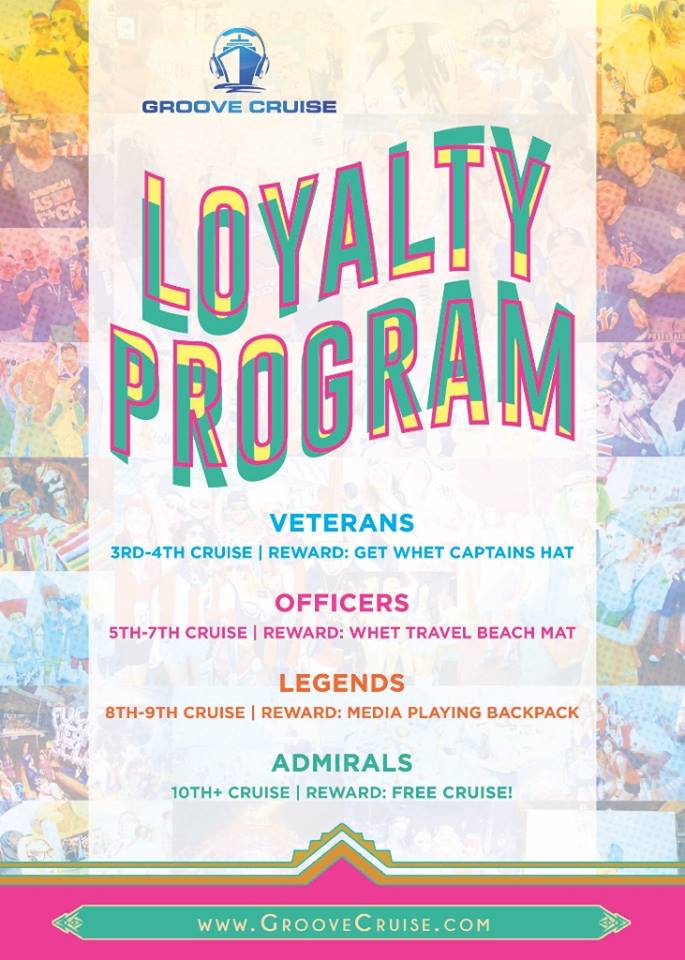 Tips
Don't arrive at the terminal earlier than 11 AM unless you've purchased the now sold out Whet Express pass. Embarkation starts approximately at noon, but you have to check in too. Unlike other terminals, there is not a large seating area to hold guests.
If you have never been on a cruise, bring motion sickness medicine just in case.
Prescription medicine must be in a container that proves the prescription is yours and valid.
Don't over-pack. Depending on your stateroom size, you may not have a ton of room, especially if you are staying with multiple people. It can get really messy and disorganized fast. If you plan on wearing costumes, put each one together in its own big ziplock bag for better organization.
ATTEND THE MUSTER DRILL. This is a safety drill that every single person on the ship must attend. It is on Friday at 3:30 PM. They will announce it over the speaker and instruct you where to go based on your cabin number. Everyone else wants to get back to the party too, so scoot and get there as quickly as you can so everyone can go back to having fun!
Beverages & Alcohol
For the first time ever, there is an unlimited alcohol package available for purchase. If you haven't bought it yet, you've missed the deadline to get it at a cheaper cost. However, you can still purchase the package onboard in the Atrium. The alcohol package includes alcohol on the beach on Saturday at Cococay Island. It does not include Fort Nassau.

A list of drinks and approximate costs can be found here.
All guests in the room must purchase the alcohol package (some exemptions apply, contact Whet Travel for details).
Red bull is included in the unlimited alcohol package. Ask your server before asking for a mixed drink with red bull in it as it may be over $12. However, red bull alone is not over $12 and is included.

Carry-on alcohol policy: You are allowed two 750mL bottles of wine or champagne per cabin. This is per cabin, not per person. All other consumable alcoholic and non-alcoholic drinks (including mixers) are strictly prohibited. Bottles of wine or champagne must be carried on so they may be inspected by port security. There is no corkage fee.
Useful Links
---
Connect with Groove Cruise on Social Media:
Website | Facebook | Twitter | Instagram | SoundCloud