Oakland native KRANE has put it all on the line for music. The result? His first nationwide tour that will be coming to a city near you in 2018!
---
Northern California native KRANE has been putting out music for a few years. His distinctive style of trap music combines melodic elements along with occasional vocals. The result is a truly unique listening experience from start to finish, and now we will have a chance to hear his signature style at cities across the country a part of his Fallout Tour.
KRANE put it all on the line for music. He quit his day job and dedicated 100% of his time to electronic music. His songs began picking up plays on SoundCloud and his feature series "SESSIONS" garnered a huge following. 2017 was undoubtedly the California artist's year. He dropped collaborations with trap legend Bauuer, future bass artist extraordinaire Jai Wolf, and rapper Vince Staples.
On top of that, he released his debut album, Fallout. This album was 10 tracks full of hard-hitting drops, beautiful melodies and that classic KRANE sound that everyone loves. All of this recent success has led to KRANE hitting the States on his first-ever national tour with supporting acts Slumberjack, MYRNE, and Alexander Lewis. The tour spans three months and will be in cities such as San Diego, Denver, Eugene and more! You can purchase tickets at KRANE's website.
Stream KRANE's debut album, Fallout on Spotify:
---
KRANE Fallout Tour 2018 Tour Dates: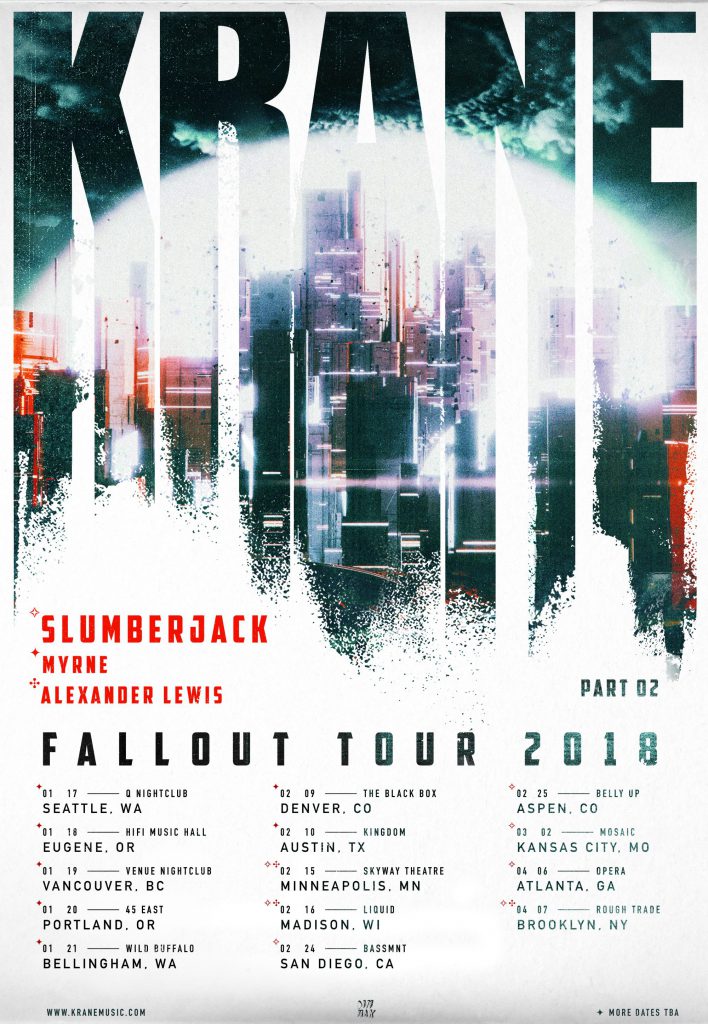 ---
KRANE Fallout Tour 2018 Venues + Support:
January 17 – Seattle, WA @ Q Nightclub w/ MYRNE
January 18 – Eugene, OR @ HiFi Music Hall w/ MYRNE
January 19 – Vancouver, BC @ Venue Nightclub w/ MYRNE
January 20 – Portland, OR @ 45 East w/ MYRNE
January 21 – Bellingham, WA @ Wild Buffalo w/ MYRNE
February 9 – Denver, CO @ The Black Box w/ MYRNE
February 10 – Austin, TX @ Kingdom w/ MYRNE
February 15 – Minneapolis, MN @ Skyway Theater w/ Slumberjack & Alexander Lewis
February 16 – Madison, WI @ Liquid w/ Slumberjack & Alexander Lewis
February 24 – San Diego, CA @ Bassmnt w/ Slumberjack
February 25 – Aspen, CO @ Belly Up w/ Slumberjack
March 2 – Kansas City, MO @ Mosaic w/ Slumberjack
April 6 – Atlanta, GA @ Flash w/ Slumberjack
April 7 – Brooklyn, NY @ Rough Trade w/ Slumberjack & Alexander Lewis
---
Follow KRANE on Social Media:
Facebook | Twitter | Instagram | SoundCloud