Insomniac Events closed out 2017 in all the right ways with Countdown NYE at the NOS Events Center.
---
Having been someone who has attended numerous events hosted by Insomniac over the years, one of the few that remained that evaded my attendance was always Countdown NYE. In fact, the last time I celebrated new year's festivities with Insomniac it was all the way back at the first edition of White Wonderland, and other years I found myself staying in San Diego for events like OMFG NYE and Infinity NYE.
This year, I decided to change things up and not stay local.
Tired of the events in San Diego I wanted to find something that would bring me a great lineup, quality production, and a fun setting for me to ring in 2018 with my friends. While other events had been grabbing my attention, my eye was on Countdown NYE due to its close proximity and trust in the Insomniac brand. Once they announced the two headliners, Porter Robinson and deadmau5, my interest was at an all-time high.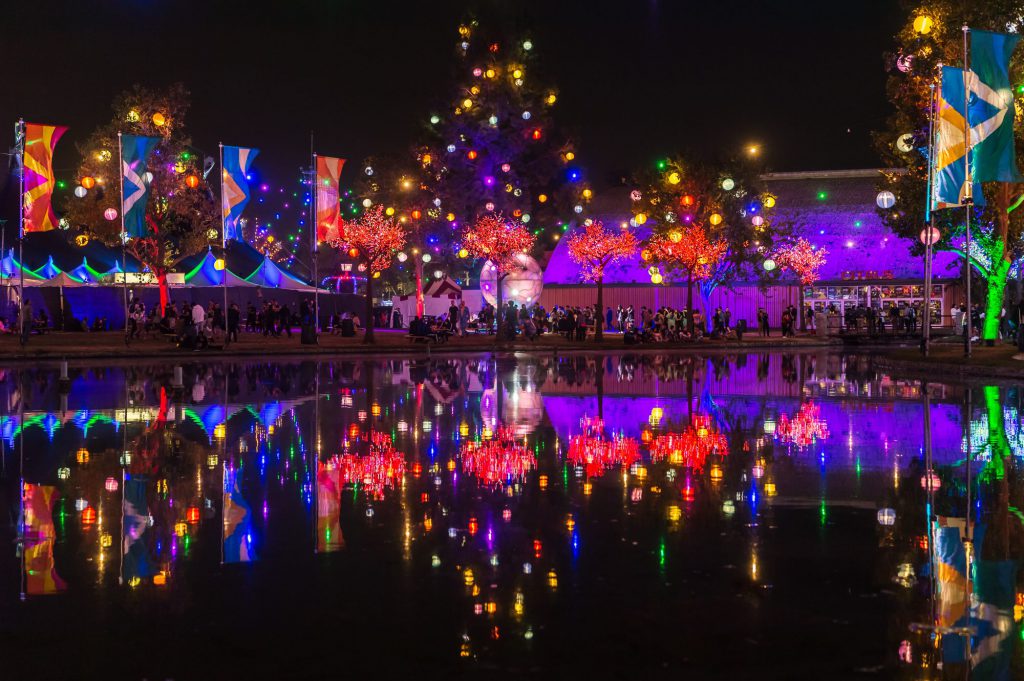 Deciding to attend the event, I looked at the New Year's Eve weekend as a journey through some of my favorite artists.
I would kick things off with Above & Beyond in Downtown LA and then head to San Bernardino to close the year right at Countdown NYE, knowing full well that deadmau5 would be working some magic while onstage. The rest of the lineup for Countdown was pretty stacked too, and names like Flux Pavilion, Habstrakt, and more grabbed my interest once the full lineup was announced for the event. This weekend was going to be an epic one, and I couldn't wait to attend.
Attending events at NOS Events Center since 2011, the venue has practically become a second home for me at this point.
I've seen numerous different layouts of stages and production elements with a variety of crowd sizes too. This event would bring a layout that was similar to past editions of the event, but absolutely new for me as they constructed a covered stage beyond the Damus Building while also utilizing the two circus-style tents used at past events.
Spread throughout the venue were plenty of vendors selling everything from food and drinks to apparel and gifts perfect for your rave bae. I appreciated the fact that due to the smaller crowd and plentiful amount of booths, there never seemed to be a long line for anything that my heart desired. The flow of the crowd inside the venue was spot on too, and I never once saw a bottleneck or problem while trying to get anywhere.
As usual, the VIP areas were a gem for those who wanted to drop a few extra dollars to enhance their experience. While the main stage's VIP section had the most to offer, each stage had a viewing area close to the front to check out. Notable features found in VIP included everything from free donuts to a beauty bar that would deck you out with glitter wherever you wanted it, and all the free hot cocoa you could drink. They rang the new year in with free champagne too, which was definitely a nice touch.
Although it only seemed like there were three stages at the event, the fourth stage was a hidden jewel that I fell in love with.
Dubbed Continuum, Infinity, and Resolution, the three stages combined Insomniac's production style with sets of epic proportions. The venue was spacious enough so that you never truly experienced sound bleed between the stages, and if you did it was minimal at most. One thing that I did notice was that the sound seemed to be much lower on the first night at some of the stages, and while I don't know the cause of it I definitely didn't notice it being as low on night two.
The fourth stage, which was really just the heated Dome Tent, was a back to the basics approach that became a solid place to regroup with my crew. Featuring a center bar and small stage, I found myself drawn to the curated lineup that came from Cats & Boots Records to escape the consistent onslaught of bass that dominated the other stages.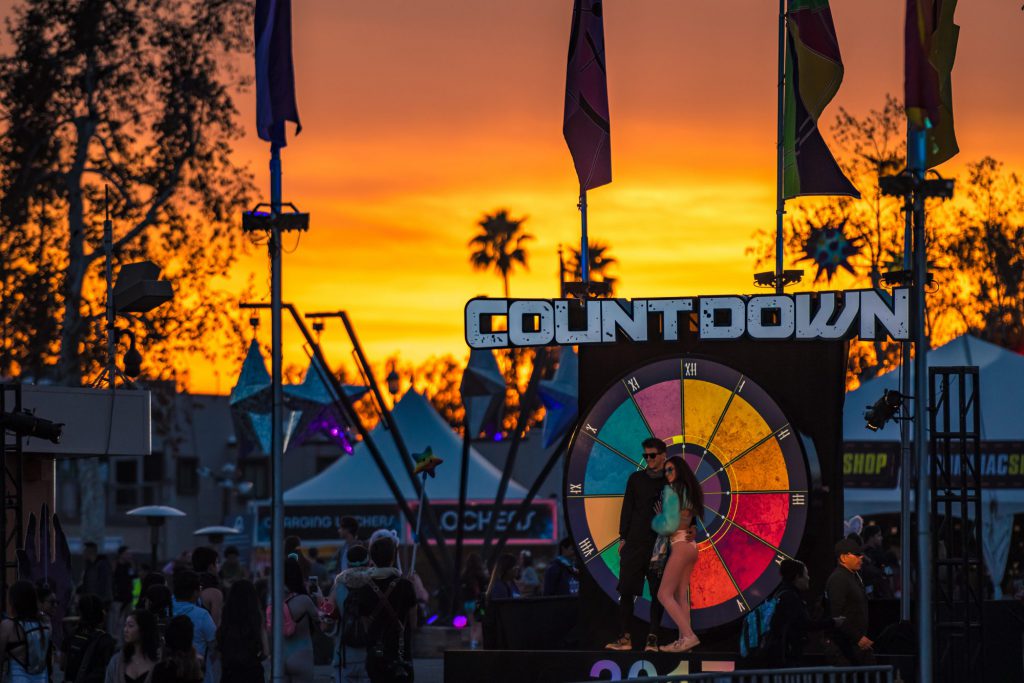 Countdown NYE was a bass fueled event with a touch of the house that had moments of brilliance over the weekend.
If you looked closely at the lineup and the nuances between the artists you could say that Countdown NYE was fairly diverse, but at the end of the day, quite a bit of it did begin to sound the same. Over the course of the event, I caught sets from artists ranging in style from bass house to dubstep and drum & bass to progressive house, but it was the artists I hadn't seen in a while, or ever even, who grabbed my attention the most that weekend.
Sets that left a lasting impression on me at Countdown NYE included some absolutely fantastic Drum & Bass from Kasra b2b Ivy Lab b2b Emperor, a set on the heavier side from Shiba San, and experimental bliss from Bleep Bloop b2b Tsuruda.
On the flipside, there were a few artists that I just couldn't seem to get into that were hyped up to me ahead of the event. I left What So Not's set to check out Ganja White Knight and ended up regretting that decision, and while I love Flux Pavilion I wasn't vibing with his set that weekend. Porter Robinson's set also lost me towards the end, so maybe it was just a common theme on the first day to have low energy.
Two sets that surprised me the most were JOYRYDE and Diplo, the latter of which actually shocked me. JOYRYDE absolutely slaughtered his set and had one of the largest crowds of the entire weekend, and Diplo absolutely killed his set from start to the abrupt finish. Cutting his set mid-song wasn't because of some technical problem but rather the fact that he was clearly playing into the setup time for the man who would be taking us in to 2018… deadmau5.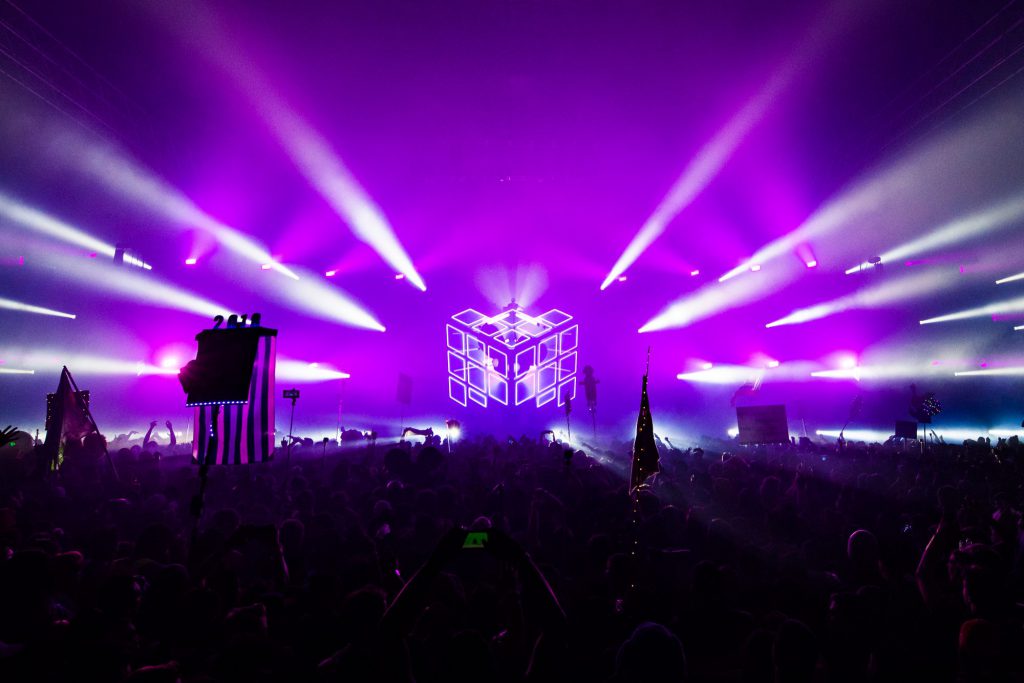 I have only seen deadmau5 a handful of times, but this was definitely one of the best, if not the best sets I've witnessed.
After a brief intermission in which the mini cube stage was set up and prepped for the set that was to come. When everything went dark the crowd erupted and Joel began to serenade us with his otherworldly tunes. Kicking things off with "Three Pound Chicken Wing" he dove into some techno as he dropped Amelie Lens and Michael Klein's "Blinding Light".
Fast forward to the mau5 dropping "Maps", and "Ghosts N Stuff" when one of the most unique things I've experienced at an event happened. Instead of the usual countdown to the new year, deadmau5 had something epic up his sleeve as he teamed up with Justin Roiland for an exclusive Rick & Morty short that left the crowd laughing throughout. It not only fit Joel's persona perfectly, but properly trolled everyone thinking we would be receiving a run of the mill countdown.
The first song of the new year was "Legendary" which is one of my favorite tunes that has recently come out from the depths of his studio, a proper good track to start the year off right. Closing out with "Strobe" and "A Seed", deadmau5 finished his set and effectively reminded me why I love his work so much.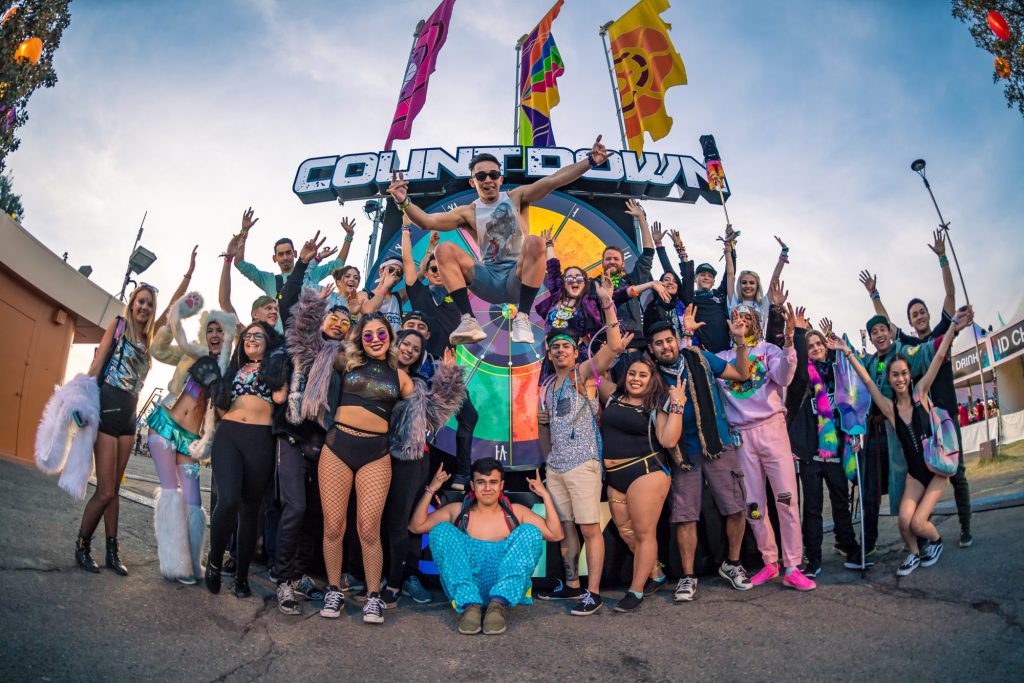 In the end, I left the weekend at Countdown NYE with many memories and a fresh outlook on how 2018 will go.
The event itself was definitely not free of problems or issues, but I felt that Insomniac did a great job with everything to start the new year right. If I was a bigger fan of strictly bass music I probably would have found myself enjoying more of the artists on the lineup than I did, but others I've spoken with have said nothing but great things about the sets they danced at too.
Perhaps Insomniac could utilize their Factory 93 or Basscon brands to bring more diversity to the lineup next year, as I would have enjoyed more house and techno, or even some hardstyle to break up the consistent sound of heavy bass beats. Overall though, I recommend considering this event in the future and hope that they continue to improve and enhance the experience for Headliners who attend.
---
Connect with Countdown NYE on Social Media: