Decadence Colorado 2017 Set Times, Festival Map, & More!
---
The wait for our New Year's Eve adventure is almost over and we are so excited to welcome a fresh start with a great community and music at Decadence Colorado 2017! The lineup is stacked, the venue is enormous and if last year is any indication the ball drop is going to be epic.
Looking for things to do on your trip to Denver? Check out some fun winter activities!
This two-day spectacular will bring thousands into the heart of Denver for nine hours of music and dancing to leave the year behind them. We've got all the important info that you'll need to know ahead of the show to have a fantastic time, so check it out and let us know which set you're most excited to catch!
---
Decadence Colorado 2017 Essential Info
Date: Saturday, December 30, 2017 – Monday, January 1, 2018
Hours: 6:30 pm – 3 am daily
Ages: 18+
Venue Address: Colorado Convention Center – 700 14th St, Denver, Colorado 80202
Acceptable Forms of Identification for Entry
US and Canadian citizens must show one of the following:
Government-issued passport
State/Province-issued driver's license or identification card (hard copy)
Combination of paper (temporary) State/Province issued driver's license or identification card AND expired hard copy (must have both)
US military ID
Merchant Marine ID
Tribal ID (not all accepted)
US Possessions issued ID
Citizens of countries other than the US or Canada must show the following:
Valid government issued passport (A photocopy of a passport not an acceptable proof of age and will not grant entry)
Unacceptable Forms of Identification for Entry
School identification
Consular identification
Licenses issued in countries other than the U.S. or Canada
Expired identification of any kind
Birth certificates
Xerox copies of any identification
Fishing licenses
Health Cards
Temporary Paper State/Province ID (unless accompanied by expired hard copy ID)
---
Decadence Colorado 2017 Set Times: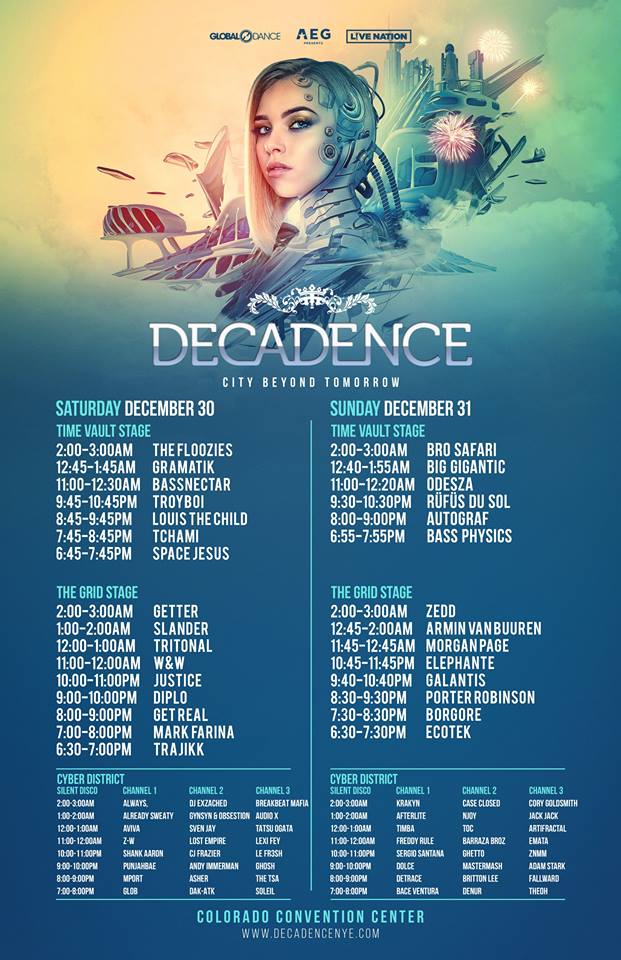 ---
Decadence Colorado 2017 Festival and Parking Info: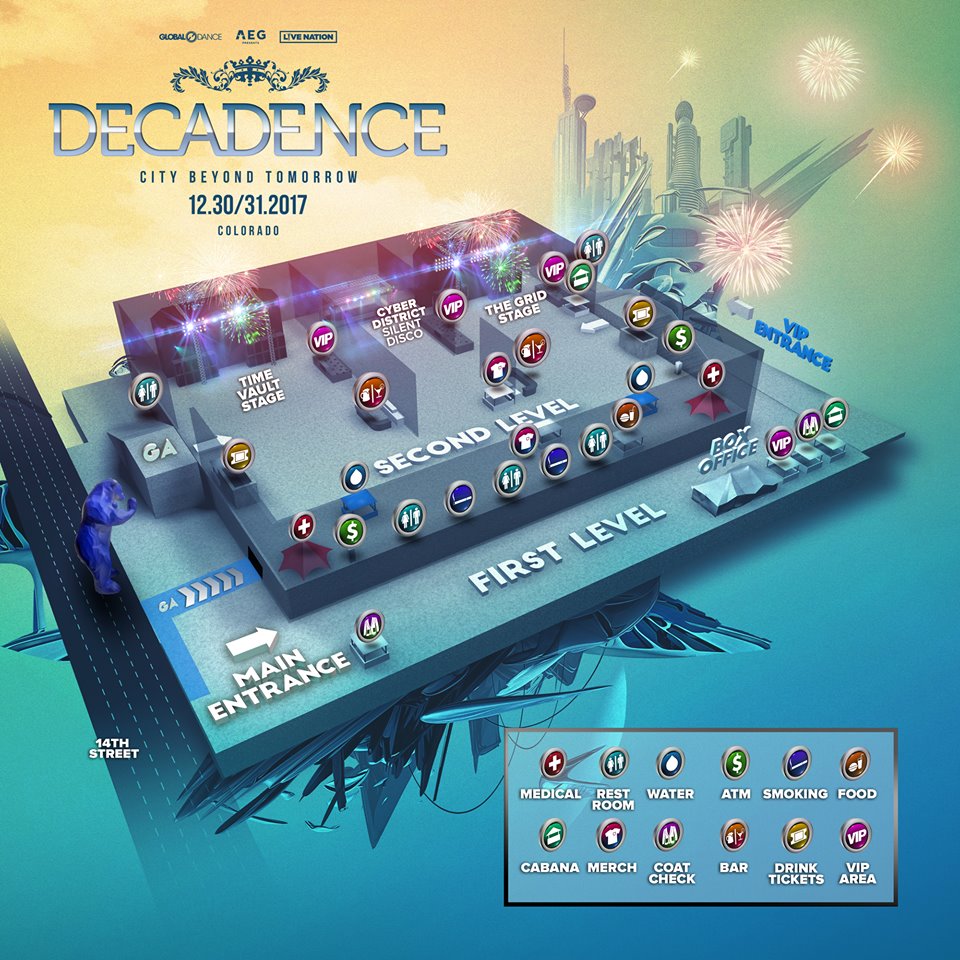 There are various parking garage options surrounding the Colorado Convention Center and while there is no official parking option for Decadence Colorado, Denver offers a number of reserve spot options that you can check out below.
The prices range from $10-$25 each day. Read more from Parking Panda and Parking Whiz to help facilitate your parking needs.
---
Reminder To Mind Your Belongings:
Unfortunately, many people have reported pickpockets, bag slashings, and theft of wallets, smartphones, purses and other valuables during this festival season. While this small number of bad apples in the bunch doesn't define an entire crowd, there are opportunistic people who come to these events to take advantage of unsuspecting partygoers and it's important to be mindful of your valuables while at Decadence Colorado.
Pay attention to who's around you and what's going on around you. Keep your wallet and phone in your front pocket(s) if you can. Treat your phone the same way you would treat cash; don't set it down on a table or bar and look away. If a friend isn't standing behind you in a crowd, be careful of your backpack or purse, and don't put valuables in a pocket that could easily be unzipped by someone behind in a crowded spot without you realizing.
Festivals, in general, are very densely populated places and are a well-known spot where pick-pocketing of unsuspecting people occurs. It's easy to find yourself in a crowded environment in a line, at a stage in the festival, elevator, or even out on the street where someone could slip your wallet or phone out of your pocket or bag in a matter of seconds. Stay alert, be careful, and make sure to not carry more than what you need!
---
Decadence Colorado 2017 Do's & Don'ts:
Prohibited Items:
NO Illegal Substances
NO Drugs or Drug Paraphernalia
NO Marijuana, marijuana products, and associated paraphernalia
NO Laser Pointers
NO Pacifiers, Dust Masks, Nasal Spray or Eye Drops
NO Markers, Pens or Spray Paint
NO LED Light Gloves, LED Finger Lights or LED Hand Light Toys
NO Hula Hoops
NO Containers, packages or larger quantities of glow sticks
NO Balloons
NO Totems
NO Large Chains or Spiked Jewelry
NO Stickers, Flyers, Banners or Posters
NO Backpacks
NO Large Purses or Bags
NO Stuffed Animals or Dolls (Including Plush Backpacks)
NO Open Packs of Cigarettes or Unsealed Tampons (Upon Entry)
NO Open chapstick or lipgloss
NO Outside Food or Beverages (Including Alcohol and Candy)
NO Gum
NO Weapons of any Kind (Includes Pocket Knives, Pepper Spray, Fireworks, etc.)
NO Professional Recording Equipment – Photo, Video, or Audio (No Detachable Lenses,
Tripods, Big Zooms or Commercial Use Rigs)
NO Video Cameras including GoPro's
NO large purses, bags or backpacks of any kind (including plush style)
Acceptable Items:
OK One empty water bottle to be used at the free water stations
OK Non-Professional Flash/Still Cameras
OK Cell Phones
OK Sunglasses
OK Hats
OK Flags (No poles)
OK Lighters
OK Closed Packs of Cigarettes
OK Sealed/Wrapped Tampons
OK Earplugs
OK Sealed Chapstick and Lipgloss
OK Glowing/Illuminated Costumes or Jewelry
OK Individual, limited quantities of glow sticks
OK Sealed Packs of Gum
OK Prescription medications only if in original container with original label (Must match ID)
OK Hydration packs with no more than one small compartment for water bladder—must be empty upon entry
OK Small clutch bag or purse no larger than 6.5″ x 4.5″, with or without a strap.
---
Connect with Decadence on Social Media:
Website | Facebook | Twitter | Instagram | YouTube | Snapchat