Wobbleland is headed to a brand new venue in 2018 with its best musical lineup yet!
---
Hosted by Vital Events, Wobbleland is now headed into its 8th straight year of showcasing the best artists in bass music. Previous lineups have featured incredible artists from Skrillex to Nero to Datsik and more. Last year, organizers outdid themselves with a three-day event down in San Jose with featuring Snails, Zomboy, and Datsik topping the bill.
This year, they somehow outdid themselves once again. The event is set to take place on February 23 and 24, 2018, but this year's edition will take place at the massive Bill Graham Auditorium right in the heart of San Francisco. The lineup for this year is also stellar, featuring the likes of Rickyxsan, Crankdat, Feed Me, REZZ and a ton more artists.
Related: Check out our review of the festival's 2017 edition!
Hosting and throwing dance music events requires a lot of planning, hard work, and artist connections to get some big names through the door. There are plenty of dance music events that had to shut their doors due to poor ticket sales over the years. However, it is refreshing to see an event really blossom into a mainstay and pave a lane for itself. Wobbleland is a great example of this.
You do not want to miss out on this year's Wobbleland! Make sure to snag your tickets and we'll see you on the dance floor!
---
Wobbleland 2018 Lineup: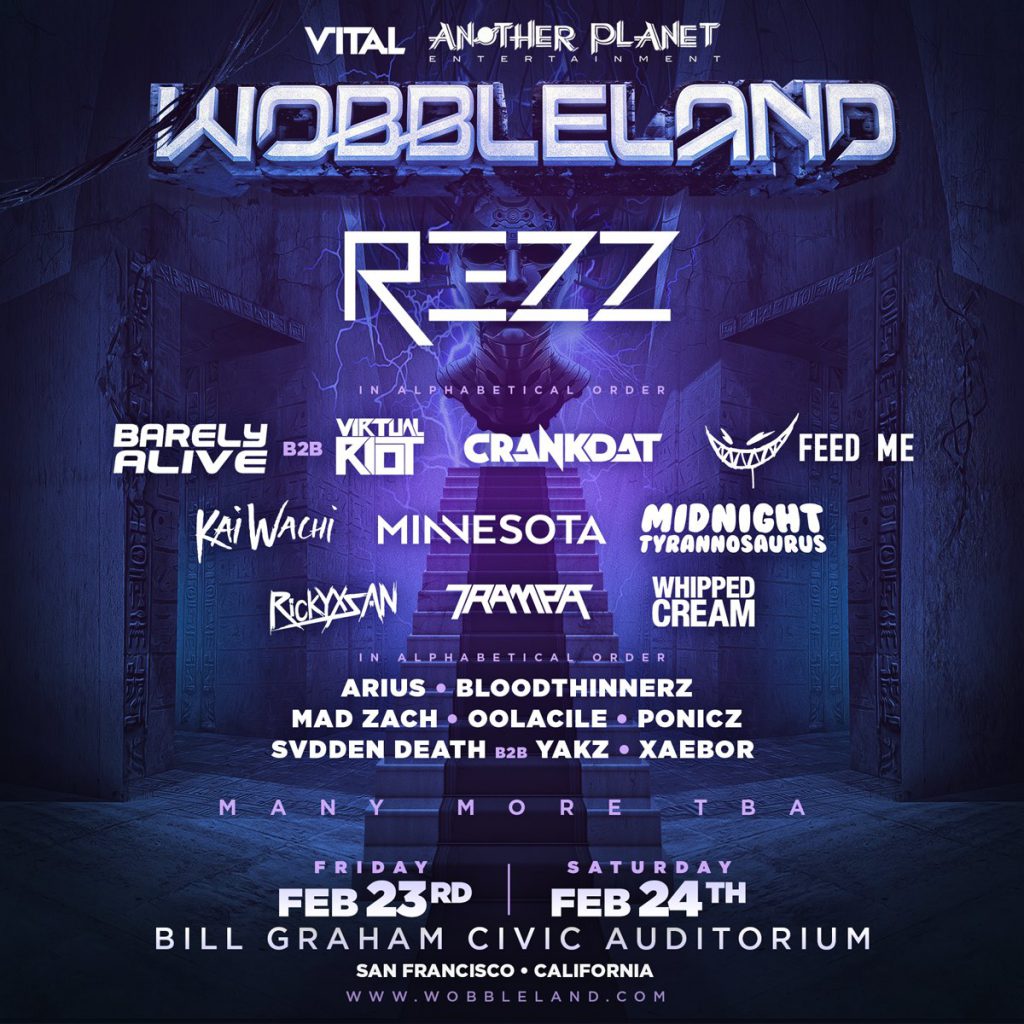 ---
Wobbleland 2018 Lineup by Artist:
REZZ
Barely Alive b2b Virtul Riot
Crankdat
Feed Me
Kai Wachi
Minnesota
Midnight Tyrannosaurus
Rickyxsan
Trampa
Whipped Cream
Arius
Bloodthinnerz
Mad Zach
Oolacile
Ponicz
Svdden Death b2b Yakz
Xaebor
Plus many more to be announced!
---
Connect with Wobbleland on Social Media:
Connect with Vital Events on Social Media: