When the wobbles hit you…

More info: Wobbleland
Video: Joe Larkin
If I were to sum up Wobbleland 2017 with one video, the one above would be it. This three-day bass filled festival was completely sold out in the days leading up to the event, guaranteeing that the City National Civic in San Jose would be packed and it was. I had the pleasure of attending the first day and fans completely filled the floor and upper balconies. It was utter madness to be honest between the viral video of the girl and a guy jumping off the balcony, people were going a bit crazy.
I don't know what it is about the heavier genres of EDM, but it tends to make people a little rowdier. This is definitely a sight to see as you see people thrashing against the metal barricade to the point that you think they're going to break their necks. Apart from the crowd, however, Friday's artist lineup was solid to say the least with sets by Snails, REZZ, Luca Lush b2b josh pan, and more.
My evening began with Luca Lush b2b josh pan, which was one of the sets I was looking forward to most. I had just listened to josh pan's Holy Ship! 2017 9.0 set and was hooked. Along with his collaborations with Korean rapper dumbfounddead, josh pan is raw and his remixes confirm this. Going b2b with Luca Lush was a pleasant surprise, as he is responsible for this massive remix of "Drop Top." Together at Wobbleland, they had one of the most exciting sets and fantastic visuals to match. Next up was KRANE b2b Alexander Lewis, which was a pretty good set although I couldn't really enjoy it as I wasn't familiar with Alexander Lewis' music at all.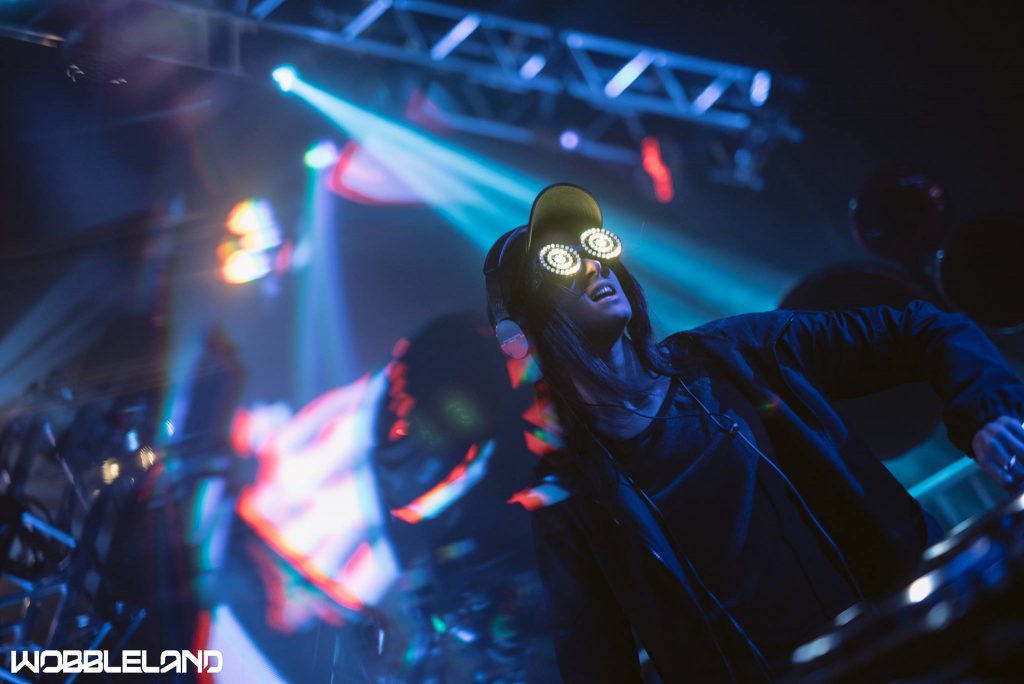 The most standout set goes to Canada-based DJ/Producer REZZ, who has garnered the attention of many including Deadmau5 for her unique spin on techno. The last time I saw her was on Holy Ship! 2016, where she impressed me with her dark and mysterious sound. Wobbleland was no different, she played a unique set with a good portion of original material, allowing her set to be one to remember. Another notable mention is Ekali, who has gained quite a bit of momentum this year with his collaborations with Gravez, Falcons, and KRANE. His set really got people moving and ready for the main event Snails.
Closing out day one of Wobbleland was Snails, who took the crowd down to Sluggtopia with his weird and fun set. I can't help, but be punny and say he "snailed it" and left the fans amped to come back for the following days. In summary, Wobbleland definitely was front page of Reddit-worthy and I look forward to their future expansion as Vital Events continues to grow.
---
About Wobbleland
Vital Events has been bringing #Wobbleland to the bay area every year since 2010 and has built a brand that is recognized around the world as being the Bay Area's premier bass music concert. Previous headliners include the cream of the crop in dubstep, trap, and future bass such as Skrillex, Doctor P, Flux Pavilion, Datsik, Excision, Nero, 12th Planet, Kill The Noise, Griz, Jauz, and NGHTMRE.
What started off as a planned renegade party in the woods of Santa Cruz has expanded to an annual mecca for thousands of bass addicts from around the world. Wobbleland expanded its world-class production and billing to two days starting in 2015 and will continue expanding into new markets, bigger venues, and larger crowds.
---
Connect with Vital Events on Social Media
Website | Facebook | Instagram
Featured Photo Credit: Vital Events