On Saturday, December 23, Berg and Trance Psyberia are once again bringing psytrance to Avalon Hollywood!
---
Berg and Trance Psyberia have teamed up once again to bring psytrance to Avalon. After a successful show this past April, the two are closing out the year with those same infectious beats. They will be supported by Jonathan Allyn, a techno, trance and progressive DJ and producer that has received praise from the legendary Christopher Lawrence.
Israel-based trance artist Shlomi Berg, known in the music world as Berg, has been in the music scene for years. Berg first began producing music at 15 years old but had his big breakthrough in 2002. That year Berg's first EP, Wizard cemented his progressive and psytrance sound. Since then he has played festivals, such as Dreamstate SoCal and Ozora Festival and all over the world from Mexico to Israel.
Berg has released four EPs over multiple labels such as Spin Twist Records and Blue Tune Records. Additionally, he has worked with numerous major players like Neelix while releasing which bringing crowds to their feet with tracks such as Double-Edge and Soul Provider.
Check out the 1 Million Mix below for insight into the sounds Berg will be bringing to his set at Avalon Hollywood!
Stream Berg – 1 Million Mix via SoundCloud: 
Support for the evening will be provided by Trance Psyberia. The origin of the group is a bit of a mystery. However, their socials state that "The main purpose of Trance Psyberia is to show people how different psytrance can be." Get to know their sound by checking out the video below!
Stream Trance Psyberia /// Live @ PsyTribe 20 Year Anniversary Festival via SoundCloud:
Are you going to Avalon Hollywood this weekend? Let us know in the comments below!
---
---
Berg and Trance Psyberia @ Avalon Hollywood Event Information:
Date: Saturday, December 23, 2017
Ages: 21+
Hours: 10PM – 6AM
Venue Address: 1735 Vine St, Los Angeles, California 90028
Tickets: HERE
Facebook Event Page: HERE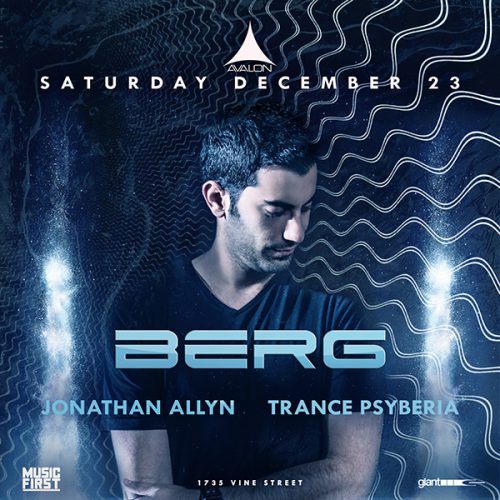 ---
Connect with Berg on Social Media:
Facebook | Twitter | SoundCloud | YouTube
Connect with Trance Psyberia on Social Media:
Facebook | Twitter | Instagram | SoundCloud | YouTube