Gramatik takes RE:COIL on the road and brings his friends along!
---
Upon the release of his most recent EP, RE:COIL Pt. I, Gramatik embarked on a 26 city European tour and will be bringing it to North America in 2018. The tour will begin with an epic New Year's show at Terminal 5 in New York City with guest performances from Big Wild, Ramzoid, Cobrayama, and Balkan Bump.
The tour will resume on February 1 at Detroit's Royal Oak Ballroom and make stops across the U.S. and Canada ending in Vermont on April 29. Get more information about the tour and tickets for the stops!
If Gramatik wasn't enough to get you stoked about the tour, attendees can also look forward to supporting artists Hawyre and Møme. Haywyre is a classically trained pianist that blends his classical sound with different electronic elements and genres.
Møme is best known for his track "Aloha", but has a large collection of music for a producer that's only been releasing music for the last three years. See the full North American tour dates below and don't miss out on one of the awesome shows!
---
Gramatik RE:COIL 2018 North American Tour Flyer: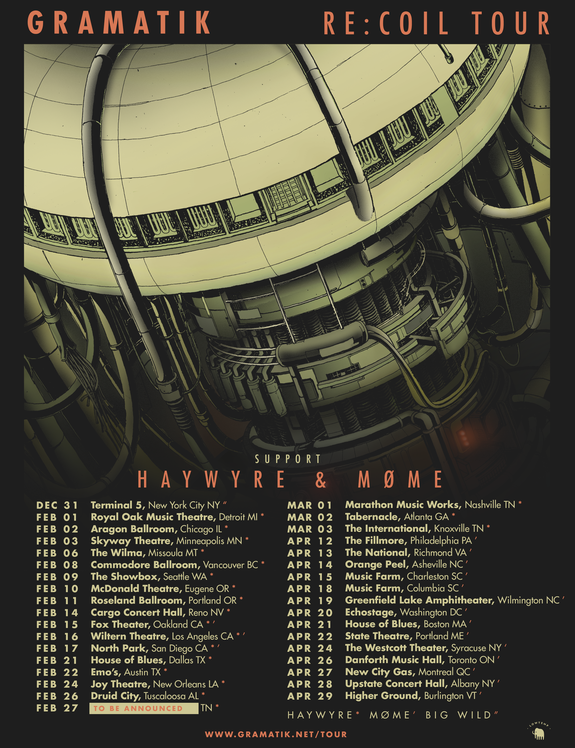 ---
RE:COIL 2018 North American Tour Dates:
Sunday, December 31, 2017 – New York City, NY @ Terminal 5 (only 2017 date)
Thursday, February 1 – Detroit, MI @ Royal Oak Music Theatre
Friday, February 2 – Chicago, IL @ Aragon Ballroom
Saturday, February 3 – Minneapolis, MN @ Skyway Theatre
Tuesday, February 6 – Missoula, MT @ The Wilma
Thursday, February 8 – Vancouver, BC @ Commodore Ballroom
Friday, February 9 – Seattle, WA @ The Showbox
Saturday, February 10 – Eugene, OR @ McDonald Theatre
Sunday, February 11 – Portland, OR @ Roseland Ballroom
Wednesday, February 14 – Reno, NV @ Cargo Concert Hall
Thursday, February 15 – Oakland, CA @ Fox Theatre
Friday, February 16 – Los Angeles, CA @ The Wiltern
Saturday, February 17 – North Park, SD @ North Park Observatory
Wednesday, February 21 – Dallas, TX @ House of Blues
Thursday, February 22 – Austin, TX @ Emo's
Saturday, February 24 – New Orleans, LA @ Joy Theatre
Monday, February 26 – Tuscaloosa, AL @ Druid City
Tuesday, February 27 – Chattanooga, TN @ TBA
Thursday, March 1 – Nashville, TN @ Marathon Music Works
Friday, March 2 – Atlanta, GA @ Tabernacle
Saturday, March 3 – Knoxville, TN @ The International
Thursday, April 12 – Philadelphia, PA @ The Fillmore
Friday, April 13 – Richmond, VA @ The National
Saturday, April 14 – Asheville, NC @ Orange Peel
Sunday, April 15 – Charleston, SC @ Music Farm
Wednesday, April 18 – Charleston, SC @ Music Farm
Thursday, April 19 – Wilmington, NC @ Greenfield Lake Amphitheatre
Friday, April 20 – Washington, DC @ Echostage
Saturday, April 21 – Boston, MA @ House of Blues
Sunday, April 22 – Portland, ME @ State Theatre
Tuesday, April 24 – Syracuse, NY @ The Westcott Theatre
Thursday, April 26 – Toronto, QC @ Danforth Music Hall
Friday, April 27 – Montreal, QC @ New City Gas
Saturday, April 28 – Albany, NY @ Upstate Concert Hall
Sunday, April 29 – Burlington, VT @ Higher Ground
---
Connect with Gramatik on Social Media: