SLANDER continues to go against the grain with their newest track, "Welcome to the Fire," with Sullivan King.
---
Artists generally have one singular genre they stick to. This genre is what they are known for and what they most commonly produce. However, sometimes artists don't fall into one genre category because they incorporate so many different styles. A good example of this is SLANDER. Their latest track "Welcome to the Fire" with Sullivan King is a genre-defying adventure from start to finish.
SLANDER's rise to super-stardom seemingly happened overnight, making a name for themselves with the release of many quality songs and sets that blew crowds away. Now, SLANDER has teamed up with a rock star in the bass music scene, Sullivan King, for a dubstep & metal infused track called "Welcome to the Fire."
"Welcome to the Fire" is an incredible tune which has an energy like no other song I've listened to lately. It features Sullivan King jamming out on his guitar to bring some elements of metal, while also incorporating a vocal drop and SLANDER's wild ride with their solid production.
Overall, the track will get you seriously hyped for whatever you are doing. Further, it shows SLANDER and Sullivan King's unique place in the dance community as artists that can make just about any genre and do it in a successful way.
Stream SLANDER & Sullivan King – Welcome to the Fire on SoundCloud:
Stream or download a copy of "Welcome to the Fire" on your favorite platform!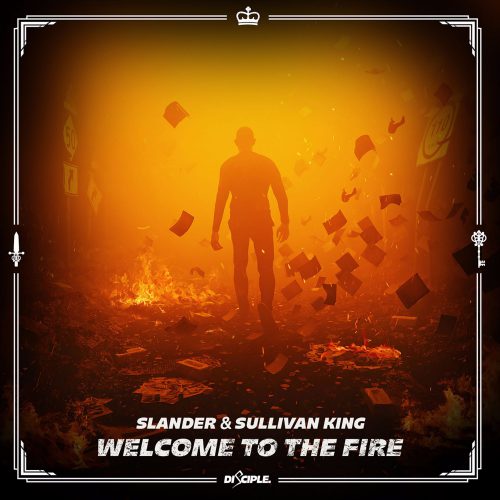 ---
Watch SLANDER play "Welcome to the Fire" at EDC Orlando:
SLANDER & @SULLIVANKING
WELCOME TO THE FIRE
OUT THIS FRIDAY@DISCIPLERECS pic.twitter.com/t9PMgX98kC

— SLANDER (@SlanderOfficial) November 29, 2017
---
SLANDER Upcoming Tour Dates: 
DATE
VENUE
LOCATION

TICKETS

12/1/2017

PLAYSTATION THEATER
NEW YORK, NY
BUY

12/2/2017

CONCORD MUSIC HALL
CHICAGO, IL
BUY

12/30/2017

DECADENCE
DENVER, CO
BUY

12/31/2017

DECADENCE
DENVER, CO
BUY

12/31/2017

RESOLUTION NYE
COSTA MESA, CA
BUY

1/10/2018

HOLY SHIP!
CAPE CANAVERAL, FL
BUY

1/11/2018

HOLY SHIP!
CAPE CANAVERAL, FL
BUY

1/12/2018

HOLY SHIP!
CAPE CANAVERAL, FL
BUY

1/13/2018

HOLY SHIP!
CAPE CANAVERAL, FL
BUY

2/24/2018

EDC MEXICO
BENITO JUÁREZ, DF
BUY

2/25/2018

EDC MEXICO
BENITO JUÁREZ, DF
---
Follow SLANDER on Social Media: 
Website | Facebook | Twitter | Instagram | SoundCloud
Follow Sullivan King on Social Media:
Facebook | Twitter | Instagram | SoundCloud