REZZ brought her Mass Manipulation tour to the Mile High City on Thanksgiving Eve, and the masses were manipulated, indeed.
---
Isabelle Rezazadeh, better known as REZZ, is one of those artists who came out of nowhere and completely dominated the scene. With support from major artists like deadmau5 and Skrillex and huge releases on both of their labels, her star has risen more quickly than most.
Although I've been listening to REZZ's music for quite some time, I had never had the opportunity to see her perform. Friends had raved to me about her shows, and her music has a certain quality to it that I find very appealing: a dark, Gesaffelstein-like industrial sound that grabs you by the collar and makes you sit up and pay attention. Attending, therefore, was a no-brainer.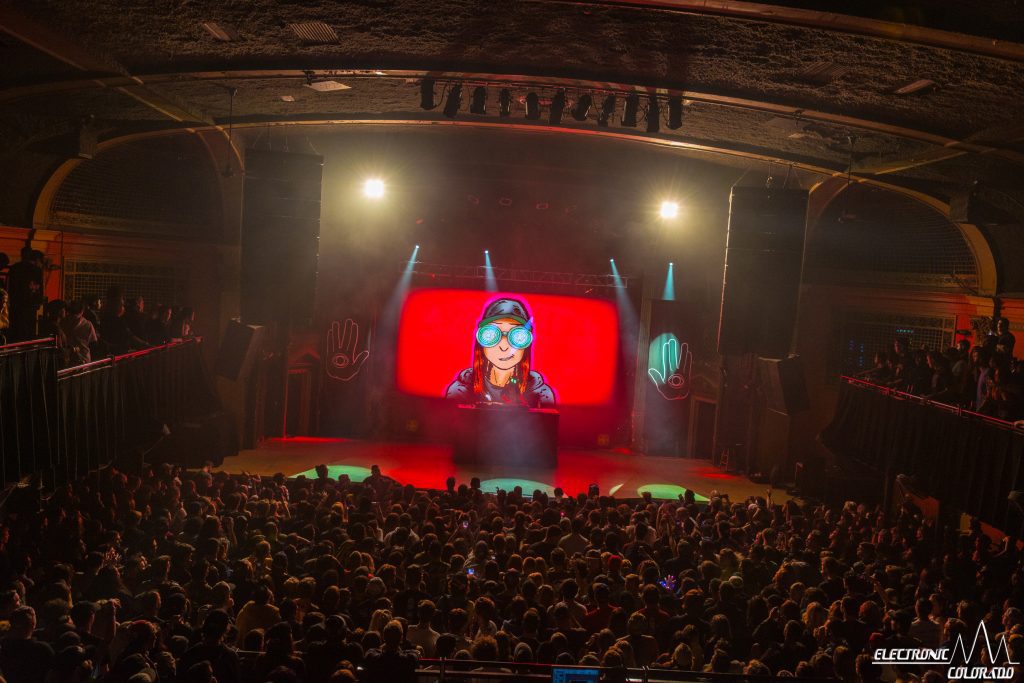 Because of the incredibly high demand for tickets, REZZ's first show sold out extremely quickly and a second show was soon added on Tuesday.
The Wednesday night crowd definitely got an incredible support roster, with mau5trap's mysterious virtuoso BlackGummy and LA's own Dr. Fresch doing the honors. With that having been said, I was bummed to see that BlackGummy would be opening the show, as that meant that we wouldn't be able to catch all of his performance.
Despite that fact, we got into The Ogden quickly and easily, with a fast line for will call and a painless ticket scan and search. Unlike many other venues I have frequented in the past, The Ogden Theatre always has their end of the deal firmly under control, making for a pleasant experience for attendees.
Once we made it inside, we heard the last little bit of BlackGummy as we cozied up to the bar for a drink. Being a 16+ show, there wasn't much in the way of lines, so we were able to grab our beverages of choice and attempt to find a spot in the crowd. And boy, is "attempt" the right word to describe it – we got there less than an hour after the music had started, and the entire place was already packed to the rafters with sweaty, furiously dancing people.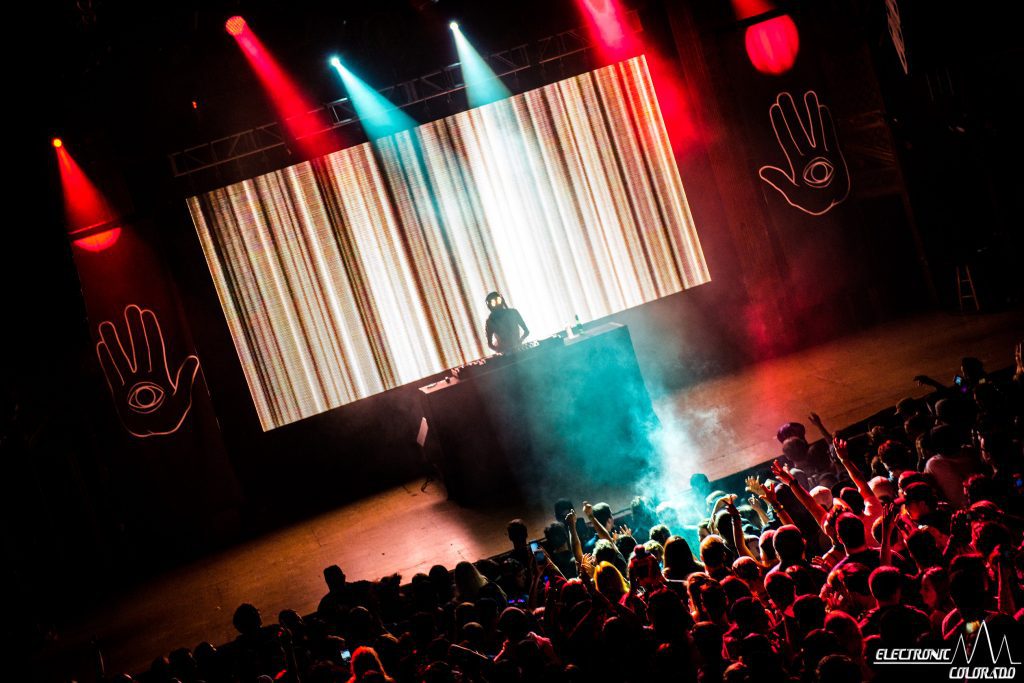 Dr. Fresch took the decks and treated the growing crowd to a high-energy set ahead of REZZ.
Although I hadn't listened to much of Dr. Fresch's music before seeing that he would be opening for REZZ, he's been making some serious waves in the scene of late. Fresh off a Diplo & Friends mix that has racked up hundreds of thousands of plays on SoundCloud, I knew that we would be in for a dynamic, bass-heavy performance.
I was impressed by how seamlessly he transitioned from track to track and how well he managed to keep the considerable energy flowing throughout his set. He threw down some grimy dubstep beats, and the entire crowd was electrified, dancing along and cheering as he mixed together a blend of his own originals, some hits from scene favorites like Ghastly, and some lesser-known tracks that nonetheless blew the roof off the venue. After his set, I found myself wondering how REZZ would keep that energy going.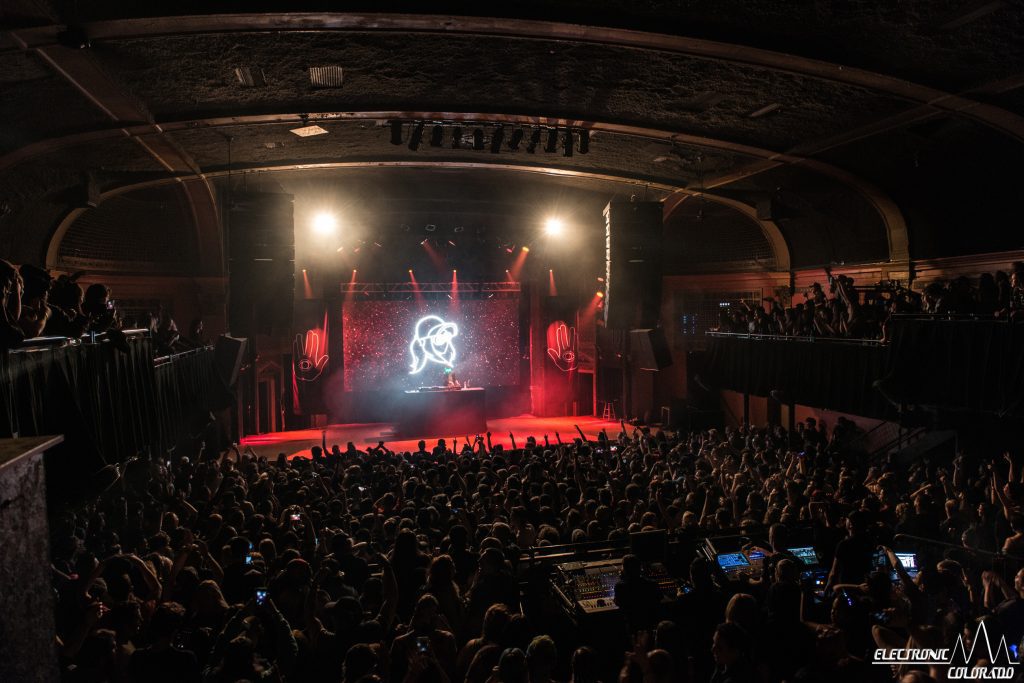 I needn't have been concerned. As REZZ took the stage, the entire crowd was fixated on her every move.
Opening up the show with "Relax", one of the most popular tracks off of Mass Manipulation, she held the crowd in Denver in the palm of her hand. Interestingly enough, REZZ is said to be a student not just of music production, but also of psychology, and it shows in the way that she draws her audiences in. I have rarely been to a show where every single person in the crowd paid such rapt attention to what was going on in front of them.
Musically, REZZ covered a lot of bases throughout her set. As expected, she played quite a few tracks from her new album, including "Premonition", which is my personal favorite given its Nine Inch Nails-like industrial grime. I was also surprised and impressed to hear her throw down some bass favorites like Excision, Datsik, and Dion Timmer's cult favorite "Harambe" and Bassnectar and Gnar Gnar's "I'm Up" from the bass god's recent Reflective EP. It was a solid set from start to finish, with enough variety to keep it interesting.
Perhaps one of the most notable things about REZZ's show was how seamlessly the visuals and the music blended together.
As she played, the screen cycled through a wide variety of images. They ranged from trippy, borderline psychedelic colors and shapes to extraterrestrial, almost creepy drawings to illustrations that were clearly from her comic book.
With the massive screen in the back and the smaller screens on the sides projecting two alien-like hands while the lights above projected designs onto the crowd, the entire production had the effect of engulfing the audience in REZZ's strange, extraterrestrial world. It was truly an experience that you could easily get wrapped up in, reminding me of what all those mind control movies in the 60's warned us about.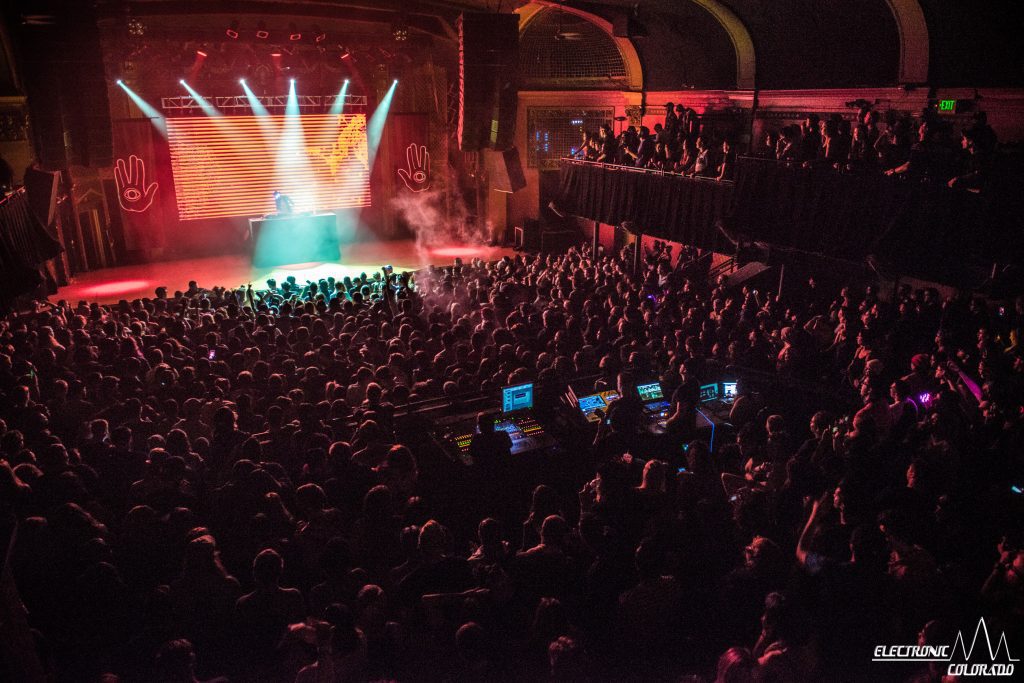 Now, REZZ does have a reputation for being more of a producer than a DJ, and if you catch one of her sets, that's fairly obvious. She doesn't seem to do a ton of mixing, and her sets all have a similar energy and track selection, so if you've seen her before, you have a good idea of what you can expect.
With that in mind, you might wonder why you'd pay to see her perform, and the answer is simple – the spectacle itself is worth the price of admission. There are hundreds of artists out there putting on shows, but few of them are quite as captivating and well-engineered as the one that REZZ performs. And in the end, that's all that matters.
---
Follow REZZ on Social Media:
Website | Facebook | Twitter | Instagram | SoundCloud