Snails sold out The Fillmore on the San Francisco date of The Shell Tour, and he brought a spectacular show along with him!
---
When Snails announced that he was going on tour and releasing an album around the same time, I knew I had to attend. I've been a fan of the "vomitstep" king for a few years and have seen him about five times at various festivals, but nothing compared to seeing Snails on his San Francisco stop of The Shell Tour on Thanksgiving Eve.
The show was originally at The Armory in San Francisco but got moved to The Fillmore, another comparable music venue. When I arrived, there was a fairly long line around the building which made sense since the show was completely sold out. However, I was able to get in pretty quickly due to the fast security.
SQUNTO was first on the lineup and gave San Francisco a dose of his trademark "MegaChop."
I got in right in the middle of SQUNTO's set. He was the first to open up the show and I had never seen him before. His specialty, other than producing some solid dubstep, is doing his "megachop," which is where he'll play two tracks over each other and fade in between both of them. It was a true spectacle to watch first-hand!
Boogie T combined DJ-ing with some metal guitar riffs during his set.
This was the first time I have ever heard of Boogie T, but overall I was impressed with his set! He played a wide range of dubstep songs and toward the end of his set brought out a guitar and played along to some of his own original songs.

Eptic provided the perfect mix between dubstep and house tunes to get the night going!
Another guy I am a huge fan of is Eptic. His style is of dubstep is truly unique and his songs are some of my favorites. When he came on after Boogie T, the energy in the room completely switched and everyone immediately got more hyped up. It became more crowded on the floor and the moshing had just begun.
His set contained a bunch of his original work with a few hit tracks from other artists mixed in. What was especially awesome about his set was that he mixed house tunes seamlessly into it. After hearing only dubstep for the past two hours, that was a breath of fresh air!
12th Planet graced the stage with his legendary presence but provided a lackluster set.
There are hardly any other artists more heavily associated with dubstep than 12th Planet. The legendary DJ was hugely responsible for the uprising of dubstep and bass music in the States and has made an incredible name for himself through the years.
Despite all of this, I felt his set was pretty underwhelming. With the exception of his first song, "Send It", that I enjoyed, the rest of his set was centered around playing more "riddim" dubstep. This form of dubstep is cool in the sense that it's centered around one singular noise that's produced really well, but that same thing is what makes it boring to hear song after song. Regardless of 12th Planet's song selection, he still got the crowd ready for Snails!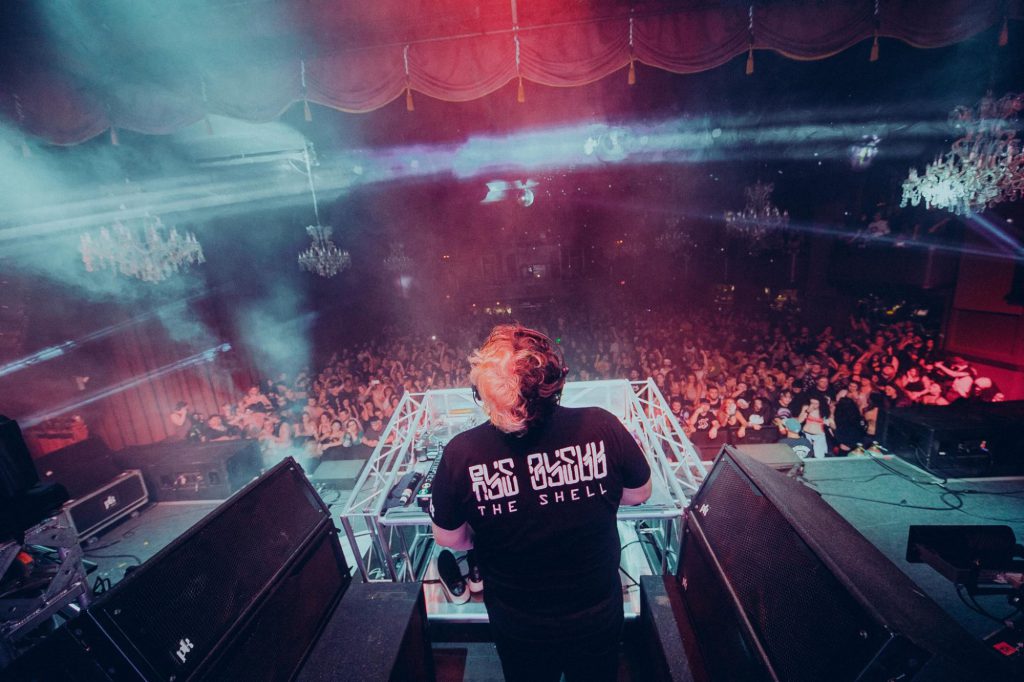 Snails made his grand appearance along with "The Shell" stage design in its full glory.
I could hardly contain my excitement the moment the stage got dark and Snails' trademark sound design began over the 150,000 watts of PK Sound. His began his set with "The Shell", the intro song off his recent album which is full of big drum hits and glitchy effects. It made for the perfect way to begin his wild set!
Throughout the show, he played just about all original work, which I was thrilled to hear. Further, during "The Anthem", a very large, inflatable snail was blown up that extended a little bit into the crowd, and that was a cool little thing to see! Overall, Snails' set was arguably one of the best ones I've seen from him and I was very content leaving the venue.
The Shell Tour is still traveling around for the next month and I highly suggest you check it out if you're a fan of bass music! Tickets can be found HERE.
Also check out our review of Snails' debut album, "The Shell."
---
The Shell Tour – Slugz City Edition Dates
11/28 – Albuquerque, NM – Sunshine Theater
11/29 – El Paso, TX –  Tricky Falls
11/30 – Houston, TX – Stereo Live
12/1 – Austin, TX –  Emos
12/2 – Dallas, TX –  South Side
12/3 – Fayetteville, AR – George's
12/5 – Memphis, TN – New Daisy Theater
12/6/ – Urbana, IL – Canopy Club
12/7 – St Louis, MO – Pageant
12/8 – Minneapolis, MN – Skyway
12/9 – Detroit, MI –  Royal Oak
12/10 – Grand Rapids, MI – Intersection
12/15 – Philadelphia, PA –  Fillmore
12/16 – New York City, NY – Terminal 5
12/17 – Richmond, VA – The National
12/18 – Baltimore, MD – Rams Head
12/20 – Norfolk, VA –  Norva
12/21 – Nashville, TN – Global Events Center
12/22 – Charlotte, NC – Fillmore
12/23 – Atlanta, GA – Tabernacle
12/26 – Albany, NY – Upstate Concert Hall
12/27 – Worcester, MA – The Palladium
12/28 – Montreal, QC – Metropolis
12/29 – Toronto, ON – Danforth
12/30 – Chicago, IL – Aragon
Follow Snails on Social Media:
Website | Facebook | Twitter | SoundCloud