Just in time for Trancegiving, get to know rising Denver trance artist Adam Stark in this week's Artist Spotlight.
---
The city of Denver is the home of a truly remarkable electronic music scene. To outsiders, it may appear as though the Mile High City is the bass capital, frequently playing host to some of the biggest names that the genre has to offer. To those in the know, however, there is much more to it – a flourishing community that supports artists across a wide variety of genres and has a huge appreciation for talented local DJs, too. One of the names you'll see quite frequently if you're paying attention is Adam Stark.
If you've never had the pleasure to see Adam Stark perform, you're in for quite a treat. In a world where producers frequently tour as DJs without mastering the art, Stark is a shining example of the magic that can happen when someone truly embraces their craft. With an ear for exceptional music and a keen sensibility for what the crowd wants to hear at any given moment, he consistently turns out high-quality performances that have earned him opening slots for some of the biggest names in the business, including Tiësto, Paul van Dyk, and Gabriel & Dresden, just to name a few.
Now, just in time for Trancegiving, we wanted to give you a closer look at one of the Denver trance scene's fastest-rising stars. Read on to learn more about how he got his start, his influences, and how he approaches his performances, and stream his exclusive guest mix below.
Stream EDMID Guest Mix 091 || Adam Stark on Mixcloud:
---
What inspired you to get into electronic music and to start DJ'ing?
This is a very long story for me so I'll try to keep it somewhat short. I was around 6 years old when my parents and I were traveling through some airport, and I saw a CD that caught my eye. I was the kind of kid who always carried my Discman CD player and a spare pair of batteries with me, so on the flight home I listened to the entire CD three to four times.
That was my first overall introduction to electronic music. Moving forward as a teen with access to the internet and things like Napster, I downloaded literally all the music I could get my hands on. Gabber, hardstyle, techno, house, trance, literally anything I could find. This eventually lead me to live recordings of sets from the likes of Ferry Corsten, Armin van Buuren, and Tiësto; and other live sets at places like the Ziggo Dome, Godskitchen, and several other notable venues around the world. I was immediately hooked on the long-form DJ set as it was this sort of extension of the music at the time. Trance music, which I was fastly falling in love with, was this long journey over the course of a track, with songs like Tiësto's "Suburban Train" topping out well over 10 minutes.
During my high school years, I joined a production company and started going to some of Colorado's music festivals with my friends. After getting a taste of playing music as a professional DJ for weddings and birthdays, as well as seeing live performances of some of my favorite DJ's at Red Rocks, it was absolutely no question to me that playing music was something I wanted to do with my life.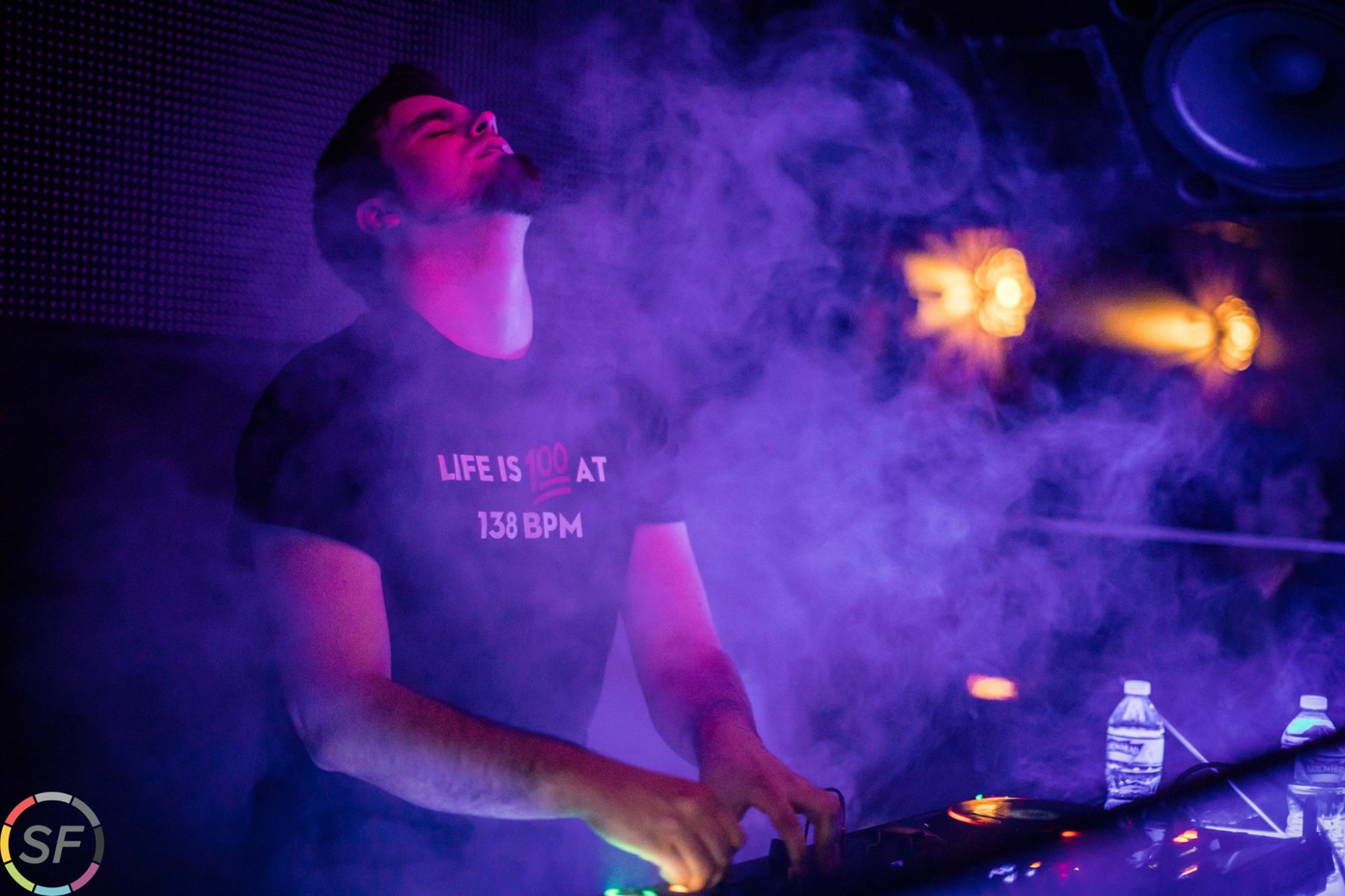 How would you describe your signature sound?
Something that has always been incredibly important to me is making sure that a room feels good. As an up-and-coming DJ, something I've had to do countless times is open a room from empty. This is one of the most technically challenging things to do as a DJ.  You don't get to completely smash it out at 9pm when you're playing for the bar staff and security. Having so many experiences like this taught me that it's important for a DJ to be flexible in their style, and be able to feel comfortable moving around within different genres.

Getting experiences like this very early on has taught me that there is something in every genre that will fit within my musical tastes. I have trance tracks that drop into drum 'n bass, I have techno tracks that fit perfectly for opening a room, and I have house remixes of some of my all-time-favorite trance anthems.
I think for me, my sound is less about boxing myself into a specific genre or type of electronic music. I think my sound really comes from years of refining my style to be able to bring trance to literally any show I'm playing. It's about making sure the room has a proper progression and a proper feel. No techno show wants to book an uplifting trance DJ. However, you can bet that the kind of crowd that really appreciates a good techno set has some kind of trance background. I can adjust my sound to fit the event without having to alienate what I love about electronic music.
My sound can best be summed up as always finding a way to take the crowd on a journey, while still staying true to what I love as a DJ and the authenticity of the night.
What artists inspired you, and who do you consider to be some of your musical influences?
Early on I spent a lot of time listening to the big trance guys. Tiësto, Armin, Ferry, Rank 1, etc. Also, a lot of the 140 bpm, high-energy stuff. Over the years, and as I've cultured myself as both an artist and a fan of the music scene as a whole, I find myself drawing a lot of inspiration from different places. I spend a lot of time now in very different settings. It is not uncommon for me to attend several shows in one weekend ranging from house to dubstep to techno to trance and even the occasional hardstyle show.
I see myself drawing inspiration from the simplicity of Eric Prydz as well as the complexity of someone like ill.Gates. You're just as likely to run into me at a Claude VonStroke show as you are at a Pendulum show. I think that having listened to the music for over 15 years I have a unique perspective on how it's evolved.
I still remember the warm, fuzzy feeling of hearing Tiësto playing out his Elements of Life album at Red Rocks. But I've also had the pleasure of opening for him in 2017, and I had to stay fairly far away from that aforementioned side of the musical spectrum. Like I said earlier, I think it is important to be diverse in your music, which means drawing from a very diverse set of influences. Each genre has something to bring to the table, and I think being ready for any sort of crowd, and really being able to wow them is important.
The trance scene in Denver has really been taking off, and you have been an instrumental part of that. What has it been like being a part of that movement, and how do you see things playing out in the future?
Before we get into this I'd really like to take a second to give a shout out to the amazing promoters, talent buyers, and DJs we have here locally in Denver. Without the amazing people at AEG, Global Dance, TheHundred, Floorbangrs, SOCO and Beta Nightclub, we really wouldn't have the amazing talent coming through that we do. We've got a wide array of local talent that represents just about every major trance label under the sun, and an incredibly passionate group of fans that show up relentlessly for every single show.
So I don't want to take any credit for any of that. We have a tight-knit scene of dedicated people that love making this happen. I may be one of the louder voices in it all, but it's not just me. Not by a long shot.
That being said, getting to be a part of the wider movement in Denver, and really pushing the boundaries to make cool things happen here has been a wild ride. I've gotten to have some experiences that I honestly never thought I'd get to have. It has been amazing to be a part of something I am so passionate about. Moving forward in the future, I see the scene only continuing to grow. We've built something really special here in Denver. I'm excited to see where everything is going to go moving forward, but I can't imagine things slowing down at all. We're going full steam ahead into 2018.
You've been opening for some pretty huge names this year, including the likes of Paul van Dyk, Tiësto, and Gabriel & Dresden. How do you plan out your sets when you're opening for legendary artists like that?
As I touched on earlier, opening a room, or opening for a headliner is an incredibly difficult job. You have to find a way to stay true to yourself and your brand as an artist, while still giving your headliner room to smash the roof off the place so they can stay true to themselves and their brand.
Those three sets in particular were such a wide variety of music ranging from 120 bpm all the way up to 140. The first thing I do is listen to any recent mixes or podcasts to get an idea of what the artist is playing currently. It's important to make sure that I compliment the sound the artist is going for without overstepping myself.
In the case of the Dreamstate show with Paul van Dyk, I basically got to take the place of tour support so I was a bit more free with what I could play. I try to walk into my sets with one track for every minute I'm going to play. So an hour-long set means I come in with 60 tracks. I always have a general idea of where I'm going to start, and then I just sort of go from there. I try to spend a decent amount of my time reading the crowd and trying to find what is working best within the confines of being an opening DJ. I try to ensure that all of my sets have this level of authenticity to them. I have a general style that I'm known for as a DJ, but I really enjoy the idea of a set, or a tracklist, or a whole night happening as organically as possible.
I've never liked the idea of showing up with an hour of music. I like to be free to move around within my library and experiment if I think the crowd is going to be really into it. I've gone so far as buying an entire set of music 30 minutes before my set and going live not having heard more than 10 seconds of any of the tracks I'm going to play that night.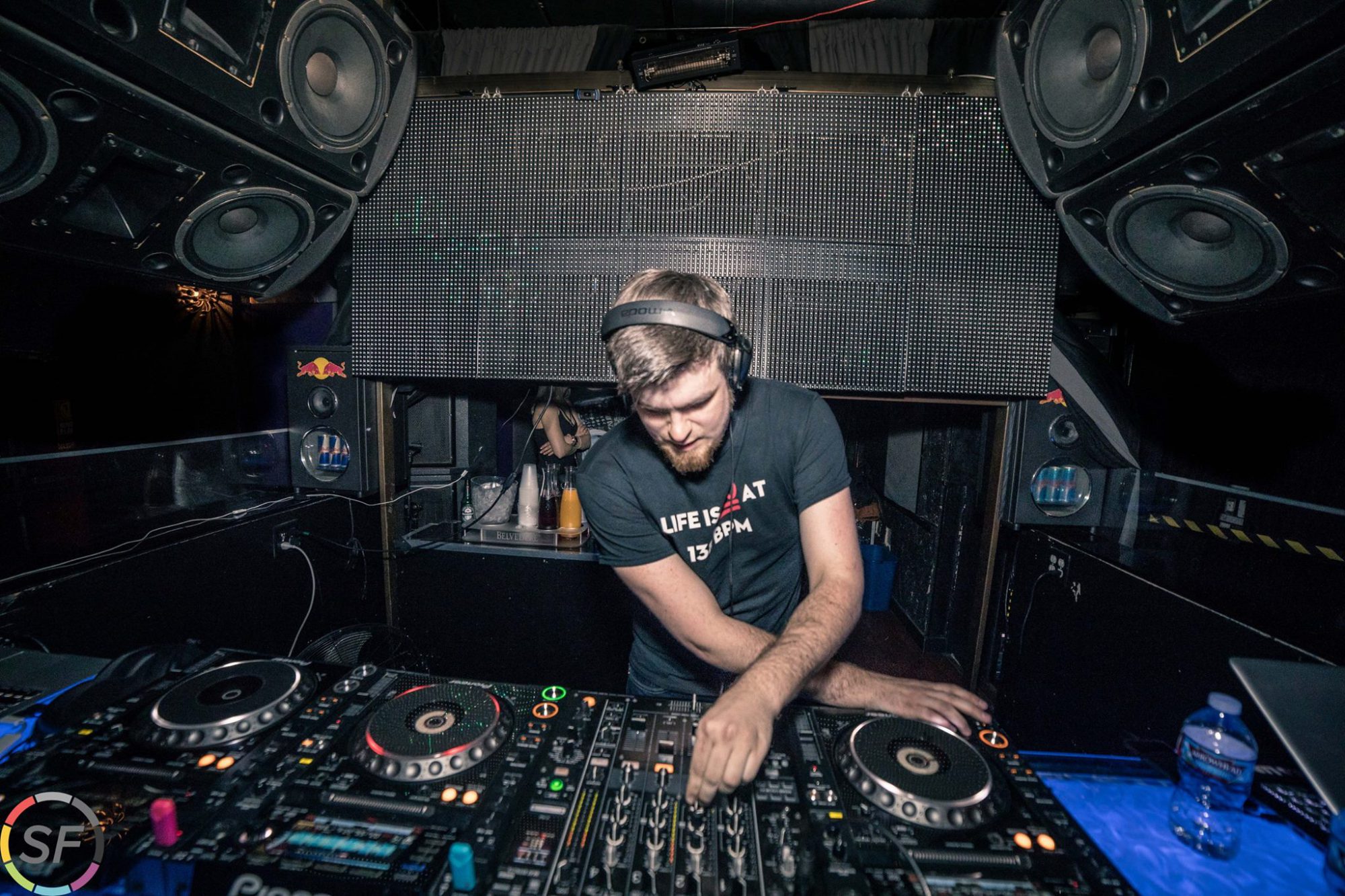 In addition to your work as a DJ, you've also been working to bring some amazing acts to Denver, including a particularly interesting showcase with Elliptical Sun Recordings (ESR). What is it like curating those events, and what do you hope to bring to the Mile High City in the future?
Working with Beta on the Elliptical Sun Sessions showcase was amazing. Honestly, I'd love to see more of that sort of stuff in Denver. I'm currently working on a few more record label showcase shows simply because they are the best way to get the most new talent into the Denver market. Curating an event like the ESR night is so much more than I think a lot of people realize.
I had the idea for the event back in March of 2017 and felt like it would work seeing as how a large chunk of the music I play in my sets is coming from ESR. We've got a guy locally named EMATA who is putting out some of the most amazing trance music I've heard in awhile. He introduced me to Adrian Alexander, the A&R for ESR and a notable heavyweight producer himself. After a quick series of conversations, I knew the idea was going to be solid simply because I was working with people who felt the same way I did about making the night work.
I set the idea in motion over the summer and started to work with Beta to make something happen. About a month out we solidified a date and hit all of our promotion strategies as hard as we could. Really, it all comes down to the fact there is a market in Denver for artists that have never played here, from the small guys all the way up to the big guys.
I got to open for Dash Berlin this year, and while it wasn't his first time playing in Denver, it was his first time playing a club in Denver. Much like the ESR night, the room was swamped from wall to wall. Everyone left with this sense of satisfaction that we'd really done something amazing for our small little scene. I think honestly at the end of everything that's what it's about. Whether it's 100 people for the ESR showcase, 1,000 for Dash Berlin, or 100,000 for EDC, that sense that you've done something that matters to the wider community is what keeps promoters and talent buyers at all levels in this.
What else can we expect to see from Adam Stark in 2017 into 2018?
I'm currently working on a 3-track EP that I'm hoping to have done around the beginning of next year. Maybe late January or early February. I'm also working on some more shows, and hopefully, a monthly spot where we can showcase not only our amazing local talent but get some more artists that don't play in Denver very often. I want to make Denver a destination for when these guys are flying coast to coast for shows. We've got a growing and passionate group of people out here craving new music. I'm also hoping to step out and start playing some shows in other US markets in 2018. I've tentatively locked down a show in Miami, as well as Ohio, and hopefully the L.A. area sometime this year.
Do you have a dream event or venue that you'd like to play in the future?
Before this year I would have told you Dreamstate, even after getting to play the Dreamstate event in Denver I think playing the wider festival would be amazing, so it's definitely on my bucket list. I'd also love a chance to play an In Trance We Trust event. The one thing I've wanted to do since I was a kid listening to music in my basement is play a Godskitchen event, but I'm not sure if they even do them anymore so I might just have to settle for playing in Europe or Ibiza. 😉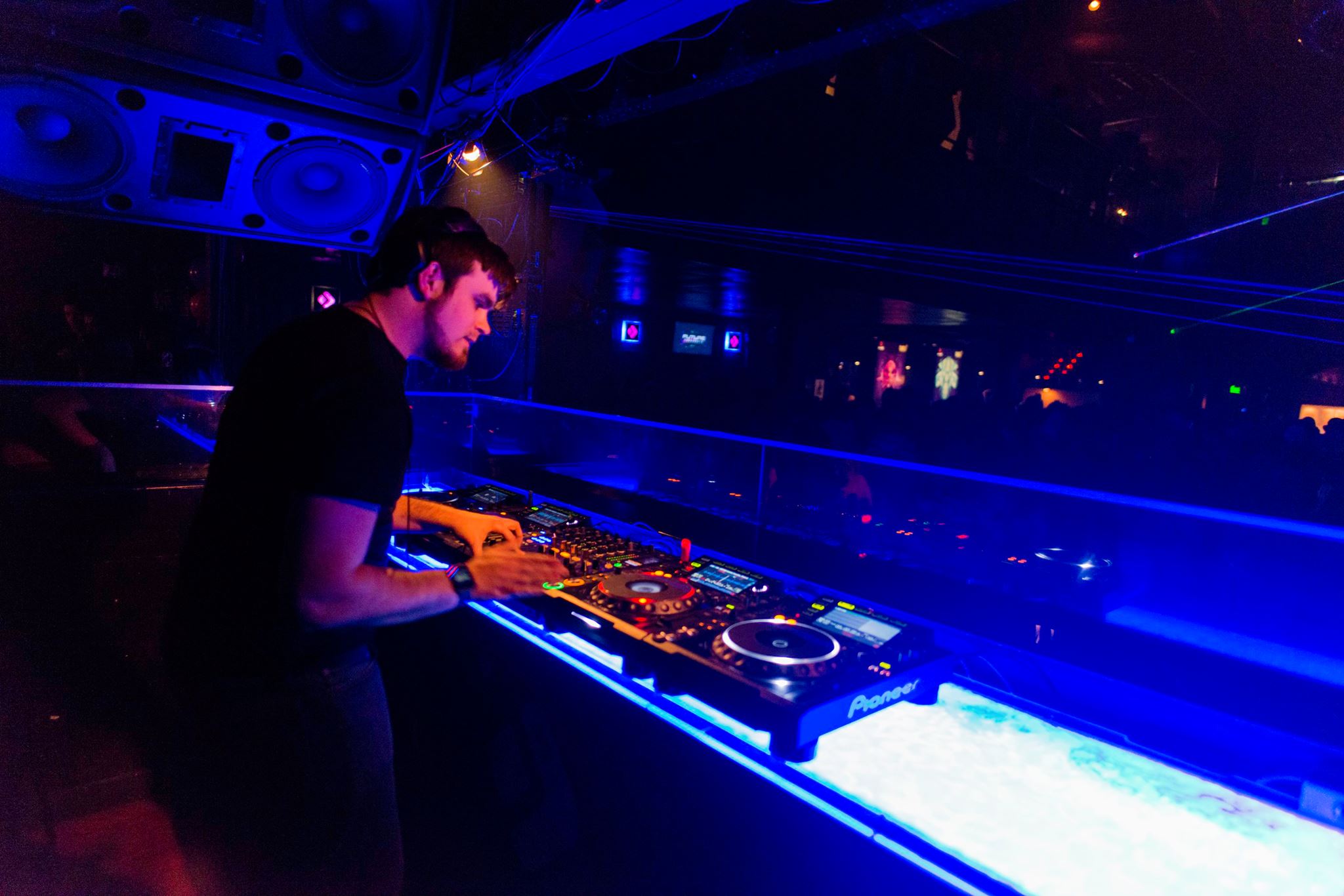 When you're not playing music, what do you do for a living?
I am an avid software developer these days. I've got about a dozen pet projects both inside and outside the industry. I'm involved in the scene in basically every way one can possibly be involved. I've helped build several major blogs and websites, and consulted on several others. After my time freelancing and working for various companies in the industry I've worked on some of the largest platforms for music distribution, music news, and music consumption in the world. If you're a DJ or a fan of the music in any way shape or form, it's more than likely you've directly interacted with some code I've been responsible for at some point over the last 5-10 years.
Finally, if you were stuck on a desert island and you could only bring three things, what would they be?
My Cat Pal.

A lifetime supply of Mac 'N' Cheese.

My record collection and setup so that I could listen to all my favorite music.
---
Follow Adam Stark on Social Media: