Sonic Bloom 2017 was more than just a music festival experience: it was a weekend spent with a tight-knit community of people embarking on a musical journey.
---
I moved to Colorado a few years ago, and ever since I arrived, I have been hearing about what an amazing festival Sonic Bloom is. Although jam bands aren't really my scene, there were enough artists on the lineup this year that appealed to me, and I decided it warranted further investigation.
After spending four days and four nights firmly ingrained in what I can only describe as one of the best festival communities I've ever experienced, I'm convinced. Sonic Bloom is something special, and it's the sort of festival you have to experience to truly understand.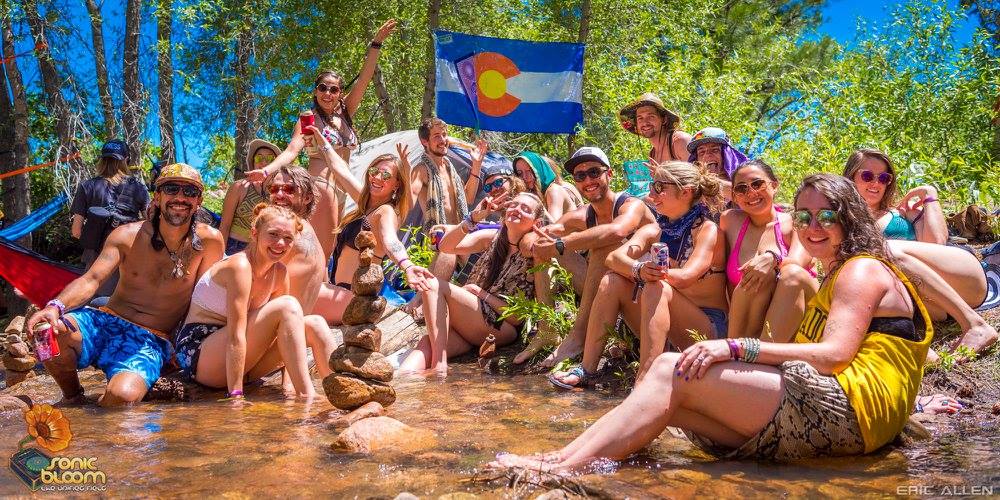 Upon initially entering the festival, one thing was clear: Sonic Bloom is a mountain festival experience and not one for the faint of heart.
I realized that we were going to be in the sticks when the directions to get to the venue explicitly instructed participants not to use a GPS to find it. What I hadn't really considered was what the terrain was going to be like, and although I can't say that I was exactly surprised, it was rougher than any other festival I've attended.
Having opted for early entry, we arrived on Wednesday night and set up in the dark amidst a host of obstacles. Big rocks, piles of dead cacti, yucca plants, and eye-poppingly large anthills were all features of the campground. It was an adventure, to say the least, and future attendees would be well-advised to pack a solid pair of boots and some tweezers for those cactus spines.
Rough terrain or not, there were significant benefits to being out in the middle of nowhere. First, there were no nearby neighbors to complain about the sound of the stages. Second, the views were stunning. Whether it was an unadulterated view of the Milky Way at night or the backdrop of snow-dusted mountains during the day, the visual appeal was out of this world.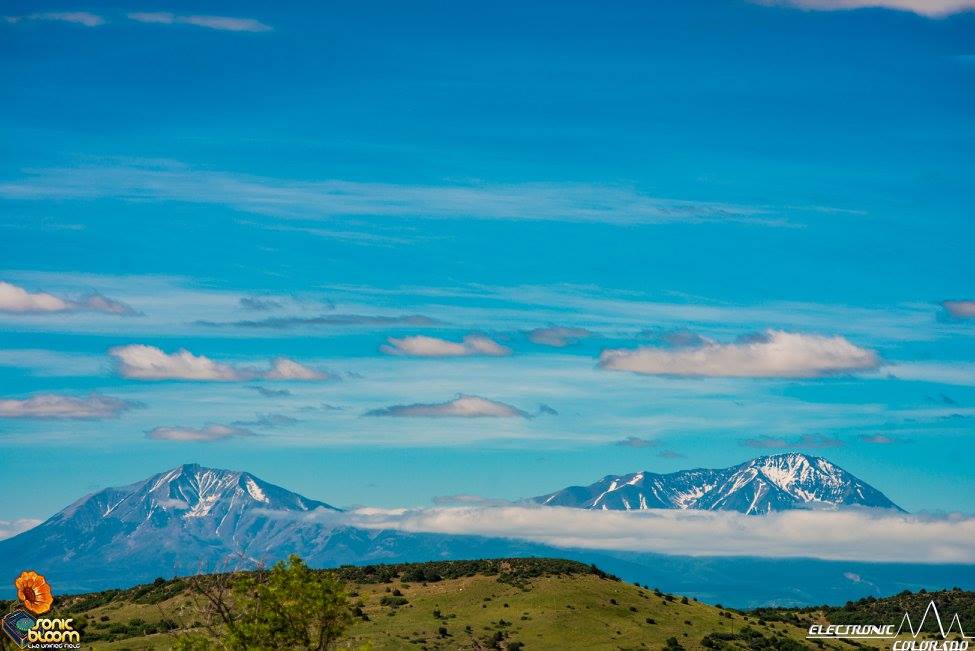 The vibes of Sonic Bloom were on point, and I've rarely encountered a nicer bunch of people.
From the moment we got to our campsite, we met some of the friendliest people we have ever encountered at a music festival. Our campsite neighbors on either side were a mix of early arrivals like us and vendors and medical volunteers who had arrived a bit too late to camp in their respective areas. Most of the people we were camped with were seasoned festival-goers, and we quickly became a tight-knit community and watched out for one another over the weekend, sharing food, drinks, and camping tips.
Maybe it was a function of the smaller festival crowd, or maybe it was because there was ample space for everyone to get where they needed to go. Whatever the reason, there was also always plenty of room to dance and there was no pushing to get to the front of the stages.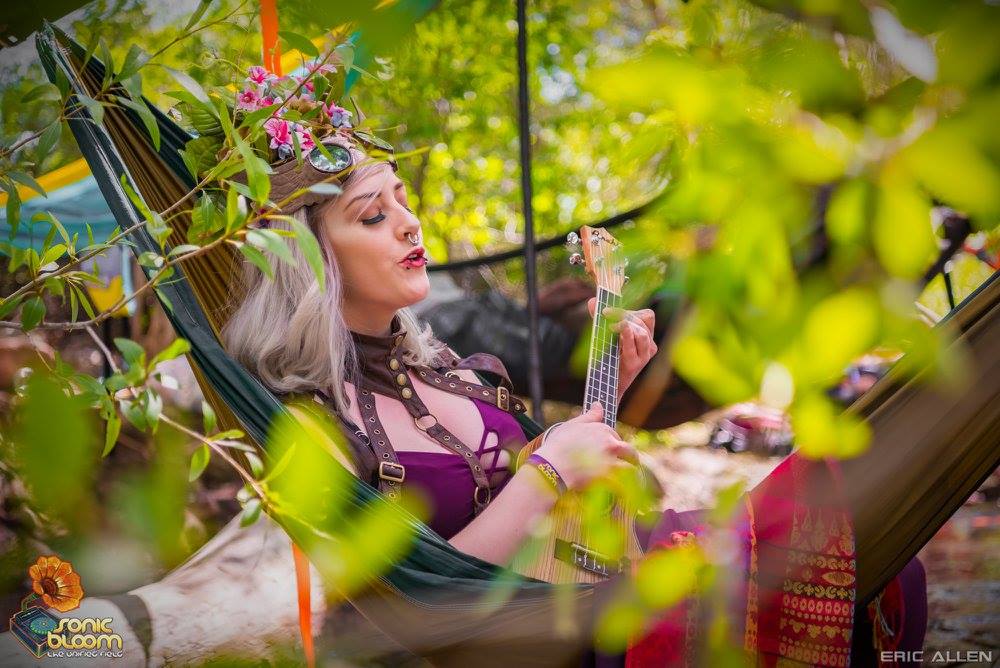 Dealing with Sonic Bloom's weather was almost an activity unto itself.
The weather was a study in extremes, which tends to be the case in Colorado, especially the higher up you get in terms of elevation. If you're not from here, be advised: the temperature can swing 40 degrees in a single day, and the sun is usually blazing. Smart travelers know to bring layers to take off and put on throughout the day, as well as some kind of sun protection like sunblock, a hat, a sun shade, or all of the above.
The wind was whipping through the campsite throughout the weekend. I saw more than a few shade structures flying through the air with the greatest of ease after a big gust came through. That brings me to my next point – bring stakes, and use them judiciously. Given how rocky the ground is, bring a mallet, too.
Fortunately, Hummingbird Ranch has one amazing feature that helped with the heat: there is a spectacular creek located toward the back of the campground. We hiked over there on Friday morning during the worst of it, and even though the water was freezing, we were greeted by dozens of people hanging out on the shore, building cairns, or lying in hammocks over the water. It was well worth the haul.
From yoga to workshops, there were plenty of activities if you needed a break from the music.
Thursday wasn't as sweltering as the other days, and given that the music hadn't started yet, we opted to head in early for a yoga class as soon as the festival gates opened. We only checked out one yoga class during the weekend, which is something I would remedy on a return trip. The Yoga D'om was gorgeous: a geodesic dome covered in various colors of canvas, with different carpets and floor coverings on the ground. It was a little uneven and rocky, though that's to be expected when you're up in the mountains and didn't detract from the experience.
The class we attended turned out to be a somatic yoga class, which was both something I had never heard of before and not particularly well marked on the schedule. Although it was enjoyable, it wasn't really what I was looking for at the time. That's no fault of the instructor – it was more a function of an abbreviated description.
If I could level one criticism, it would be the need for a way to better distill information about the classes on the schedule. There was also quite a bit of sound bleed from the Hummingbird Stage into the Yoga D'om. As humorous as it was, Ginuwine's "Pony" isn't really a great soundtrack to a somatic yoga class though it will go down as one of my most amusing experiences from Sonic Bloom.
Although the production value wasn't the highest I've seen, the sound was excellent and the forest area was decorated to be a wooded wonderland.
After our Ginuwine yoga experience, we spent some time wandering around the venue. A lot of work clearly went into creating a woodland wonderland feeling, and that increased tenfold once the sun went down. The forest was speckled with lights, and various art installations littered the venue, from Bill Kennedy's psychedelic inflatable light sculptures, "Creatura Psychedlica," to Emma Balder's Rainbow Peace Tent. All of them added to the whimsical experience.
Perhaps my favorite part of the festival setup was the live painters placed around the Hummingbird Stage. Dozens of artists painted throughout the weekend, and no matter when you walked by, there was always something really interesting to look at.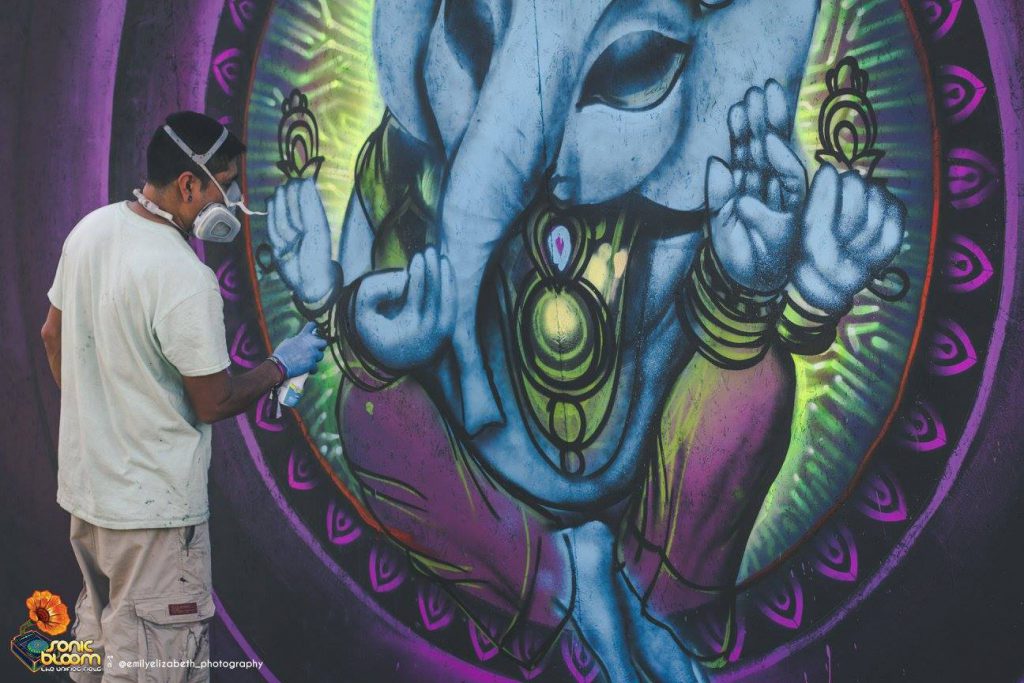 The festival layout was generally well thought out, but there were some improvements that could be made.
All three of the stages had their own distinct areas and character, and there was no real sound bleed, which meant we could enjoy the sets by our favorite artists unadulterated. I spent most of my time at the Hummingbird Stage, which featured some really trippy visuals and a fantastic sound system. It also featured a wicked slant on the floor, so it was sort of like dancing on the side of a hill, which wasn't exactly the most comfortable thing I've ever experienced.
One major improvement was needed, and that is to add more bathrooms to certain areas of the festival. The area near the Meadows Stage and the Hummingbird Stage, which was also where tent camping patrons entered, had a grand total of five bathrooms, which is not even close to enough. The car camping area across from the entrance near the Bloom Stage had a similar number. With all the amazing things to do at this festival, waiting in long lines to go to the bathroom or trekking unreasonable distances to do so seems like an entirely preventable waste.
The festival amenities were all on point, and the staff was all incredibly friendly.
Sonic Bloom featured a wide array of vendors selling all kinds of merchandise from official festival and band merch to clothing to art and pretty much everything in between. I picked up a few interesting pieces that were unlike anything I have seen at the festivals I typically frequent.
There were many choices as far as the food was concerned. Almost everything I ate was truly delicious and mostly reasonably priced, including a truly outstanding $5 slice of pizza. There were also a lot of healthy options, including my favorite of the weekend, the Ninja Bowl from the Umami tent. It featured a well-balanced mix of vegetables, meat, and rice, and at $9, was still not even that expensive.
The bars were on point, too, and usually had plenty of bartenders slinging drinks rapidly enough to cater to the crowd. The selection was great and featured some unexpected options like Happy Leaf Kombucha and some excellent craft beer.
It's worth noting that all of the vendors were some of the nicest people I have ever interacted with at any festival. From the free hugs at the Umami tent to the nonstop dance moves at the Poutine tent to the personalized selection and salesmanship coming out of the tent selling Festival Ears, the vendors were in tune with the crowd and helped to lend a real sense of community to the event as a whole.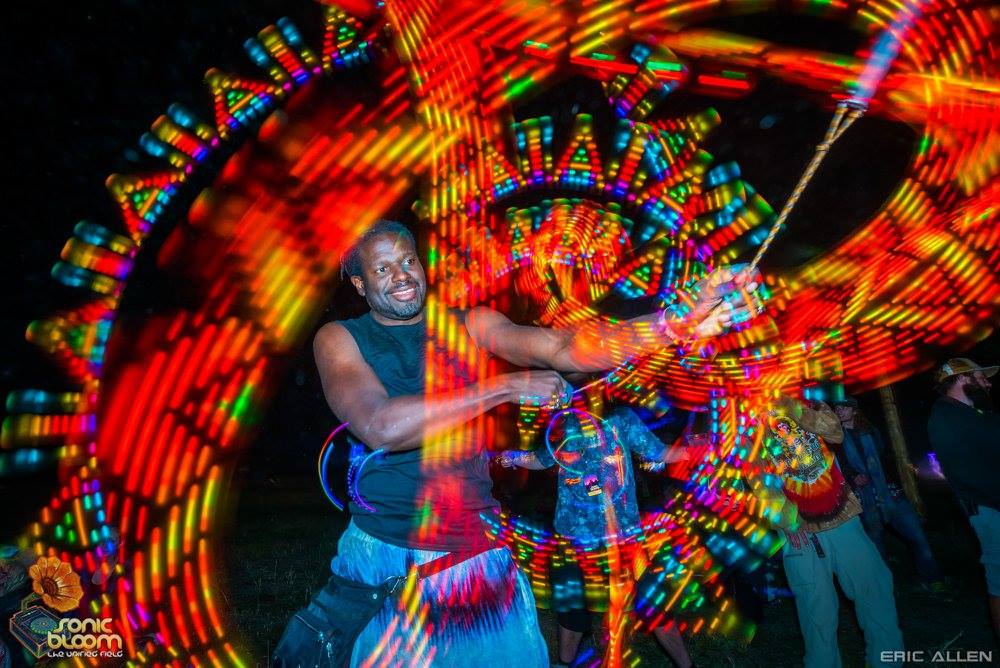 Thursday night's music selection was more of a warmup than anything, but SoDown stole the night with his funky tunes.
Thursday was always slated to be a shortened day of music since that's when most people were arriving. All the same, everyone was stoked to get their groove on, and the campground was deserted by about 7pm. We weren't sold on seeing anything in particular, so we wandered around and caught bits and pieces of a lot of different performances.
Most of our neighbors were really excited to see Tauk, but jamtronica is admittedly not really my thing, so we watched a few songs and then spent some time exploring. By the time we made it back to the Bloom Stage, Minnesota was on and the crowd was all going crazy for the heavy bass music emanating from the stage. We didn't stay for the whole set, but I enjoyed what I saw.
Toward the end of Minnesota's set, we wandered back to the Hummingbird Stage and caught the end of SoDown, and that was by far my favorite set of the evening. His bass beats coupled with his funky saxophone stylings were perfectly matched to the setting. I will definitely be checking him out again.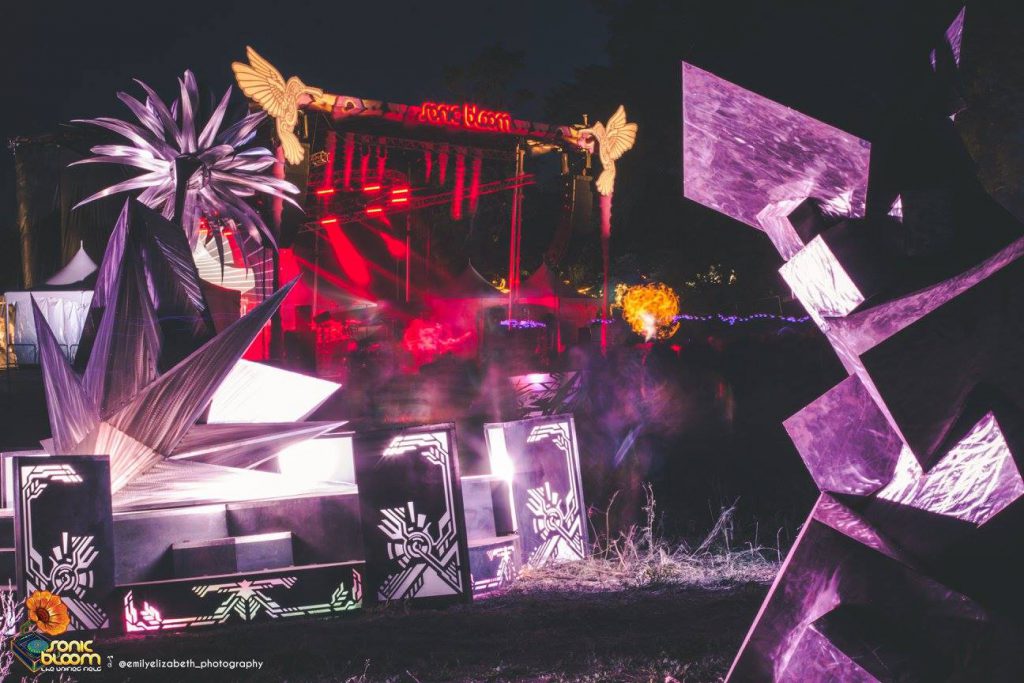 Friday night was all about Claude VonStroke… or Barclay Crenshaw.
I'll admit it – I am a Claude VonStroke fangirl. When I saw that he was playing not once but twice during Sonic Bloom, I was sold. And I must say, I was not disappointed.
Barclay Crenshaw was the first set I saw all day, and the energy emanating from the Hummingbird Stage was palpable. The 75-minute set was a frenetic mix of old-school hip-hop and thumping, grooving bass that had the entire crowd moving from the moment he set foot on stage until the moment his set ended. It was by far one of the best sets I saw all weekend and such a departure from his Claude VonStroke moniker that it can be hard to believe it was even the same person playing both sets.
In between his two sets, we saw parts of both The Polish Ambassador, who had drawn a massive crowd to the Bloom Stage, and Fun Factory, who put on an unexpectedly funky set in between Barclay Crenshaw's various iterations of himself.
Crenshaw's Claude VonStroke set was a completely different experience but no less incredible. For two solid hours, we were treated to a set filled with nonstop heaters and unreleased tracks that have been popping up in Dirtybird sets for the last several months. I was thrilled to hear some of my favorite new tracks like Walker & Royce's "Take Me To Your Leader" and Fisher's "Ya Kidding" mixed in with new remixes of Green Velvet's "La La Land" and Get Real's "Mind Yo Bizness."
The only real discussion in the campground that night was which of Crenshaw's two sets was better. I'm still not entirely sure.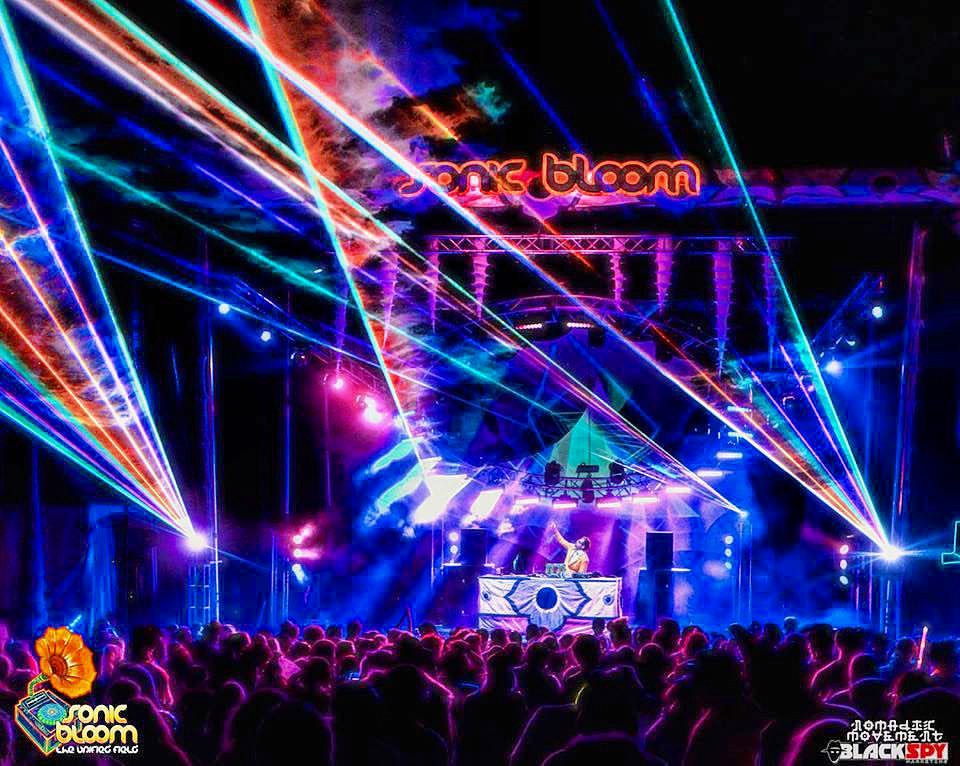 Golf Clap was by far the highlight of Saturday evening.
We spent most of Saturday avoiding the heat, but the music on offer later that evening was some of the best of the entirety of Sonic Bloom. After briefly checking out what seemed to be a rather disjointed set by Space Jesus, we caught the end of Evan Marc's set at The Hummingbird Stage. Although I've seen him as Bluetech in the past, this was something entirely new but very enjoyable. I'm hoping he pulls this alter-ego out more frequently because it's definitely a style of music that I enjoy.
After Space Jesus, Whitebear was supposed to be playing a 30-minute set during the changeover, and I was excited to be able to catch him since I did not manage to make it until sunrise the day before. Well, we made it over to the Bloom Stage a few minutes in, but Whitebear was nowhere to be found, and his laptop was holding down the fort solo. I'm not sure what happened there, but Whitebear's laptop was crushing it, so I guess it wasn't a total loss.
I said before the festival that Golf Clap was a must-see act if you were a fan of house music, and they proved me right like they always do. The Detroit-based duo played one of the most energetic house sets I have ever seen, pulling out banger after banger and keeping the dance floor alive. If you think you don't like house music, you're wrong – go see Golf Clap.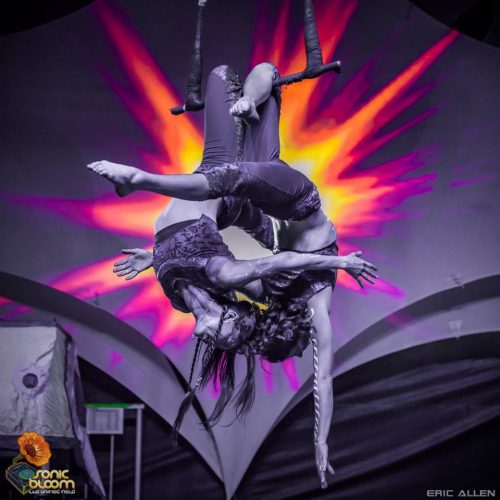 On the last day of Sonic Bloom, the Desert Hearts crew played a showcase I won't soon forget.
Between Saturday and Sunday, it cooled off drastically, so we were able to catch up on some much-needed sleep during the day. A good portion of the campground emptied out before sunset, but those that remained were going all out for the final night of the festival.
As exhausted as I was, there was no way I was going to miss out on seeing the Desert Hearts crew take over the Hummingbird Stage on their final night. We made it just in time to see the start of Marbs' set, which was a nonstop onslaught of bass-fueled house music that made me forget I was tired.
Lee Reynolds was up next, and his sound was definitely a bit more on the tech side. I liked his set best of the three, but they are all clearly very talented, and different enough that my preference likely has more to do with my predilection for tech house than anything else. Mikey Lion closed out the night on a high note, and I must say, he's right: he really does have the dopest hat around.
Sonic Bloom was an incredible experience. It's more than just a festival – it's also a community.
I've been to dozens of different music festivals over the years, from EDC Las Vegas to Bonnaroo to Lollapalooza and all sorts of smaller events in between. Every festival has its own character and vibe. As a first-time Sonic Bloom attendee, I can easily say that there is something special about this festival that can't be quantified by setlists or activity schedules. It's more a sense of community and connectedness, and a universal attitude that encourages us all to embrace the things that unite us rather than divide us. In that respect, Sonic Bloom nailed it, and I feel privileged to have experienced it firsthand.
---
Connect with Sonic Bloom on Social Media:
Website | Facebook | Twitter | Instagram | YouTube | SoundCloud