The Floozies funked up Seattle, alongside The Funk Hunters and Maddy O'Neal, on their Funk Jesus Tour.
---
I was beyond excited to catch the Funk Jesus Tour at The Showbox Market, by far my favorite venue in Seattle. Its fantastic combination of ambience, layout, production, and sound are unmatched anywhere else in the city, and it had been far too long since my last visit.
The Showbox's symmetrical orientation allows for even distribution of sound to nearly every corner of the space. The elevated leveling of the bar area gives those of age a special advantage to take in all the beautiful chaos at once, just above the sea of heads in the pit. In addition, The Showbox's ornate chandeliers and diffused colored light, glowing atop trumpet-like columns, give it a very cozy, elegant ambience.
I arrived at the tail end of opening artist Maddy O'Neal, who joined The Floozies for several stops on their Funk Jesus Tour. Her creamy voice and mellow flow were as silky as her luminous draping locks.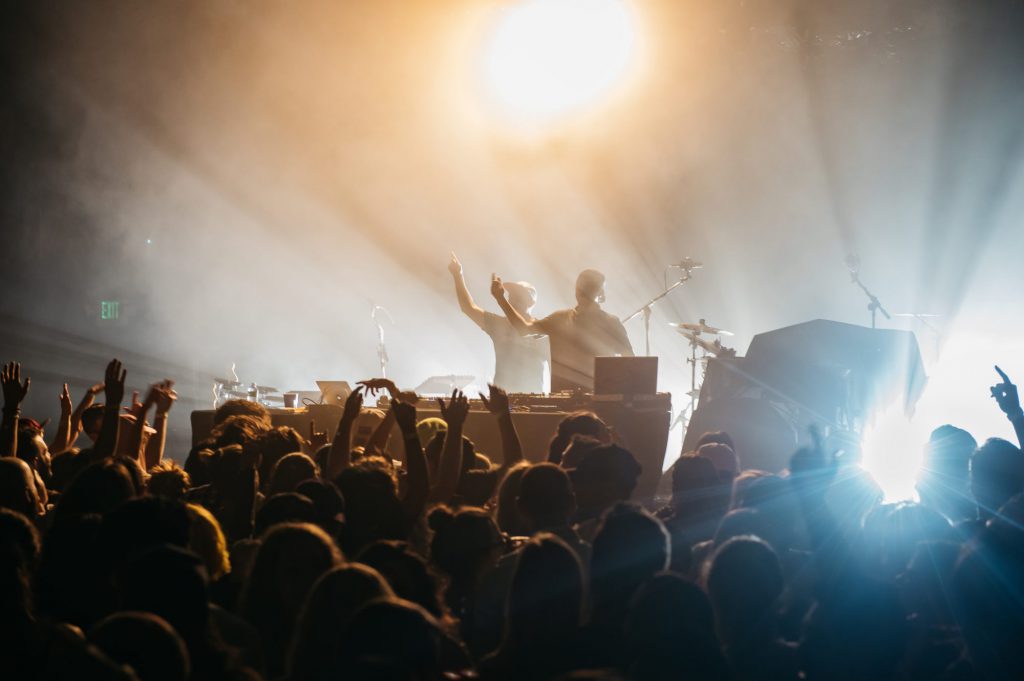 Shortly thereafter, The Funk Hunters turned up the heat, warming our bones and activating our souls on that particularly cold, frosty day.
They kicked off their high-energy set with their newest fist-pumping release "Hands Up".

Being an opener generally means having less production than the show's headliner. Despite having an opening slot, however, The Funk Hunters had some animated lighting enlivening their performance. Flailing strobes, multicolored spotlights, and a disco ball, naturally, threw friendly specks of light all around the room.
The Funk Hunters spun an engaging medley of upbeat new releases, tireless old classics, and tributes to similar artists. It was all set within a lively amalgam of drum and bass, heavy electro, glitchy future bass, and of course, their trademark groovy, bass-infused funky style. Regardless of how many times I see them, The Funk Hunters always know how to create a great time.
Their classic "Get Involved" with the luscious rhymes of Chali 2na literally never gets old. Lately, they've been mixing a random house mashup with Beyoncé's "Naughty Girl", with random lyrics calling for "Buddhist monks in the mosh pit", leaving everyone dancing off the wall, then wondering what exactly just happened.
As many do in Seattle, the funky BC duo also shouted out their green-laced fans with a saucy DnB remix of Snoop and Dr. Dre's classic "The Next Episode" blended into Gesaffelstein's unmistakable banger "Hellifornia". It was such a memorable, full-bodied set and an excellent lead up to The Floozies.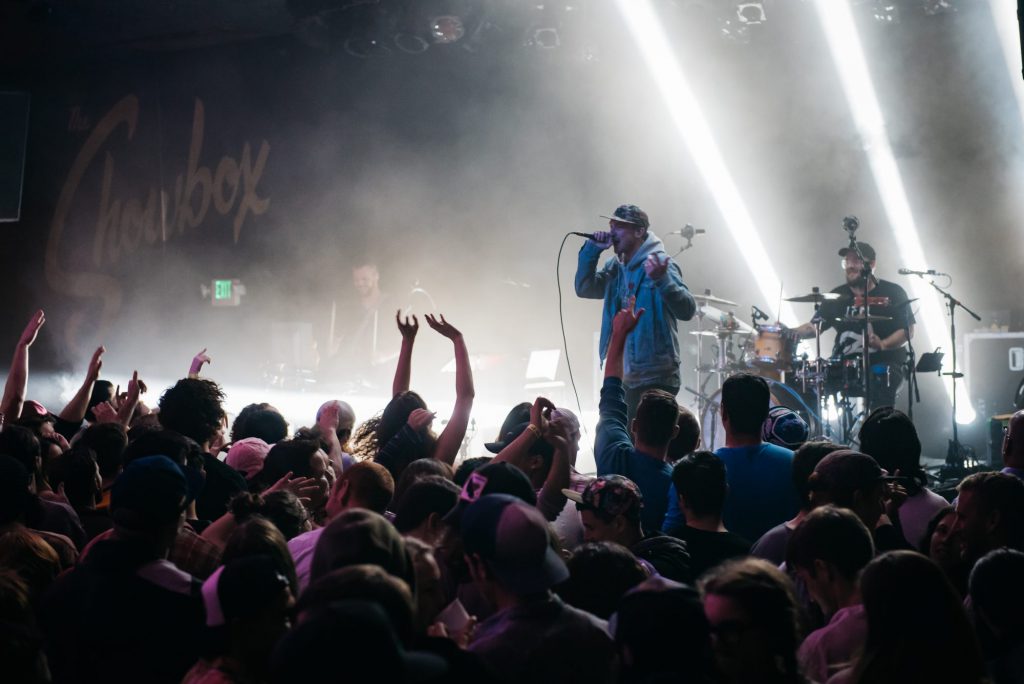 I admittedly didn't expect to see The Floozies with a live stage setup.
Mark Hill was wailing on a full drum kit at one end of the stage, while his brother Matt busily shifted between a mixing controller, drum pad, and a guitar intermittently modulated through a talkbox.
The Kansas-bred duo started off with what I consider their sexiest song, "Love, Sex, and Fancy Things", a bold assertion given their abundantly seductive repertoire. The song is a personal favorite with its funky intro, stomping beat, sultry bassline and brow-raising vocals. It was such a pleasure to hear live, and an excellent start to a killer set.
From then on, their bumping two-hour performance was a savory platter of crunchy electric cuts drizzled in viscous funky sauce. The Floozies' signature electro-funk style was loaded with elements of rock and roll, disco, jazz and blues.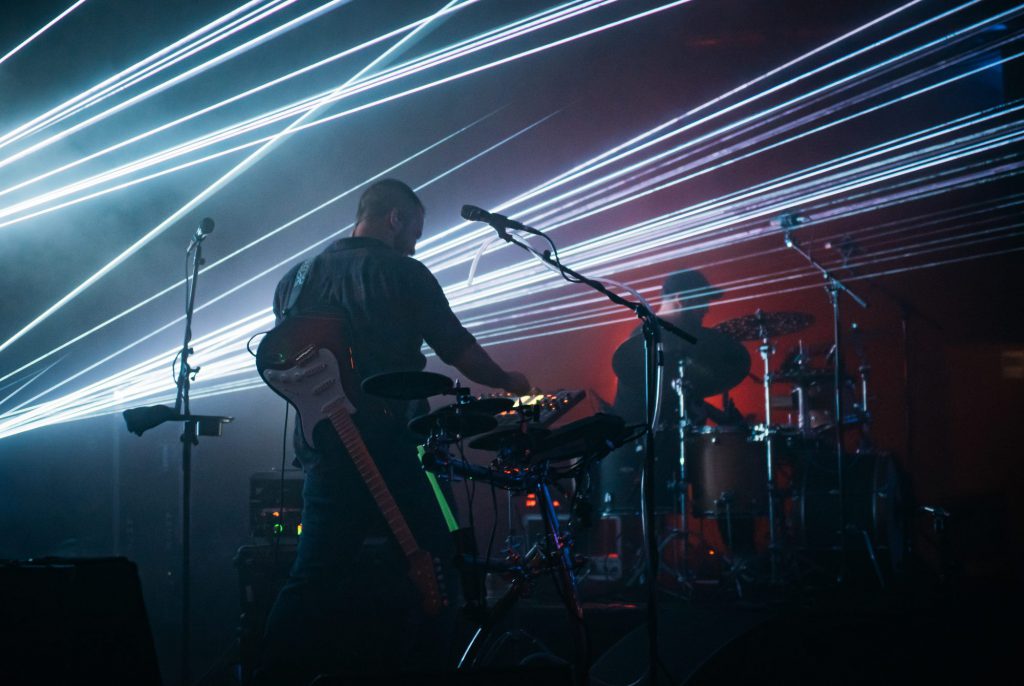 It was impossible to stand still through The Floozies' delicious, yet oh so dirty, stylings.
This was relatively older and more mature crowd, which stopped no one from going absolutely ham. The electric energy was pervasive, and it was entertaining on its own just watching the crowd get down.
"He is Risen!" Matt Hill proclaimed, once he spotted the dedicated fan resembling a real-life Funk Jesus. "Can I get an Amen?!" he cried, to which the crowd synchronously responded with a resounding exaltation in the most uniquely funky display of heavenly praise I've ever witnessed.
All the while, there was a rich cascade of lasers beautifully tracing the textured concave ceiling, striking the disco ball in the center, and bouncing onto the farthest reaches of the venue.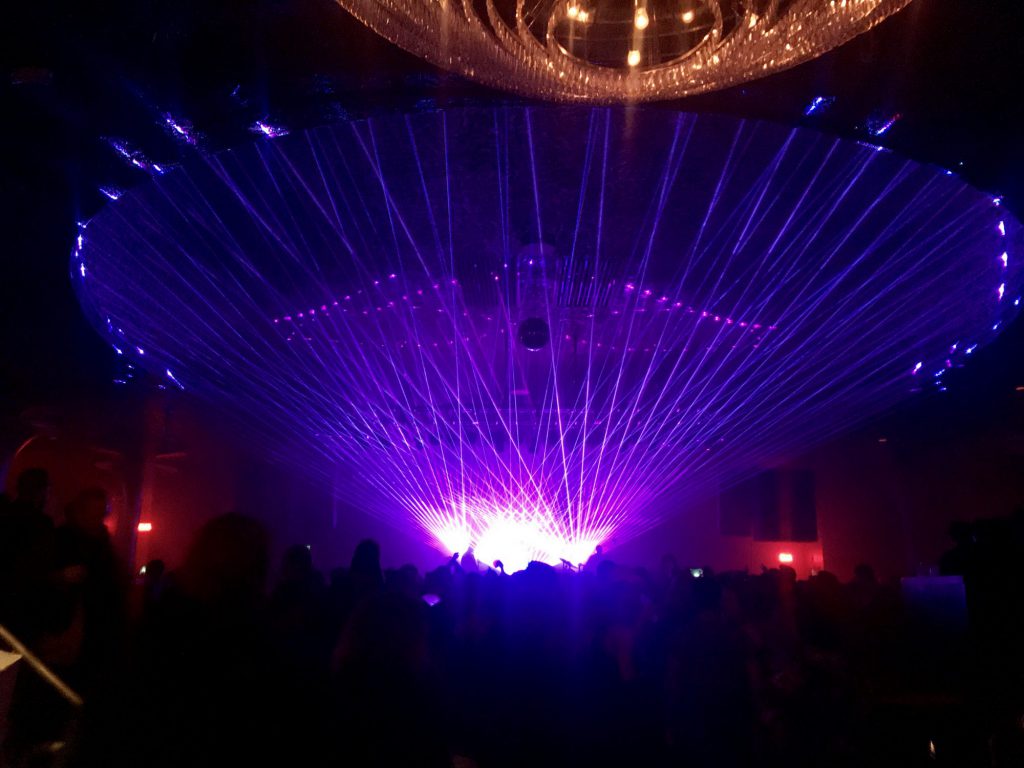 My jaw helplessly fell to the floor each time Matt swung into a melodic interlude or solo on his guitar.
He was absolutely shredding the instrument, incisively jumping from jazz to funk to blues to rock and roll. His intimacy with it was almost as sensuous as the tunes he was slathering. All the while, Mark was working the drums with precise, yet driving force.
So many fun classics were unexpectedly thrown into the mix. Queen's "Fat Bottomed Girls" is a killer throwback that everyone knows, yet never feels out of tune. But the random, retro selections went even deeper, like the pant-droppingly sexy rework of the Backstreet Boys' "Everybody", to which I gasped out loud once I identified the track. 
Soon after, they blew our minds even further with a blues version of 50 Cent's "P-I-M-P" during the longest encore I have ever experienced.
Their encore was seriously over 20 minutes long. Once it seemed as if they were finished, the crowd would go nuts and they'd just keep playing. It was fantastic!
Finally, they wound down with a grand finale with their original "Cosmic Rays", straight from their new Funk Jesus album, in a melodic power guitar outro. The synergy between artist and audience kept us going with as much energy as when we began.
The Funk Jesus Tour was absolutely a blazing good time.
---
Connect with The Floozies on Social Media: