Envision Festival has announced its much-anticipated second phase lineup for 2018! 
---
Envision Festival is a four-day immersive experience unlike any other. The event attracts travelers, cultural leaders, activists, adventure-seekers and eclectic music lovers from all over the globe. Now, Envision is returning for another adventurous gathering in the Costa Rican jungle from February 22-25, 2018.
Envision's phase two lineup has been released and is teeming with amazing international talent and a diverse breadth of styles! Some of the lineup's additions feature talented artists like electro-funk act The Russ Liquid Test, bass music favorite Troyboi, Australian funky breakbeat producer Slynk, Danish Tarantino-techno act Be Svendsen, and West Coast deep house curator Zach Walker, just to name a few, as well as Austero, Tor, Bosque, Marvel Years, and many more!
---
Check out the full Envision Festival 2018 lineup!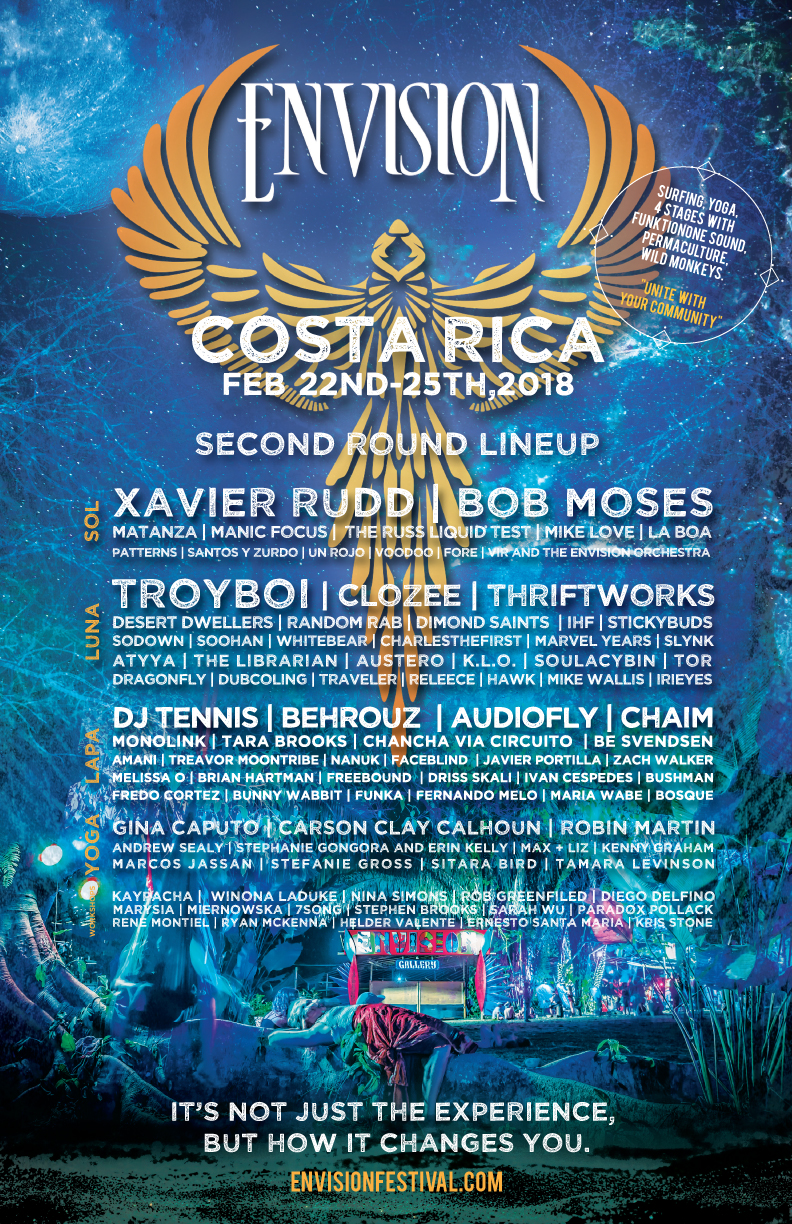 Each of Envision's three stages is a microcosm of its own. The Sol Stage alone features heart piercing composers like Xavier Rudd, live electronic acts with Manic Focus, Brazilian Rock from Mantanza, and Colombian Afrobeat with LA BOA.
The jungle's bass haven is the Luna Stage with world-prominent producers like CloZee, Desert Dwellers, and The Librarian. This stage will assuredly reach you to the core with its Funktion-One Evo7 sound system.
The Lapa Stage is serving some deep house with a dense, multinational lineup of artists including Spanish techno artists Audiofly, Southwestern US psytrance and techno artist Treavor Moontribe, Israeli house legend Chaim, among so many others.
This lineup has something to ease the soul of those from any walk of life.
Envision also goes well beyond the music and reaches into the mind, soul, body, and broader environment. In addition to its immense lineup, Envision also brings yoga instruction lead by world-class yogis such as Gina Caputo, Carson Clay Calhoun, and Robin Martin.
Envision's outreach and message would be dim without the community that drives it. Thought-provoking lectures and workshops are conducted to inspire action and involvement within local and international communities. Such workshops are being held by thought leaders like astrologer and activist Kaypacha, Dakota Access Pipeline protest leader Winona LaDuke, and environmentalist and Bioneers co-founder Nina Simons.
The Envision community puts forth so much time, love, and energy to ensure this experience resonates much longer than the venturous weekend in the jungle. Anyone attending this transformative event will surely leave with something greater, and hopefully the inspiration to pass that on to their communities back home and abroad.
Still not sure if you'd like to attend? Check out our review of 2016's Envision Festival!
---
Envision Festival 2018 Lineup By Artist:
AtYyA
Amani
Audiofly
Austero
Behrouz
Be Svendsen
Bob Moses
Bosque
Brian Hartman
Bunny Wabbit
Bushman
CharlesTheFirst
Chaim
Chancha Via Circuito
CloZee
Desert Dwellers
Dimond Saints
DJ Tennis
Dragonfly
Driss Skali
Dubcoling
Faceblind
Fernando Melo
Fore
Fredo Cortez
Freebound
Funka
Hawk
IHF
Irieyes
Ivan Cespedes
Javier Portilla
K.L.O.
LA BOA
Manic Focus
Maria Wabe
Marvel Years
Matanza
Melissa O
Mike Wallis
Mike Love
Monolink
Nanuk
Patterns
Random Rab
Releece
Santos y Zurdo
Slynk
Sodown
Soohan
Soulacybin
Stickybuds
Tara Brooks
The Librarian
The Russ Liquid Test
Thiftworks
Tor
Traveler
Treavor Moontribe
Troyboi
Un Rojo
Van Cespedes
Vir and the Envision Orchestra
Voodoo
Whitebear
Xavier Rudd
Zach Walker
---
Envision Festival 2018 – Essential Information:
Dates: February 22-25, 2018
Location: Rancho La Merced, Uvita, Puntarenas, Costa Rica
Ages: All ages; children 12 and under are free
Facebook Event Page: RSVP Here
Tickets: Here
---
About Envision Festival: 
Envision is a four-day festival perfectly nestled where the Pacific Ocean meets the wild jungle of Costa Rica. As a celebration dedicated to awakening our human potential, Envision Festival provides a platform for different cultures to coexist in conscious community. We strive to inspire one another through art, spirituality, yoga, music, dance, performance, education, regenerative strategies and our fundamental connection with nature.
The leaders of Envision care about the experience of their guests and the resonating effect that this event ripples into the world. In the midst of the release of the round-two lineup, Envision Co-Founder Matt Siegel explains: 
"In order to maximize my own ripple of impact, I have personally dedicated my life to the craftsmanship of intentional adventures to nourish and cultivate growth on personal and communal levels. With a diverse appreciation for a wide variety of musical genres, my partners and I take special care to personally hand-select and schedule every act on this incredible lineup. The result is a potent experience and a heart-opening story where we guide you on a 4-day inspirational journey in the heart of Costa Rican paradise. One which we're certain you will leave with a new appreciation for the way dance floors bring us together as music heals the soul."
---
Soar through Envision 2017 in the Official Aftermovie via YouTube:

 
---
Follow Envision Festival on Social Media: