Rachel's Experience at Envision Festival 2016
We arrived in San Jose mid-afternoon on Tuesday. Coming from a frosty Toronto, Canada, we were immediately hit with a wave of hot, humid air as we stepped on the plane. I felt a bit silly carrying my parka, but we'd forgot to ditch them in the car before we passed security.
We only brought what we could carry on our backs, so we were out of the airport in the blink of an eye. Cautiously, remembering the stories we'd heard of stolen luggage and pickpockets, we made our way to our rental car office. With the keys to our 4×4 in hand, we headed back to the airport to grab our friend Michelle, who's flight landed just after ours did. The trek to Uvita is over 3 hours by car, so splitting on a car rental for the journey made the most sense. But… Michelle wasn't there. "Her flight lands at 4:45, right?" We circled around the airport. Again, and again, and again. "Where is she? We don't have working phones, what do we do?" "It's almost 6, the arrivals board said her flight landed at 4:30."  "Well she's definitely not here, what happened?" We drove to Denny's to use their WiFi with no success. "Ok, one last, final loop before we go and then we're calling it a lost cause, it's nearly 7."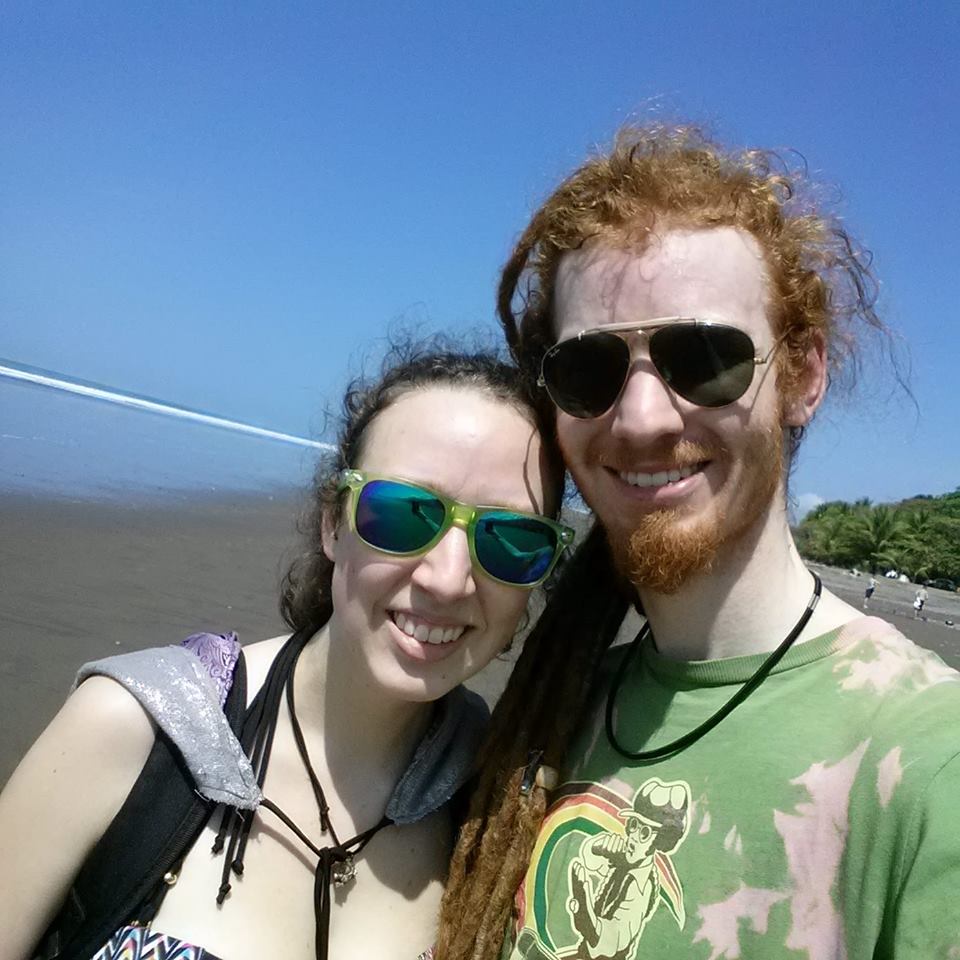 Thankfully, just as we were about to pull away from the airport and hope she could find her way on her own, Michelle appeared and cheerily hopped in the car. We had the wrong flight number, and her flight had just landed, right on time. Lesson one: make sure you have a plan.
Without further ado, we got on the road to Uvita. I'm sure the drive was amazing during the day; next time we'll plan to make the trip when it's light enough to see. The traffic in San Jose was a challenge but it was perfectly peaceful with smooth highway roads once we got onto the Transamerica. Definitely not the dirt roads we'd been warned about. We stopped at our first fruit stand on the way and bought coconuts, granadillas, mangoes, and more. There are fruit stands piled high with fresh local fruit at every turn. I think I'd eaten about 6 watermelons to myself by the end of the week. As my time in Costa Rica was limited, we decided we'd decided to skip early entry on Wednesday and spend an extra day exploring the area. We dropped Michelle off at her beautiful hostel near the Cascada Verde waterfalls in the mountains near Uvita. We planned to pitch the tent on the beach in Dominical, but exhausted from nearly 24 hours of travel, we spent the first night passed out in the back of the 4×4.
Taking a trip down the waterfall!
Wednesday

The next morning, we packed up and made our way to Playa Dominical, a small surf town about 20 minutes north of the festival site where many attendees spend time before and after the festival. From the dozens of camps set up on the beach, many appeared to have been living there for several days, as their areas included makeshift kitchens, seating areas, and hammocks.
The day was spent crashing through the waves, accidentally getting far too distant from shore, sliding down waterfalls, and getting our first sunburns of the trip despite countless layers of SPF 60. Lesson Two: The sun is no joke.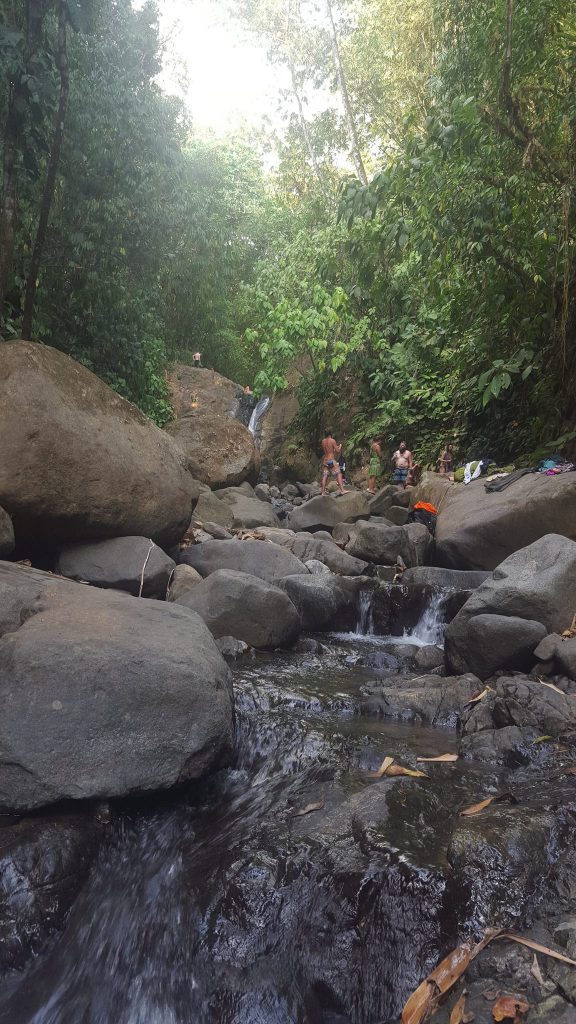 Although we'd planned to spend the night camping on the beach, we were exhausted and in need of a good night of sleep. We'd underestimated the heat and humidity. We also had hefty backpacks and no desire to carry them with us while we checked out The Werks at a local restaurant. Most of the town's countless hostels were booked solid, some months in advance. Someone pointed us in the direction of the very last hostel at the end of the beach; we were quick to pull out our wallets and spend $15 for a bed and a safe place to leave our bags. It wasn't the nicest spot, but it was something. Lesson Three: Book ahead.
Thursday: Day One of Envison Festival
Without a car, we set off for Uvita, assuming we'd be able to find a ride fairly easily – and we were right. We were barely out of the hostel gates when an American-turned-local picked us up for a small fee. Unlicensed cabs were everywhere for the weekend as locals looked to make a little extra money on the side. He took us into Uvita, picked up our friends Sam and Michelle at their hostel, took us to the grocery store and bank, before dropping us off at the festival entrance.
Arriving at the festival was an easy experience – a sigh of relief after the horror stories of 8 hour waits in the sun the year prior.  The box office was fully staffed and there were more attendants than people in line. My friend Dom, a festival enthusiast from Atlanta was working at the box office. He was happy to tell me they'd kept the wait time under an hour all day; though I was later told the lines on Wednesday for early arrival were considerably longer. I was happy with my choice to skip early entry and spend my time on the beach.

Envision's campsite is set up in open format; you camp where you find space. You're not directed to a spray-painted square like some festivals. The only rules are to stay off the paths, and don't camp under the coconut trees. The downside to skipping early entry was that most of the prime shady spots had already been claimed.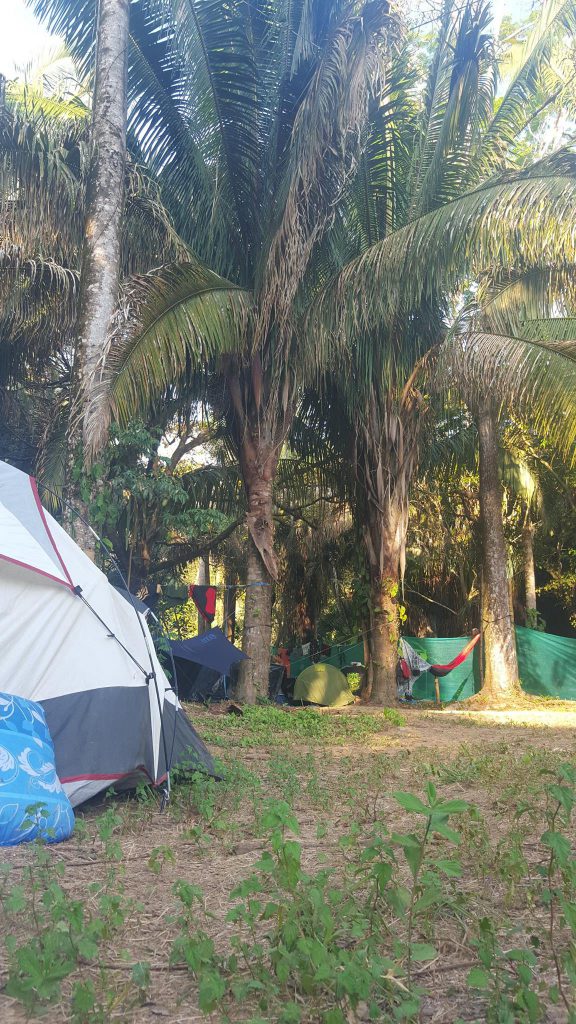 Our wristbands provided us with access to shaded artist camping tucked away in the jungle… which we quickly discovered was right in the radius of Luna, the main DJ stage sporting a Funktion One sound system. A rep from the festival was nice enough to help us find a spot that might be a little bit quieter – all the staff we encountered were nothing but pleasant. We ended up setting up in Family Camping – a bit laughable considering we're a young couple without kids. But the lack of bass and the shade was more than enough to make a few crying babies in the morning a fair trade. "So where's your little one?" was a phrase we got used to hearing before long.
Now, I won't lie; festival day one wasn't easy. It was a grueling challenge. As we laid in our tent, a pool of sunburnt sweat and already on to our second gallon of emergency water, we questioned if we'd make it through the weekend. My boyfriend Spencer, usually a redhead but now a lobster, seemed to be having an even more difficult time than I did. I sat him down in the shade and finished setting up for fear he'd give himself heat stroke if he didn't. We spent most of the day in the tent chugging countless bottles of water, fan on high, trying to get comfortable enough to enjoy our the fact that we still have human bodies which are affected by the environment.
We quickly learned that trying to do anything during the day was a lost cause. We're both seasoned festival-goers, but we're not used to dealing with such extreme elements. Even week-long trips to the desert didn't affect me in the way the Central American humidity did. On our typical festival excursions we're used to being able to spend all day and all night on the run with nothing but a couple cat naps a day, living on caffeine and adrenaline the rest of the time. Accepting that we'd have to take it easy during the day to make it through this festival was something it was difficult to come to terms with. Lesson Four: Embrace the fact that you need downtime.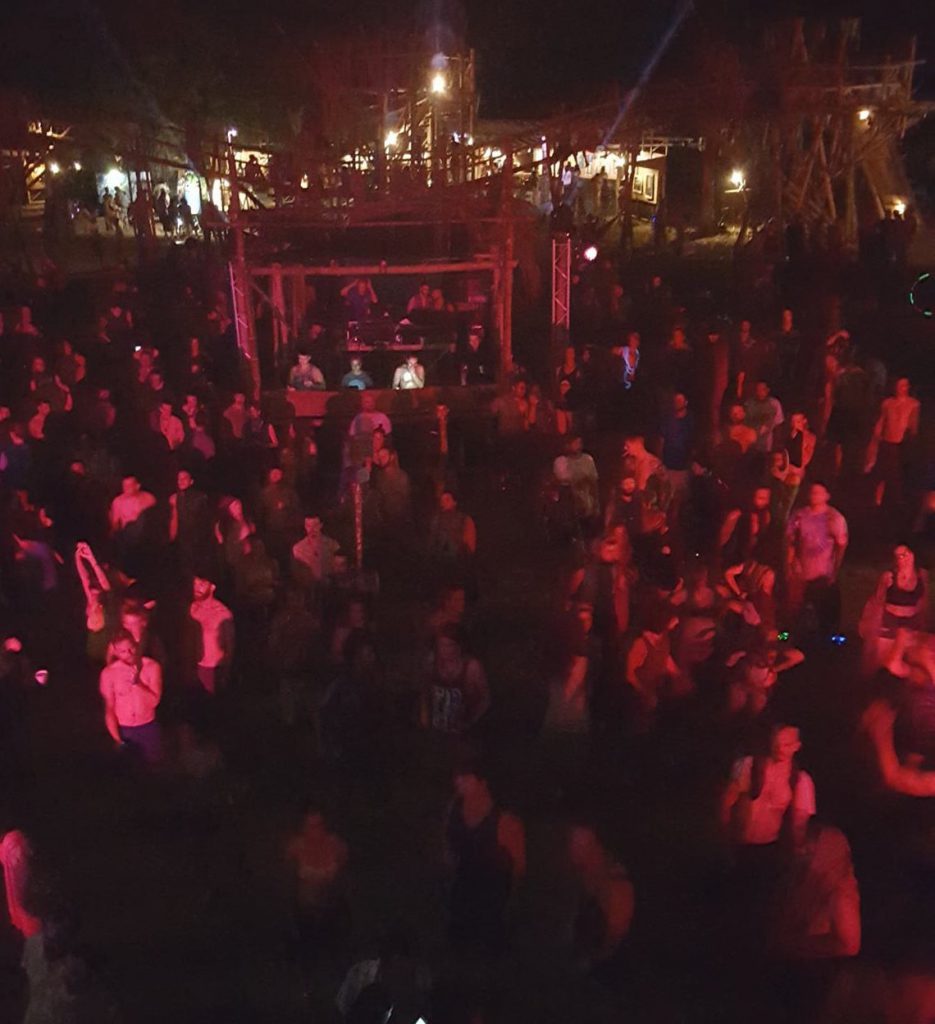 We were thankful when sundown came; the air-cooled down considerably, though the humidity kept it toasty warm, rendering anything more than a bikini unnecessary. My two sweaters were definitely a waste of packing space; I'd stashed my parka behind a street sign in Dominical. We were finally able to drag ourselves out of bed just in time to catch a favorite, Defunk at the Luna Stage. Sam who'd worked with Defunk before was invited on stage to play live guitar for a few songs, making the set extra special. We took the opportunity to climb the ladder at the back of the Luna stage to a platform above where you could peer out over the crowd from 40 feet in the air. to have such a vantage point, while a favorite artist and a friend played an amazing set on the stage below us, in the middle of a rain forest thousands of miles from home was nothing short of a surreal experience.
We spent most of the first night at the Lapa stage; a small stage near the entrance to the beach, made completely of wood, hand-carved in intricate psychedelic-reminiscent patterns. This night was psytrance night. We danced the night away under colorful silks tied over our heads. The area beside the stage was filled with live painters getting started on their weekend's work. I fell in love with work by Benedigital, who adds infinitely detailed layers of transparent paint over digitally drawn figures, creating art that leaves you questioning what's paint and what isn't. Lesson Five: Discover art.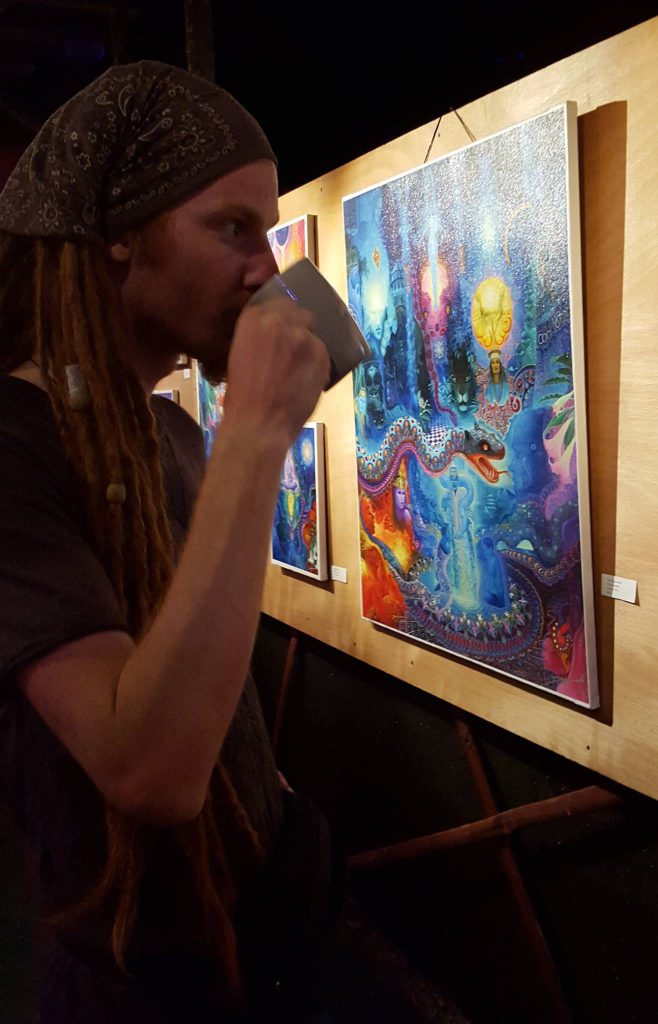 Despite sleeping all day, my limited supply of energy ran out before dawn. We were able to get a few hours of quality sleep in before the mid-day sun made sleeping impossible.
Friday: Day Two of Envision Festival
We woke up on Friday feeling terribly ill-prepared for the rest of our weekend. We hadn't had a proper meal in a couple of days, which doesn't pair well with physical exertion. Our burnt skin made it difficult to rest. Friday was deemed "get it together day", and for the first time ever in the 50+ festivals between us – we left the festival before the last day. I pride myself in being the Queen of preparedness, but for this I accepted defeat. We took the day off to clean up, head into town, relax, get a decent meal, and pick up some groceries so we could eat properly for the rest of the weekend and avoid a repeat of day one.
That trip away from the festival was just what we needed to recharge us and turn our weekend around. With a good meal, adequate supplies, and sunburns starting to fade, it finally felt like something we could accomplish and fully enjoy. It just… took some time. Lesson Six: Recharge.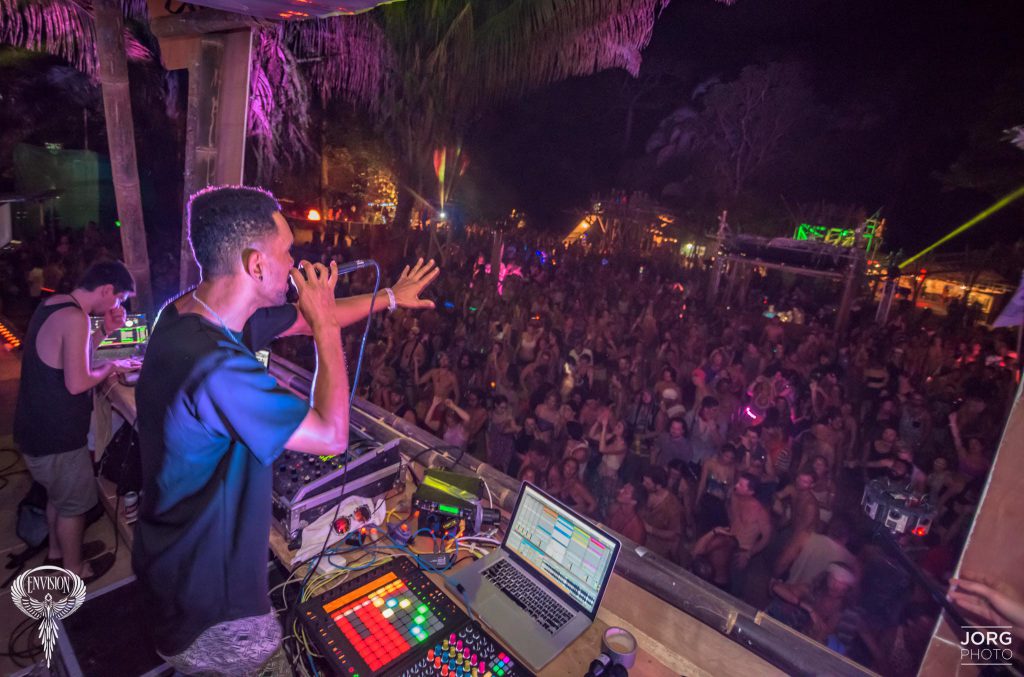 We spent the night hopping between all three stages. Sol, the main live stage, hosted Akae Beka, one of Spencer's must-see artists. Andreilien, another favorite, played the Luna stage. I was also thrilled to find the Lapa stage's lineup for the rest of the weekend was filled with house and techno artists. I love all music, but techno always seems to have a special way of drawing me in and stealing me away for the night. The same couldn't be said for Spencer, but is always willing to pop by the techno stage so I can get my fix. A little later this night; we nearly made it to sunrise.
Saturday: Day Three of Envision Festival
By Saturday, we finally felt like we could really get into this festival. It was too hot to sleep in the tent, so we headed into the VIP area and spent the day in the lounge. La Sombra VIP was a shady section at the back of the campground, nestled between family camping and yoga; far away from the pounding bass of the main stages. VIP tickets are a little rough on the wallet, but they include early entry and a shuttle from the airport, altogether making them barely more expensive than a regular ticket with the extras. We spent the day taking advantage of complimentary coffee and snacks, admiring the treehouse cabanas, and meeting people from all over the world. One girl we met had come from a town not far from ours. This wasn't the only time over the weekend we ran into someone from home; the festival seemed to be filled with Canadians from Ontario and BC, and Americans from Colorado and California. She was meticulously drawing intricate designs of henna up her own leg when we discovered her first festival was Harvest in Ontario, coincidentally the first festival me and Spencer attended together. VIP was a welcome escape from the rest of the festival; although I normally prefer to spend my time in general admission, this festival was different. I'd definitely consider VIP for next time.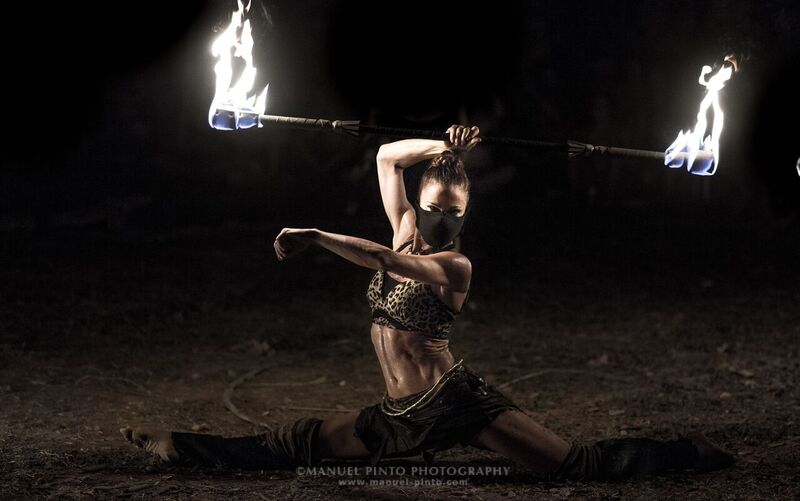 As the sun went down and the air-cooled off, we headed back to our tent for a nap. This was a big night after all; Saturday night was Shpongle night, our most anticipated act, and his set wasn't until 3:30am.
We woke up just in time for Beats Antique. Both groggy and not quite aware, it took us awhile to properly get going. In the distance, I heard the techno stage; whoever was on the decks was completely tearing the place down. Knowing that Spencer isn't much of a fan, I requested that we go check it out for "just a few minutes". He was happy to oblige.
Techno
And that's where we discovered Lee Reynolds, and probably one of the single best techno sets I have ever witnessed in my life, and certainly my favorite of the weekend. The guy honestly looked like a tourist that had just walked off a beach resort and hopped up on the decks. Besides his flawless mixing and fun, unique track selection, his stage presence put him on a whole different level from your typical techno DJ. He must have forgotten his black V-Neck at home. We were never quite sure if he was actually paying attention to what he was doing on stage, until he'd effortlessly nail a perfect transition without a second look.

Once I was satisfied, I let Spencer know I was ready to move on; I KNOW he dislikes techno. "Actually… I think I want to stay". …Excuse me? Did I just hear that right? Is this real life right now? This was reinforced later in the set when Spencer looked at me and declared "What a BOSS!" Lee Reynolds officially did the impossible and made Spencer a believer in techno. Lesson Seven: Discover new music
We later learned that Lee Reynolds is a member of the Desert Hearts crew from San Diego. In his bios, he's often described as a "Warlock of Love", which I couldn't possibly agree with more.
Next up was Santos Y Zurdo, another name we were unfamiliar with. Admittedly, we weren't familiar with many names on the lineup. We'd made plans to attend before a lineup existed and I'm the type that would rather discover new music in person. A well-known Costa Rican group, their set was nothing short of a party.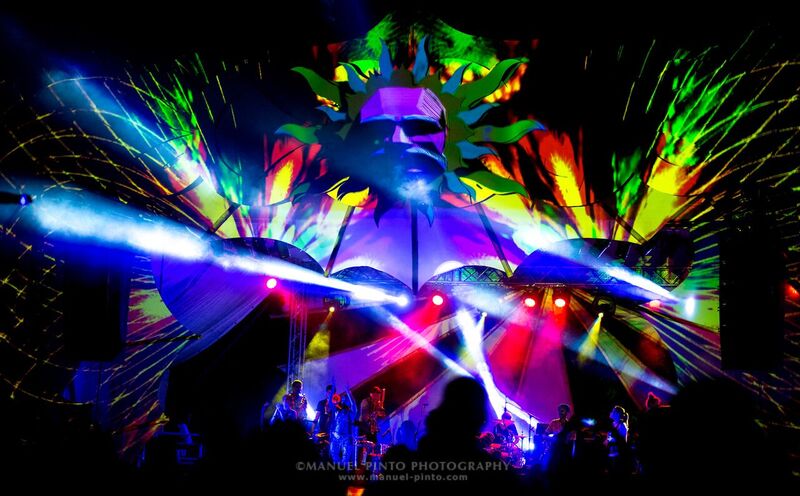 Spoonbill added his name to my list of favorites for the weekend, one I'd looked forward to from the lineup. I was disappointed to find out he reigns from Australia, making another chance to catch him in North America any time soon rather unlikely.

By the time Shpongle was on, the crowd had shrunk considerably in size, leaving behind only those who were dedicated enough to stay until sunrise to see such a legend. Donning his typical feathered hat, Shpongle took us away until morning, even ending the set with the debut of his new goa trance production.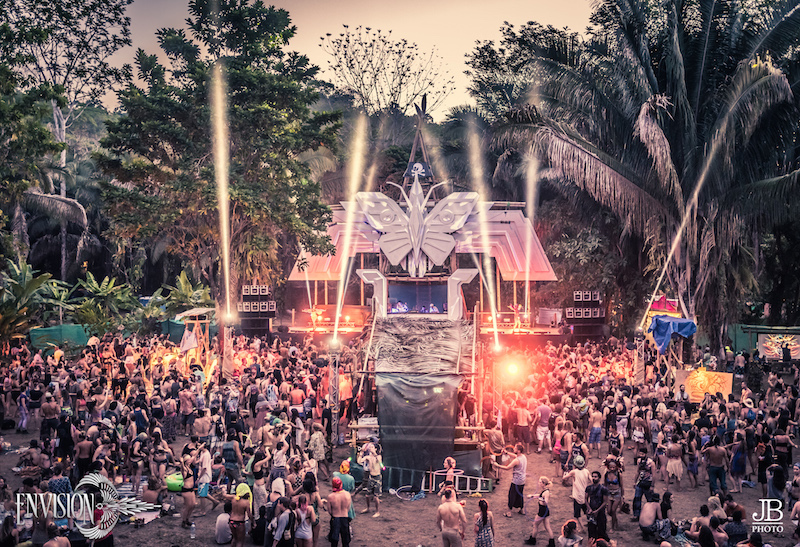 For the final set of the morning, with the beating sun on the horizon, Random Rab took the stage. I'd been at several festivals with Random Rab, but I'd never managed to catch one of his revered sunrise sets. Within the first few minutes, I understood entirely – his set was full of calming energy and made for a perfect, beautiful transition from night into day. I left the stage feeling ready to take on the day. Lesson Eight: Random Rab sunrise set
Sunday: Day Four of Envision Festival
After such a fulfilling night, packed with a diverse collection of new and amazing music, we felt satisfied with our festival experience. By the time we got to bed, over tent was an oven; we dragged our air mattress off into an empty corner to get some sleep. Who needs a tent anyways?
We spent our final day relaxing in the jungle, alongside a pile of as much fruit as I could carry back from the vendors. Our day didn't truly get started until midnight, when Sam Klass played the closing set at the Village Stage. Sam performs live looping, creating songs on the fly through looped vocals, synths, and guitar, while Spencer hopped on stage to accompany on djembe. It was a great way to end off the weekend.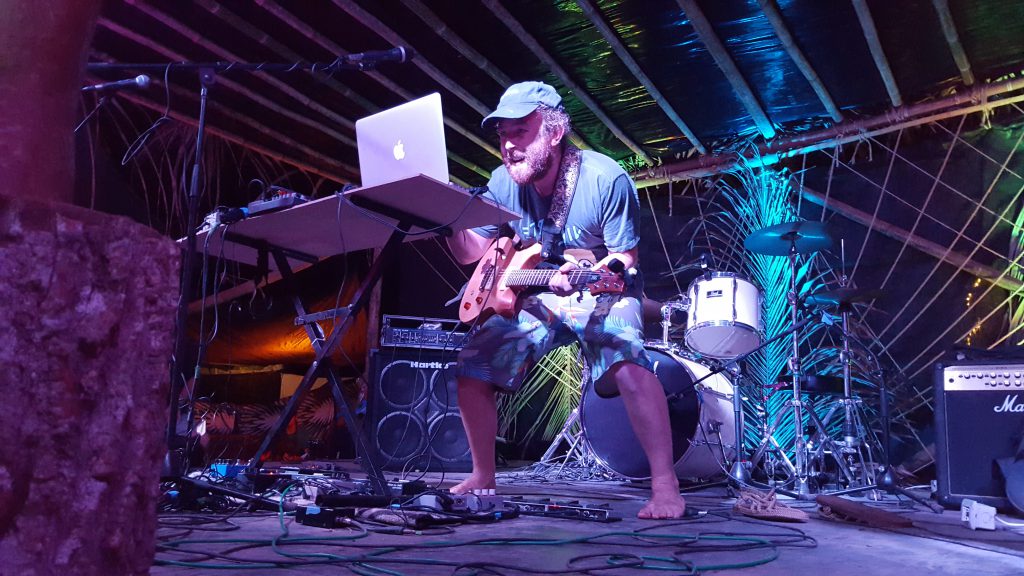 We planned for an early night to make an early morning exit, but by the time we'd caught round two of Grouch, followed by a fantastic, sensual psychedelic set by AtYyA on the Luna stage, the morning sun was already peaking over the horizon.
Homeward Bound
My final day in Costa Rica was tough; I went as far as trying to change my flight home. The fact that my boyfriend was staying another week after me didn't make it any easier. We spent the last night scouting the beach for rocks and watching the sunset. It couldn't have been more perfect.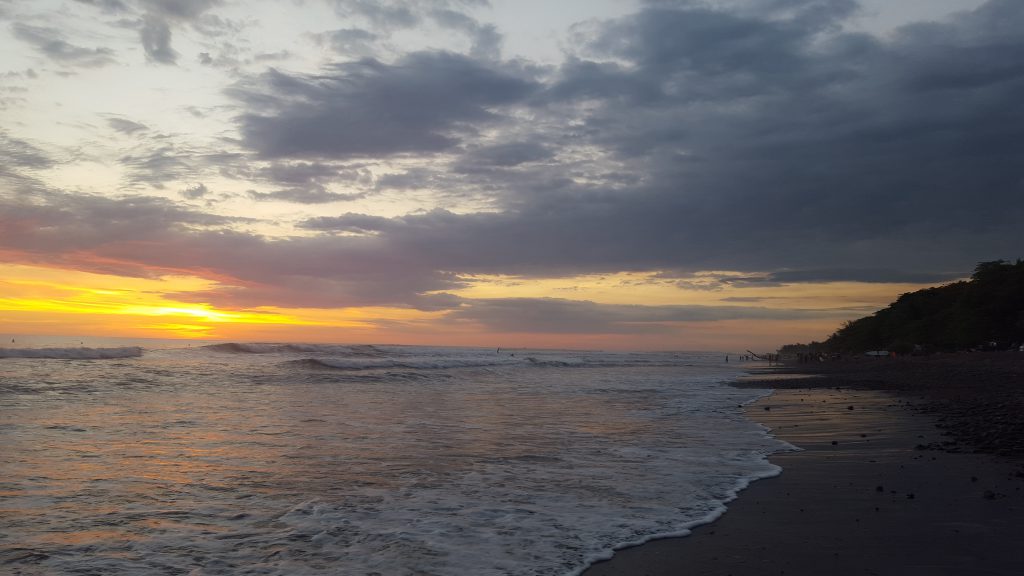 I retrieved my parka from our stash spot in Dominical in preparation for the snowstorm I was about to encounter in Toronto. I silently hoped that my flight home would be cancelled.
Lesson Nine: The festival isn't always the whole adventure.
Check out the Envision Festival 2016 Aftermovie on Vimeo:
---
Interested in attending Envision Festival 2017?
Tickets are on sale now, purchase by clicking HERE!