Suwannee Hulaween was not just another average festival, but a unique experience and a demonstration of love. It was a place where attendees found something we all crave: connection.
---
For months now I have been releasing pre-coverage in anticipation of what I have come to consider to be the best festival the East Coast has to offer and quite possibly the best this community has ever seen. I have ranted and raved about the years past that I have attended, the community that is found here, the location, and the family vibe that Suwannee Hulaween embodies. I did not think this festival could resonate any more in my heart, but this year's edition proved me wrong, and I could not be happier to share with you why.
Suwannee is a place where people find a home, where they find lifelong friends, where they can find peace and acceptance, and where people can revisit loved ones' memories who have passed. These grounds embody what it means to truly be part of the human experience.
This year's theme, love, was felt in every corner of the festival from the vendors to the highly anticipated String Cheese Incident Halloween-themed set. Multiple times I found myself beaming, thanking the universe for allowing me to be a part of such a life-changing experience.
When faced with a world that is so divided by ideology, politics, social injustice, and downright wrongdoing, finding a place where we can feel togetherness, even if only for a weekend that is brought together by love, brings peace to so many.
Love. Is it a feeling or a word? Is it a positive affirmation exchanged between two people? Is it that tingly feeling you get as your favorite song comes on? Is it that satisfied feeling you get as that perfect food hits your taste buds? Or is it that glance you catch from another person as you walk by and catch their eyes, getting lost in them for what seems like an eternity but in reality was only a moment?
The love you feel at Hulaween is all that and more. As the founders, The String Cheese Incident realize that and therefore made it the theme of this fifth edition of Hulaween. Every artist, attendee, and worker embodied this theme throughout the five days we were all frolicking in the woods together, and man, did it feel warm and fuzzy against that cold weather we experienced.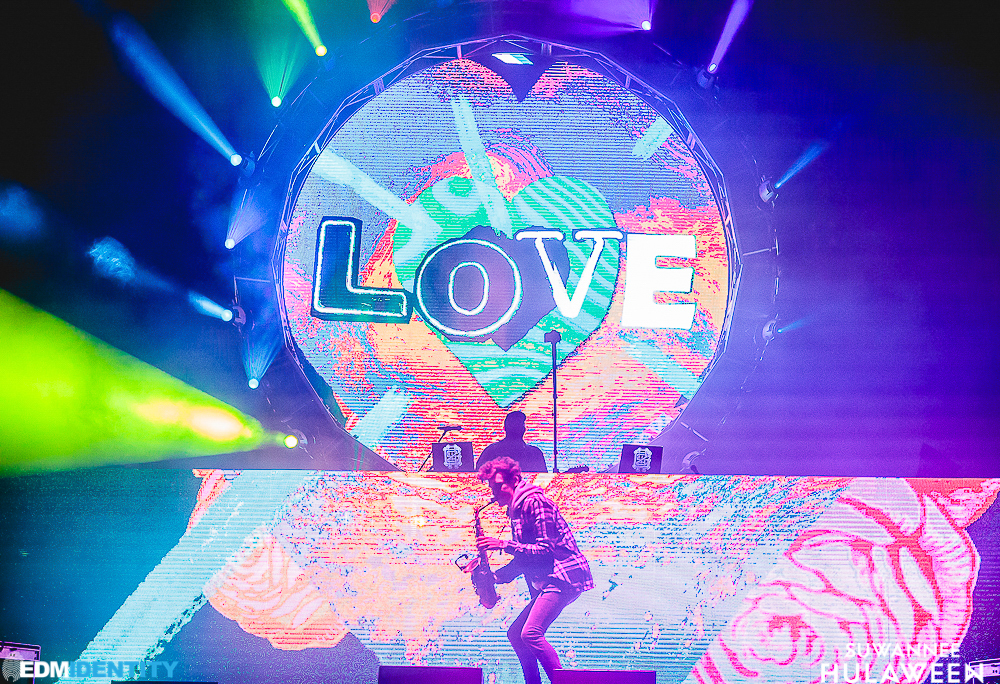 Now, I won't lie, this was probably one of the coldest Hulaweens we have ever experienced – but that did not stop us one bit.
I myself had been on a month and a half long excursion across the country that I ended by coming back to Florida for Hulaween. I crossed the country in a converted van starting in Florida and ending in Oregon, then making my way back to Denver, Colorado and flying back to South Florida. When I returned, I was so excited to be back in some warmer weather, but that did not last as we got hit with one frigid cold front right before Hulaween started.
Such things do not hinder the Suwannee Family in any way, though. In actuality, the challenge presents such beautiful opportunities for creativity and togetherness. The onesie vibe this year at Hulaween was so epic! I have never seen so many onesies at one festival and as an avid festival onesie wearer, I felt right at home with my peeps.
The cold also gave us an opportunity to get our Boy Scout on as we all huddled around handmade fires, sipping whiskey and cider or some heady brews. Whatever you chose, the constant was having your friends together, talking and laughing.
One of the things that made this Hulaween so special is that it was a five-day endeavor!
Most of the festivals that occur throughout the year are three days long, sometimes with a pre-party making it four days. Well, Suwannee stepped up their game and added an extra day, dedicating it to the hurricane relief of Florida. This simple act of kindness not only gave us an extra day to frolick around the woods but showed that the Suwannee Family is a conscious, giving group of people who seek to help out their neighbors throughout the state.
The hurricanes that hit Florida this year devastated many, and it was heartwarming to see us all come together to do our part. At $20 apiece, we were able to see some of our favorite Suwannee acts on Wednesday for a good cause, spreading the love the best way we know how: through music.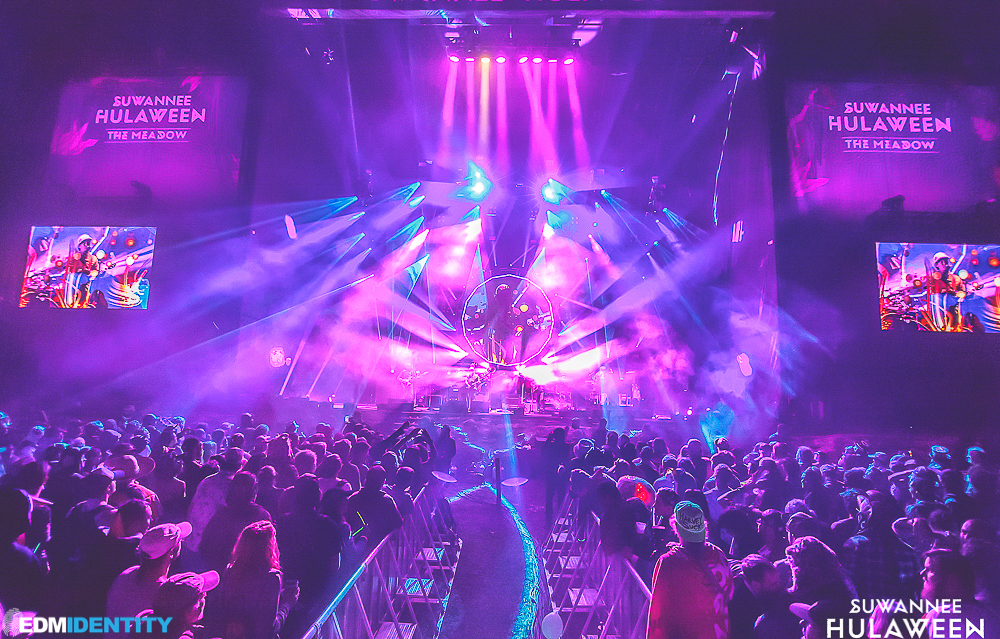 Upon arriving at the festival grounds, I could already tell it was going to be an amazing weekend.
The grounds were buzzing with excitement as we walked down the dirt road that led to the box office in the front of Spirit of Suwannee Music Park. One thing I have really come to enjoy about the park is that the workers always seem to be in an excited mood.
Many of the workers work for WET, a work exchange program that gives you a ticket in exchange for a ticket. It adds a whole new element to the festival as workers are attendees and carry their own individual excitement. I remember being at Spirit Lake one night and seeing one of the workers dressed in full onesie gear, ushering people around showing them the different exhibits. Another epic onesie homie.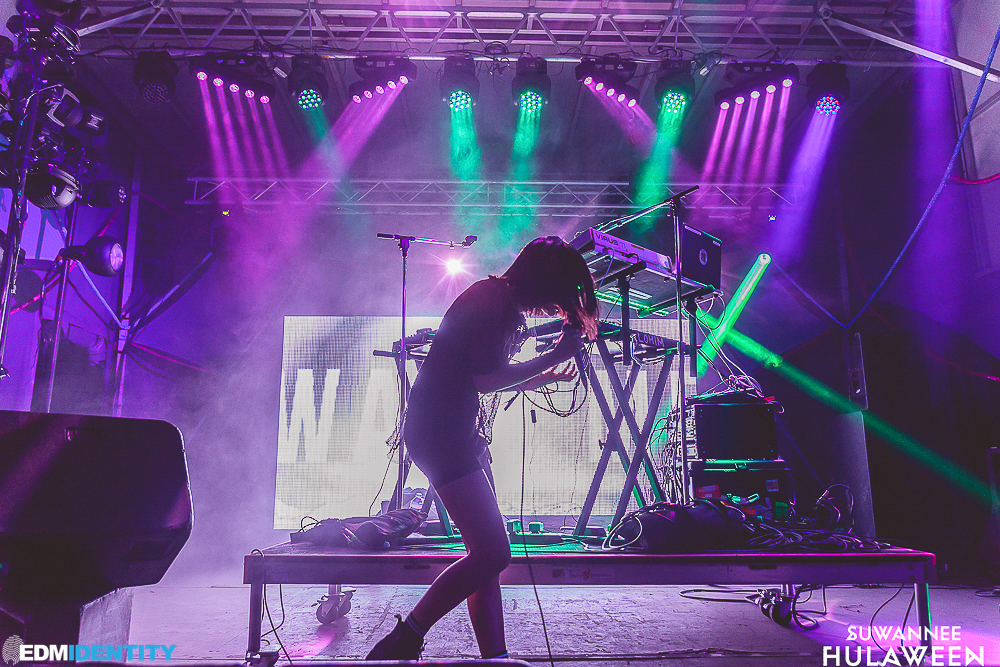 As we got our Wednesday tickets, you could see all the avid Suwannee-goers smiling ear to ear with anticipation for the weekend. The air was electric with all the positive vibes being put out into the universe.
I always take a moment to just sit on the railing and people watch, seeing all the different cars packed out with gear, all the unique styles of clothing, even checking out all the license plates to see where people are coming in from. I simply love all those people, whether I know them or not, because for that weekend, we are all united under those woods, all wanting the same thing: togetherness and family.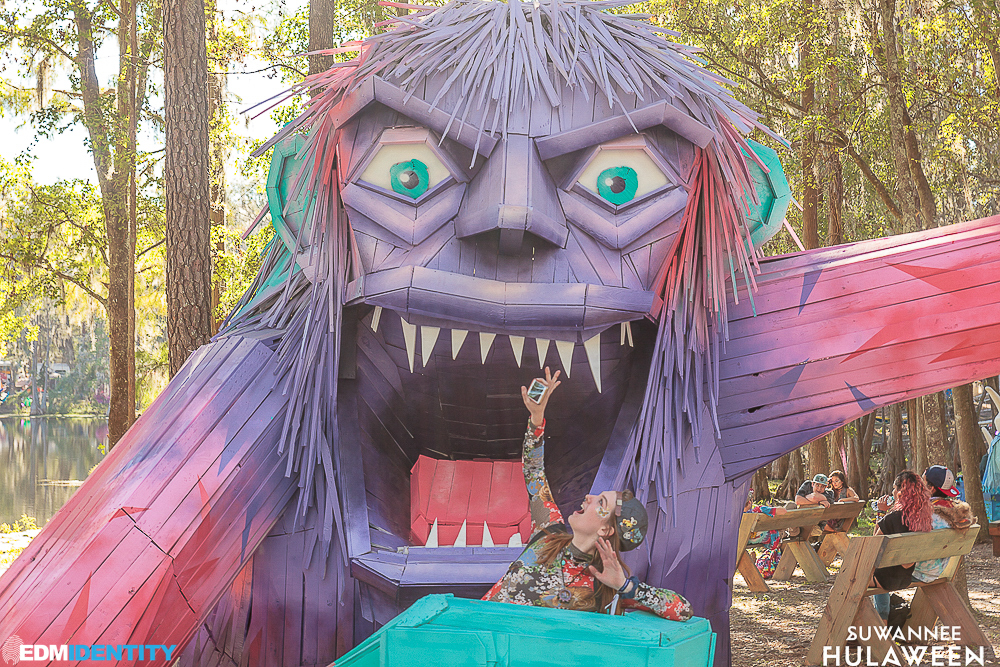 Spirit Lake was a fully immersive experience that enticed all the senses…
Spirit Lake has quickly become a must-see part of Hulaween. I have spoken about it numerous times, and it has been my utmost honor to watch it grow over the years. It started off as just a few little pop-up pieces of art but has quickly become a full immersion for of the senses.
Contributors from all over the festival circuit come to share their talents. On the lineup this year we had the Jelly Fish Dome created by personal friends of mine Raerae Liebtag and Greg Ignasiak, multiple burner statues that keep the night air lit up long into the late hours, an art maze that changes every year, and the beloved Suwannee Giant.
This year added a new personal favorite: the butterfly dome. Within the dome, you could stand and allow free-flying butterflies to just land on you. It gave you this crazy, fairy-like feeling as if you were in a magical land from literature.
Spirit Lake also boasted three stages this year, including the highly anticipated Incendia Stage that was on fire! We had the pleasure of seeing a pop up set from MZG and Space Jesus Sunday night that got quite raunchy for those who were there. It was a perfect way to end a perfect weekend, and for some, a little messy.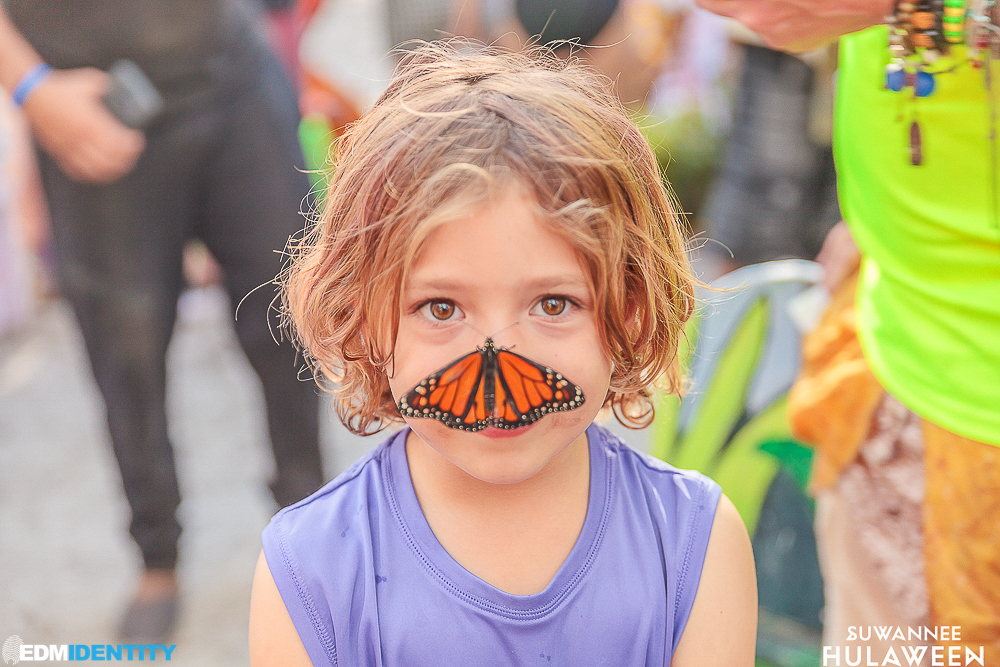 The String Cheese Incident took us through yet another perfect Halloween-themed set Saturday that had us all remembering why love is one of the keys to life.
String Cheese's Saturday Halloween-themed is one of the sets I look forward to every Hulaween, and it was simply sublime. The raw talent that The String Cheese Incident has as a group is already felt throughout the weekend, but in my opinion, is felt and seen most during that set.
Each year the theme changes, from the Ghoul Train to Stranger Things to this year's perfect theme, Love. The group called upon all the love within music to create a set that flowed like the most perfect river of love that ever existed. At one point they went from Black Eyed Peas' "Where is The Love" into Beyonce's "Crazy in Love" into Led Zeppelin's "Whole Lotta Love". The raw talent left me covered in goosebumps.
I feel the utmost appreciation for the way Cheese goes about this set every year. The thought, the precision, the heart, and the love that went into this set was utterly apparent. The crowd and I could not thank The String Cheese Incident enough for such a thoughtful set, though we did try with the outburst of applause at the end!
Can you feel it, Mr. Krabs?
The artists that were on this year's line up sure felt it, and by "it," I mean they felt our overwhelming energy and love for Suwannee. The artists this year fed heavily off the crowd, it was plain to see.
The weather was colder then it has been in years past, but that did not stop Liquid Stranger from throwing down the heat (as he mentioned multiple times during his set). Big Wild commanded a crowd of thousands as the sun set like he was famous conductor Leonard Bernstein.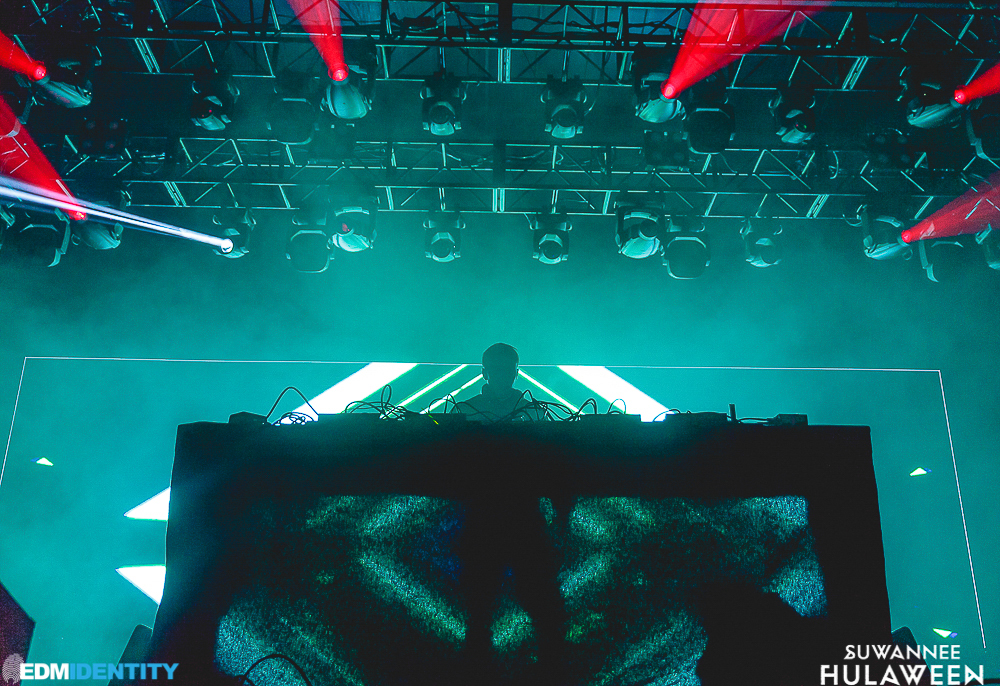 I have had the pleasure of seeing many of these artists at other festivals this year. Seeing them play at the Suwannee, many of them for their first time, you could feel them picking up the energy of the crowd.
I had the pleasure of being on the stage watching Big Wild as he smiled ear to ear watching his crowd vibe out with him. Elohim took the Spirit Lake stage to a whole new level during the pre-party, demonstrating why she is one of the best female artists to take the stage.
Suwannee has a way of bringing out the best in artists. They show up and see how devoted we are to that place and seem to want to show an equal amount of effort and devotion to their sets.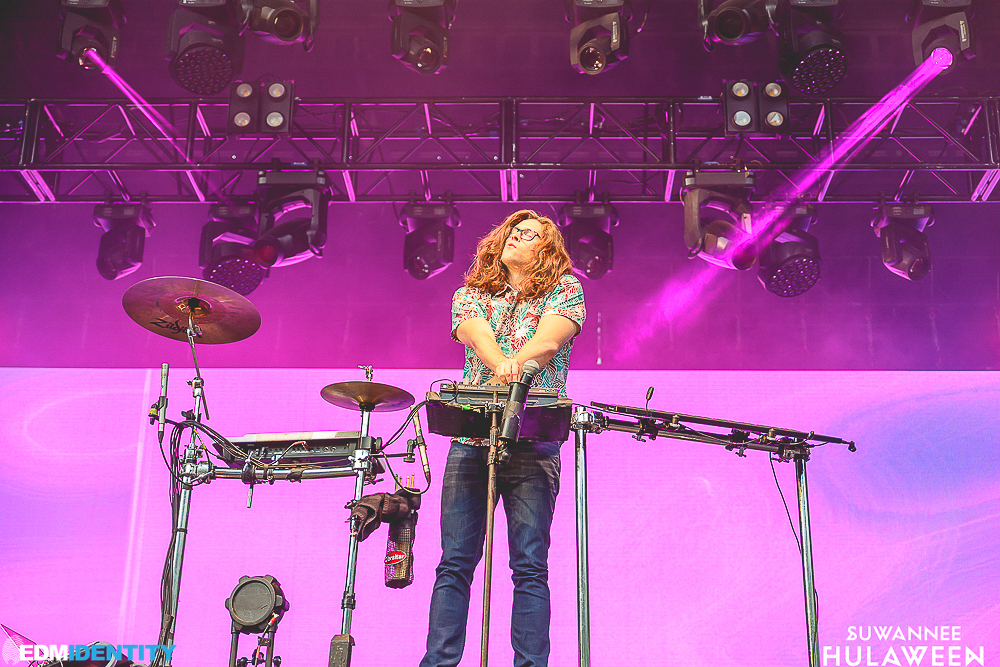 Smiles were seen, smiles were felt, smiles were experienced…
I have said countless times that the Suwannee is home. It is a place where we gather, a place we become a part of, and a place where we can find ourselves no matter what walk of life we are from. When we gather under those trees in Spirit of Suwannee Park, the world outside the park becomes a fleeting memory.
There, we find ourselves; many including myself will attest to that. This year was extra special for me and a few people I spoke to. This year we were reminded of the love we have for one another, for life, for our passions, for our friends, for our loved ones who have passed, for life and all its ups and downs. I cannot better show this then in my photos, so here are just a few of the smiling faces that I captured this year.
Here's to you all Suwannee Family…
Like all good things, Suwannee Hulaween had to come to an end…
Like all the best things in the world, the end of the weekend came as the sun rose on Monday morning, but the party does not really ever end with Suwannee Family. The connections we made, the time spent with loved ones, the festival love we found, it all just continues as we return to our regularly scheduled programming.
I want to end this article with a little quote from a friend of mine who I sat with while prepping this article, comparing notes. "Love was the perfect theme for that weekend. Love is universal. Love is something that never really goes away. Maybe it changes or is forgotten, but it is never truly lost. Hulaween reminded me of the love we share for our family, friends, and our passions. We do not need a festival to bring that out of us. Hulaween was just the perfect reminder we needed. A reminder of the love we have, the love we lost and the love we can rekindle."
I could not have put it better myself.
---
Connect with Suwannee Hulaween on Social Media: