My first FreakNight experience made me a believer that it's truly the premier Halloween festival in Pacific Northwest.
---
USC Events put in a lot of effort to create a magical, spooky, and fun night at the WaMu Theater for FreakNight this year. Creating a memorable experience requires more than just having rock star electronic acts like Justice and Infected Mushroom. It's the holistic view of a festival experience that sets this Halloween event apart.
After weeks of planning for the festival, our group excitedly met up at our usual hangout pad to get ready for the night. Leaving together also meant we were able to Uber, so nobody would feel pressured to drive at the end of the night. For some, like myself, this was their first time going to FreakNight, but for the event veterans, this was their most anticipated night of the year.
Catching The Upbeats was on our to-do list, so we left around 7:15 PM hoping to see some of their set.
Google Maps took our driver on a bit of an unexpected route due to typical Friday night Seattle traffic, so we arrived at the venue with 30 minutes left of The Upbeats set. Fortunately, out of those in our group who wanted to see them the most, they had already picked up their tickets and didn't need to visit Will Call, so we planned to meet them inside.
Once we had our tickets, the separate entrance for VIP got us in quickly, which was a godsend for those in our group also wanting to catch early sets. We passed the long and slow-moving GA line on our way over.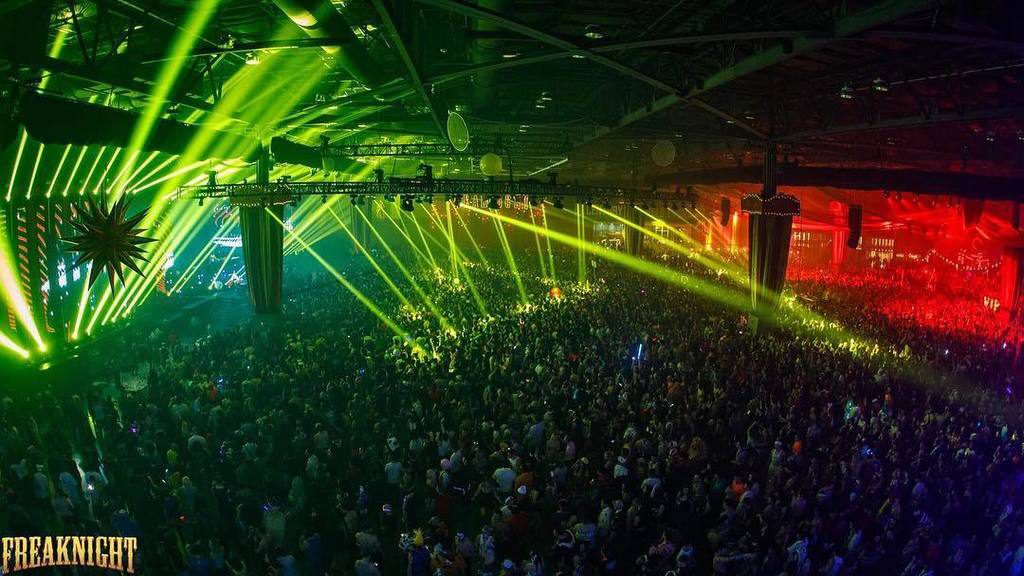 Stepping into FreakNight for the first time was breathtaking.
The view of the main stage from the VIP decks was worth the higher price of admission alone. It was awe-inspiring seeing thousands of people dance while the main stage boomed and the carnival rides bustled moments after walking inside. Along the VIP deck were places to sit taking in the view, a professional photographer at a circus-themed booth, and restrooms with virtually zero lines.
Not soon after arriving, we made our way downstairs to join in on the fun on the main floor. The night was still young, so it was time to meet up back up with the rest of the group. Navigating the venue was a worry since the festival map released on social media was difficult to read. It was important to be familiar with our surroundings before things got too crazy.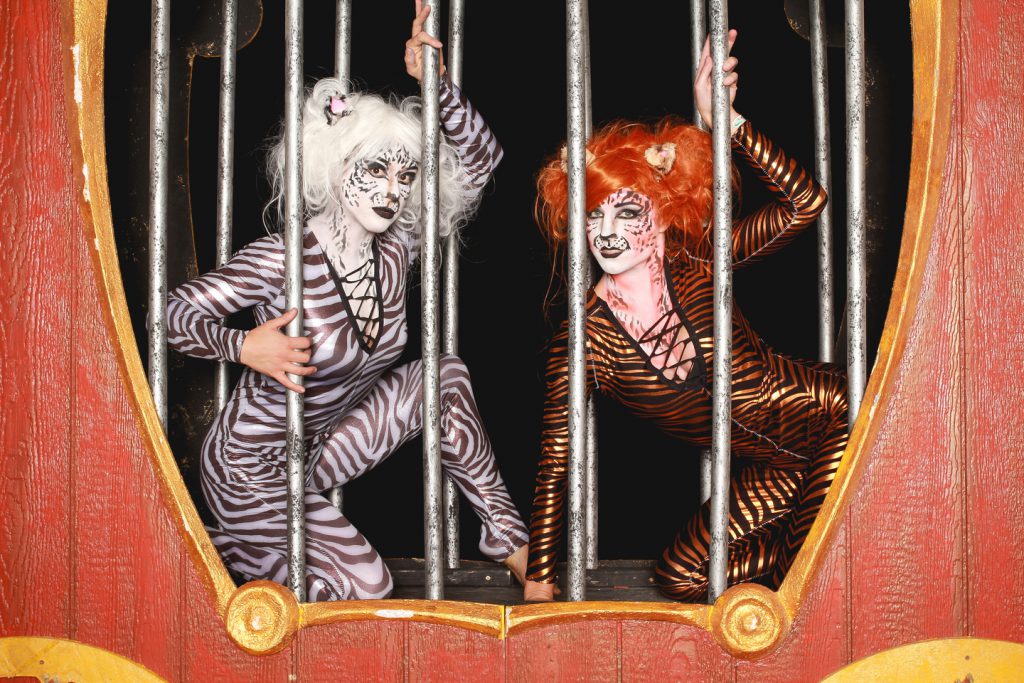 The merch booth caught my eye on our way to the Bass Asylum to hear the last moments of The Upbeats and meet up with those who got in before us.
Not only did the merch booth have some pretty cool looking hoodies, shirts, and bandanas, it proved to be a useful meeting spot. Tucked along the wall by the Tornado carnival ride, the USC Gear area still provided a good view of the main stage at a comfortable audio level and was centrally located between the three stages.
In hindsight, I should have gotten a locker at least to store the FreakNight hoodie I wanted. I regrettably waited to buy it until the end of the night because I refused to carry it around because it was warm at the WaMu Theater already, and of course, it was sold out at the end.
Just in case phone service was poor, we set a meeting time of 10:30 PM at our newly found location to be together for my most anticipated artists of the night: Infected Mushroom and Justice. Luckily, we never ended up having an issue even in the more crowded areas of the festival.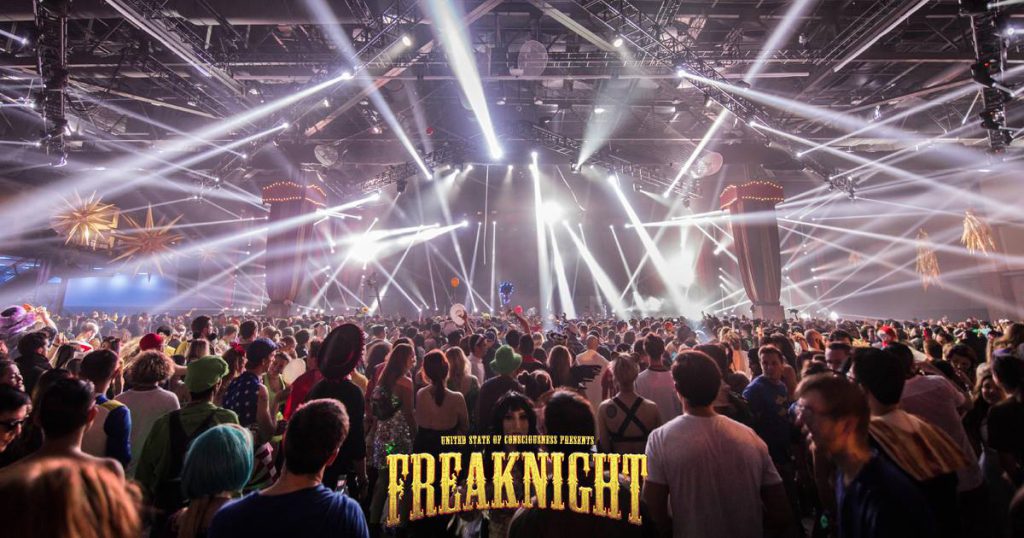 Our trek to the Bass Asylum made me notice how much attention to detail USC Events gave to make the atmosphere of FreakNight come alive.
The long hallway felt like traveling down a haunted house with its cobwebs, fog, and traditional Halloween set pieces. There were also live performers just like you'd find at a circus, including aerial performers and clowns.
Not only did the venue look amazing, but it was also the people attending who helped create a vibrant atmosphere. Everyone seemed to be in the Halloween spirit, wearing costumes and donning face paint, making it feel like a true party. Hilariously, an added benefit of being a raver is that our SpiritHoods, kandi, and fashion choices tend to already be Halloween appropriate, making it an easy costume choice.
The Conscious Crew were also clearly visible throughout the night. They were wearing their instantly recognizable orange shirts and spread their good vibes with much-needed squirt bottles of water and cheerful attitudes.
There were also carnival rides, games, and photo booths to entertain when you were looking for a break from the music. Photos from the photo booth cycled on a large projector screen, which was a nice personal touch seen throughout the night.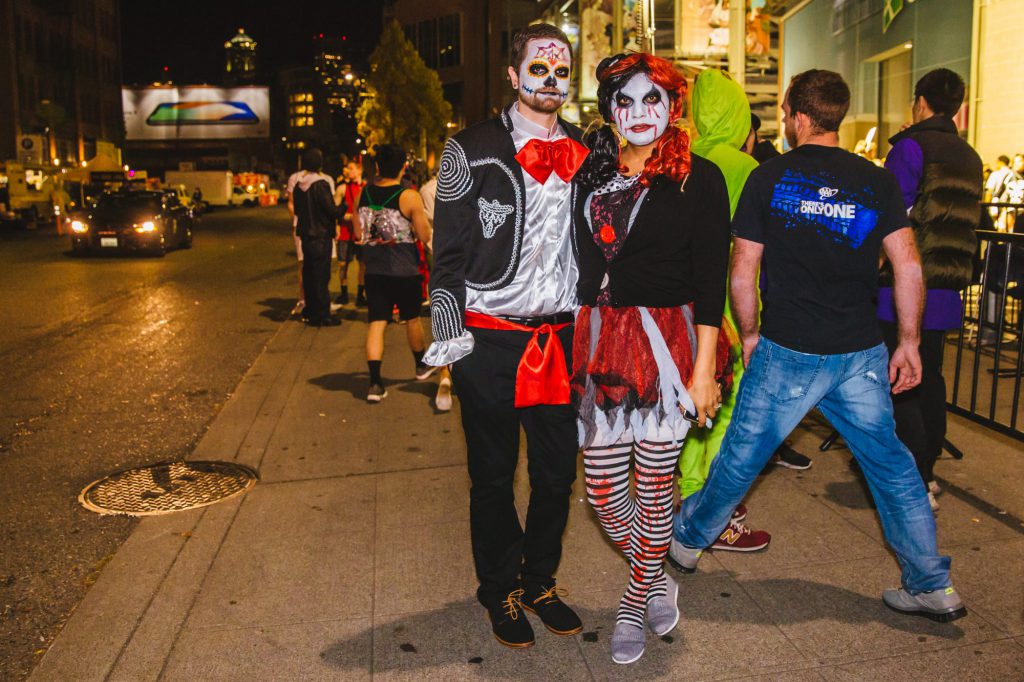 Upon arriving, it was clear that the Bass Asylum stage was the headbangers' crypt for the night, hosting some of the biggest acts in dubstep.
Since it was located next to the general admission entrance and a beer garden, it was a decent hub to start the night, albeit traffic heavy. Sadly, the sound didn't carry far back enough during The Upbeats while we quickly downed a drink at the beer garden. With the growing popularity of bass music, I hope they're able to expand this stage further next year.
My personal favorite stage, the Midway of Mayhem, featured a medley of genres including house, techno, and psytrance.
It was easy to bounce between the Midway of Mayhem and the Twisted Big Top stage. They were far enough apart that there wasn't any sound bleed, but still within fast walking distance to easily check out each act playing. Unfortunately, due to venue design, there didn't seem to be a way to fit the Bass Asylum any closer than it was.
Walker & Royce and Totally Enormous Extinct Dinosaurs kept the groove going for those wanting to go a bit deeper. Each set offered a slightly different unique flavor, including Dirtybird house and techno.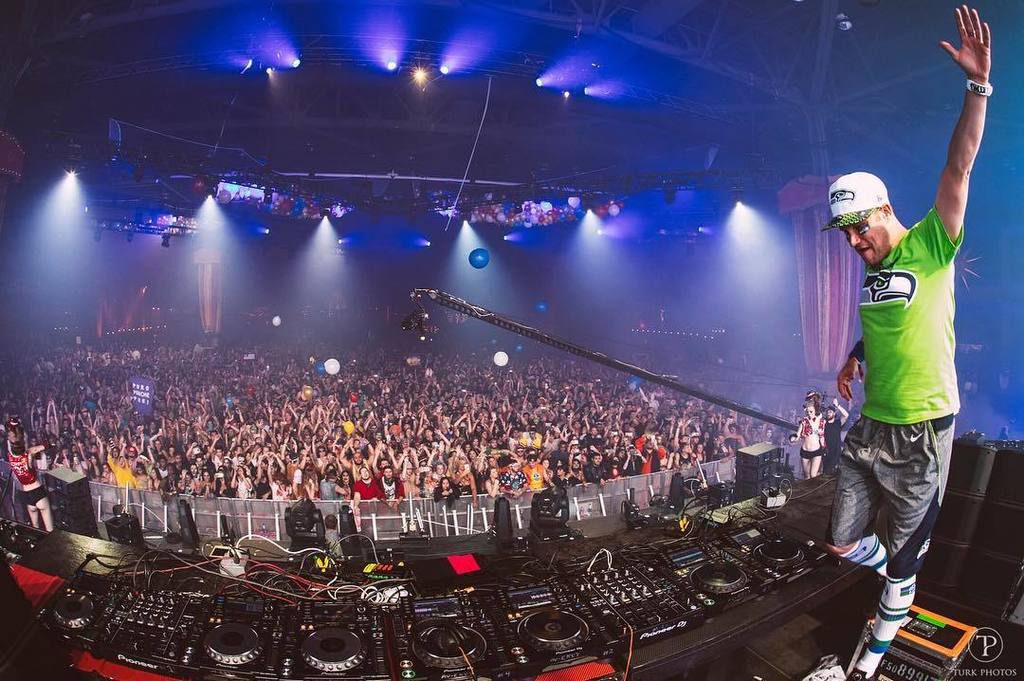 We played ping pong with the stages for the next couple of hours.
Dash Berlin opened next and I was interested to see if he would play any of his cheese-infused vocal trance that I fell in love with years ago. The set certainly featured some classic songs, including "Till The Sky Falls Down" and "Waiting", but was ultimately tarnished by moments of the future bass sound dominating the scene currently.
At that point, it felt like that was an appropriate time to re-hydrate and take a breather before going hard with Brodinski's hip-hop infused bass set. About halfway through, I wandered back to the Twisted Big Top briefly to see Benny Benassi play his classic "Satisfaction" while I waited for a friend to meet up. It's always interesting to see how veterans of the scene adapt to current trends in main stage music. He was able to keep it fresh by playing a remix updated to sound modern while keeping the spirit of the original.
Catching MALAA playing for 20 minutes was incredible and the stage started to get noticeably packed as time went on. His music hits hard with its industrial elements and smooth bass. As the set went on, my group split up with me after wanting to listen to some lighter music, making Kaskade seem like the best choice at the time for them.
I also got a bit Kaskade-curious and joined my group shortly after. I hadn't seen him perform since his set at EDC Las Vegas 2014. At times, it felt like Kaskade was having an identity crisis because of the vast number of EDM styles during his set. I was expecting to hear more of a cohesive set like I had seen three years ago. It was still pleasant to hear him turn back time during the last ten minutes of his set by playing some of his greatest hits, however.
Finally, it was time to experience my first Infected Mushroom set.
Infected Mushroom played a psytrance-heavy set, but classifying them into a single genre would be criminal. They infused psytrance with dubstep along with hard dance, seamlessly taking the crowd for a rollercoaster of a ride.
Unfamiliar with their catalog, I had my friend and fellow EDM Identity writer Gina help process the incredible set I witnessed. She had no issue explaining how they played their hits "Sa'eed" and "Becoming Insane" plus their newer, heavier sounds like "U R So Fucked". Having seen the duo perform several times before, Gina said their set was "a good mixture, but definitely more old school psytrancy than I'm used to."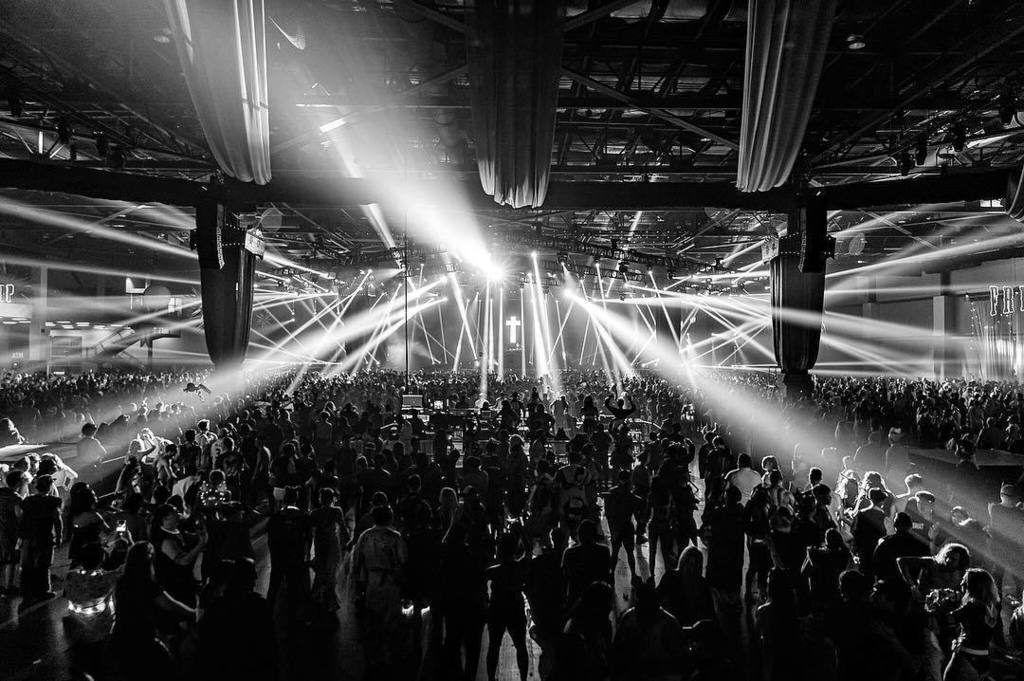 Closing out the night was the legendary Justice. Their stage presence should be something everyone experiences in their lifetime.
Justice was the highlight of FreakNight with their extensive catalog and rock star-like stage presence. They took us through multiple generations of dance music, teleporting us each time through the frequencies of their bass lines. I put their performance among the other great acts I've seen before, like NERO and The Glitch Mob.
They didn't make use of the LED screens except once in a while to bring up their iconic Cross or to warp us through the galaxy. Instead, Justice relied on strobes, lasers, and lights to keep the focus on the music.
One of my favorite moments was the crowd singing along to "YMCA" – which, as our group noted, might not be a song relevant to the under 21 crowd anymore. The set was supposed to end at 1:30 AM, however they played for an additional 15 minutes with an encore of Nirvana and Soundgarden.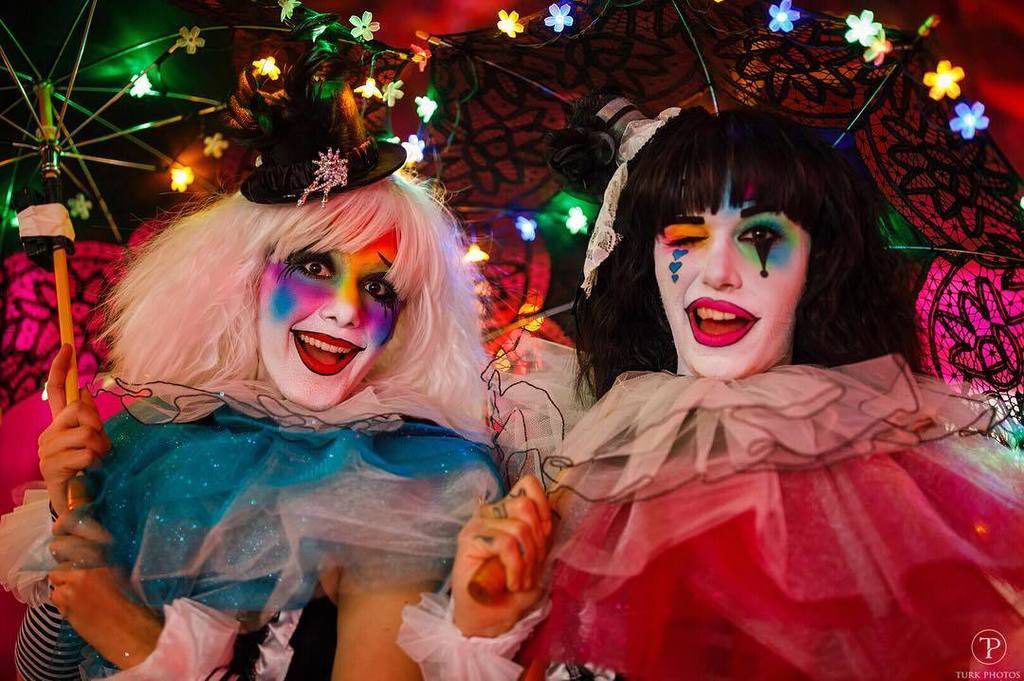 It feels like USC Events is doing the best they can with their current venue choices in Seattle.
The production value for FreakNight rivaled what you see at Insomniac festivals. Each stage was packed with lasers, massive LED walls, pyrotechnics, and confetti. The transformation of the venue was even more impressive after the night's activities came to an end, revealing how much lighting and music changes a room. It genuinely feels like USC Events cares about the experience at a festival.
With that said, security was lighter than I expected for FreakNight, even though we still had to remove our shoes when entering. The festival is hosted at WaMu Theater attached to the CenturyLink Field, which traditionally hosts the NFL Seahawks games. The list of prohibited items was in part due to the disappointing rules of the venue itself, like only being able to bring in clear backpacks and fanny packs.
However, inside the security situation was a bit harsher. They asked glovers to stop giving light shows, and at one point I saw they were escorting someone out after they had been discovered smoking a blunt. Alcohol was also gated only to the designated beer gardens and there was also an alcohol enforcement team roaming who felt like babysitters more than anything.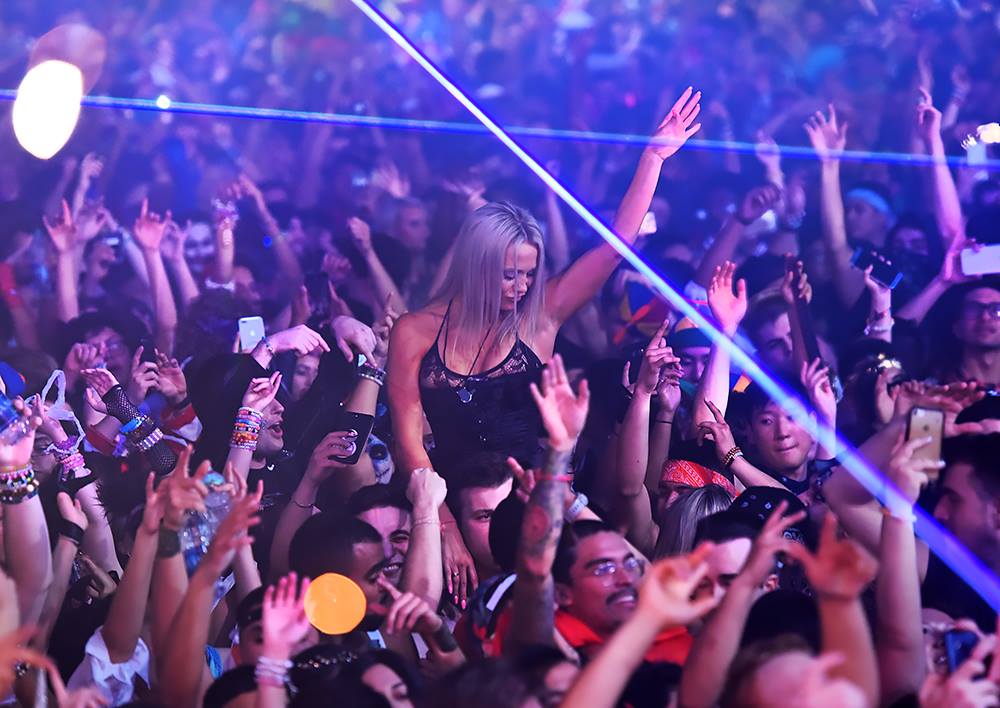 We also quickly found out you weren't able to take a brand new $5 bottle of water out of the beer garden unless you had finished drinking it before leaving or were willing to empty it out. The upside was the lines to refill water bottles were non-existent. They thankfully also let us keep the caps.
Another area I found lacking was our choices for food. It seemed like they were only able to serve the traditional things you'd find at a football game because of the vendors. This was disappointing after going to ABGT250 in September and experiencing the vast amount of food trucks offered onsite.
Overall, it's disappointing that FreakNight is only one night.
With the event only being one night, it means that every hour counts. It was depressing to see the amount of love, work, and dedication that USC Events puts into their festivals only to be showcased for such a short amount of time.
Hopefully, FreakNight will be able to return for two days in the future. Before I knew it, the night was over, but I left knowing I created memories that will last forever.
---
Follow FreakNight Festival on Social Media:
Website | Facebook | Facebook Event Page
Follow USC Events on Social Media: