FreakNight 2017 Set Times, Essential Info, & More!
---
FreakNight Festival is finally here and we can't wait to see you there. Start planning your night with our set times, parking information, and other essential information we conveniently gathered for you.
If you still haven't narrowed down who to see, take a look at our top picks for this year. Get ready for a fun night of music, rides, and games!
---
FreakNight 2017 Essential Info:
Dates: October 27, 2017
Show times: 6:30pm – 1:30am
Venue Address: WaMu Theater, 800 Occidental Street Seattle, WA 98134
Ages: 18+ W/ 21+ FULL BARS (ID REQUIRED)

Acceptable Forms of Identification for Entry
US and Canadian citizens must show one of the following:

Government-issued passport
State/Province issued driver's license or identification card (hard copy)
Combination of paper (temporary) State/Province issued driver's license or identification card AND expired hard copy (must have both)
US military ID
Merchant Marine ID
Tribal ID (not all accepted)
US Possessions issued ID

Citizens of countries other than the US or Canada must show the following:

Valid government issued passport (A photocopy of a passport not an acceptable proof of age and will not grant entry)
Unacceptable Forms of Identification for Entry
School identification
Consular identification
Licenses issued in countries other than the U.S. or Canada
Expired identification of any kind
Birth certificates
Xerox copies of any identification
Fishing licenses
Health cards
Temporary Paper State/Province ID – unless accompanied by expired hard copy ID
FreakNight will have a Lost & Found during the event at the information booth. After the show, you can email [email protected] to check for your items.
---
FreakNight 2017 Set Times: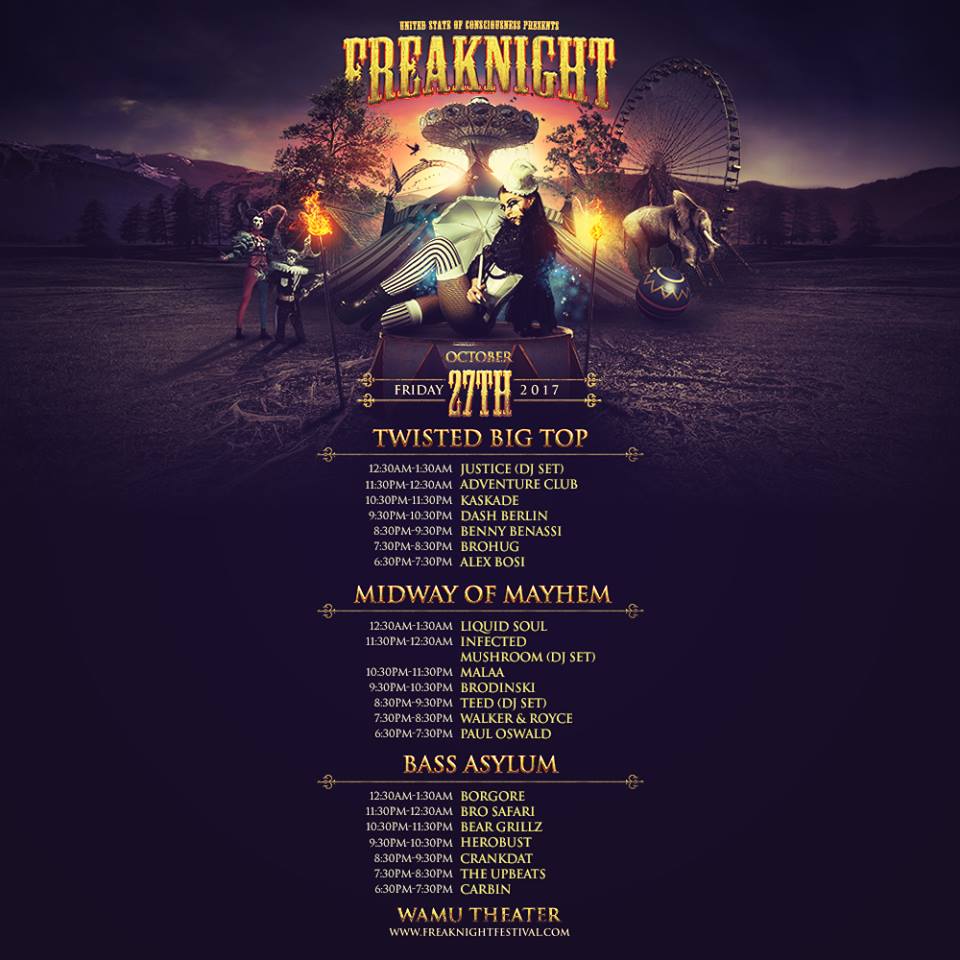 ---
FreakNight 2017 Map & Festival Parking: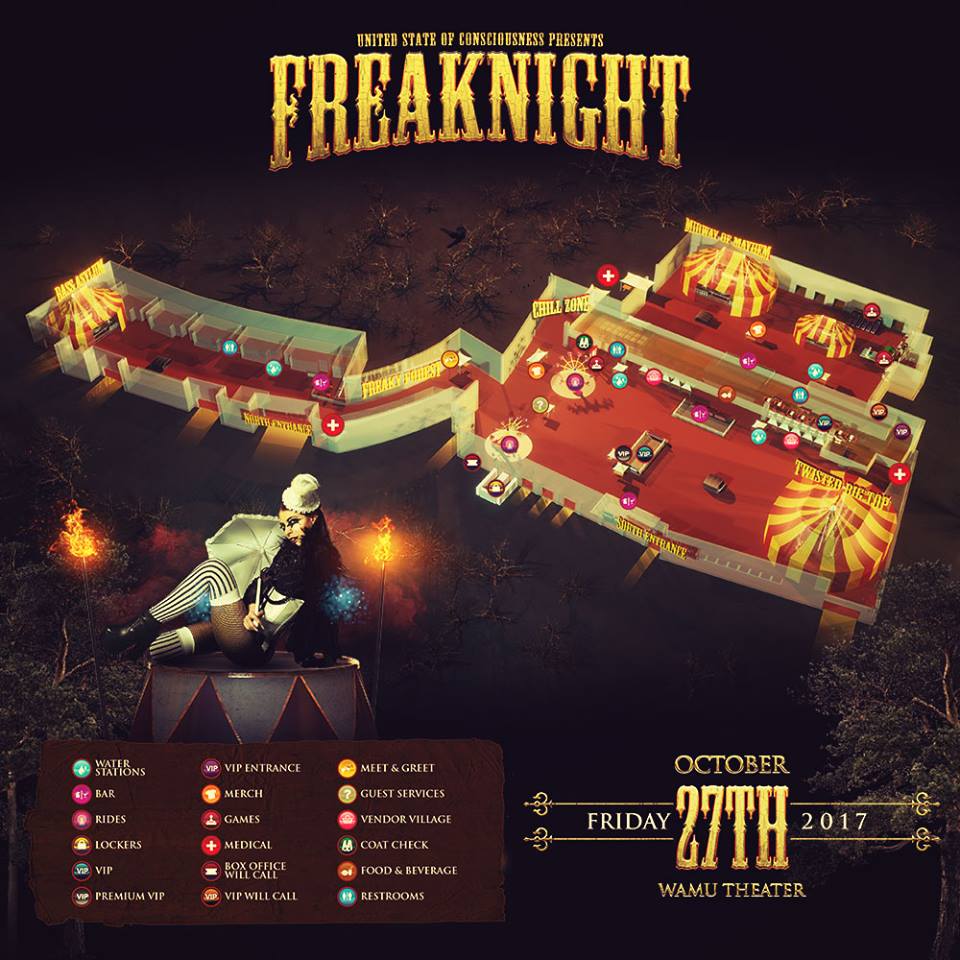 Multiple parking lots surrounding the freakshow will be available to you. The venue lots will be well lit and patrolled by security teams during the hours of the event to prevent evil spirits from infesting your vehicles.
Parking is at the vehicle owners risk. Street parking is not recommended! Be green and carpool… or else.
---
Reminder To Mind Your Belongings:
Unfortunately, many people have reported pickpockets, bag slashings, and theft of wallets, smartphones, purses and other valuables during this festival season. While this small number of bad apples in the bunch doesn't define an entire crowd, there are opportunistic people who come to these events to take advantage of unsuspecting partygoers and it's important to be mindful of your valuables while at FreakNight Festival 2017.
Pay attention to who's around you and what's going on around you. Keep your wallet and phone in your front pocket(s) if you can. Treat your phone the same way you would treat cash; don't set it down on a table or bar and look away. If a friend isn't standing behind you in a crowd, be careful of your backpack or purse, and don't put valuables in a pocket that could easily be unzipped by someone behind in a crowded spot without you realizing.
Festivals, in general, are very densely populated places and are a well-known spot where pick-pocketing of unsuspecting people occurs. It's easy to find yourself in a crowded environment in a line, at a stage in the festival, elevator, or even out on the street where someone could slip your wallet or phone out of your pocket or bag in a matter of seconds. Stay alert, be careful, and make sure to not carry more than what you need!
---
FreakNight Festival 2017 Do's & Don'ts:
You can HAVE FUN
You can DANCE
You can SMILE
You can bring a disposable camera
You can wear kandi
You can bring a small non-professional still camera – no removable lenses or removable flashes
You can bring sealed maxi pads and tampons. Note: Complimentary maxi pads and tampons will be available inside the venue.
You can bring one completely clear bag. No larger than 12″ x 6″ x 12″. Color tinted or mesh bags are NOT considered clear
You can bring powdered makeup
You can bring sealed chapstick and lipgloss
You can bring poi, staffs, and other flow toys – will be searched
You can bring hula hoops – at security's discretion and will be searched
You can bring USC aluminum water bottles – must be empty upon entry
You can bring a standard sized (12 oz) clear plastic water bottle – must be empty upon entry
You can bring a standard umbrella
You can bring a clutch wallet with wrist strap – no larger than 4″ x 6″
You can bring non-narcotic prescription medication – if approved by safety officer upon entry

Typical prescription medications allowed include: hypertension medications, asthma medications, cardiac medications, and epi-pens
Prescription Medications must be in original bottle with the name on the label matching your ID
Only the dose for that day will be allowed in
You can bring a totem – at security's discretion

No solid metal
No taller than 5 feet
Must be made from a lightweight material (e.g. foam, PVC)
Inflatables attached to totems must be deflated upon entry
Do Not Bring:

Alcohol
Marijuana
Food & Beverages
Glass bottles or cans
Zoom lens cameras
Gum, candy, mints
Lighters
Video cameras (including GoPros)
Recorders (audio or video, including GoPros)
Illegal substances
Drug paraphernalia
Packs of cigarettes – unopened or opened
E-cigarettes
Non-prescription medications – Aspirin/Tylenol/ibuprofen will be available inside the venue
Laser pointers
LED Gloves or microlights
Glow sticks
Hydration pack – Camelbaks
Bags of any kind that are not clear and larger than 12″ x 6″ x 12″
Massagers – including massage gloves
Animals – except service animals
Firearms, knives or weapons (any sharp objects)
Pepper Spray – Mace
Aftershave
Liquid makeup
Unsealed tampons and maxi pads
Unsealed chapstick and lipgloss
Pacifiers or dust masks
Masks w/ mentholated products
Markers, pens or spray paint
Stuffed animals including plush backpacks or dolls
Large chains or spiked jewelry
Stickers, flyers, banners or posters
Balloons, balls or frisbees
Coolers
Lawn chairs
Oversized umbrellas
Collapsible camera telescoping extenders – lightweight/hollow aluminum/polycarbonate, selfie sticks
Masks that obscure the nose and mouth are NOT allowed. (Headgear and bandanas will be allowed as long as they don't obscure the nose and mouth.)
---
Follow FreakNight Festival on Social Media:
Website | Facebook | Facebook Event Page
Follow USC Events on Social Media: