Air + Style LA has announced the first artists who will be taking the stage in 2018!
---
This year's festival season isn't over yet and we are already getting a glimpse into what 2018 has in store for us. Air + Style LA will return to Downtown Los Angeles' Expo Park on March 3-4, 2018 to host a big air competition, skating, food, art, music, and more!
The first phase of their musical lineup for 2018 has been released and it includes Phoenix, Zedd, GRiZ, and Phantogram.  Not too shabby for a phase one announcement!
Last year's headliners were both electronic so we're glad to see that they changed things up this year with Phoenix and Phantogram. We cannot wait to see who else joins the lineup once more info is released.
Watch the Air + Style LA 2018 Announcement Video on Facebook:
Two-day General Admission passes will be $99 before fees and VIP passes will be $129 before fees. Check the Air + Style Website for more details!
Previous attendees of Air + Style LA will have access to a special loyalty pre-sale starting tomorrow, November 2, at 10 AM. Check the e-mail you purchased the previous tickets with for more information.
If you haven't been to an Air + Style we highly recommend you make the effort to go. It is unlike any other event with the inclusion of snow and skate, and the 16-story ramp is insane.
Check out our review of last year's edition for a taste of what is in store!
Air + Style LA 2018 Phase One Lineup: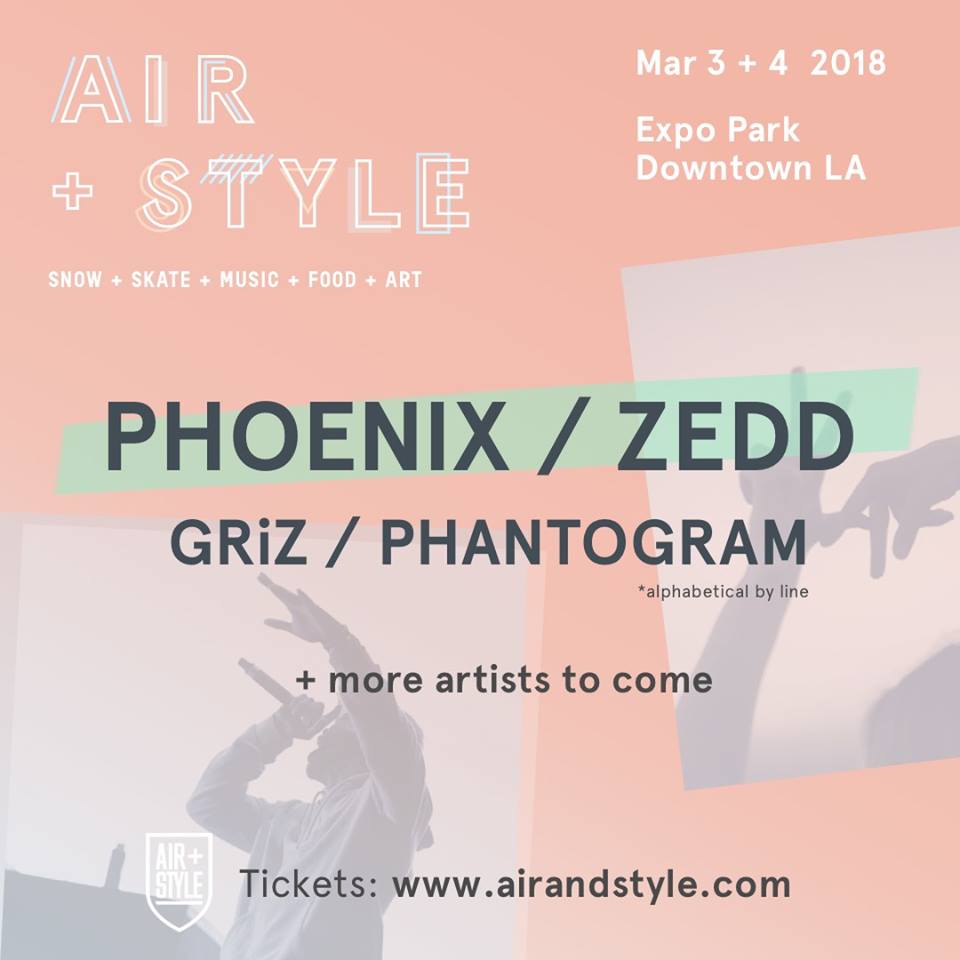 ---
About Air + Style:
Shaun White's Air + Style originated 21 years ago in Innsbruck, Austria as a snowboarding competition and has since grown to Beijing and now Los Angeles which will also include a skiing competition.
Shaun White became the majority owner in 2014 and is building out a global event series that merges snowboarding and a music festival to create a totally new and unique festival experience.
---
Connect with Air + Style on Social Media: