FuntCase Talks Lost Lands, Dubplate Culture, & Recent Compilation DPMO Vol. 1!
---
UK dubstep icon FuntCase has been featured on festival lineups around the globe and is known for his massive contributions to the scene. Originally a drum & bass artist, he signed with the legendary label Circus Records back in 2010 and has released countless tunes that have become classics since. Donning his signature mask over the years, he has blown away crowds with heavy sets both solo and b2b with friend and fellow dubstep producer Cookie Monsta.
Recently, he chatted with us just before his spine-shattering set at Lost Lands Music Festival, certainly one of his most notable to date. He had plenty of thoughts to share about his views on dubplate culture, bass music and its underlying values, as well as his upcoming releases!
Stream DPMO Vol.1 on SoundCloud:
---
Welcome to Ohio! Are you excited to be playing Lost Lands? Have you had a chance to check out the festival grounds yet?
I haven't actually, no. But coming in, I see a 120-foot Brontosaurus and I'm like 'Whoa! That's a thing!' And, 'All right, there's a volcano there. This a thing…' And there are random, like, animated dinosaurs everywhere! And there's a secret room in a trailer over there. There's a sign on the door that says 'Don't open, or the dino will bite you', and there's like a dino in there holding a fire extinguisher. Details, man, details.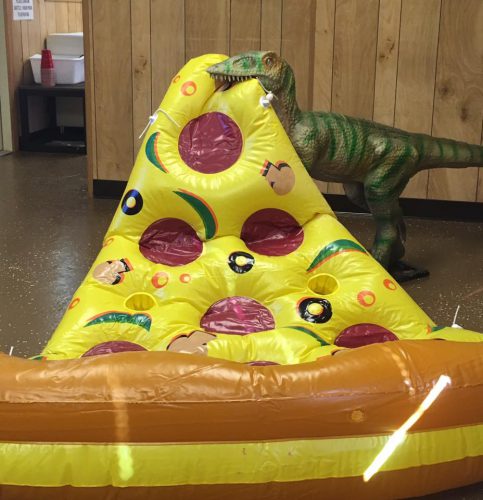 You recently released a compilation DPMO Vol 1, which features quite a few notable tunes. What was your discovery process like in putting all that together?
There's a lot of those tracks on that compilation that I've had for quite a while, but just weren't getting signed. They were just all bangers that were going off in my sets. So I already said to them 'I'm doing a compilation, do you want to come on my thing?' Yeah, trying to find more after that was kind of a struggle. But it's always a struggle when you're trying to do the first one 'cause you've gotta convince people that it's a good thing to be involved in.
Now that the first one has come out, people are coming from everywhere in my email, like 'Dude, your compilation, I wanna be on the next one!' So yeah…
So will there be several more volumes coming out?
Oh yeah. DMPO series is already signed. We're probably at like number 5 or 6, there's number 3 already. So we're ahead of the game right now.
Earlier this year you dropped "4 Barz of Fury" with Merky Ace. Did you have Merky in mind when you created the beat? What was the process like for that tune?
Mmm, I don't know if I had him specifically in mind. But I knew I wanted to have a grime element with a trap intro I made. Generally, trap appeals to the Americans, but I wanted to let my UK vibe on it. I've been talking to Merky for years, and we always talk about working on a track. So I went 'I've got this track, will you do something on it…' And, it just happened. He did a good job on it!
Some of the newer members of the scene don't understand the importance of the dubplate culture. Can you share why that's important to you specifically?
Yeah, I've been talking about this a lot on Twitter recently. Problem is that you get one artist, Snails, for instance, this doesn't happen, but say Snails makes a track and he sends it out to everyone. Everyone is playin' it! And it doesn't make it special. Okay, it's a good thing everyone is playing it because you get served. But there's no dubplate culture in that and it's not exciting, because you go, 'oh it's that one track, okay'.
Let's say Phiso for instance, I gave him the parts for "50 Caliber". He made a remix, and I play it live and that's it, only me and him have it. And that's like if you wanna hear that shit, you come to me. And that's what dubplate culture is about. It's exciting. New shit that no one's got. It's just the exclusivity of it. You can't go and hear it anywhere else. If you love "50 Caliber" and you want to hear it, you literally have to come to one of my shows. Not even Cookie has it, and he has most of my shit.
And that's how it should be. You don't have to release everything. It's always good to have tracks in a set that no one else has. Because it makes your set stand out.
The scene's gone through many changes over the years, good and bad. Is there anything from a different era of the scene that you'd like to see make a resurgence?
Well, dubplate culture, I guess. Not really. I think dubstep's going in the right direction.
I'd seen a graph recently comparing the popularity of dubstep and trap…
Maybe like two years ago… Think about how many trap artists there are now. Carnage is doing riddim. Flosstradamus is split up. Those are the two front-runners of trap. Can you name any others?
Um, right now, in the mainstream? Not really.
That's the point! You can name a million front-runners in dubstep, but you can't name any in trap. That's because trap is dying, and they're going to do whatever else they need to be doing. So…
*whisper* I'm kind of okay with that…
Samesies. Trap is good for many now, but not good for all of us.
I agree it's just kinda flat to me. I'd always called it diet dubstep because there are obvious parallels, but it's just not as engaging.
It's quite hollow. I don't feel any kind of soul put into trap. I just feel like they're trying to be, ya know, gangsta. Or trying to just make a party. It's just done over and over again. Like moombahton, we all though moombahton was going to be big. Everyone was playing moombahton in 2012, 2011. I thought it was gonna be the next biggest thing and then it just died.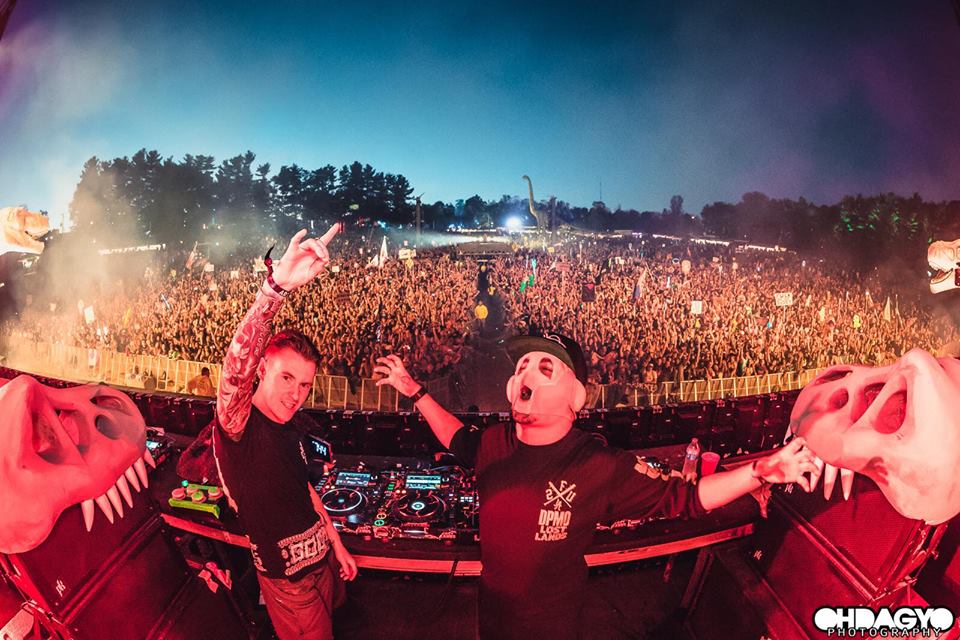 I've seen you a number of times and each set is totally wild. What's the secret behind the energy in it?
It's just what music makes you feel. Everyone thinks I'm on drugs. I've never touched a drug in my life. Literally never, not once. I've never even tried a cigarette. And I rarely, rarely drink. Like it has to be weddings or birthdays. Otherwise, if I'm at a show I'm completely sober, energized, ready for my set. I play the best set I can. 'Cause I care more about my career than having a party and getting drunk.
Do you have any pre-show rituals to get into the right mindset before you go on?
Yeah, I mean FuntCase is not me. I'm a very chilled out and sometimes bubbly dude, but FuntCase is very aggressive and fuckin' throwing punches and stuff. So I just put on the mask and zone out.
So does the mask help you channel that character?
The mask is basically FuntCase. It's like an actor, for instance, you get into the zone and then have to sort of put yourself in it. It rewires my brain and changes me up.
You've played many shows around the world. Have you noticed differences in the bass communities in different regions?
Yeah, everyone's going to parties for different reasons. A lot of people go for the music in certain countries, and then you'll go to other countries and it's just a huge drug culture. That's pretty much what I notice. And the size of the shows, there's not really too much of a difference.
As a trusted tastemaker in the scene, who are some of the artists that we should be tuning into that you've personally fallen in love with?
Moody Good. Moody Good, at the moment, is the guy I wish I was. I fuckin' love Moody Good. His remix of "Get Deaded" by Noisia is like my favorite track in the last however many years. I absolutely love that track.
And there are loads of underground guys coming out that I'm a big fan of. Like Wooli, who was just here. Just got sent a load of Svdden Death stuff, and it's fucking insane! I went nuts when I played one of his new bits today. And I played it for the first time yesterday. Lost my mind. So yeah, there are a few artists who are really killin' it right now. Phiso is still doing crazy shit.
You're stuck on a desert island and can only bring three things. What are they?
Uh, is there any power points? Can I bring electronics?
Sure! There's one charging station, how about that?
Okay, I'll bring my Playstation, 'cause I'm a gamer. Uh, a TV I guess to play the PlayStation. And Vitamin Water! 
Any particular flavor?
Dragonfruit. It's on my rider actually and it's not here. Bastards!
Finally, what's one thing on your bucket list you want to do before you die?
Buy a house. Everyone's got an agenda with music, I want like a legacy in dubstep and I want to buy a house. That's literally it. I don't have any huge aspirations, like being rich or anything. I just want to have my own property.
Well, that's it. Thank you so much for your time and chatting with us!
---
Connect with FuntCase on Social Media:
Facebook | Twitter | SoundCloud | YouTube