Snails releases the tracklist, release date, and new Waka Flocka collaboration from his upcoming album, The Shell
---
Different artists choose to promote their upcoming albums in different ways. Some choose to go the more traditional route. However, it's always fun seeing what crafty ways other artists choose to unveil their tracklist and release date. The king of vomitstep, Snails, used the crafty route for his debut album, The Shell releasing October 20.
Snails took to Facebook and posted a photo of the tracklist with the release date, however, the words were incredibly encrypted. He also added the message "First one to decipher gets tickets to a Shell Tour date of their choice!" This created a frenzy as fans attempted to decipher the numerous squiggles of the 12 track album. After only an hour, the tracklist and release date were unveiled.
In addition, Snails has released the third single from his new album. It's his collaboration with hip-hop icon Waka Flocka Flame titled "WFSU". The track combines Snails' signature growling bass with Waka's infectious vocals. Previous single "Only Want U," pairs vocals from Akylla as it builds into a nasty drop. It's a track that melds both producers styles together seamlessly. Overall, from the three tracks that have been released, we can't be more excited for this upcoming album!
Stream Snails & Waka Flocka Flame – "WFSU" on SoundCloud:
Check out the full tracklist below and then preorder The Shell on iTunes. Snails' upcoming tour starts next month, so be sure to catch him by picking up your tickets as well.
---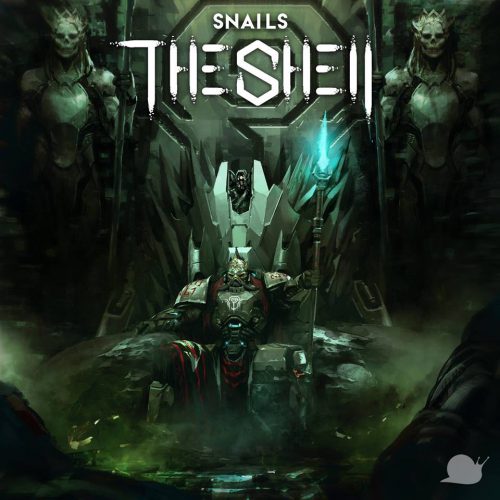 The Shell Tracklist
SNAILS – "The Shell (Intro)"
SNAILS – "Smack Up (feat. Foreign Beggars)"
SNAILS & Big Gigantic – "Feel The Vibe (feat. Collie Buddz)"
SNAILS – "Into The Light (feat. Sarah Hudson)"
SNAILS & Waka Flocka Flame – "WFSU"
SNAILS & Hytyd – "To The Grave (feat. MAX)"
SNAILS & NGHTMRE – "Only Want U (feat. Akylla)"
SNAILS – "The Rise (Interlude) (Feat. Varien)"
SNAILS – "The Anthem (feat. Liam Cormier & Travis Richter)"
SNAILS – "Russian Roulette (feat. Panther)"
SNAILS & Dion Timmer – "Forever (feat. KLP)"
SNAILS – "King Is Back (feat. Big Ali) (SNAILS & Sullivan King Metal Remix)"
---
The Shell Tour – Slugz City Edition Dates
11/16 – Vancouver, Bc – Venue
11/17 – Seattle, Wa – Tacoma Dome
11/18 – Missoula, Mt – Wilma
11/22 – San Francisco, Ca – Armory
11/24 – Los Angeles – Palladium
11/25 – Orange County – Observatory
11/26 – Las Vegas – The Joint
11/28 – Albuquerque, Nm – Sunshine Theater
11/29 – El Paso, Tx – Tricky Falls
11/30 – Houston, Tx – Stereo Live
12/1 – Austin, Tx – Emos
12/2 – Dallas, Tx – South Side
12/3 – Fayetteville, Ar – George's
12/5 – Memphis, Tn – New Daisy Theater
12/6/ – Urbana, Il – Canopy Club
12/7 – St Louis, Mo – Pageant
12/8 – Minneapolis, Mn  – Skyway
12/9 – Detroit, Mi – Royal Oak
12/10 – Grand Rapids, Mi – Intersection
12/15 – Philadelphia, Pa – Fillmore
12/16 – New York City, Ny – Terminal 5
12/17 – Richmond, Va – The National
12/18 – Baltimore, Md – Rams Head
12/20 – Norfolk, Va – Norva
12/21 – Nashville, Tn – Global Events Center
12/22 – Charlotte, Nc – Fillmore
12/23 – Atlanta, Ga – Tabernacle
12/26 – Albany, Na – Upstate Concert Hall
12/27 – Worcester, Ma – The Palladium
12/28 – Montreal, Qc – Metropolis
12/29 – Toronto, On – Danforth
12/30 – Chicago, Il – Aragon
---
Follow Snails on Social Media:
Website | Facebook | Twitter | SoundCloud