When people ask, "how was Life Is Beautiful?" The answer is simply: beautiful
---
On the first day we arrived just after gates had opened. The lines weren't long and moving pretty quickly. The standard security search and metal detectors took less than 5 minutes to get past. As we entered the venue we immediately noticed some similarities and some pretty big differences from last year. The stationary preying mantis that spit fire was still there as well as the heart sculpture covered in locks. The giant Life is Beautiful letters had been moved to the other side of the event and instead of being LED back-lit they were covered in silver shimmering fringe.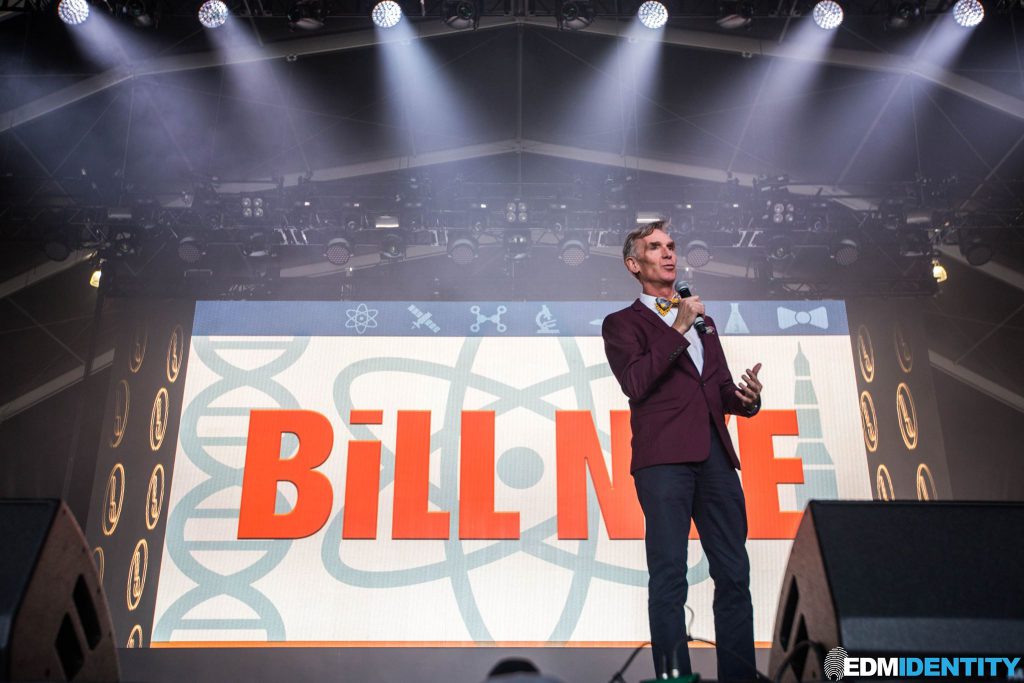 It was nice being surrounded by people who believed in the science of Bill Nye
The Chipotle presence was a new addition at Life Is Beautiful. The line was already forming and they had brought their own giant letters reading that "Life is Burritoful." We thought it was cute but were trying to make it over to Freemont stage to see Bill Nye. I was surprised to see how many people were already inside the venue, it was early but already pretty full. It wasn't hard to weave into the crowd and Billy Nye began by welcoming us to the event. He spoke about how we are the people that can change the world through voting and insisting on science. "You cannot argue with climate change, it's not a debate," he said. The crowd cheered him on and he was even able to get a not-so subtle plug in about his Netflix show.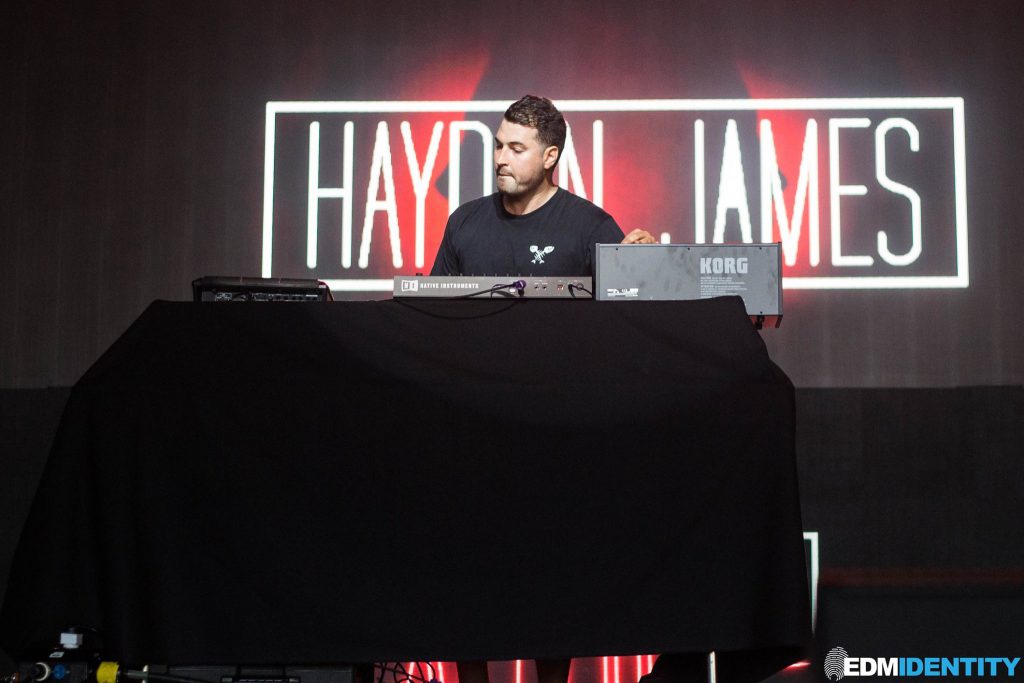 Sometimes the artists you haven't heard of will surprise you the most
We ventured out to get water. The water stations weren't elaborate, they were faucets from a type of trough. There was one in every section of the festival and we never really had a line to fight through. Having weather in the 80's definitely helped. We headed back to the Freemont stage to see Superpoze and Viceroy. Both sets surprised us but in different ways. The french DJ Superpoze, looked super young and live mixed an impressive amount of house songs. While we are pretty sure Viceroy didn't play a single original song, it was his first time playing at a festival and the popular throwbacks he played had us all dancing so there were no complaints. Hayden James followed them and his set was incredible. He's an impressive musician and vocalist – his set was nothing short of beautiful.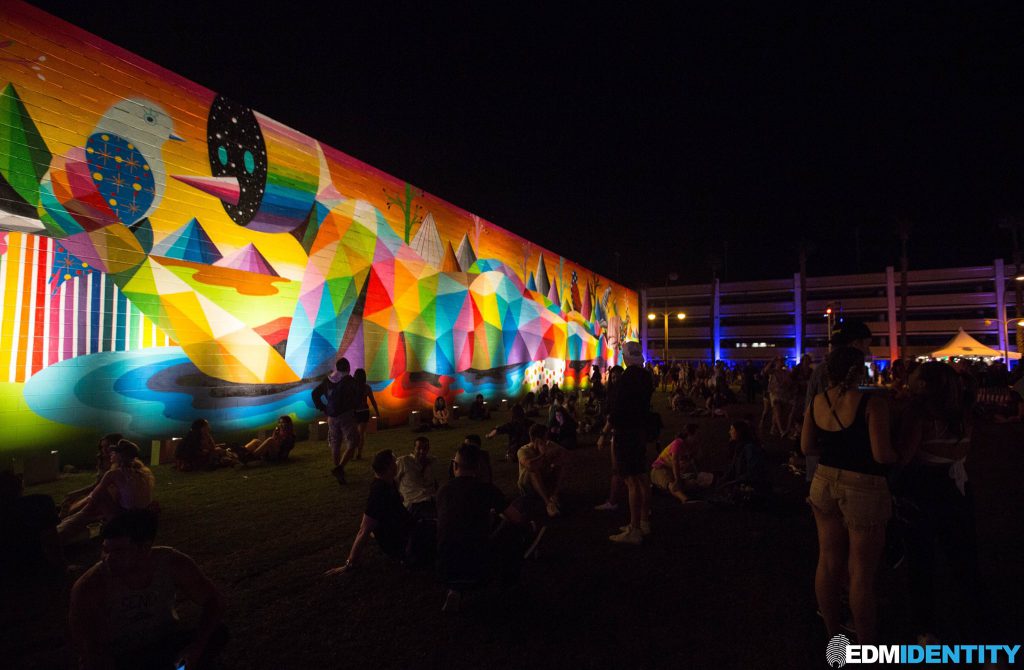 Being able to walk into a beer garden and then walk out with your drink is priceless
There was a small break in sets we needed to see so we took the time to wander. We found the Kalliope Art Car that on the first day was being sponsored by Emo Nites LA. The throw back to our punk rock days had captured us. We took some time to jump around while various attendees took their turns attempting to hoop. There were hoops of every color and size just laying on the concrete for people to try. Later in the night we would see someone at the main stage walking around with one, we hoped they didn't take it home. As we continued walking we came across a number of green spaces. These areas were basically beer gardens without the restrictions. Various food vendors complimented the variety of drinks and beer you could purchase.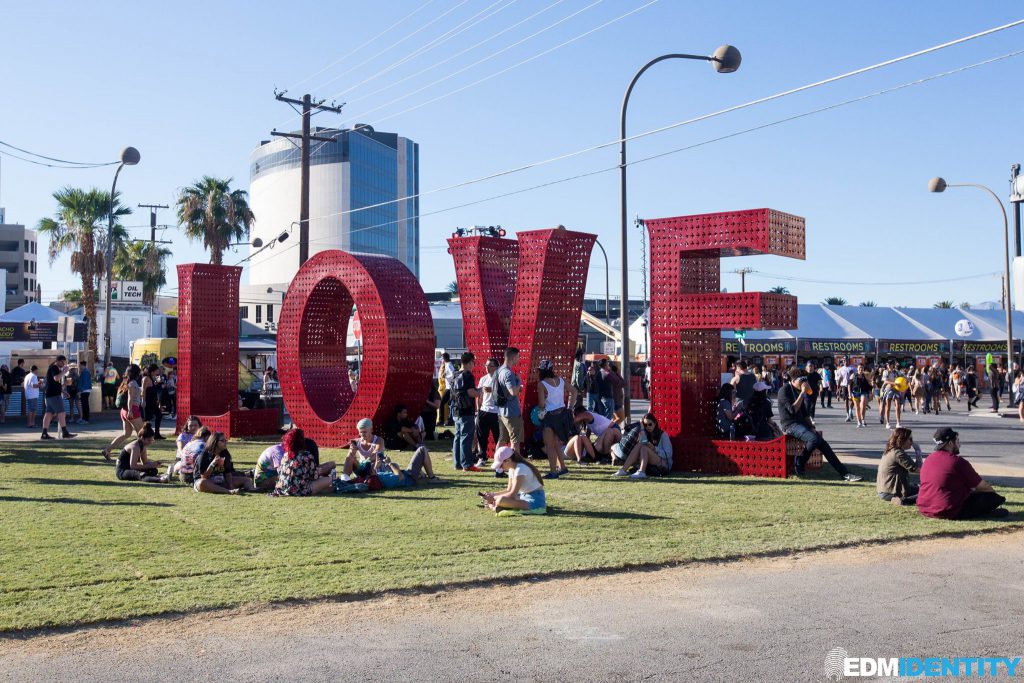 Day 1 of Life Is Beautiful set the tone for an amazing weekend
Continuing toward the Ambassador stage for Lorde we saw the LOVE letters from last year once again gracing the back of the Huntridge stage. Along the sides were a couple of food drunks and more bars. The last time I saw Lorde was at Coachella and even then I only saw her last two songs. Her set was incredible and her conversation with crowd reminded us all how young she was. Between songs she asked what there was to do in Vegas while under 21! On either side of the stages the VIP elevated VIP areas and at the back was another green space with food and bars. Off to the side was the quintessential Ferris Wheel. At the end of her set we headed over to catch a little bit of Blink-182! There was so much nostalgia during the set and everyone around us was belting out the words to our favorite songs. The new singer did struggle a bit to hit all those notes to the end but it wasn't worth holding against them. We finished out the night at Zeds Dead – which was both headbanging fun and beautiful as usual. Their last song ended with confetti hearts blasting into the tent and we knew it was a perfect first day.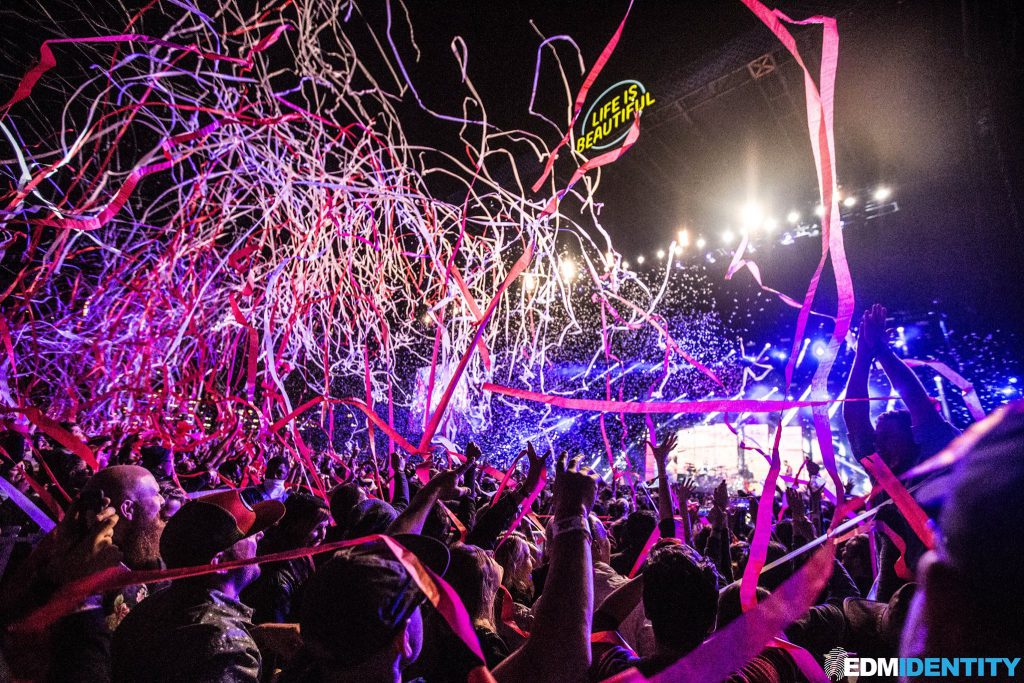 I'm not sure what I'm watching, but I just can't look away
The next day we were in the venue in time to catch the end of Whethan leading straight into Ekali. He completely blew the crowd away. All around us the energy was visible and I finally had a reason to bring out my fan with the heat the crowd was generating. We stayed for Clasixx before heading over for a front row spot at Cage the Elephant. As I reflect on Cage the Elephant's set there are so many words that come to mind. He's an amazing performer to be sure, and he started his set fully clothed. That being said it was like watching an lightning bolt hit the ground. Both stunning, beautiful and scary depending on how close you are. He rolled around on the floor, removed his clothing (save his underwear), jumped into the photo pit and grabbed security guards faces – albeit in the most loving way. Finally he began to close his set inside the pit and grabbed one of the audio engineers helmets, donned it himself and reached into crowd as if waiting for someone to pull him back. Probably one of the strangest sets I've ever scene but in its own way awe inspiring.
A solid trio of electronic music!
The next three sets were Tycho into Deorro, and wrapping up the night with Kaskade himself. We got to Freemont street toward the end of Tycho's set. It was wonderful but packed, we couldn't venture deeper than the entrance at the back. As their set ended we immediately made a break for the center. We weaved in and out until we were only a section back and as close to center as possible. Before Deorro started the entire area began to fill, we knew there was no escaping at this point. His set was full of the classics and contained so much bounce my legs were beginning to get tired.
I don't think you can leave a Kaskade set and not be happy
People began to sit down while we awaited Kaskade. We made small talk with the groups around us, many of them, this was there first time seeing him. I told them the hype was real – and it was. His set was energetic and flowed. He was interactive with the crowd and jumped onto the decks a couple of times. It felt like it was over entirely too quickly and before we knew it the lights were coming on for him to take a photo with us. He wished a good night and thanked us for being what makes life is beautiful what it is.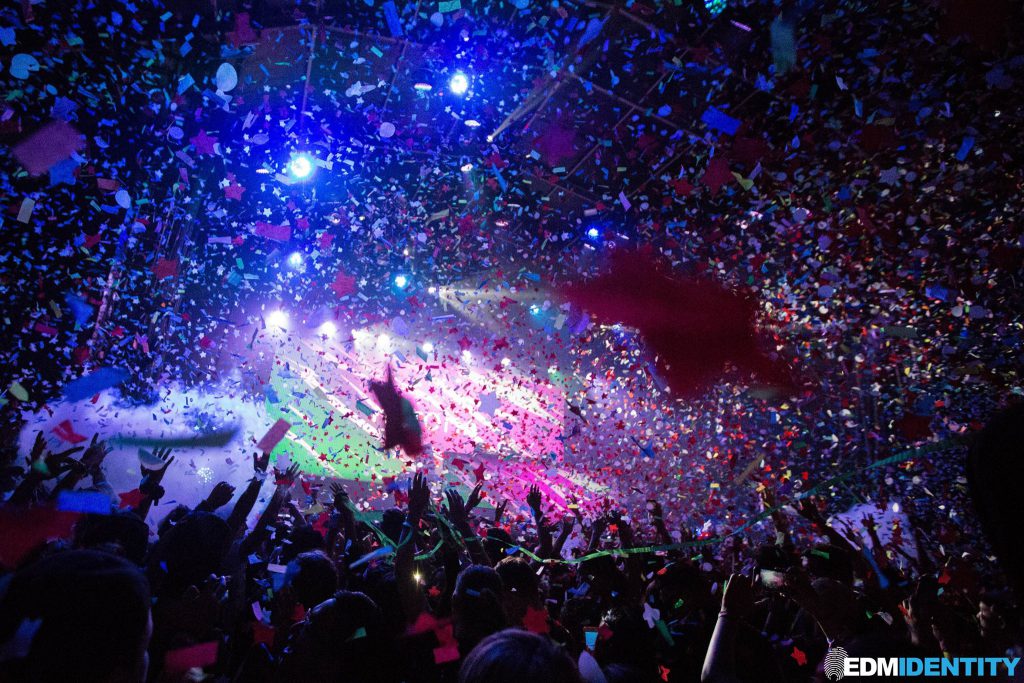 A huge surprise from the producers of Life Is Beautiful – it made me want to buy a ticket to Blue Man Group
As with most festivals, we seem to move a little slower on the last day. We got in not much after gates opened and i took the time to grab some food. I had spotted a dumpling place earlier in the weekend and didn't want to miss it. I had shitake-mushroom dumplings with fried tofu and it was delicious. Their hot sauce was the perfect complement and I devoured it before we even made it to the first stage. We were early but wanted to be close for the Cirque du Soleil show. As the show started we were surprised with a gift from the producers. The Blue Man Group made a special appearance (and I'm sure promotion for their show). I had never seen them live so it was quite the treat for them to play 10 minutes. As they closed streamers exploded from the stage and we were all primed for the next event.
New life goal: see EVERY Cirque du Soleil show in Vegas
The Cirque du Soleil show was a variety show like no other. They basically took scenes from each variety of cirque show on the strip and performed them live on the stage for us. Their moves were quick and astounding. I watched in disbelief imagining the amount of trust it took to allow some of the mechanics on stage. The coaches were even more impressive, knowing exactly when to intervene in case they didn't make a jump fully or needed extra momentum on a move. Cheers and random, "how?"s could be heard throughout the crowd. By the end I was convinced I needed to see every type of cirque show.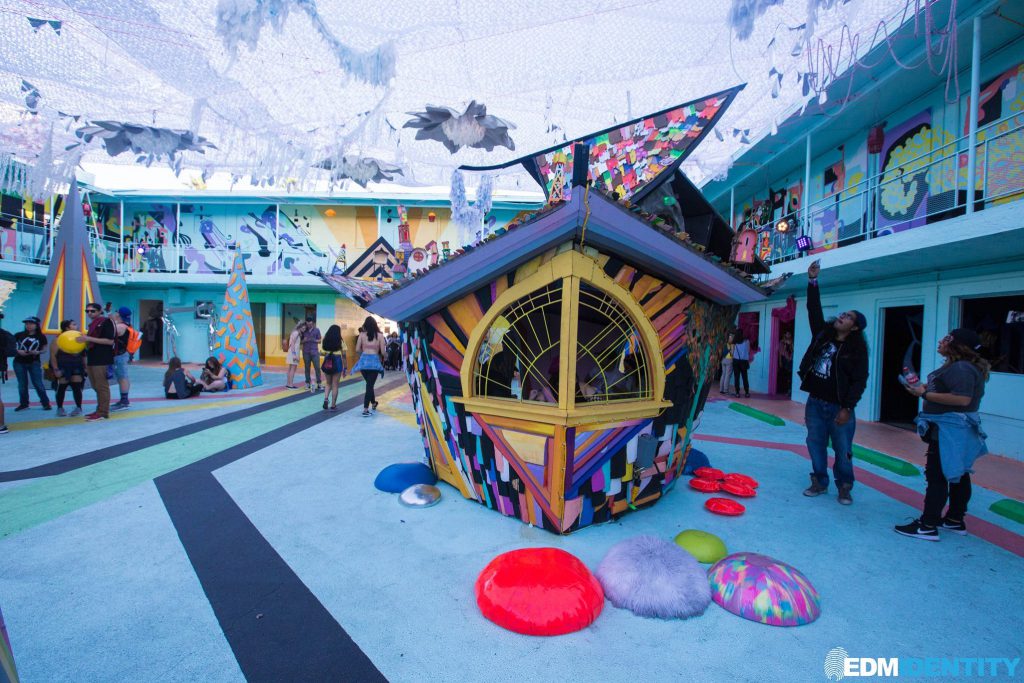 Art that is weird and fun is my favorite kind of art
The Art Hotel sponsored my Meow-Wolf was an area we didn't explore until the last day. It was a wild experience and we were glad we did it right after gates had opened. There was no line and we walked into the courtyard being faced with a wide array of colors. Streamers and stars hung were strung across the top of the area. Inside were various rooms of strange and wonderful themes. There was a room where people could stand on opposite sides and collaboratively control a marionette! Small candy looking structures surrounded some of the huts in the center of the courtyard and stepping on them revealed their bounciness. One of the huts contained a laser harp. "Wait, everyone stop touching it, it to see if we are actually making the sounds!" The girl had just entered the hut and everyone just froze. The room was dead silent and we all started laughing. She made a good point, the hut could have just been playing music. It was a nice realization to see that we were in fact we were playing a harp tone every time we interrupted a laser beam.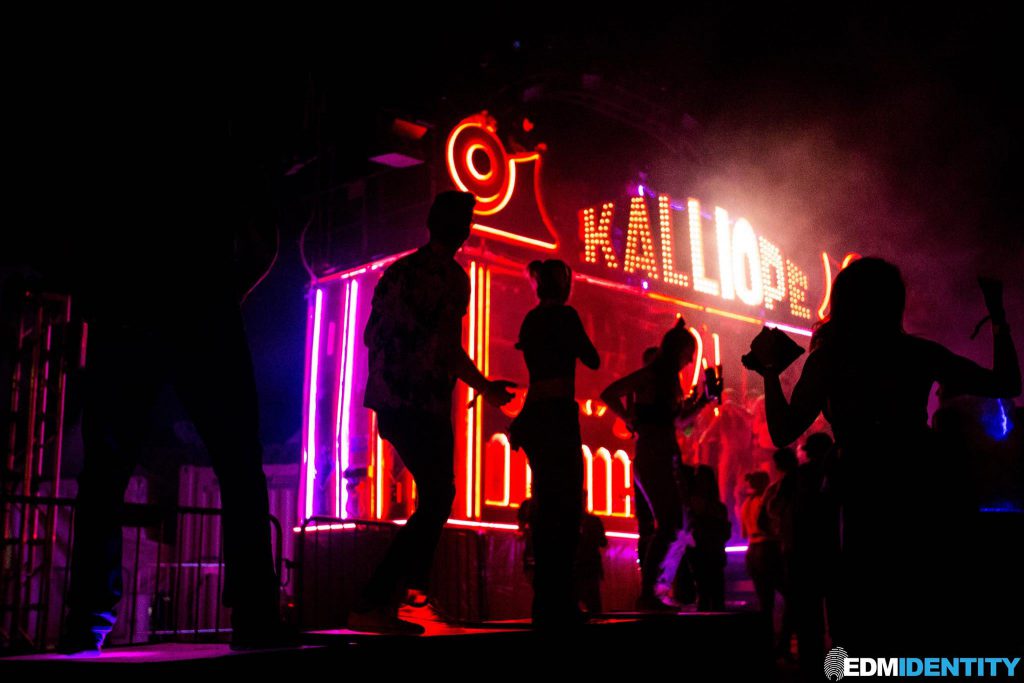 Interactive art also makes the greatest photo opportunities
As we exited the Art Hotel we arrived  at an area call the Mood Swings. These were bench swings decorated as a variety of butterflies and unicorns that made you smile from their shear presence. Around the corner a cell-shaded bear with a party hat and holding a smiley face ball was centered in yet another green space. We caught Tokimonsta whose integration with hip hop and live mixing was really amazing. We could already tell that Freemont stage was going to be packed today.
Everyone at a set, as a baseline, as something in common with you
We left for Zhu and made it about as far as we could which was parallel with the sound booth. As we waited for him to begin we heard some noise behind us. A girl making her way up was weaving in between people and had arrived just behind us. "There's a cage!?" We were standing behind a large sound cage and it would mean more pushing for her to go around it. "I give up, I guess I'm hanging out with you." I smiled, that was fine, strangers loving the same music can never be a bad thing. It worked out perfectly because we were both avid fans. Both recording what seemed like every other song for each other and crying at the songs that meant the most to us. We hugged at the end and I wished her luck in finding her friends as we headed to the next set.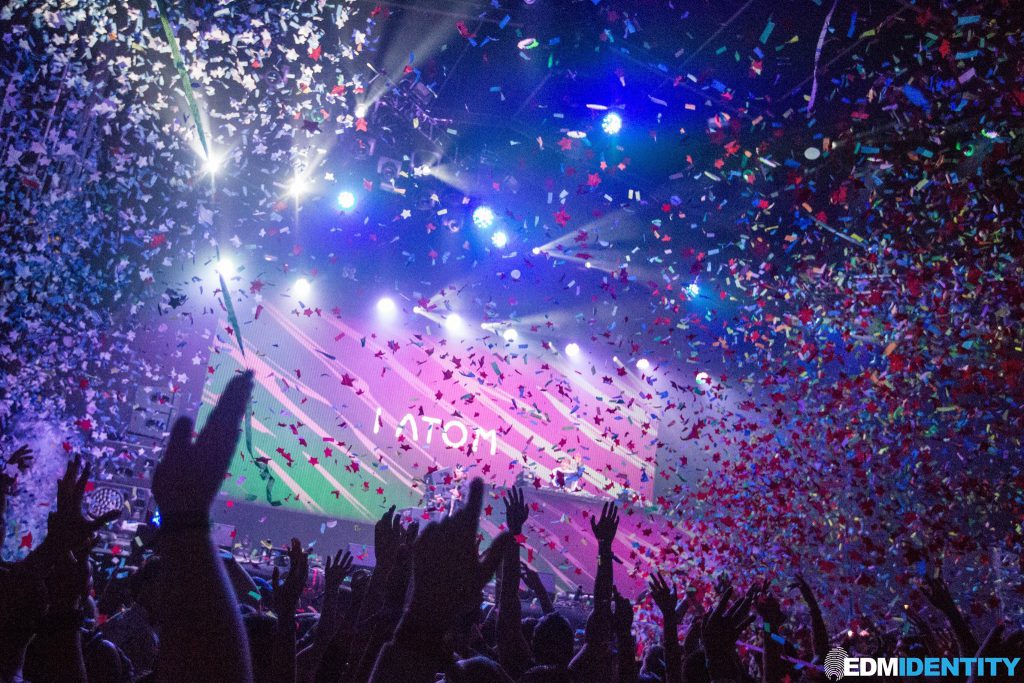 Those lasers are absolutely amazing
The Freemont stage was definitely full by this point, but I pushed my way in to meet up with a friend who needed to be 5 rows back for Pretty Lights. This was a set that highlighted the true production capabilities of both the artist and the venue. Giant lasers focused on either side of the stage shot into each other creating a grid of visible light that moved up and down and rotated into the crowd. Definitely a unique and beautiful laser show. I had intended to leave to see the Gorillaz but just never made it. By the end of the set, the rest of my friends reconvened and we were ready to be taken to church by Tchami.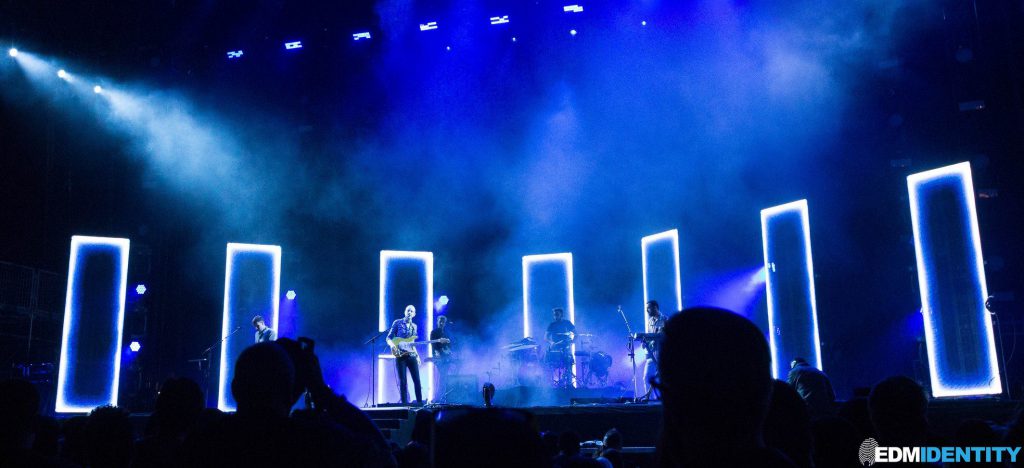 A festival that I will continue to love, I cannot wait to go to Life Is Beautiful next year!
His set started with the perfect overtures of a church. The house sounds and beats were very different than the live band feel we had just experienced and it was great. Tonight the show was ending a little earlier than the other nights and once again felt like it was over too quickly. We made our way slowly toward the exit, the preying mantis exploding flames as we passed by. My second year of Life Is Beautiful was complete and I couldn't believe it. They made changes that helped make the festival feel new and yet kept many of the key components that make it what it is. Life is Beautiful is the perfect example of a mixed arts festival. From the music to the production to the guests that attend, it was the perfect reminder that life truly is beautiful.
---
Connect with Life is Beautiful on Social Media: