Oliver Heldens takes over Chicago with Klingande and Drezo for Freaky Deaky 2017!
---
It's not too often we get to see a set from the revolutionary Oliver Heldens here in the Midwest, let alone at an event he is headlining. React Presents has made this possible at Freaky Deaky on October 27 at the renowned Aragon Ballroom in Chicago so you can get your Halloween groove on right!
I remember first seeing Oliver Heldens in the Sahara tent at Coachella 2015, where he created an environment of such happy vibes with his deep and sharp rhythms that blew the crowd away. It was during the first seconds of that set that I knew he had become one of my favorite DJ's. Since arriving on the scene he has created his own futuristic genre of music by incorporating deep house and funky beats that can be recognized at any time.
Oliver Heldens always ensures that his production and sets are unique and unforgettable, which is why you won't want to miss him at this year's edition of Freaky Deaky. If you thought it stopped there, you are in for a Halloween treat because this show will also include special guests Klingande and Drezo. Drezo is known for his captivating sets with infectious deep and trap beats, while Klingande is known for a more tropical house style. On October 27, these artists will become a team that will have you engaged in a magical trance, unlike any other show.
If there is one Freaky Deaky set to pick this year, it's Oliver Heldens, so don't act like a ghoul this Halloween, get your tickets HERE before it's too late.
Check out Oliver Heldens' set from Tomorrowland 2017:
---
Freaky Deaky 2017: Oliver Heldens, Klingande, Drezo @ Aragon Ballroom – Essential Info:
Date: October 27, 2017
Ages: 18+
Hours: Doors open at 8:00 pm
Venue Address: Aragon Ballroom: 1106 West Lawrence Avenue, Chicago, IL 60640
Tickets: HERE
Facebook Event Page: HERE
---
Freaky Deaky: Oliver Heldens, Klingande, and Drezo – Lineup Flyer: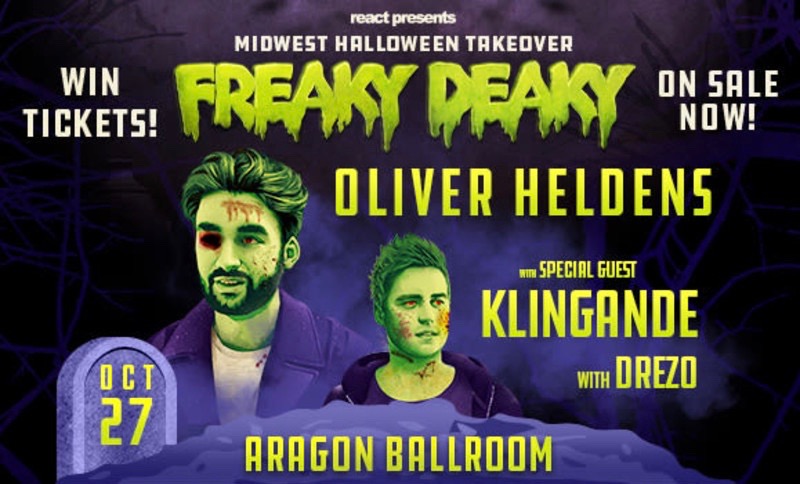 ---
About Freaky Deaky:
The legendary Freaky Deaky Fest returns again for the 9th year, and it's bigger and spookier than ever. Forget scrambling last minute trying to find a way to make it to one location, because Freaky Deaky's expansion has reached not only Chicago but Michigan and Wisconsin, too. This year's event features incredible artists like Dillon Francis, Oliver Heldens, and CASH CASH, plus many more treats… this is not a trick!
---
Follow Freaky Deaky on Social Media: