Dirtybird Campout 2017 Set Times, Festival Map, & More!
---
We are less than two weeks away from the third annual Dirtybird Campout! Taking place at a new venue, Dirtybird and DoLab are combining forces once again to provide you with three full days of programming to keep you busy. Featuring all your favorite artists as well as a number of games and activities that you're able to get involved in, so when you're not hitting the dance floor or taking part in the first-ever Tour de Dance bike race there will be plenty to do!
By the looks of the set times and activities lineup below, there is definitely no shortage of things to do. So get ready for some serious summer camp vibes and start planning your upcoming weekend!
For those of you in San Francisco Bay Area, Dirtybird is hosting a BYO Patch Pre-Party this Saturday, September 30 at The Blarney Stone. So if you need a little help with your camp outfit swing by between 12pm-6pm. They'll have a seamstress on deck as well as constant music bumping, for more info visit the Facebook Event Page.
If you're not convinced that Dirtybird Campout is for you, check out our post on 5 Reasons Why Dirtybird Campout is Egg-cellent!
---
Dirtybird Campout 2017 Essential Info:
Dates: October 6 – 8, 2017 (Early Arrival starts on October 5)
Venue Address: Lake San Antonio – SOUTH SHORE – 74255 San Antonio Road, Bradley, CA 93426
Ages: Strictly 21+
Tickets: HERE
Facebook Event Page: HERE
Gate Times:
Thursday (Early Arrival) – 2pm – 11pm
Friday – 10am – midnight
Saturday – 10am – 10pm
Sunday – 11am – 6pm
Please Note: Gates do not stay open all night! Please plan to arrive within posted gate times or you will have to wait until gates open the following day.
Need to Know Info – New Venue Changes
Bring Water: Come prepared with your own water! About 1.5 gallons per day, per person is a good rule of thumb to follow. Also be sure to bring any water you need for cooking or washing! Please do not bring single-use plastic water bottles!
Vehicles at Campout: Every vehicle coming to Dirtybird Campout (except bicycles and motorcycles) must purchase a Vehicle Pass to enter the festival.

Vehicle Pass = Car Camping – Vehicle passes will allow you camp with your vehicle inside the campgrounds.

No Parking – There is no parking available onsite or around the venue.
More RV Camping– Our new venue now offers RV campsites with electric and water hookups! RV Passes ALWAYS sell out FIRST – Don't delay!
2 Types of RV Passes – Our RV Passes are broken down into two different categories this year – Short and long!

RV Camping Pass with Hookups – Short (less than 27′)
RV Camping Pass with Hookups – Long (more than 27′)

Still 21+ – Sorry kids, no one under 21 is allowed to attend Dirtybird Campout.
---
Dirtybird Campout 2017 Set Times: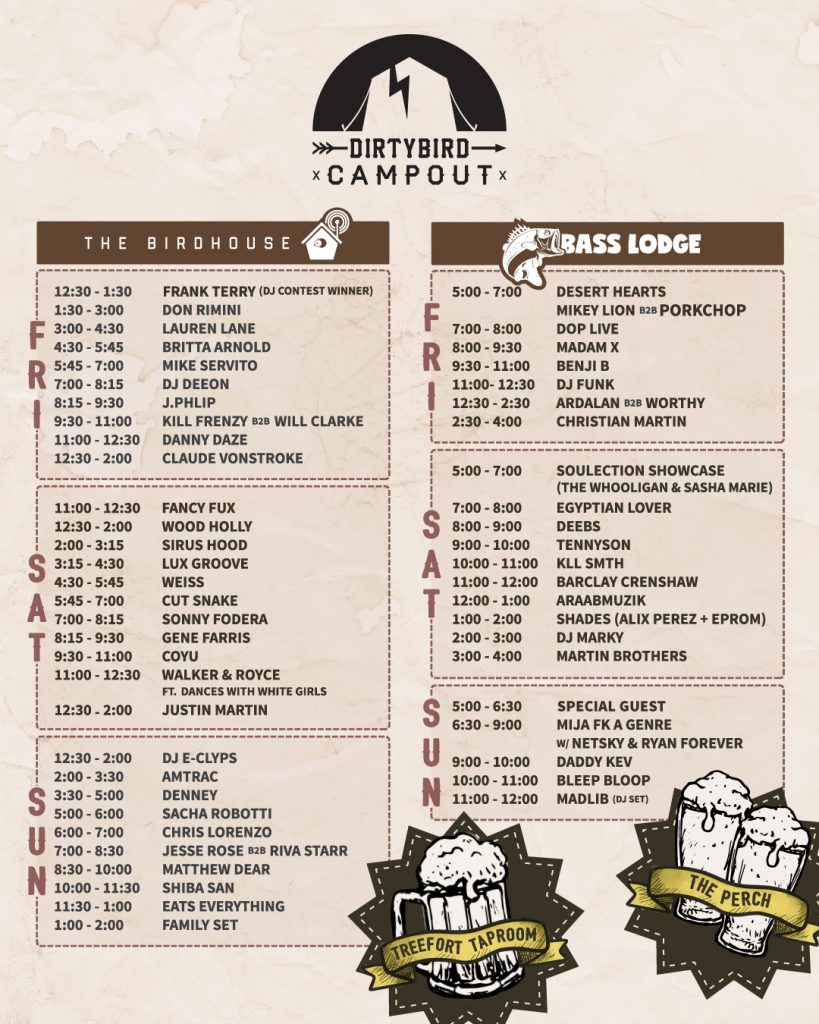 ---
Dirtybird Campout 2017 Games & Activities Schedule: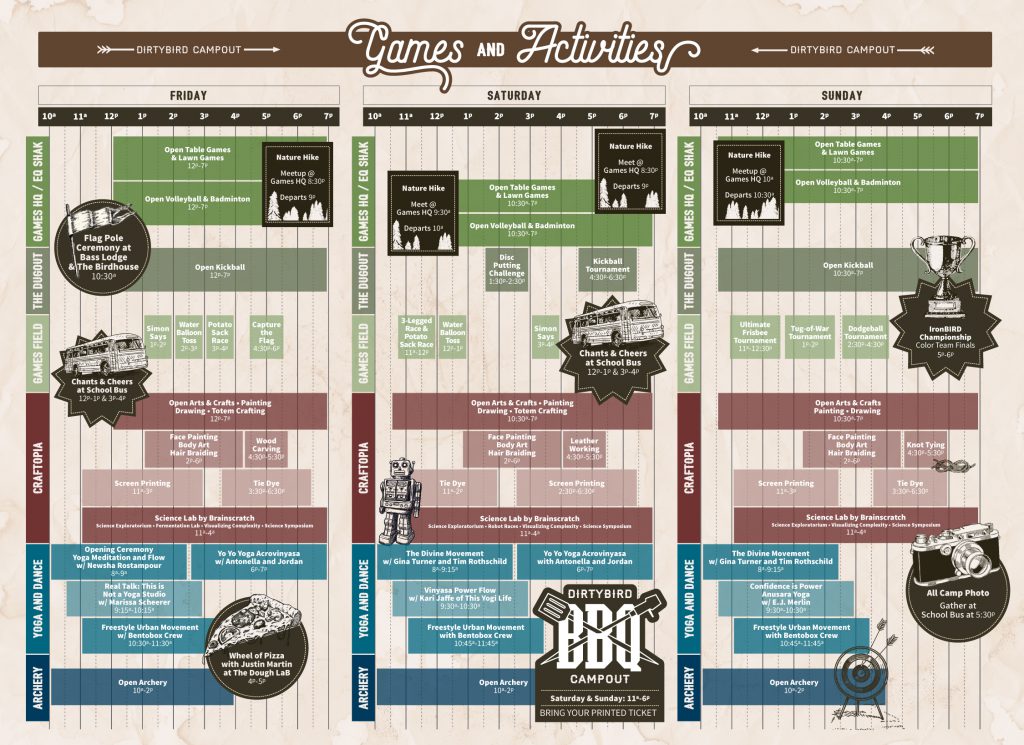 ---
Dirtybird Campout 2017 – The Bunkhouse Schedule: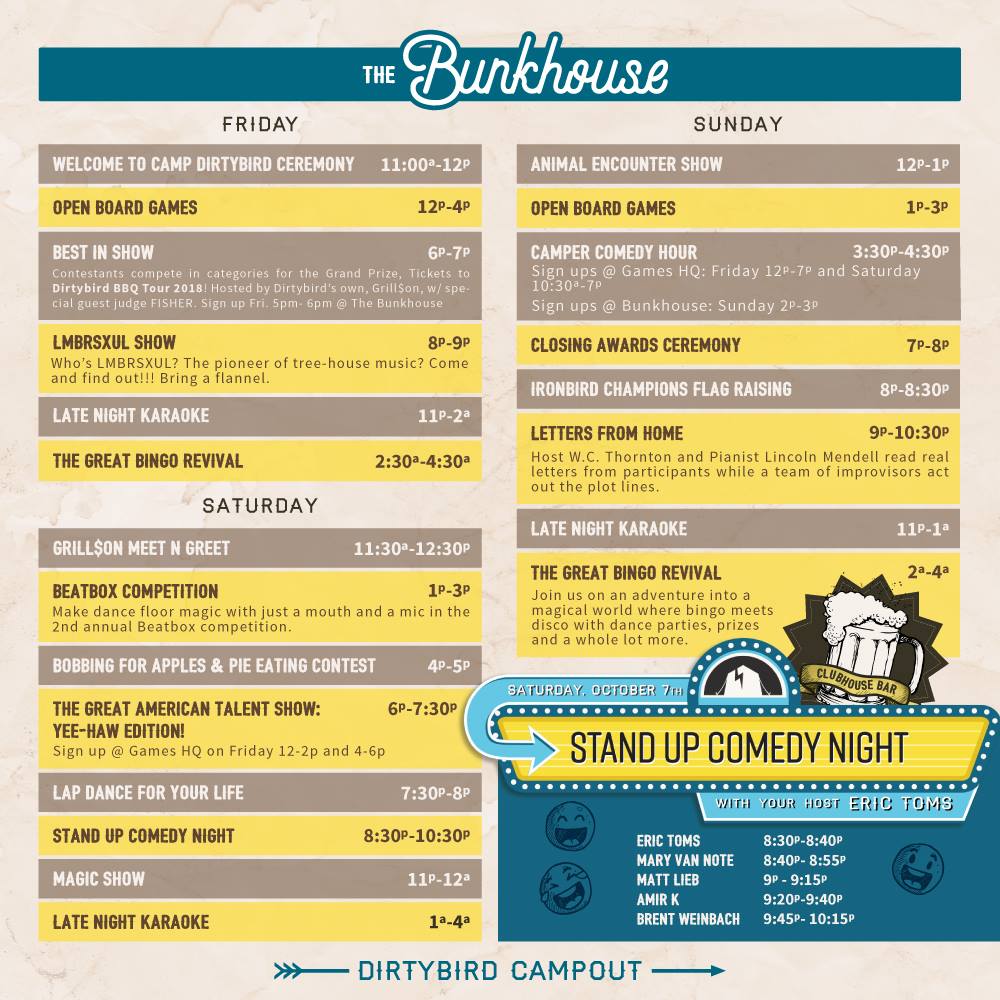 ---
Dirtybird Campout 2017 Festival & Camping Maps: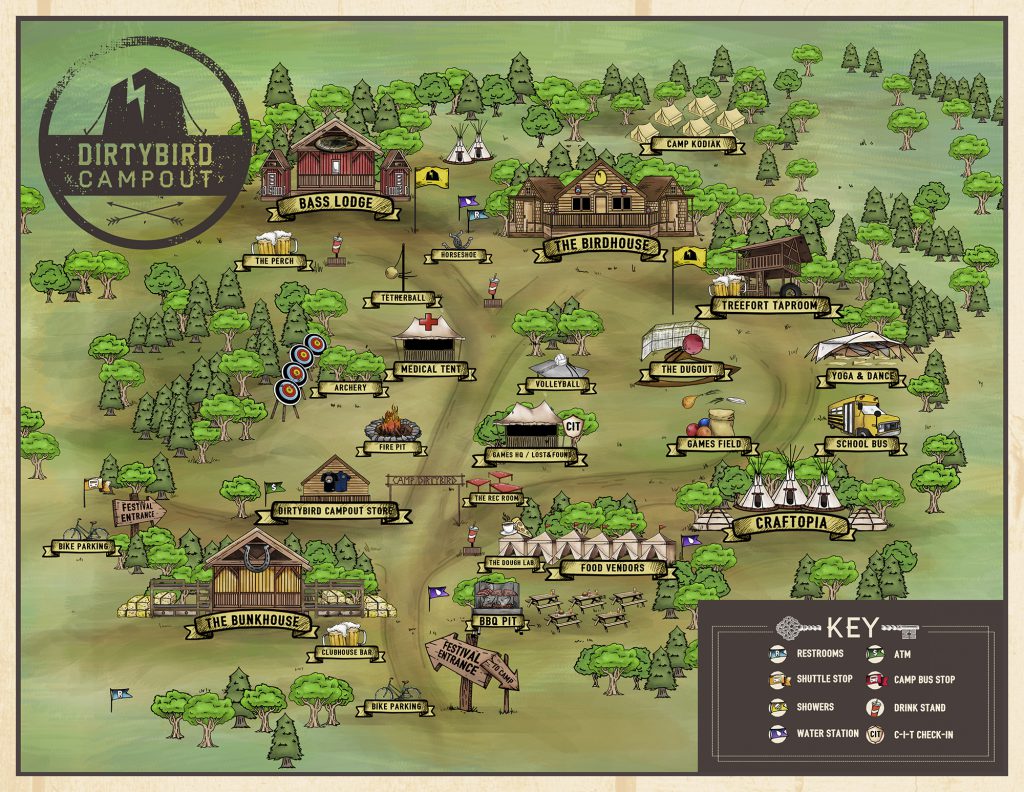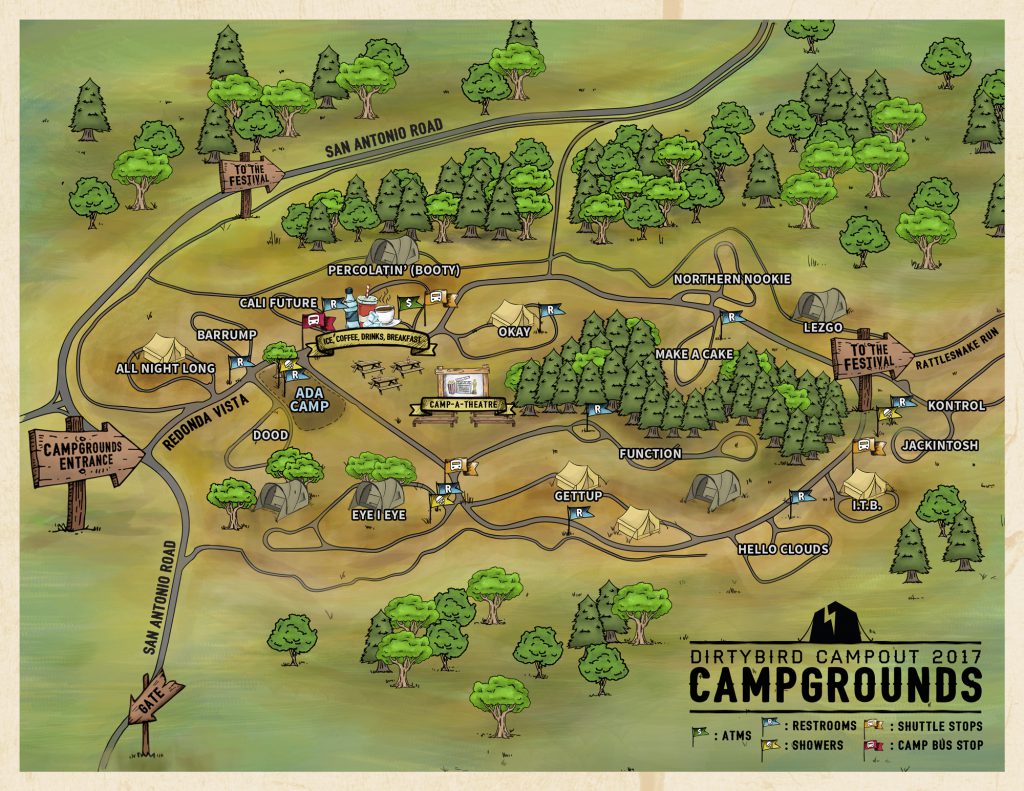 ---
Reminder To Mind Your Belongings!
Unfortunately, many people have reported pickpockets, bag slashings, and theft of wallets, smartphones, purses and other valuables during this festival season. While this small number of bad apples in the bunch doesn't define an entire crowd, there are opportunistic people who come to these events to take advantage of unsuspecting partygoers and it's important to be mindful of your valuables while at Dirtybird Campout.
Pay attention to who's around you and what's going on around you. Keep your wallet and phone in your front pocket(s) if you can. Treat your phone the same way you would treat cash; don't set it down on a table or bar and look away. If a friend isn't standing behind you in a crowd, be careful of your backpack or purse, and don't put valuables in a pocket that could easily be unzipped by someone behind in a crowded spot without you realizing.
Festivals, in general, are very densely populated places and are a well-known place where pick-pocketing of unsuspecting people occurs. It's easy to find yourself in a crowded environment in a line, at a stage in the festival, elevator, or even out on the street where someone could slip your wallet or phone out of your pocket or bag in a matter of seconds. Stay alert, be careful, and make sure to not carry more than what you need!
---
Dirtybird Campout 2017 Do's & Don'ts:
Permitted Items
YES Good vibes
YES Backpacks
YES Cameras
YES Alcohol – A reasonable amount for personal consumption
YES Coolers in campgrounds
YES Following our simple rules to make this a better place
YES small, enclosed propane stoves
Prohibited Items
NO amplified sound
NO fires or open flame of any sort
NO glass containers of any kind
NO illegal substances
NO weapons – at all! (including machetes for opening coconuts – no weapons at all)
NO fireworks, fire tools or fire lanterns
NO pets (pre-approved medical service animals only)
NO blocking space with cars. You will be asked to move
NO parking in fire lanes or outside designated areas
---
Additional Dirtybird Campout Info:
Trash In Campgrounds
Dirtybird Campout is a "Leave it Better, Leave it Beautiful" event. Do your part by taking all your trash with you when you leave and help familiarize your neighbors with our waste policy so that they do the same. Check the Getting Here Guide for details!
Cooking, Grilling & Campfires
Open flame and charcoal grills are not allowed at Dirtybird Campout. Small enclosed propane stoves are OK. The BBQ's will take place on Saturday and Sunday, and there will also be several delicious food vendors. Thanks for your cooperation and understanding!
Navigating Through The Campsites
All of the streets within the campgrounds will be named so you can coordinate with your friends to find out where you want to camp. There is limited cell phone service at this venue so meeting up may be difficult. Set a meet point and time just in case!
Alcohol Policy
Keep your beer and alcohol back at camp! There will be no alcohol permitted within the inner festival grounds where the stages, games and activities will be held.
---
Camping Tips From The Dirtybird Crew:
Bring Only What You Need – Everything you bring and build at Campout, has to go back home with you. Make your camp cozy, but remember the main festival area has an abundance of communal spaces to get loungey with your friends.
Free Form Camping – The tent and car camping areas at Dirtybird Campout are free form, meaning we don't block out camping spots, we just fill people in where they fit
Keep It Compact – Make friends with your neighbors, and help eliminate wasted space between sites. Share the land by aiming to keep your site within the recommended parameters for every 2 people in your camp.
Good Car Parking Etiquette – When parking at the road edge, park your car perpendicular to the road- not parallel. Fill the inner spaces first so that we don't create bubbles of unused space or block access to camping areas.
No Land Grabbing – If you want to camp with your friends please be sure to arrive with them, you will not be allowed to save large plots of land for people that are arriving later than you.
Respect Campground Staff – A team of campground staff will help to ensure space is being used efficiently. They have the authority to request cars be repositioned, and camps be adjusted. Those who do not comply may have their vehicle towed, or be removed from the event.
Campground Amenities – Our new venue is fully loaded with showers, picnic tables, as well as water, ice, and coffee for sale.
Shuttles – There will be shuttle service between the campgrounds and festival area throughout the weekend. FRI & SAT 9 am – 4:30 am, and SUN 9 am – Midnight. Times subject to change.
Sort Your Camp Trash – Recycling isn't part of the foreplay, but it's very important. We encourage everyone to take with them everything they brought in. If space is tight, or you have a long drive ahead, try the waste disposal service.
---
Connect with Dirtybird Campout on Social Media:
Website | Facebook | Twitter | Instagram | SoundCloud | YouTube
Featured Photo Credit: Dirtybird Campout