Life is Beautiful 2017 is just around the corner, and we can't wait to experience it!
---
Life is Beautiful returns to the streets of Downtown Las Vegas and will host a variety of musical performances, a learning stage featuring Bill Nye, art curated by the world's most renowned artists, tons of amazing food and much more! The event will be held on the weekend of September 22-25 and all general admission tickets are sold out! If you are trying to attend Life is Beautiful there are still ways to make that happen.
3-day VIP passes and single day VIP passes are still available through the Life is Beautiful website, or you can check out our third party ticketing tips. You won't want to miss this year's installment of Life is Beautiful!
Check out Carlos' experience at Life is Beautiful 2016!
---
Life is Beautiful 2017 Essential Info:
Dates: Friday – Sunday, September 22–24, 2017
Show Times: 2 pm to 1 am daily
Will Call: Thursday, September 21 from 12-8 pm | Friday, September 22 – Sunday, September 24: 12 pm to midnight
Venue Address: Downtown Las Vegas – extends from 7th to 11th and Mesquite to Carson avenues
Ages: All ages, but you must be 21+ to purchase alcohol
---
Life is Beautiful 2017 Set Times: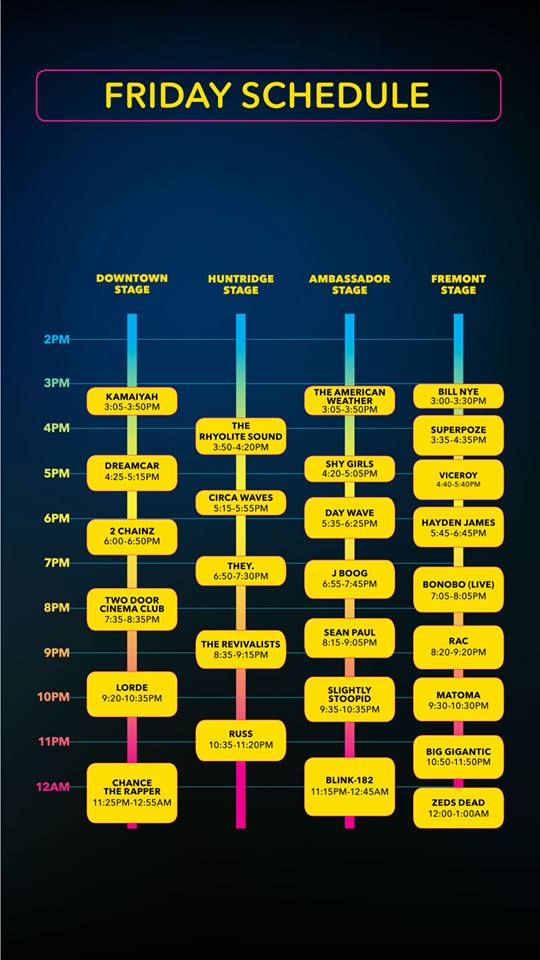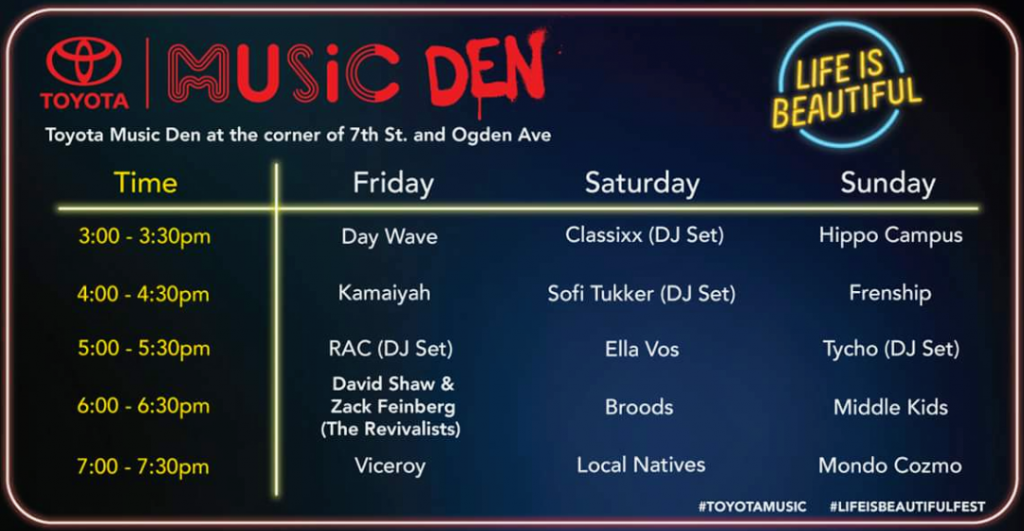 ---
Life is Beautiful 2017 Art Car Lineups: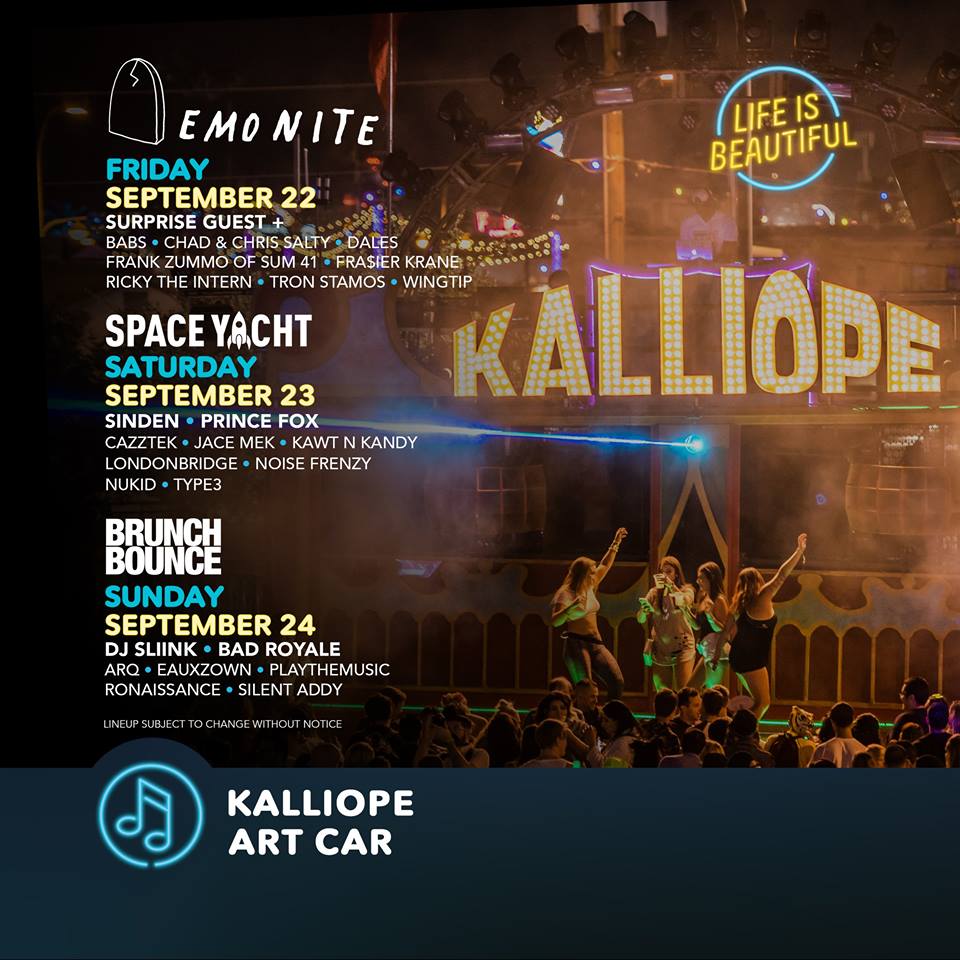 ---
Life is Beautiful 2017 Festival Map: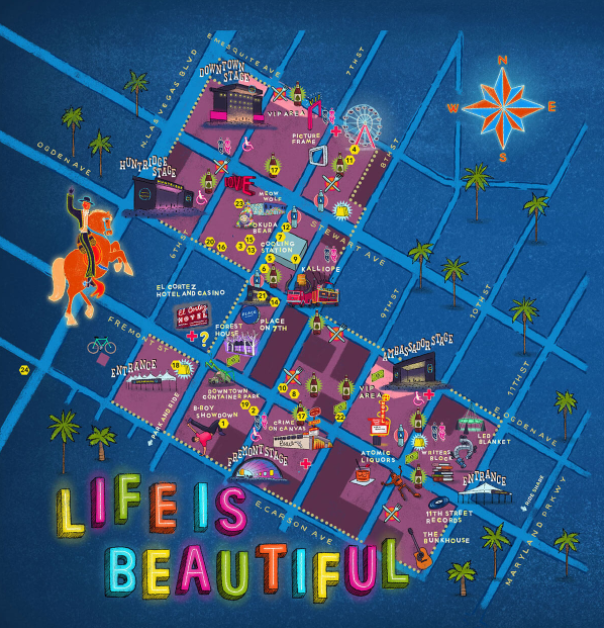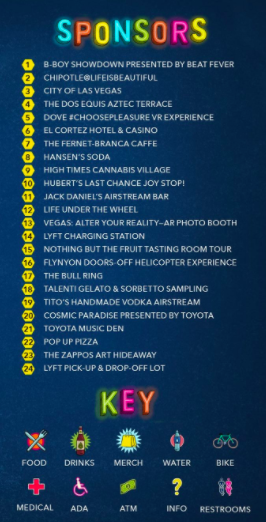 ---
Life is Beautiful's 2017 Do's & Dont's:
ACCEPTABLE  ITEMS
Blankets Baby strollers
Small bags, regular size/unframed, single-compartment backpacks, plush backpacks, and purses
Portable phone chargers
Soft-sided coolers no larger than a 12-pack of beer
Two factory-sealed water bottles up to 1 liter each
Empty Camelbak or other, empty plastic containers, e.g., Nalgene bottles
Binoculars/personal cameras with a detachable lens 2 inches or shorter
PROHIBITED  ITEMS
Unsealed water bottles
Weapons of ANY kind
Drones or remote flying devices
Illegal substances or paraphernalia
Large purses or bags, or, framed backpacks
Professional video/audio recording equipment
Professional still camera equipment with a detachable lens longer than 2 inches, tripods, big zooms or commercial-use rigs
Selfie sticks, GoPro attachments or monopods
Aerosol containers, except sunscreen
Bicycles inside festival grounds.
Bike valet will be provided
Skateboards, hoverboards, scooters, wagons, carts or any other personal motorized vehicles
Lawn furniture, chairs or tents
Fireworks and explosives
Musical instruments
Picnic baskets, large or hard-sided coolers
Pets or animals. Exception: Dogs that are individually trained to assist a person with a disability are allowed on the grounds of the event
Laser pointers
Glass or can containers of any kind
Markers, sharpies, paint pens or spray paint
Promotional items, samples, giveaways, flyers or stickers
Sharp objects, large chains or spiked jewelry
Hula hoops and umbrellas
Professional radios or walkie-talkies
Water guns, water balloons or any other kind of water projectile
Large totems. Any totems must be smaller than 6 feet, no thicker than 1/2 inch, and made of light material: swim noodles, foam-type material, cardboard tubes, fabric, string, yarn, light plastic, balloons and/or blow-up items. Totems made of wood, metal or PVC material will NOT be allowed. This includes flagpoles and heavy sticks
Native American headdresses, threatening signs or apparel
---
Life is Beautiful ADA Information:
Life is Beautiful is accessible to all guests with disabilities. There will be elevated accessible viewing platforms located at all stages. These viewing platforms are for guests who use wheelchairs, have significant mobility disabilities, or have difficulty standing for long periods of time. Folding chairs are available at each platform. Staff will manage the viewing platform accordingly to make sure patrons are comfortable during busy times. Accessible restrooms are also located near each viewing platform and scattered throughout the venue within all banks of restrooms. If you have any additional questions about accessibility, please contact us via email at [email protected].
---
Connect with Life is Beautiful on Social Media: