Don't want to stop dancing when the music ends at CRSSD Festival Fall? Their After Dark parties have got you covered!
---
While CRSSD Festival alone has become one of the premier events to hit Southern California recently, their after-parties have become just as renowned. When the music stops at the San Diego Waterfront Park, parties around the Downtown area dominate the rest of the evening. After dropping a solid phase one lineup for this upcoming edition of CRSSD Festival Fall back in June, and a phase two that was the cherry on top of this epic event, we began to wonder who would be playing the After Dark parties throughout the weekend.
That question has now been answered, as the lineup was released featuring many notable sets that will make choosing where you want to head to after the event difficult! Taking the stage at infamous Sushi Bar/Nightclub Bang Bang will be Lee Burridge on Friday, Breakbot on Saturday, and a very special Sunday closing party with Richie Hawtin and friends! Music Box will be hosting sets from Mura on Saturday, and Cut Copy with Gerd Jansen on Sunday night.
We are stoked for the lineup at Kettner Exchange too, as Chris Lake will take the decks on Saturday night, with Bearson and SAINT WKND taking the stage on Saturday and Sunday afternoon. These three sets are definite must-attends for anyone looking to get down.  Last, but not least, Spin Nightclub plays host to a solid offering of Patrick Topping and KiNK on Saturday, with Solardo b2b Latmun on Sunday.
Check out our experience at CRSSD Festival Fall 2016, or to see how things went down at CRSSD Festival Spring this year! Looking for tickets to the After Dark Parties? Grab them here!
---
CRSSD Festival Fall 2017 After Dark Lineup: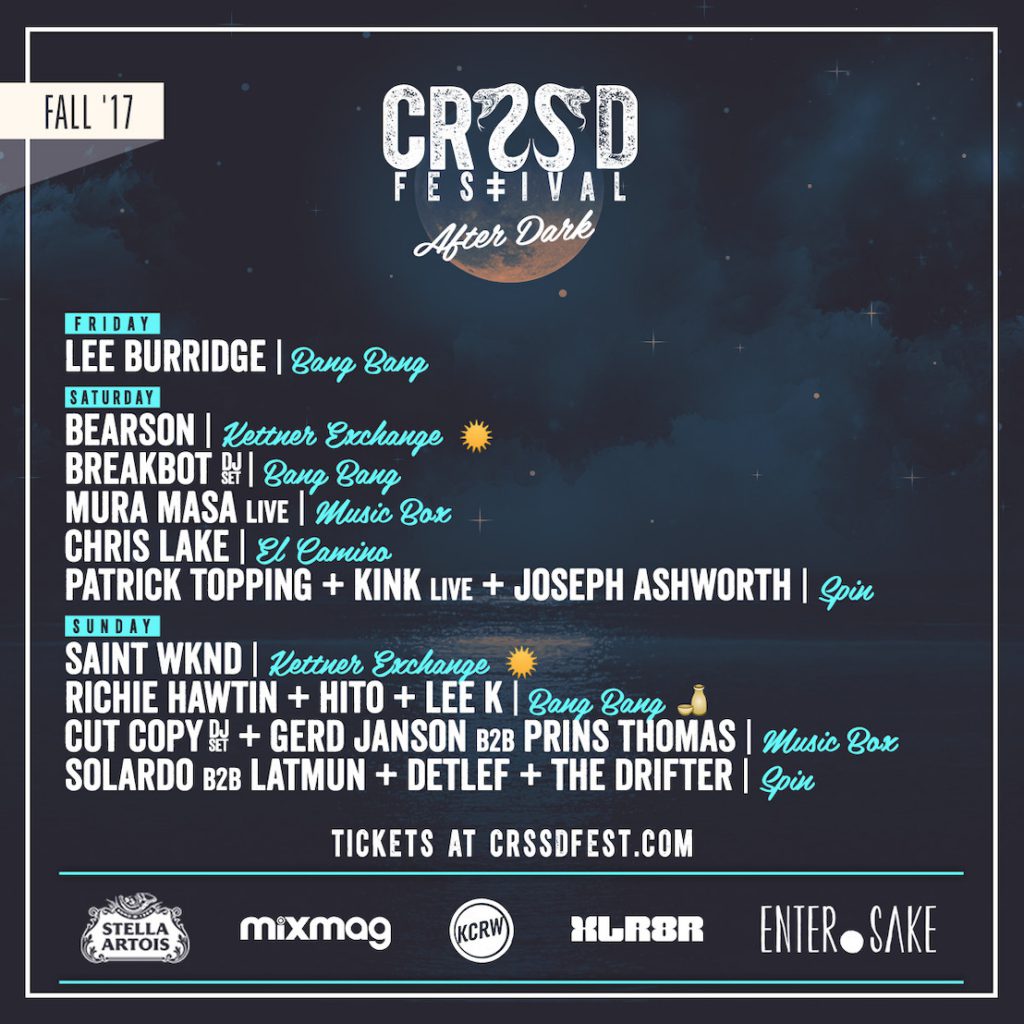 CRSSD Festivall Fall 2017 After-Dark Lineup and Venues:
*Asterisk denotes 11:00 AM – 2:00 PM Daytime Party
FRIDAY
SATURDAY
BEARSON I Kettner Exchange*
BREAKBOT I Bang Bang
MURA MASA LIVE I Music Box
CHRIS LAKE I El Camino
PATRICK TOPPING + KINK LIVE + JOSEPH ASHWORTH I Spin
SUNDAY
SAINT WKND I Kettner Exchange*
RICHIE HAWTIN + HITO + LEE K I Bang Bang
CUT COPY DJ SET + GERD JANSON B2B PRINS THOMAS  I Music Box
SOLARDO B2B LATMUN + DETLEF + THE DRIFTER I Spin
---
FNGRS CRSSD also revealed its collaboration with Richie Hawtin's ENTER.Sake brand, bringing a premium Sake Bar and a special International Sake Day (October 1) celebration to its Fall 2017 event.
The ENTER.Sake experience will be on site at CRSSD Festival, in partnership with San Diego's Bang Bang Sushi Restaurant. CRSSD attendees will be able to sample ENTER's signature ENTER.SAKE Black – Honjozo, the small batch brewed ENTER.SAKE Sookuu – Junmai, as well as the fragrant and aromatic ENTER.SAKE Silver – Junmai Ginjo, in a series of food and Sake pairings, and unique Sake cocktails.
CRSSD Festival Fall 2017 Richie Hawtin & Enter.Sake Info:
---
CRSSD Festival x ENTER.Sake Menu
ENTER.SAKE BLACK
Honjonzo
Our signature sake. Made in a mountain valley gap in the Japanese Alps between Nagoya and Nagano. Clean and pure as its idyllic water source; made with local rice.
ENTER.SAKE SOOKUU
Junmai
Fujioka Shuzo is an incredibly small brewery with Fujioka-san personally overseeing each step of the labor and time intensive process to produce a truly handmade sake. In 2002, 5th generation Masaaki Fujioka re-opened the brewery establishing the new sake brand "SOOKUU" aiming to brew a Sake with its taste reflecting a gentle clear blue sky.
ENTER.SAKE SILVER                
Junmai Ginjo
A fragrant and aromatic sake with a hint of perceived sweetness. A perfect aperitif drink or introduction to sake. Good weight on the palate with a smooth finish.
---
About ENTER.SAKE:
ENTER.Sake is a boutique sake collection curated by music icon and technology visionary, Richie Hawtin. Richie has been exploring the world of sake for twenty years during his extensive trips to Japan. For the past five years, through his ENTER. events across the world, Richie has tirelessly promoted sake as a core part of the ENTER. experience.
---
Follow CRSSD Festival on Social Media:
Website | Facebook | Twitter | Instagram | SoundCloud | YouTube
Featured Photo Credit: Skyler Greene