Enjoy an exclusive taste of New York's best restaurants and food vendors at The Meadows, brought to you by The Infatuation!
---
New York City is well known as a mecca for foodies. The City boasts six of the United States' 14 3-Star Michelin Restaurants, as well as thousands of highly sought-after restaurants. The city's individual boroughs proudly celebrate their own culinary styles, cultural foods, and foodie favorites. The 2017 edition of The Meadows Music and Arts Festival will be partnering with The Infatuation to bring you a taste of NYC's best.
The Infatuation is a foodie's heavenly guide. It was started back in 2009 by two guys who "wanted to help their friends find not only great restaurants but the right restaurant to suit their needs on a particular evening." Now with a website, mobile app, and Instagram network, they provide information on all the yummiest dining establishments nationwide.
Alongside The Meadows, The Infatuation will be bringing us Infatuation Village, which is promising to fulfill all our foodie needs. They'll even be providing us a photo booth for some great selfies.
In addition to the standard food vendors, The Infatuation is bringing us the FEASTival of Queens. This experience will feature the best bite-sized Thai, Mexican, Colombian, Indian, Chinese, and Vietnamese food Queens has to offer. Attendees can choose which vendors they would like to sample.
The full list of restaurants is below – check it out!
In case you missed it, the artist lineup for The Meadows is HERE!
3-day GA and VIP tickets to the festival are on sale now! Visit the ticket page for more info and to purchase your tickets and shuttle pass.
---
The Meadows Food Experience Lineup: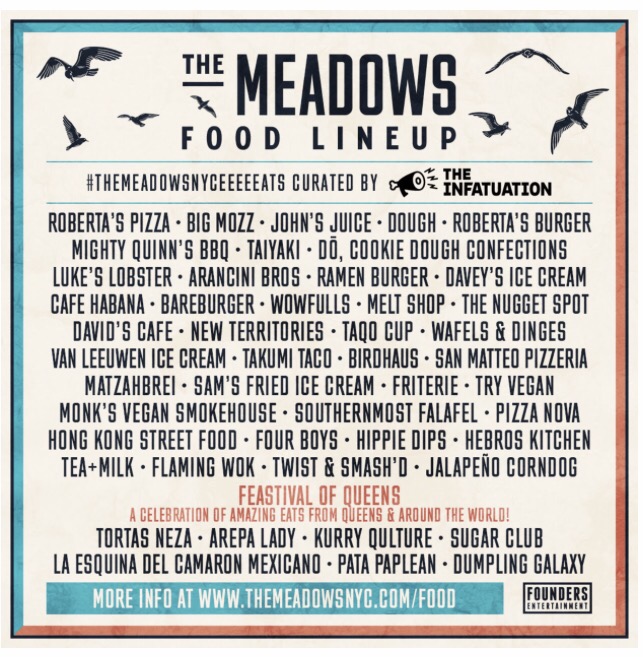 ---
Food Lineup By Restaurant:
Bar Primi (21+)
The Malaysian Project (VIP)
Roberta's Pizza (VT | IV)
Big Mozz Sticks (VT)
John's Juice (GF | VG | VT | IV)
San Matteo Pizzeria
Dough (IV)
Mighty Quin's BBQ
Taiyaki
Luke's Lobster
Dō (VT)
Arancini Bros (VT)
Ramen Burger
Davey's Ice Cream (VT | IV)
Juice Press
Café Habana (VT)
Bareburger (VT)
Wowfulls (VT)
The Nugget Spot
David's Cafe
New Territories
Taqo Cup (GF | VG | VT)
Wafels & Dinges (VT | 21+)
Van Leeuwen Ice Cream (VG | VT)
Takumi Taco (VG | VT)
Birdhaus
Matzahbrei (VIP)
Sam's Fried Ice Cream
Friterie NYC (VT)
Monk's Vegan Smokehouse (VG)
Try Vegan (GF | VG | VT)
Southernmost Falafel (VG | VT)
Pizza Nova (VT)
Taqueria Diana
Hong Kong Street Food (VG | VT | VIP)
Four Boys (VG | VT)
Hippie Dips (VG | VT)
Hebros Kitchen (VT)
Tea And Milk (GF | VG | VT)
Flaming Wok (VT)
Twist and Smash'd
Jalapeño Corndog (VT)
Key: 21+ – 21+ Area | VT – Vegetarian Options | VG – Vegan Options | GF – Gluten Free Options | IV – Infatuation Village | VIP – VIP Only (21+ Area)
---
Cocktails Lineup:
Tito's Harvest
Don Julio Paloma
Bulleit Berry Mule
---
FEASTival of Queens Featured Restaurants:
Tortas Neza (Mexican Pork Tacos) – Corona, NY
Arepa Lady (Colombian Arepas) – Jackson Heights, NY
Kurry Qulture (Indian Pani Poori Duo) – Astoria, NY
Sugar Club (Thai Dessert Toast & Roti) – Elmhurst, NY
La Esquina Del Cameron Mexicano (Mexican Ceviche) – Jackson Heights, NY
Pata Paplean (Thai Noodle Soup) – Elmhurst, NY
Dumpling Galaxy (Chinese Dumplings) – Flushing, NY
JoJu (Vietnamese Banh Mi) – Elmhurst, NY
---
Connect with The Meadows on Social Media:
Website | Facebook | Twitter | Instagram | Facebook Event Page