Splash House was a weekend full of fun in the sun and some floaties too.
---
When the thought of attending Splash House this August first crossed my mind, I decided that it would be an event that I would attend with an open mind. Over the years many of my friends have attended Splash House and returned with mixed reviews of everything ranging from the vibe to the music, leaving me wondering what the actual event would be like. As the days passed by the anticipation for the weekend grew until I found myself driving a road I usually only take in April to attend Coachella, I was definitely ready for the weekend to get started.
One of the only gripes I had over the weekend was the heat, which peaked at around 116 on Saturday. The other gripe would be that I stayed at a house off-site. While it didn't really pose a problem outside of the drive to and from The Renaissance each day, it is something I plan to reconsider next year. Why? Because those balcony rooms are just so awesome to have, and it is seriously convenient to never leave the Splash House ecosystem all weekend.
Everything about the festival itself was fairly quick and painless for me. Will call took no time, the shuttles were speedy, and drinks were plentiful. Outside of one or two times in which the lines to enter the venues were obscenely long to enter, yes I'm talking about you Desert Hearts as The Saguaro, there was a very quick entry into each hotel and pool.
To put it simply, I ended up having a blast at Splash House and here are the reasons why…
---
Three Unique Settings To Splash Around In
Looking at the three different hotels, the only common themes were that we were in Palm Springs and that there was a pool at each venue. From that point on there were differences that made each pool stand out from each other, which was a welcome surprise. The Renaissance was the main hotel for the event, boasting of the largest pool area and a lineup that was comparable in size. With bars spread around and plenty of room to dance, this hotel definitely brought the main stage vibe with it too.
I didn't visit The Riviera as much as a probably should have, but this was actually the hotel that I closed my weekend at. While they didn't have any food options that I could find, their pool was absolutely my favorite. Placing attendees closer to the stage than the other pools, the unique shape also allowed for plenty of room to splash around. The whole feeling of the hotel gave off an exclusive hideaway retreat vibe, making me wish I had spent more time there during the event.
The Saguaro was significantly smaller than the other two, but what it lacked in size it made up for in color and style. This hotel was definitely my favorite balcony-wise, and they provided the best views of the stage and pool. I also loved that tacos were available for hungry attendees, and their signature drinks were far more exciting than the other two hotels.
---
The Variety Of Artists
At first glance, the lineup for the August edition of Splash House this year didn't immediately pop. Once you looked closer, though, the stars truly did shine brightly across both days. Major names like Justin Jay, Big Gigantic, and Kaytranada were shoe-ins for those looking for a good time, but the deep lineup also brought quality acts like Eli & Fur, Mikey Lion, The Him, and Croatia Squad.
Go one deeper and you'll find yourself listening to sets by Sage Armstrong, Le Youth, Secondcity, and option4, all of which absolutely killed their sets over the weekend. The only thing I wished for would have been the ability to play later into the night, as it would allow for more acts or even more extended sets to splash around at.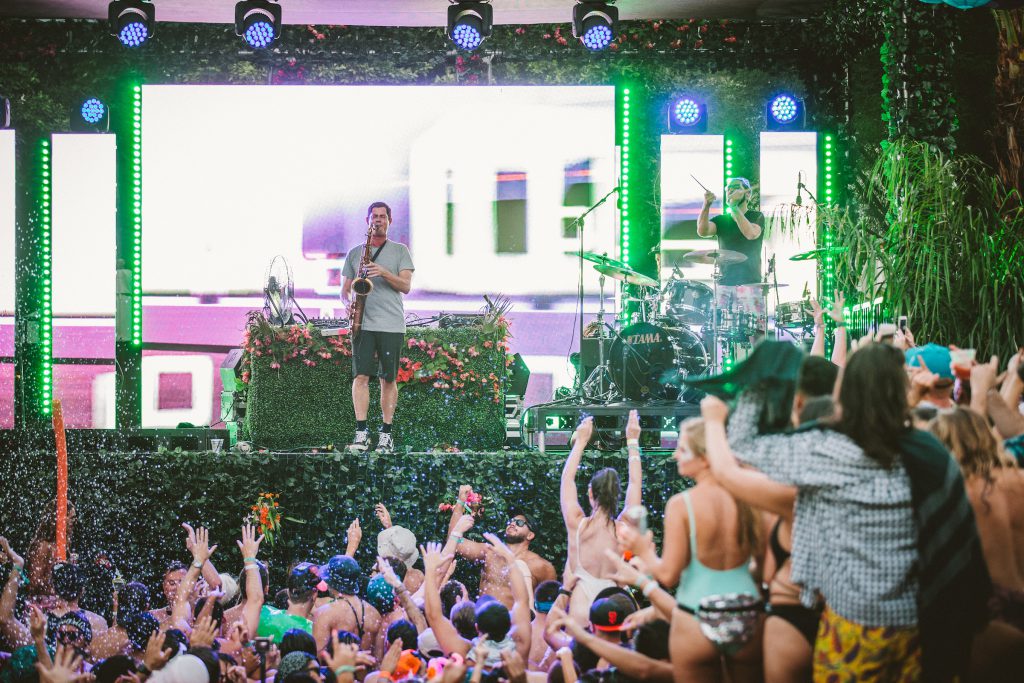 ---
An Older Crowd Brings Out The Professional Partiers
Splash House is a 21+ party, and it's definitely a blessing that it is. Not to say that those under the age of 21 can't be safe and responsible, but there is something different about a crowd that didn't just graduate from high school. There were some true professionals out there over the course of the weekend who clearly knew how to make the most of their weekend, and I assume that many of them didn't stop when the music did at night.
Vibe-wise, which is something that I had heard mixed reviews about going into the festival from others who had attended in the past, the festival ended up being far more positive than negative. There were definitely some rude, aggressive people who were in attendance, but I can't ignore the rest of the party that made my time quite a bit of fun. Whether we were chatting up new friends while in the pool or splashing around to some dope beats, those negative experiences quickly washed away.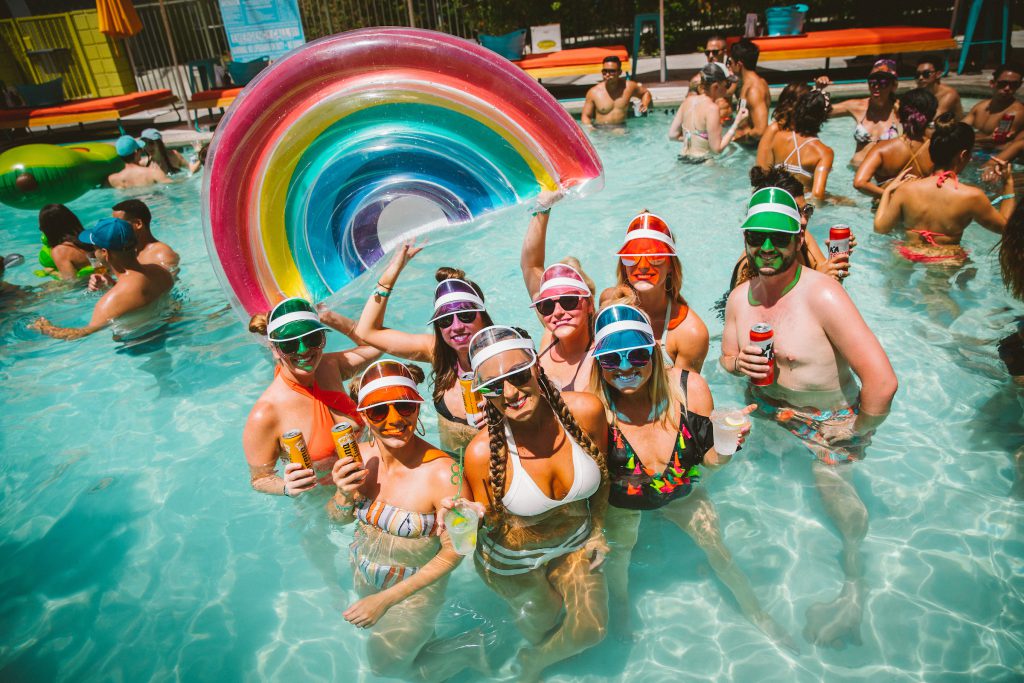 ---
Quick Transportation Between Venues
Having never attended Splash House prior to this year, I honestly didn't realize just how far the hotels were from each other. Sure, we're not talking clear across the desert or some massive distance, but they definitely weren't in walking distance. The free shuttles for attendees ran constantly, picking up partiers looking for their next cold drink and some fresh beats. Air-conditioned and fairly efficient, we never spent too much time waiting in line to hop on a bus, and free cold water was available at each stop to keep people cool in the blazing heat.
While there could have been more shade provided, I felt they did a fantastic job getting us from hotel to hotel. Making The Renaissance the hub for all shuttle lines was a great plan, and it worked perfectly with my schedule of who I wanted to dance to. While some disgruntled attendees wished for a shuttle directly between The Saguaro and The Riviera, it actually allowed for the shuttles to be re-assigned if one line began to overflow more than the other.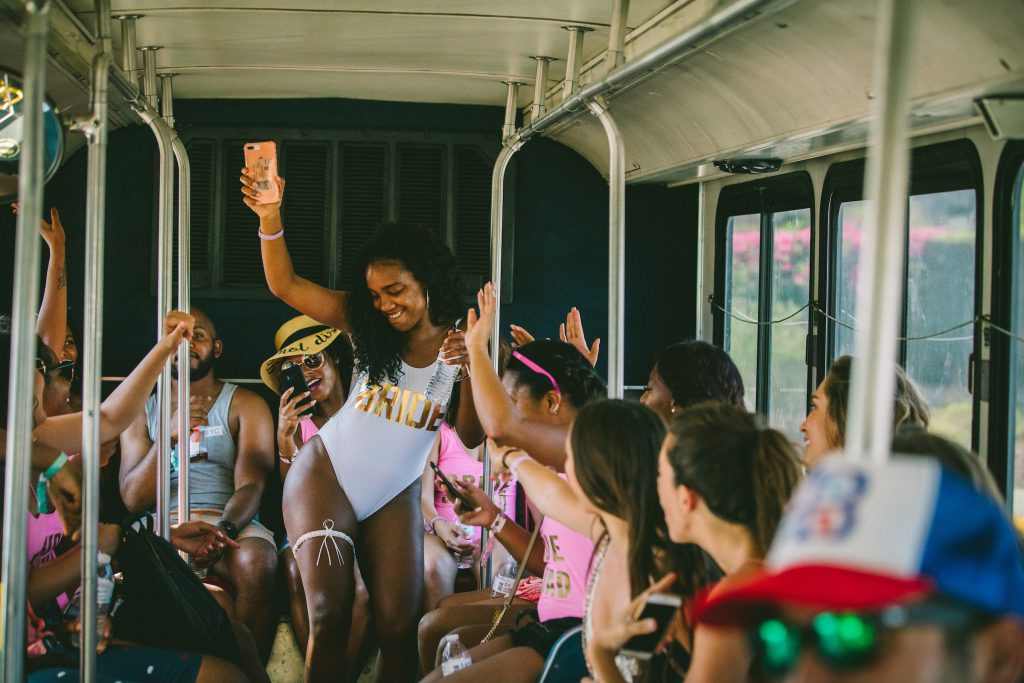 ---
Floaties On Floaties On Floaties
Okay, okay, so I'll admit it, I did not bring my own floaty to Splash House this year. The thought of carrying a giant inflatable object with me all day didn't seem to be something I'd want to do… until I got there of course. While I probably won't be bringing anything too large next year, it was so cool to see the wide variety of floaties people had been able to find in stores and online. Check out some of our favorite floaties from the festival!
---
Connect with Splash House on Social Media:
Website | Facebook | Twitter | Instagram 
Featured Photo Credit: Nikki Jahanforouz