Coachella has come and gone once again, leaving memories and moments that will last a lifetime.
---
After a year of anticipation, it was finally time to leave for my eighth adventure to the Empire Polo Grounds in Indio, California for Coachella. It was Thursday morning and the morning sun was rising as we made our way up the 15. You might wonder why I am talking about Thursday, and the answer is because I truly feel that the best experiences at Coachella come from camping. Since attending my first Coachella in 2012, I have camped every edition since and have never once felt the need to stay in a hotel or house offsite. Camping brings a solid level of immediacy to it. Did I forget something? Did I want to go take a nap or grab a drink? Do I want to catch that early set, or maybe not wait in a hellish amount of traffic leaving the venue at night? All of those questions are answered by camping at the festival. Aside from that, the bonds and memories I've made with friends both new and old have a lasting power like none other. Anyways, enough about selling you all on the camping experience; it should sell itself. We arrived in Palm Springs later than expected, and got in line for camping later than expected, delaying our entry and giving us a less than desirable spot.
Lot 4 would be our home base for the entire weekend, and it honestly didn't turn out to be too bad. While I would have preferred Lot 8 or even Lot 10, we found the silver lining of Lot 4, which was that showers and water were insanely close, we had a dedicated lane to the festival itself, and we were close enough to the fun in Lot 8 that it was only a quick five-minute walk. We spent some time cracking open a beer and then setting up camp, which didn't take too long as we were all working as a team. One of the biggest benefits of arriving early is the fact that you don't have to set up in the dark, and that you can start having fun quickly.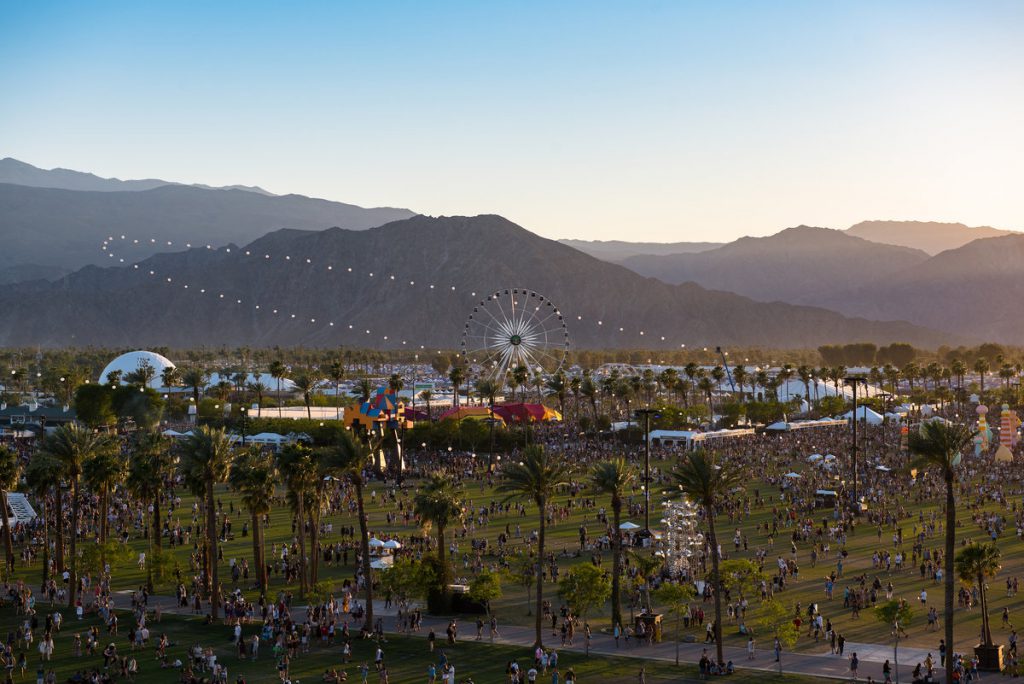 After setting up, we took a quick tour of the center camp to get our bearings. There were some new additions and the usual suspects, and the entire camp area was bustling with people and dope beats. I remembered that the vintage merch sale was soon to happen, something that has become one of my favorite perks of camping at Coachella. Where else will you get an entire bag of merch for around $20? Sure, it's older merch, but when you're shopping for future festival clothes nothing beats this. I wish other festivals would do something similar, but alas this is just something that has been a special thing for Coachella.
The sun was setting. There is nothing quite able to capture the beauty that is a Coachella sunset, but we sat on the hill and watched as darkness fell over the campgrounds. That was when the fun really begins, as different camps begin turning on their light setups and the music really gets going. Of course, the silent disco is not so silent on Day 0, but I never seem to gravitate to it. Instead, I spent a lot of time hanging out with my campmates, grabbing some food and just relaxing before the weekend ahead of me. I did venture over the Antarctica, which I was absolutely blown away by. You know, that might actually have stolen the entire show for me. I'm serious. Antarctica was hands down one of the best, if not the best, thing at Coachella this year. The way that technology blended with music and art absolutely blew my mind. That was one of the things that got my hyped about the weekend, and I knew that I would be returning before the close of the festival.
Waking up on Friday, I usually spend the morning relaxing and getting prepped for the day ahead, but this year was different. Patty, one of my campmates, needed to exit the festival and go to the bank so I tagged along to keep her company. This also allowed me to test out the super efficient shuttle system to Ralph's that the festival provides campers, and it was honestly one of the most seamless things ever. Granted our phones both decided to not work and caused a bit of a panic at one point, but that aside it ended up being a unique experience that I don't regret. Now back at camp, we got ready for the day and eventually made our way into the festival itself. The first things on the agenda were obtaining 21+ wristbands and water, and those took absolutely no time at all. We explored the venue a bit to get a feel for how the expansion felt, and immediately we could tell our feet would be more tired than prior years. I loved the next placement of the beer garden in from of the Mojave and Gobi stages, as I was able to enjoy a drink while checking out Klangstof play a dope set. An interview with them was in store after the set, so I met up with Sydney and we sat down with the band to get their thoughts on the festival and more.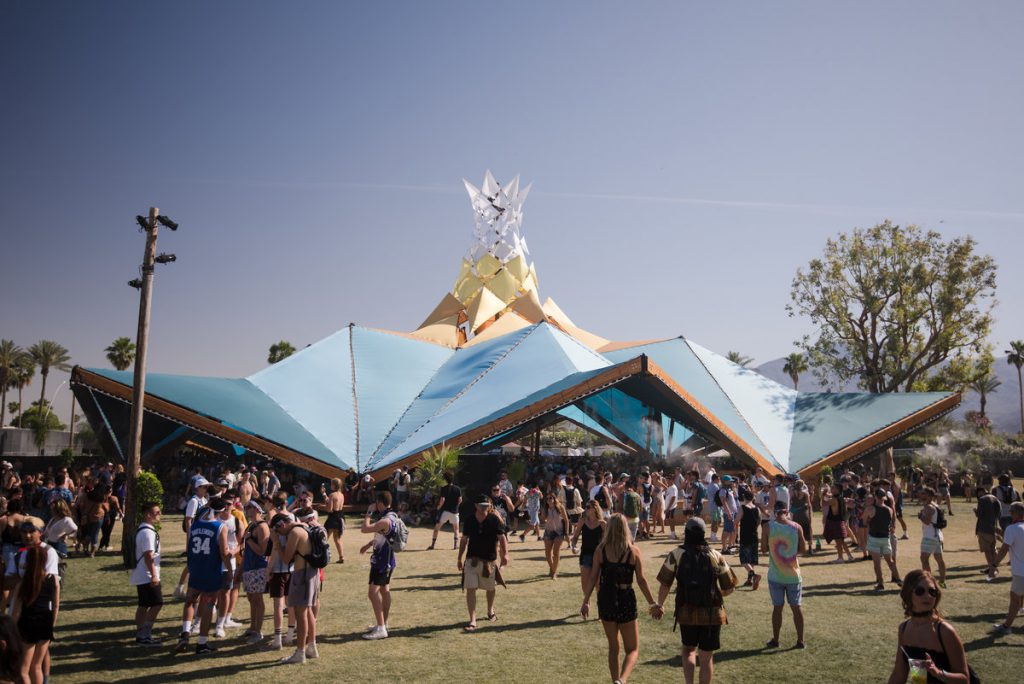 Afterward, we decided to check out the rumblings at The Do LaB as our favorite crew from LA, Brownies & Lemonade, was hosting a takeover set. While I appreciate the design and felt The Do LaB stage was cool in its own, I don't know if I enjoyed the stage nearly as much as I have in years past. There was far less emphasis on what made me love it in the first place, which was the water, and I felt that it usually was a bit too heavily packed for my liking. This isn't really a problem, so much as personal taste, but musically I thought they blew it out of the park this year with quality names. We totally missed on Nora En Pure, and if I had one regret of the weekend it was missing her set. She killed it during Miami Music Week back in March, and I'm grateful she posted her Coachella set on SoundCloud. We headed to Big Gigantic, which was fun as always. That actually ended up being one of the few times I was at the Sahara stage, which is shockingly true. Glass Animals came after on the main stage, who were a fun set to check out before heading over to see BANKS. Now, nothing to knock BANKS on, but I felt the volume was far lower than it should have been, which caused me to never really get into the set.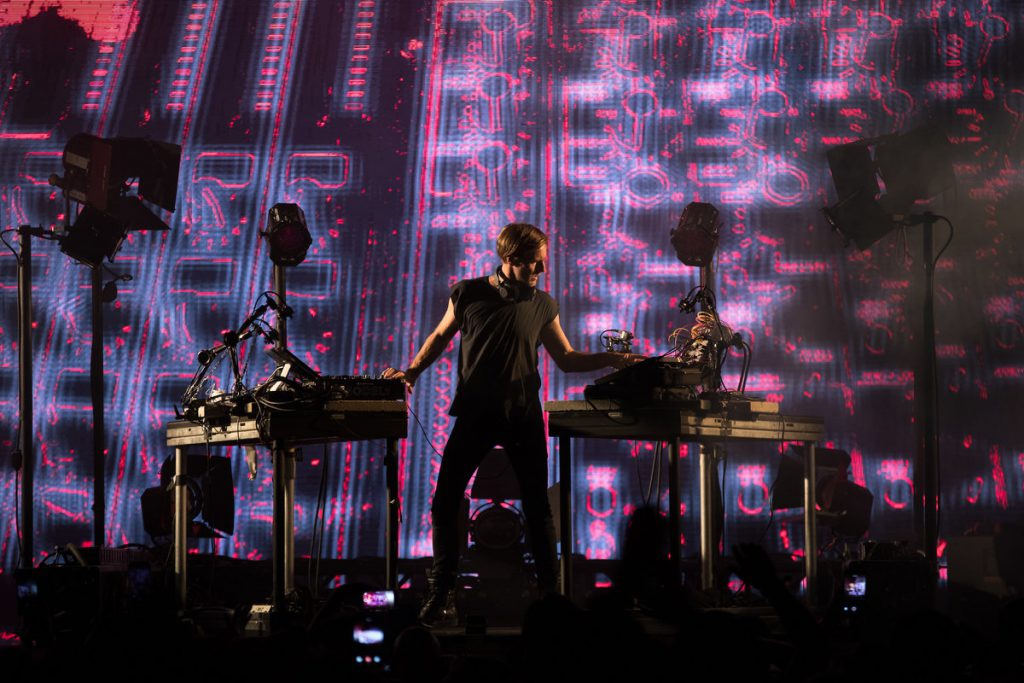 I decided to grab a bite to eat and hang out instead, as Richie Hawtin was the next artist on my list of must-sees that weekend. He absolutely destroyed me with some of the best music I heard all weekend, and the show itself was just unreal. I originally was thinking about leaving for Steve Angello but ended up staying through the whole set and heading to The XX after. I enjoy The XX, but being in the beer garden to the right of main stage just wasn't working for me, and my group and I ventured towards the Sahara to see how Empire of the Sun was doing before returning to main stage for Radiohead. The Sahara was so packed at that point already that I honestly knew the moment we arrived that leaving was going to be a priority. Finding out Louis the Child was set as the surprise guest at the Do LaB didn't really draw me in, so we decided to see Radiohead instead. Yes, there were sound issues, and from past experiences, we gave it a few tries before deciding to leave the set. Did the music come back on and everything work out at some point? Of course it did, but in that moment I was faced with either sitting through sound issue after sound issue or heading somewhere else that might be more fun. We decided to leave and we went to the Yuma tent and closed out our night with Loco Dice, who played a quality set that had the entire dance floor going hard.
After a successful day, we headed back to camp and hit the sack with anticipation for Day 2.
The sun was blaring down on our camp on the second day, waking us up and making sure we were wanting to go inside fairly early. A Reddit meetup was on the horizon, but before that, I had the chance to check out what HP had to offer at Coachella this year. If you didn't go inside the second, smaller dome, you missed out. It was cool to see the products and tools HP was developing or had out, and the laptops inside were connected to the laser show above. So for a few minutes, I became the production person for the dome and created a laser show that toyed with the beat. Their Virtual Reality stuff was on display, and they were creating customized bandanas for those who wanted to wait in line. All in all, it was a cool experience and the air conditioning was definitely a bonus. Next, I headed to the Reddit meetup, and met some fellow Coachella enthusiasts from all over the country, and some from outside it too. I think that community aspect of Reddit is something that really makes things more fun, and it was fun to get the first impressions from others who I had never met in person before.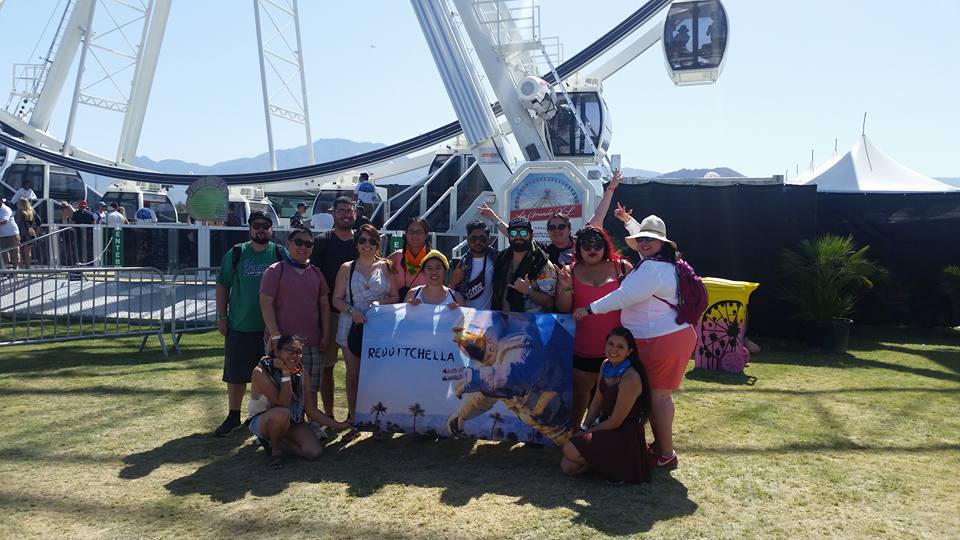 I rushed over to the Heineken House once the meetup was finished, because one of my favorite duos, the Bixel Boys, were taking the stage! If you know me, you know how much I love them, and it was great to catch them on stage at Coachella once again. I spent most of my Saturday just moving around the festival, getting a taste for the vibe this year and taking a look at the art. I didn't really stick to one set or another for very long, and that was totally fine by me. I got some of Tycho, who killed it during the sunset, and I heard Moderat was absolutely stellar too. We decided to check out Bon Iver, and I took a bit of a nap in the lush, green grass before deciding to head to the Outdoor Stage for DJ Snake. While we were there I honestly felt that it was one of the most packed sets of the weekend crowd-wise, and we left soon after to get some fresh air. A bit tired, Patty and I ended up heading to the Beer Garden to wait for Lady Gaga, who was putting on a flawless show, of course. I am not the biggest Lady Gaga fan, but I don't hate her either and was pretty impressed by her performance. Tycho closed out the Do LaB, but we decided to head back to camp instead and get some rest.
On to day three, which would be the most stacked day of the festival for me yet.
Honestly, I wasn't prepared for the massiveness that was Day 3 this year. I just wasn't. Going in I was excited for the way the set times got laid out, but it may have become one of my favorite days of music, ever. During the day I caught partial sets from Skepta, Whethan, and Maya Jane Coles before the sun even set. Two of those artists I have never even seen before, and while Skepta would have been better during the evening, Whethan absolutely blew me away. Anyways, Sunday was stacked after that, as I caught the second to last Shelter performance ever by Porter Robinson and Madeon, which led into the best set of the weekend Hans Zimmer. I was seriously blown away by Hans Zimmer's performance, and the beauty in that set sticks with me today. After that set finished I was able to run over and see the end of Jai Wolf's set, who was one of my favorites from Ultra Music Festival in March, and he delivered as well. Meeting up with my friend Ella, we headed back over to the Outdoor stage for the legendary French duo, Justice, and danced away to the epicness that was their set. I knew going in how much fun it would be, but hearing them live is just something extraordinary.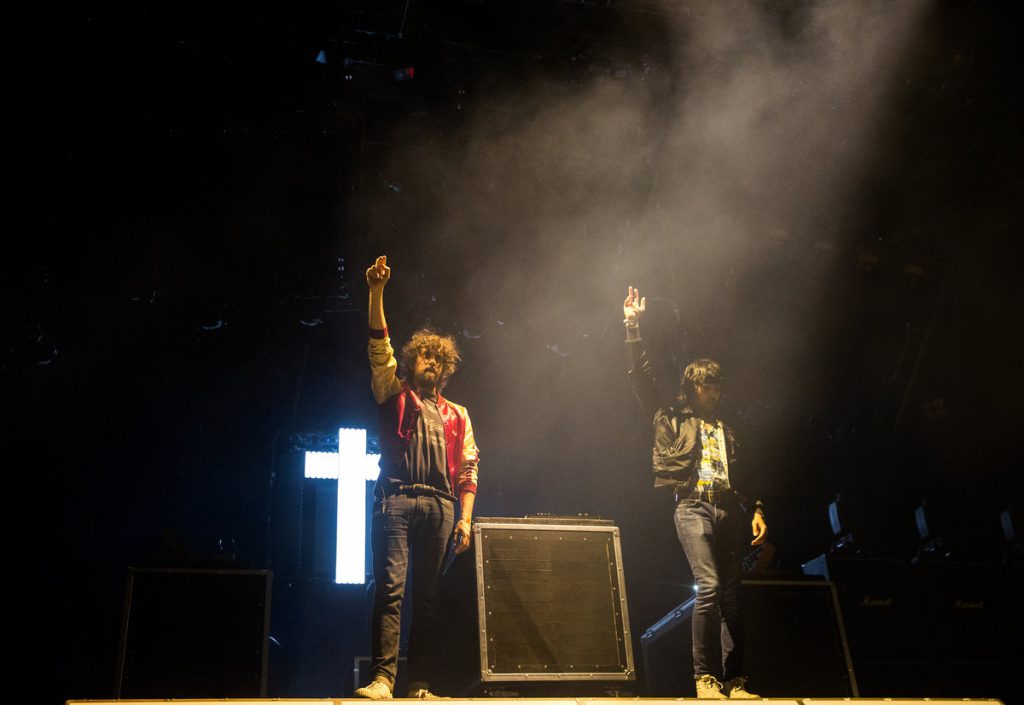 Kendrick Lamar was coming up next on the main stage, and we figured it would be a fun show to catch and so we headed over to see him. Now, I enjoy his music but admittedly I'm not his biggest fan either, so somewhere towards the middle of the set we decided to leave. Ella had only been able to attend on Sunday, so I took her on the speediest tour of the venue possible, highlighting what I considered the best of the best. We hit the Do LaB and caught part of an epic b2b set between Dr. Fresch and Autograf, and then headed over towards the Ferris Wheel and Merch. Bypassing both of those, we headed directly to Antarctica so that I could blow her mind with that experience before the night was over. Although we were pressed for time, the show finally began and the festival shut down for the night.
While there were a few sets I missed, a few experiences I could have had, or maybe things done different, I'm still glad that I ended it on such a great note.
This year was full of upgrades, whether it was in the spaciousness of the venue, the oddity of the art, fresh tastes at the food areas, or even the new Ferris Wheel; they were all welcomed by me. Over the course of the weekend, I had a slice of spicy pie, the avocado toast (which was inside the beer barn) that was to die for, and the paella which was some of the best food I've ever eaten inside a festival.  Oh, and the gyros inside the main stage beer garden were fantastic too. Of the signature drinks I tasted, the mule that they had featured in one of the beer gardens was leaps and bounds better than some of the mixed drinks being made, so hopefully, that will make a return in the future. I felt that the expansion of the festival was necessary, and maybe it was because I never seemed to be in the wrong place at the wrong time, but outside of obviously packed sets, I thought there was plenty of room to dance. People love to complain about the "vibes" of the first weekend, but I never really encountered anyone that was overly rude. Maybe people were a bit pushy and could have looked up from time to time, but it sure wasn't as bad as people made it out to be. Also, I didn't encounter a single pickpocket, which was probably due to me not being anywhere near the Sahara for the most part. It's unfortunate that people resort to stealing phones but as a conscious festival-goer, you should be looking out for your belongings and keeping an eye on those around you too.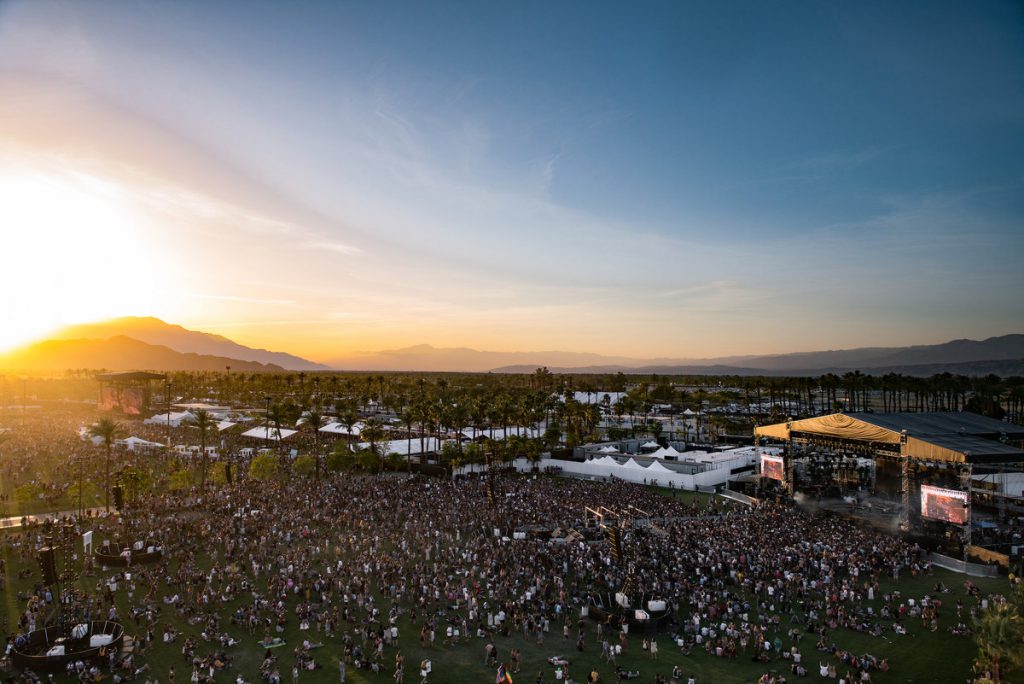 So, as always, I left Coachella with a smile on my face and a renewed love for a festival that has gone through some growing pains over the years. After two years in the past of doing a "bothchella" I decided to only return to my preferred weekend this year, and I don't regret that decision either. Perhaps in the future, I'll tackle both weekends again, but until then my love for the first weekend will always ring true. There is just something about those palm trees, the polo grounds, and the magic that is made during Coachella that will keep me coming back.
Until next year, Happy Coachella!
---
Connect with Coachella on Social Media:
Website | Facebook | Instagram | Twitter | Youtube
Featured Photo Courtesy of Coachella