Motion Notion 2017 Set Times, Festival Map, & More!
---
It's happening! As Motion Notion closes in, so does time to get everything in order. Check out the following info to aid in your preparations and help ensure a safe, fun adventure! In addition to all the practical items, be sure to remember to bring common sense, awareness of your surroundings, and good vibes. 
Check out Gina's Top Picks of artists playing at Motion Notion this weekend!
Motion Notion 2017 Essential Info:
Dates: Thursday, August 24 9:00am – Monday, August 28 12:00pm || Note: Early entry pass required for Thursday entry
Early Entry Access: Thursday, August 24 at 9am
General Admission Access: Friday, August 25 at 9am
Show times: Thursday 4pm – Monday 9am
Venue Address: 4220 Beaverfoot Road, Golden, BC – at the Beaverfoot Lodge
Ages: All ages (12 and younger are free to attend but MUST be supervised by a parent or legal guardian)
Ride sharing: https://openride.co/motion-notion
---
Additional Motion Notion Info
Wristbands supplied at the gate must be worn at all times.
Only TELUS, BELL, & KOODOO have reception at the festival.
Respect the space – use the garbage cans, recycling bins and toilets every time!
Safety-check your campsite – cover sharp protruding objects and mark tripping hazards such as ropes, holes or logs.
Before you leave, tidy your campsite spotless and remove string/ropes from trees so they are not injured.
The nearest hospital is at 835 9 Ave S, Golden BC. About 40km from the festival. Go West to Golden when you get to the highway from Beaverfoot Road.
This festival happens in the BC wilderness. Come prepared to be outdoors in all temperatures and weather conditions. Temperatures over the years have ranged from 8-38ºC (46-100ºF). We almost always receive a quick intense thunderstorm! July & August is the the nicest time of summer but you'll enjoy the festival much more if you're prepared for rain, cold, and heat.
---
Motion Notion 2017 – Set Times: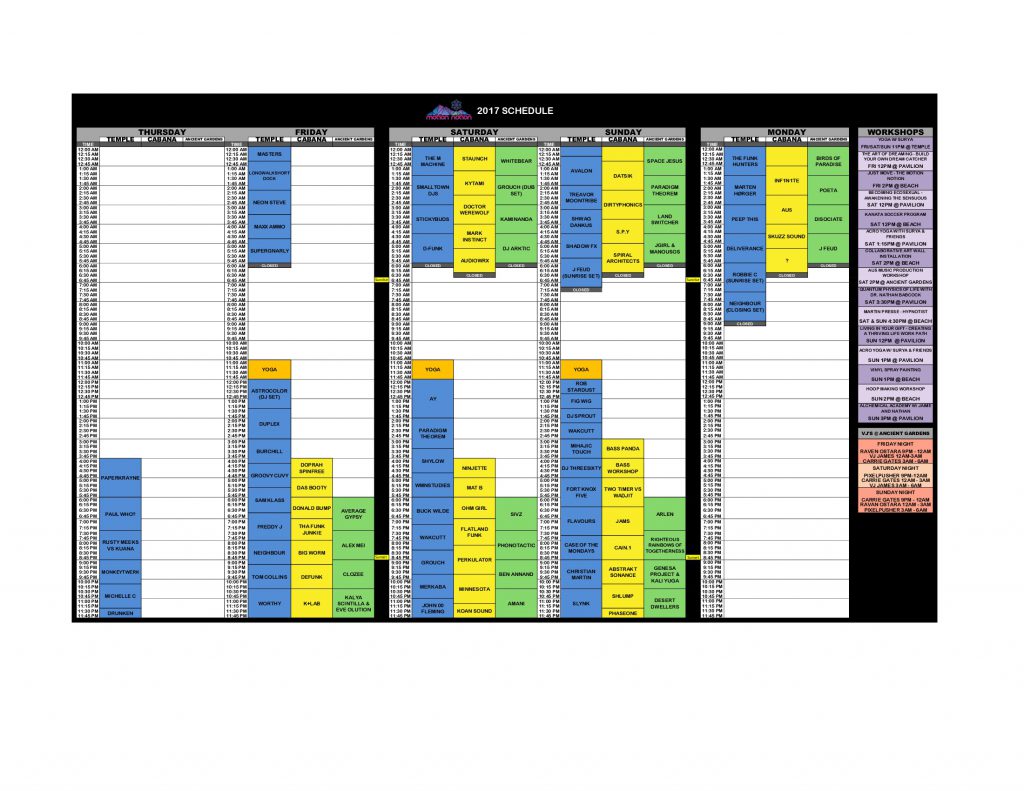 ---
Motion Notion 2017 Festival Map:
---
Reminder To Mind Your Belongings
Unfortunately, many people have reported pickpockets, bag slashings, and theft of wallets, smartphones, purses and other valuables during this festival season. While this small number of bad apples in the bunch doesn't define an entire crowd, there are opportunistic people who come to these events to take advantage of unsuspecting party goers and it's important to be mindful of your valuables while at Motion Notion.
Pay attention to who's around you and what's going on around you. Keep your wallet and phone in your front pocket(s) if you can. Treat your phone the same way you would treat cash; don't set it down on a table or bar and look away. If a friend isn't standing behind you in a crowd, be careful of your backpack or purse, and don't put valuables in a pocket that could easily be unzipped by someone behind in a crowded spot without you realizing.
Festivals, in general, are a very densely populated place, and are a well-known place where pick-pocketing of unsuspecting people occurs. It's easy to find yourself in a crowded environment in a line, at a stage in the festival, elevator, or even out on the street where someone could slip your wallet or phone our of your pocket or bag in a matter of seconds. Stay alert, be careful, and make sure to not carry more than what you need!
---
Motion Notion 2017 Do's and Don'ts:
Motion Notion Festival continues every year because of responsible, caring people. Let's keep our community safe and happy. Walk softly, dance hard!
The festival values and codes of conduct are simple but strong:
Respect other's space, time, and opinion.
Non-violent conflict resolution.
Care for nature, others and yourself.
What's OK?
All ages (12 and younger are free to attend but MUST be supervised by a parent or legal guardian)
Re-entry with wristband (vehicle fee applies)
Alcohol at your campsite (no glass)
RVs and tents
Dogs and pets (must be on-leash and poop-scooped!)
Pet-owners will be fined $200 by security (payable to the front gate office) if found not cleaning-up or off-leash.
What's NOT OK?
Early entry or late leaving
Glass containers of any kind
Tree cutting or nailing into trees
Motorized ATVs or dirt bikes (art golf-carts are OK)
Weapons (Leave axes, knives, and firearms at home. Confiscated items will not be returned), Illegal drugs, fireworks, or personal ccampfires
Electrical generators
Joyriding or stunting
Aggressive behavior or fighting
**Please don't bring glass bottles, axes, fireworks, or weapons of any kind. We will take them at the front gate, or you may get kicked out by having them.**
---
What to bring:
Entry ticket
Driver's license/ Passport
ATM bank card
Tent and camping equipment
Several sets of warm clothing and shoes including a warm hat and gloves. Extra socks!
Full rainwear and rubber boots
Blanket
Tank of water
Swimwear
Towels
Costumes
Sunblock
Lip balm
Camera and charger
Sunglasses
Medical kit
Umbrella
Shade/rain structure
Insect repellant
Fire extinguisher
Flashlight with spare batteries
Earplugs
Sleep mask (it is light from 5am to 10pm, and bright in the tent!
Lawn chairs
Creative items and games
Walkie-talkies
Musical instruments
Spare car keys
Jumper cables
Tire pump
Bathroom kit
Toilet paper
Garbage bags
River booties
Hammock
Matches, lighters
Duct tape
Folding table
Wagon, trolly or wheelbarrow (for transporting your gear to the walk-in camping by the river)
---
Connect with Motion Notion on Social Media: