Project Z wasn't very complicated, there weren't a lot of set conflicts, and in the end, it was just pure fun and energy as Basscon and Bassrush battled things out.
---
As is customary with most events, we arrived at the NOS Events Center shortly after gates had opened for Project Z. I had to swing by will call and although the line was past the dividers it didn't take more than ten minutes to get my ticket. From there I went to the first line where they checked our ID's for this 18+ event. The line looked much longer and slower in my mind, but by the time I was reaching the ticket scanner I realized it had only been twenty minutes.
I walked through the main archways all the way to the foot of the fountain that was running in full force. To my left, I saw Area Z the latest addition to Project Z's stages. It's open lotus-like structure was made of tresses and the entire deck below it was a long LED screen with lights surrounding it. In the daylight it just looked great, but at night when the screen was lit and the soft surrounding light was emanating, it was pretty incredible. This stage was entirely housed on grass so it was the perfect chill zone for people to come and take a break from headbanging or shuffling.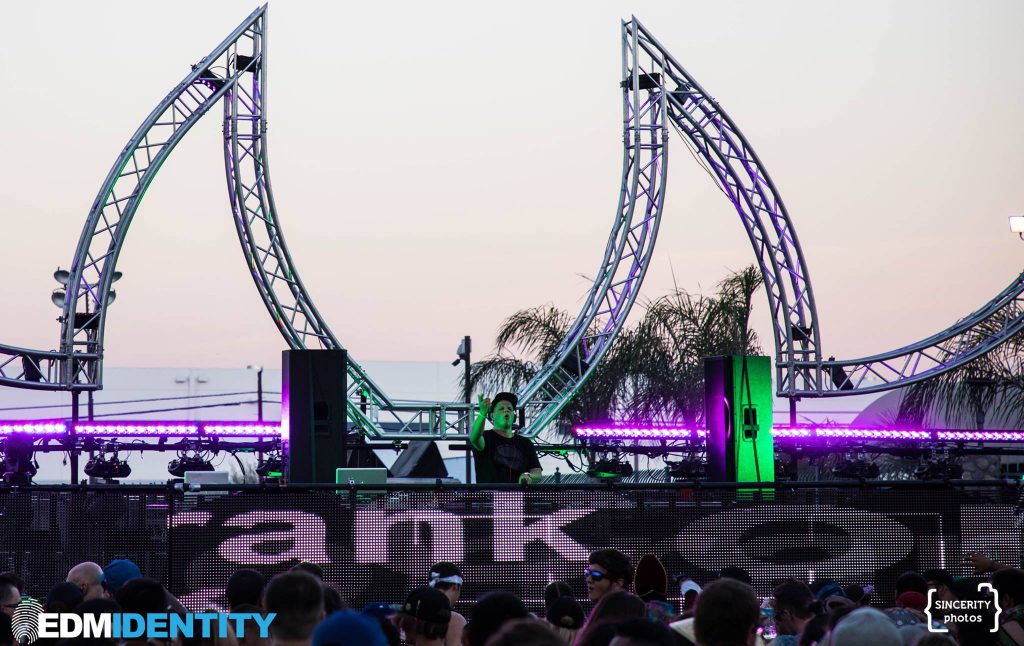 To the right of the Bassrush stage were a bar and a few vendors selling power bowls and fresh-cut fruit. There was an ID check on the corner and since it was closest to the entrance it was absolutely packed. There were actually plenty of bars throughout the venue, and each bar area had six or more lines going, allowing me to barely wait longer than five minutes during the busiest time of the night.
Venturing to the opposite side of the stage there were food trucks with the typical variety of loaded fries, burgers and various other delicious items to grub on. Between the two stages was the merchandise tent that was full of Insomniac's latest offerings for fans of the Basscon and Bassrush brands. The free water station was located there, and I did not see a long line for water once throughout the entire event.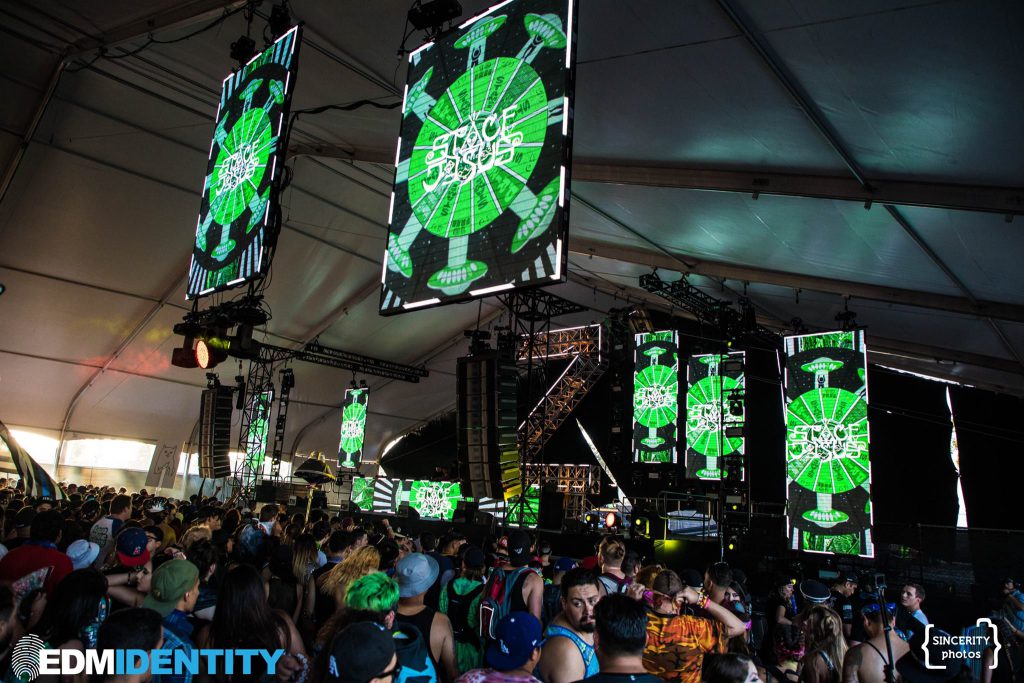 What are those!? Lasers!
We had arrived in time to see Space Jesus, a personal favorite, and he was throwing down. My group and I were trying to meet up with some friends, looking for a blow-up giraffe totem while almost got taken out by some long, whipping hair. The set was fun and you could feel the energy of the crowd. The mid 80-degree temperatures from the day made the center a really warm place to be so for most of the night we would be hanging out near the side entrance and ADA viewing platform.
The stage hosted the signature of the event, a letter Z rising above the decks with its own woven light sources outlining the letter and different colors lighting it up within. Below it was a long LED screen below the decks similar to the one on the Area Z stage, and later we would see again at the Basscon stage. There was a row of LED panels that came out to the side of the stage and another row about 20 feet back from the rail coming down above the crowd.
The staggered visuals were colorful and bright, but the lasers on both Basscon and Bassrush were to die for. Every array of colors and configurations shot out over the crowd creating waves of light against the back of the tent or building respectively. Insomniac's production value is always on point and this was no exception.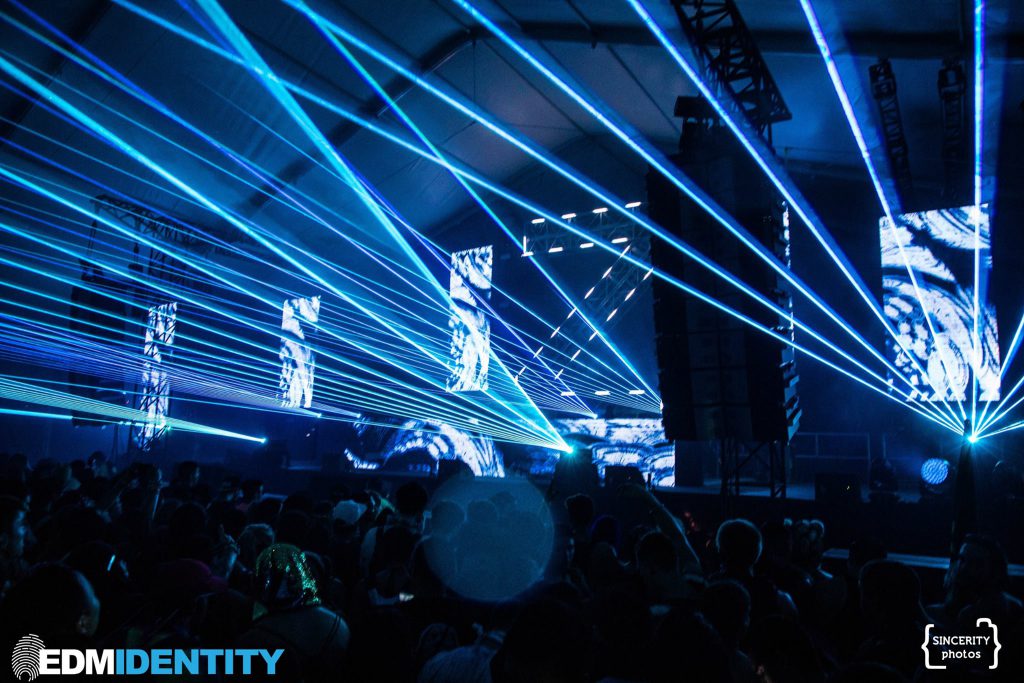 It became a difficult choice to split time between Area Z and the Bassrush stage the rest of the night.
My crew stayed at the Bassrush stage for The Prototypes and half of Midnight Tyrannosaurus b2b Oolacile before heading over to Dimond Saints. Those sets really started to get the crowd moving, and I felt like I was being moved every so slightly as everyone around us raged to the heavy beats. The mosh pits were just beginning as we left to get more of a future bass feel and some nice grass to sit on. Dimond Saints was a nice break where a lot of us just relaxed, and enjoyed the music as our group went to get drinks, bathroom breaks, and refill our water bottles.
BUKU was next and came highly recommended by many of my friends. It was my first time seeing him and I was definitely impressed. His sound and music are bass-heavy and up tempo – definitely something I would recommend checking out if you have the chance. Shortly after this, it was time to return to Bassrush for Gentleman's Club and EPTIC. When we returned we realized it had gotten more crowded and people were definitely wide awake dancing, and even moshing in some parts…the party was really getting started!
Looking out on everyone in the crowd I noticed a lot of smiles on the faces out there, and I was even fortunate enough to witness a handful of kandi trades between strangers. It really helped remind me why I come to these events.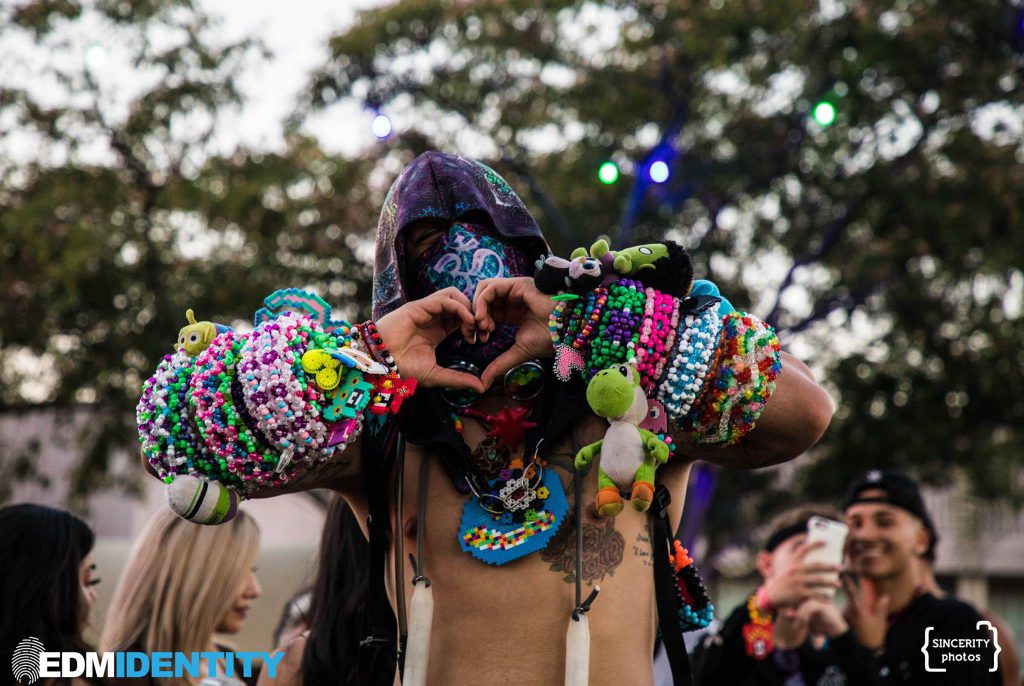 While JOYRYDE is another personal favorite of mine, I had been told by everyone that Darren Styles was worth my time.
I made a very hard choice to head to Basscon for the first time that night. It's not that I don't like hardstyle, in fact, I can say 100% that I smile every time I hear it. That being said, Darren Styles blew me away. His happy hard-core remixes and perfect blend of vocal tracks with hard-style were incredible. He not only had me smiling but also wishing I had spent more time learning to shuffle. The stage itself was stunning and had some vibrant illumination around the decks with a giant LED behind the deck that would flash the Basscon emblem above a tower. Once again the lasers were wild and everything just blended very well production wise.
As the set was coming to an end we headed back to Area Z to catch Ganja White Night. I've seen them a number of times and their set was exactly what I would have expected fun, energetic, and enjoyable. There wasn't as much energy in the crowd by this point but it was also almost the end of the night. We decided to wrap things up around twenty minutes early to avoid traffic, all hugged goodbye, and walked toward the exit to head to our cars.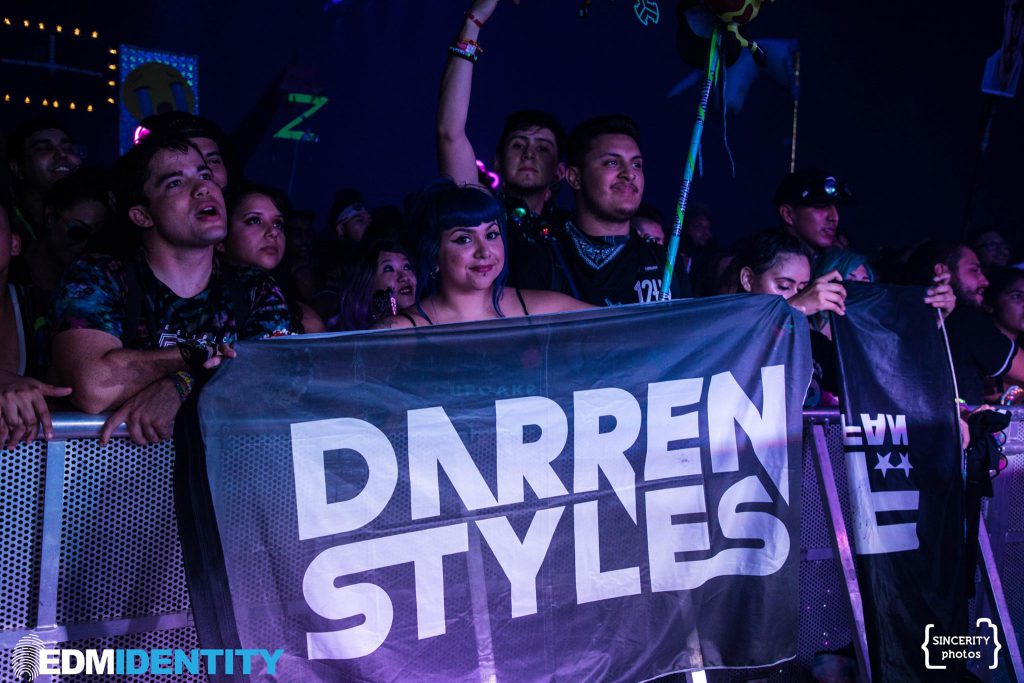 My first ever experience at Project Z was a solid one, and I definitely would recommend attending future editions.
This was my first Project Z experience and I had an absolute blast. The stages were incredible and honestly made me wish that every stage at every event I attend has that much production value, although from a photographer's standpoint the lit up decks make taking pictures in the pit very hard. I definitely appreciated the third stage, because if it had just been two I would have probably spent the entire event at one of them – which I think some people actually did.
While I did hear mixed reviews about the crowd at the event, and yes moshing is not my favorite thing, I think a lot of the times it's just what people notice the most without looking at other aspects. I still saw kandi trades and plenty of smiles that made me feel at home, and I definitely plan to go again next year. I hope I'll see you there!
Check out all of our photos from Project Z on Facebook!
---
Follow Project Z on Social Media:
Facebook | Twitter | Instagram
Featured Photo Credit: Carlos Lopez