Is Starfest Music Festival turning into the next Fyre Festival? A lawsuit has emerged today regarding the festival's failure to pay commission to an agent who booked Deadmau5 and Flo Rida.
---
This season has been marked with a myriad of problems for the festival community, and it doesn't look to be stopping anytime soon. In a year marked with major festivals like Mysteryland USA and Pemberton Music Festival canceling on attendees, the community has been shaken up regarding the stability of the scene. The infamous disaster of an event, Fyre Festival, only added fuel to the fire, as that failure of a festival highlighted exactly what can happen when attendees get scammed in real-time. Now, we are finding information that leads us to believe that a brand new event in Texas, Starfest Music Festival, is following suit.
Announced only a month ago, Starfest Music Festival came out of nowhere, promising a lineup that those in Texas would absolutely love. Slated for September 8 – 9, the event originally only announced that Lil Wayne would be performing, and has since added artists like Flo Rida, Carnage, and more to their website. Aside from the supposed twelve acts that they have booked, the festival also boasts of a rising artists stage that will be featuring 60 acts over the course of the festival.
We would like to note that none of these artists have actually added this festival to their own schedules on social media, and we have no reason to believe they've actually been booked. Flo Rida is booked on September 9 in Tucson, Carnage has nothing showing he'll be playing either, and Lil Wayne who was the first headliner announced has nothing regarding the show on his events page too.
For many who have been burned this festival season, they're feeling some serious deja vu right now.
Starfest Co-Founder David Taylor hasn't been helping his case much either, as his official comments regarding the festival have given many flashbacks to Fyre Festival's organizer comments as well. When asked about the lineup and the lack of details surrounding the festival, David stated "Just know, they're fantastic", which is far from reassuring. He has also been quoted as saying "If we're going to do this, we've got to do it big", which echoes the same ideology that Billy McGarland pushed.
The city of Plano, Texas seems to be on board as they list the event on their website, but that just isn't going to simply quench potential attendees' search for validity. An event dubbed the "Starfest Music Festival Watch Party" has also surfaced on Facebook to watch this trainwreck unfold live on September 8.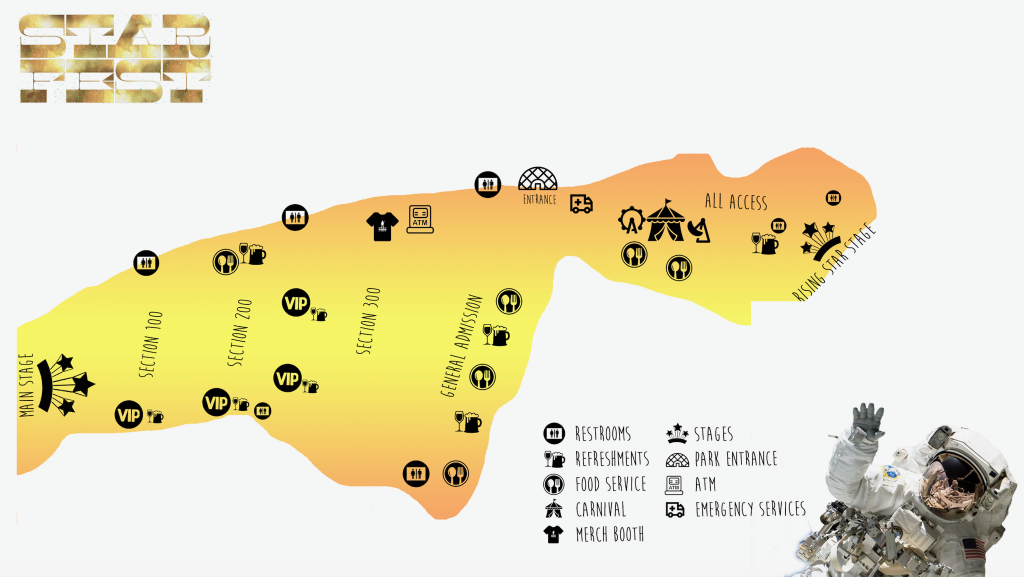 Two-day general admission tickets to the festival are going for $140, while VIP tickets range from $675 to $1,250. Based on the map on the ticketing website though, general admission won't get you much of anything in return, as they've broken up the crowd into sections to charge even more money to have access closer to the stage. None of this would be concerning if they had some form of past festival history or had an actual lineup that would justify the cost of these tickets.
Think the story ends there? Now they are getting hit with a lawsuit regarding the failure in paying booking commissions.
TMZ has reported today that a lawsuit has been brought against the festival organizers by Simon Perez, a booking agent who claims he has yet to receive commission payments. Booking Deadmau5 back in July for $500,000 and grabbing Flo Rida for $125,000 too, Perez was due $18,750 in commission payments which have gone unpaid.
For a quick recap, here are problems currently facing Starfest Music Festival:
The festival is being run by a company with little to no experience with large festivals.
Starfest was announced only a month before the festival was due to occur.
They have failed to announce artists performing per their promise, and the artists announced have also not listed the festival on their own pages.
The costs of the festival tickets alone are outrageous and unjustified for the size of the acts who have been announced.
A lawsuit has been brought against the organizers surrounding the lack of commission payments for artists booked.
Will Starfest Music Festival be the next Fyre Festival? Only time will tell, stay tuned as this situation continues to unfold.