Emancipator Ensemble will return to Red Rocks for a special night of music on August 27, featuring co-headliner The Opiuo Band.
---
On Sunday, August 27, Red Rocks Amphitheatre will play host to a special night of live music featuring Emancipator Ensemble and The Opiuo Band. The combination seems to be a match made in heaven; Emancipator's ethereal, multi-layered productions are perfectly tailored to the outdoor venue's staggering beauty and superior acoustics. Fans of the producer can hope to hear some tracks from his upcoming release.
Although Emancipator has played at Red Rocks five times previously, this will be his first-ever headlining gig at the venue. Co-headlining the event will be The Opiuo Band, comprised of the New Zealand-born bass and funk innovator himself in conjunction with a host of talented compatriots performing his music 100% live.
Listen to Emancipator Maps & Father King EP via SoundCloud:
Emancipator and Opiuo will be joined by two hand-picked supporting acts: RJD2 and Machinedrum.
Philadelphia-based multi-instrumentalist RJD2 is well known for creating seriously innovative hip-hop-leaning sounds, at times including psychedelic elements into his productions. This Red Rocks show will feature a performance by RJD2 with a live band, bringing his original productions to life in real time.
Psychedelic electronica producer Machinedrum will be kicking off the night, bringing his dreamy, innovative sounds to the iconic venue. If you haven't heard of Machinedrum, you'd be well served to get there early to check him out – his fresh outlook on experimental electronica will surely translate into an exceptional performance.
Tickets and shuttle passes for this special event are still available, but don't delay: for fans of all things bassy or psychedelic, this is without a doubt a can't-miss event!
---
Emancipator Ensemble @ Red Rocks – Essential Info:
Date: Sunday, August 27
Hours: 5 pm – 11 pm
Ages: All Ages
Venue Address: Red Rocks Park and Amphitheatre – 18300 W Alameda Pkwy, Morrison, Colorado 80465
Tickets: HERE
Shuttle Reservations: HERE
Facebook Event Page: HERE
---
Emancipator Ensemble @ Red Rocks – Announcement Flyer: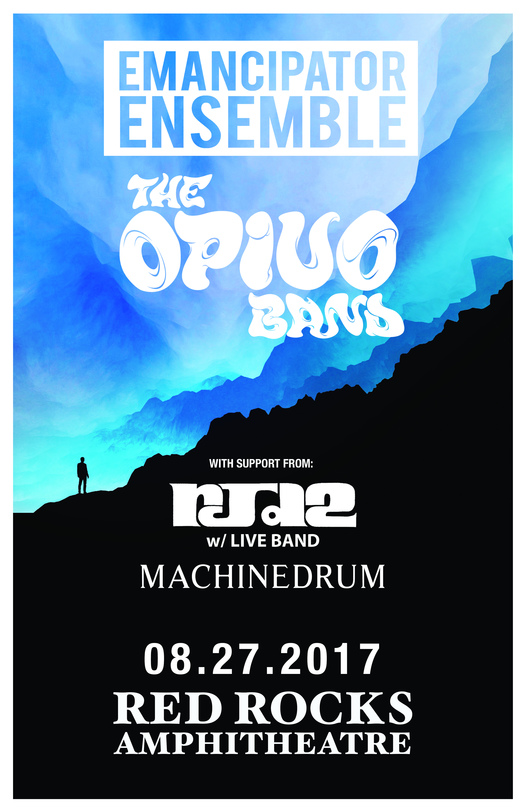 ---
Follow Emancipator on Social Media:
Website | Facebook | Twitter | Instagram | SoundCloud
Follow Opiuo on Social Media:
Website | Facebook | Twitter | Instagram | SoundCloud
Follow RJD2 on Social Media:
Website | Facebook | Twitter | Instagram | SoundCloud
Follow Machinedrum on Social Media:
Website | Facebook | Twitter | Instagram | SoundCloud