Organizers for Pemberton Music Festival 2017 have filed for bankruptcy leaving those with tickets no option for automatic refunds.
---
Pemberton Music Festival 2017 has been cancelled. Reports of decreased ticket sales and increased operating losses have forced organizers to file for bankruptcy. The festival was originally scheduled for July 13-16, 2017 and featured headliners Marshmello, Zeds Dead, and Major Lazer. In addition to falling ticket sales and increased operating losses, the weakening Canadian dollar is reported to have a significant impact. The festival reported it had difficulty sourcing talent due to a limited number of artists touring this year.
There will be no automatic refunds issued to those with tickets because of the bankruptcy. It may take several weeks before it is known whether Huka Entertainment will have the assets to issue refunds to customers. If you purchased a ticket with a credit card, you may be able to file a chargeback request by contacting your bank or credit card issuer.
Click HERE for the actual bankruptcy document.
Huka Entertainment, the contract producer, has released a note on their website detailing the decision to cancel the festival:
For the past four years Huka Entertainment has worked to create a one-of-a-kind experience in the most beautiful place on earth. We are heartbroken to see the 2017 Pemberton Music Festival cancelled.

As a contract producer, Huka did not make the decision to cancel the Festival. That decision was made by the Pemberton Music Festival, LP. We are extremely disappointed for our fans, artists and all of our partners who have supported the festival over the years.
You can read the full statement by Ernst and Young, the trustees overseeing the bankruptcy, below: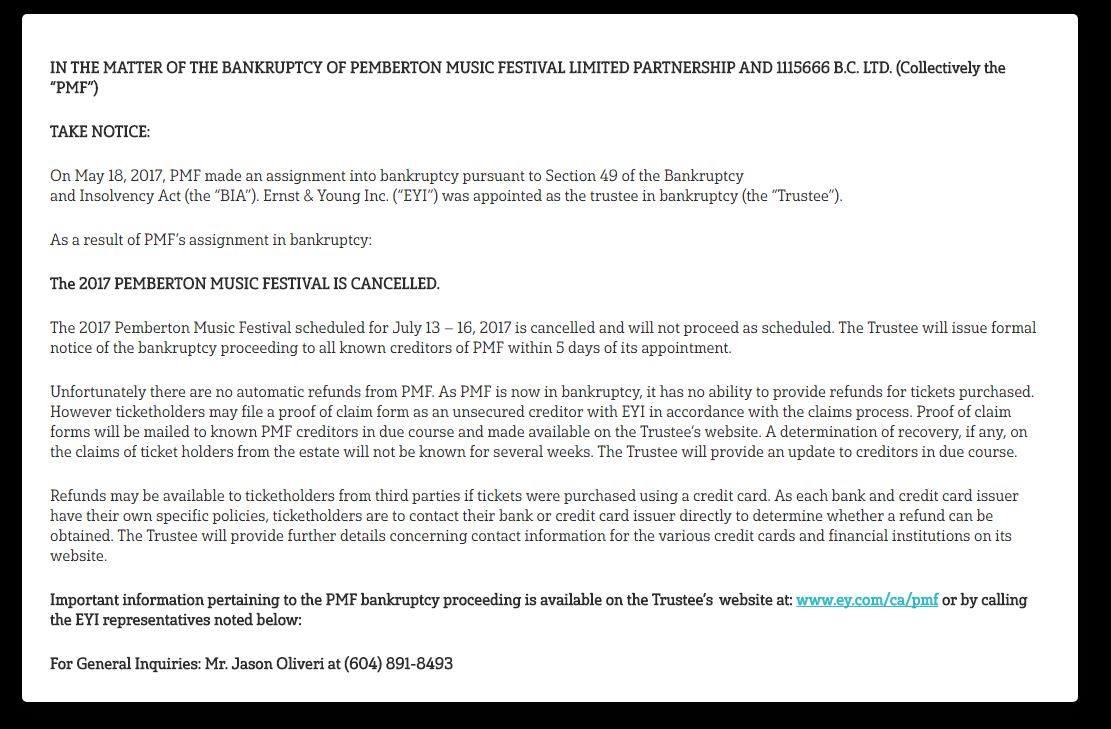 ---
About Pemberton Music Festival:
Pemberton Music Festival was an annual four-day music festival that took place near Mount Currie in Pemberton, British Columbia. Produced by Huka Entertainment, the 2016 event took place on July 14–17. The festival features multiple stages of live entertainment, including rock, indie rock, hip hop, electronic, heavy metal, and comedy.
---
Express your dismay about this cancellation via social media: