Get the lowdown on Californian duo Joyzu, who put a whole new twist to future house that hits you right in the feels.
---
Quinton Pope and Carson Willms, better known as Joyzu, are two of the nicest guys you will ever meet who also happen to make some truly exceptional house music. Their future house sound has a decidedly sensual twist to it, combining big bass and trap rhythms with a tender, emotional touch that blends flawlessly with the vocals. The result is music that is both highly danceable and easy to listen to, at home both on dance floors and your headphones. Over the last two years, the pair has released several solid tracks via Armada Music's The Bearded Man imprint, including their most recent, "Falling" featuring Lilianna Wilde.
Quinton and Carson also have designs on something bigger than being DJs alone and have recently brought their original productions to life in a live acoustic setting. Their first live performance of "Hear You Say" featured Quinton on drums and Carson on piano with live vocals by Olivia Wilde herself. They've since released the acoustic version of their track to their SoundCloud, and if this is any indication of what is in store for them, there are more great things coming their way.
Stream Armada Night Radio 155 (Joyzu Guest Mix) on SoundCloud:
---
Congratulations on the release of your new track! How has the response been in the industry and among your peers?
Quinton: That one had a really good response. We've had more blog coverage on that than from any other songs – we've had a ton of blogs and a lot of people hitting us up saying, "This is our favorite song you guys have come out with." And that's the one that we haven't set up the biggest release plans around, which is weird. It kinda took off by itself.
Carson: It's only been out a month and it's already got a hundred thousand plays with no push behind it really. We kinda like to let our music go and hopefully be heard. Luckily, we're on a good label, and they're backing us up and they throw it in the right places.
Lilianna Wilde's vocal on the track is fantastic. What was the collaborative process between you and her?
C: Online!
Q: It was all over email. We met her four or five months ago and we have another song coming out with her later in the year. We just sent her the instrumental and she just came up with some ideas and sent it back. Then we formed the rest of the song off the rest of her ideas and sent it back, and she finalized the vocals on it and sent it back and then we finished everything.
C: We like to make music that you can listen to on your headphones. I mean, we love banger EDM music, like crazy, wild trap music, but the music that we're making right now is super melodic listening house music that has a future bass twist. We're gearing up to do a whole live show soon with synthesizers and singing and everything like that. We're trying to gear away from the whole DJ'ing thing. But we still want to DJ – I like both sides of that, to kind of set us apart from other artists.
Q: Yeah, it'll be a hybrid.
C: We did our first live set in front of three thousand people last Friday. I don't know if you've heard our song "Hear You Say" which is our biggest song, it was Top 50 in the world on Spotify. We brought out Olivia and we wrote an acoustic version and played it in front of a bunch of people. It was really scary. Quinton was on the drums and I was playing a little bit of piano – it was a cool experience because that's our goal.
Q: Yeah, it's what we want to do full time. We only did it for one song as a test run and it was really fun.
You guys have had some pretty huge remixes, most recently your remix of "Want U" by ARMNHMR. How do you decide which things you want to put your spin on?
Q: Sometimes we reach out to people when we hear a song and we're like, "Wow, we could do something immediately with that." We reach out to some people – we just reached out to Galantis and they granted us permission to work on one of theirs. With that one, it was through Lilianna Wilde, since she was the singer on that.
I was actually going to ask if that was a coincidence!
Q: I was like, "Oh, I didn't know you worked with ARMHMR, they're huge." And she was like, "They're really cool." And I was like, "You should see if they'll let us remix it." And she just threw us into an email with their manager and was like, "Hey, I worked with Joyzu and they want to remix it," and they were like, "Hell yeah!" and sent us the music files and we just did it.
C: That one is going over really well – it's really energetic. That's heavier than our usual music. That's kind of the style that I want to go towards. And then we're jumping on a show with them pretty soon here – they want to get us on a few shows. They just offered us a show in San Francisco in a few months. So that's really cool – once you get a potential remix, they then want to bring you into a show and want you to support them – cool opportunities coming from that. We've had a few big artists (we can't really say their names) that we're trying to work with, as well. But we'll see – that's the way to go, I think. That's the best way to get your name out there is getting support from some of the bigger guys. So that's kind of our goal, too.
Q: Doing official remixes for people is always good.
I've read that you two are best friends in real life. Does that make it easier or harder to collaborate creatively?
C: Easier.
Q: Yeah, I think easier. Since we've known each other for ten years – I think I met him when I was 12 and now I'm 22 – I think it helps because if we actually don't like ideas or anything that barrier is gone where we're afraid to like –
C: Yeah, I just say no.
Q: Yeah – there are so many times where I'm kind of like, "That's fuckin' stupid." And it's good – I'm just like, okay, I'll stop wasting my time on it and do something else. So it helps to get stuff done instead of beating around the bush. Instead of, "Yeah, you should try changing it this way," it's like, no, I don't like it, scrap it, and it's just like, all right, let's keep moving on.
C: It's a lot cooler to travel around with your best bud too – I don't know if I'd ever want to do this by myself.
Q: It'd be lonely – sitting in airports all day.
C: We just go, we have fun, we hang out with cool people, and share our music. We're not in this for the money – we just want to do something different instead of a 9-5. Most regular dudes just go to school but if we can just travel and share music and have fun and drink beer.
Q: Yes, drink beer – sponsor us, Bud Light, please!
C: We're going to have to show Bud Light visuals on the screen.
For most people, this seems like it would be a dream job. For you, what has been one of the most exciting aspects of this journey for you so far?
Q: Even though we haven't gotten to travel for music outside of the west coast, we've still seen every corner of the west coast because of being able to travel for music. All the fun, exciting people you meet – you'll just be at a nightclub and someone will be there from across the US – the kind of people you meet are just insane.
C: The people who actually know your stuff – we played at some random club in Portland and someone came all the way from Washington because they knew us. We played in Mexico over spring break with a whole bunch of college kids. We played two shows with Zeds Dead – they really like us and they brought us to open up with them in Reno and Mexico with them and Lil Yachty. That was a really cool experience. We played at Swatopia at Papas & Beer for 3,000 college kids. One of the most wild experiences ever. We play a lot of fraternities and stuff, too. We'll just go to all the big college schools like San Diego State and Cal Poly and we'll play for their fraternities, and that's always super fun because they just treat us so well and give us so much respect and we just have so much fun with them. I guess the best aspect is just doing what we love.
Q: Yeah, just traveling and meeting people all for music. It's pretty nuts that that's something that you can do – just travel and play music. It's pretty great.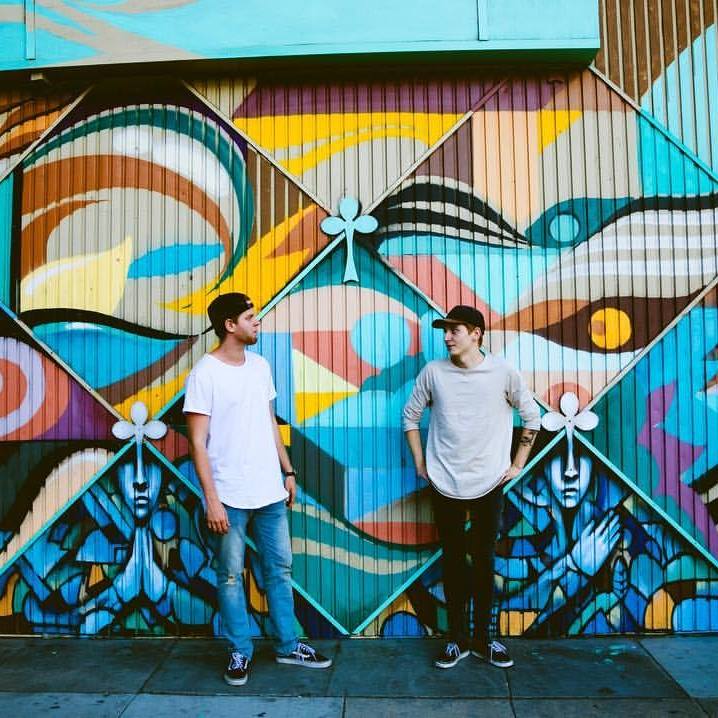 Are there any artists out there that you would really love to collaborate with?
Q: Porter Robinson, Flume, and all them – they're just on another level and everyone is always so stoked about them because they're so good. We also really like hip hop. If we ever got the chance to sit with Chance the Rapper and stuff like that
C: Any rapper – then we could completely switch up our sound and do an EDM rap song that also has that Flume-y style. Flume does a lot of rap stuff and hip-hop. I'd like to work with Dillon Francis just to hang out with him.
Q: Only if he brings Gerald. "Yeah, we're at the studio… are you bringing Gerald?"
C: We haven't done too much collaboration yet, though. That's our next goal after we start. Right now, we're focusing on remixing for other artists.
Q: It's a good way to go – remix for the artists, and then you kinda get in with them.
C: Yeah so like, maybe next thing – hit up ARMNHMR – there are so many different artists.
Q: Yeah so, we'll see. We'll hit up ARMNHMR and see if they're interested. But, I don't know.
If you were stuck on a desert island and you could only bring three things with you, what would you bring?
Q: Oh, man.
C: CDJ's?
Q: No… too expensive. I don't even know. A wifi emitter… Not even to get rescued, just so I could be on the internet.
C: This is a good question… I knew this question comes up in interviews but I haven't had it yet. I never thought about this. Like three things to survive?
You can pick whatever three things you want.
C: Am I on the island forever or do I get to get off it?
Q: Let's just go with that we're going to be on this island forever regardless of if we can contact people.
C: Are we together?
You know, I hadn't really thought about that – that's a good question. We'll go with "yes," so then you can pool your stuff.
C: So are we going to stay on forever or are we eventually going to get off?
Q: Stay on. Let's stay on forever. Wifi emitter… a Brita filter so we can just get water from the ocean… sponsor us, Brita…
C: A wifi emitter? What are you going to do with the wifi emitter?
Q: So I can check on Twitter and shit!
C: Do you have your phone with you?
Q: And a solar battery. A solar mobile battery charger.
C: But you don't have a phone! You just have a wifi emitter and a solar battery charger.
Q: Damn it! You bring the phone. That's my three!
C: Okay, okay. I'll bring a desktop. We'll switch off because we love video games. And… a girl. I don't know which yet. And a fishing net.
Q: There's probably coconuts there. We'll be fine.
---
Connect with Joyzu on Social Media:
Website | Facebook | Twitter | Instagram | SoundCloud | YouTube